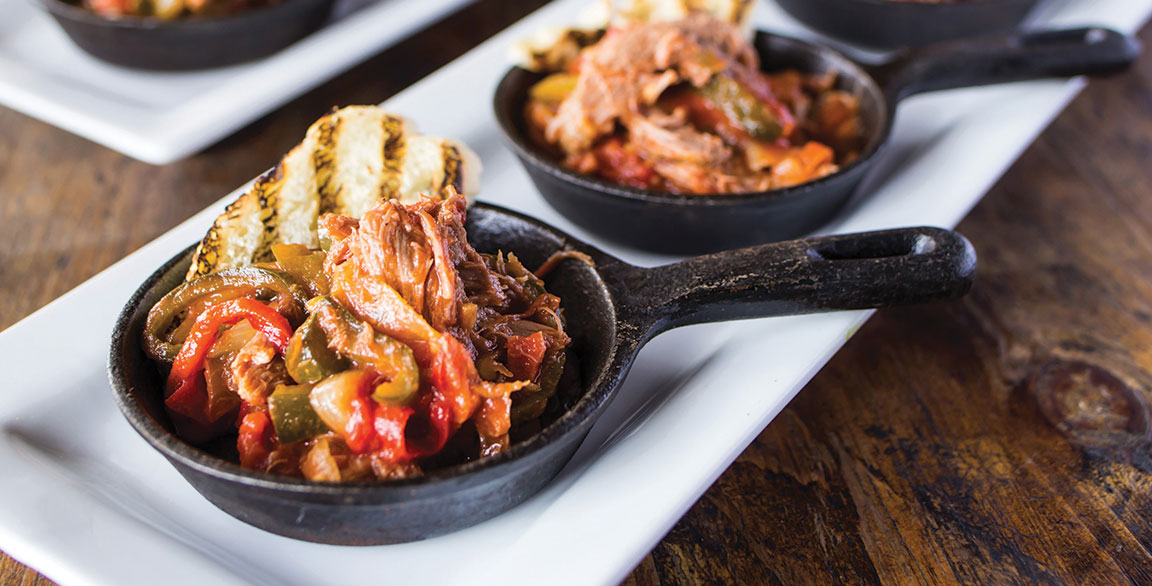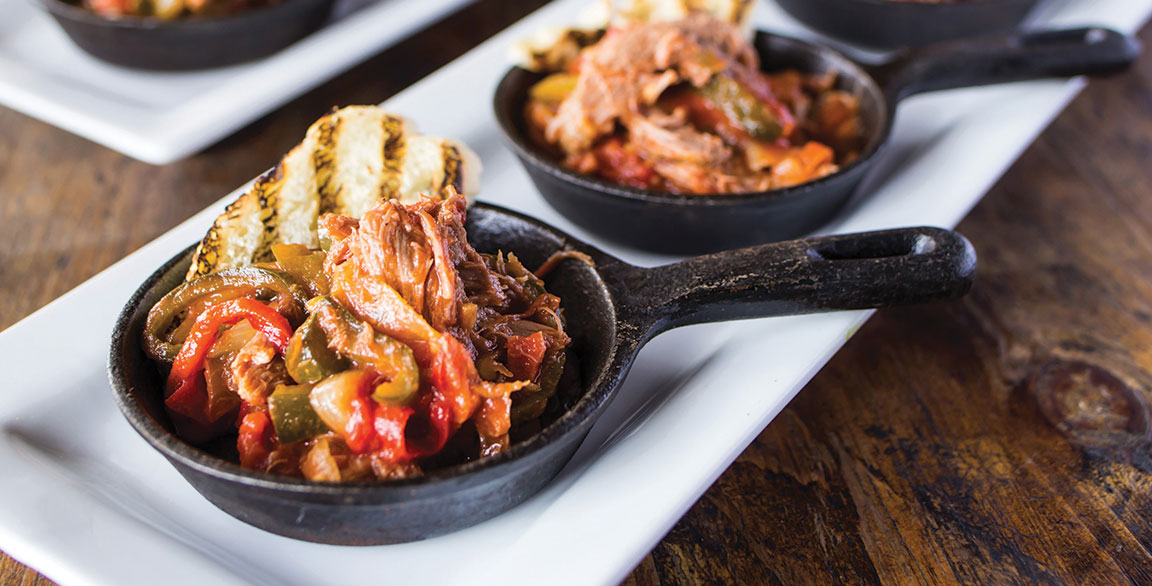 By Eliza Amari
November 21, 2021
What the world needs now is get-togethers, good will and snacks. That seems to be the general consensus nowadays—a yearning for shared experiences that has been driving people back to the table, eager to enjoy flavor experiences together. Collectively, we're seeing this play out with the growth in popularity of the charcuterie board, a clear signal that diners want to graze in a sociable, relaxed manner. So, bring on the shareables and snacks. We asked commodity board representatives to share trend-forward ideas in this broad, dynamic category. Each of them pulls in exciting, emerging flavor profiles in creative yet approachable ways.
BASQUE IN FLAVOR
The Basque region of France and Spain may not be the first global inspiration that comes to mind when casting a new appetizer or small plate, but this Basque Piperade with Braised American Lamb Shoulder delivers an enviable combination of regional authenticity, premium protein and distinctive bite. Piperade is a classic Basque sauce made with sautéed onions, red and green bell peppers, tomatoes, garlic and piment d'Espelette, a dried, ground red chile with a smoky-sweet flavor. This version, developed by Denver-based chef Jenna Johansen, on behalf of the American Lamb Board, sees the addition of poblano peppers, bay leaves and tender, braised lamb shoulder.
"This piperade, with the unique flavor and texture of shredded lamb, provides diners with an authentic and adventurous bite from Basque country," says Megan Wortman, executive director for the American Lamb Board. A hearty and versatile dish, it works as an attractive small plate served in small bowls or individual skillets with hot grilled bread, or it can be converted to an entrée by plating over rice, polenta or potatoes. The sauce's flavor profile can be tweaked by varying the amount of piment d'Espelette or by adding ground cayenne or other spicy chiles.
Nuts for Empanadas
The adaptability of the ubiquitous empanada makes it a prime candidate for inventive flavor play to amp up appetizer and snack menus. "Empanadas offer a necessary versatility that chefs seek as they continue to adapt their menus in the wake of COVID-19," says Jennifer Williams, marketing director, U.S. branding and food innovation for California Walnuts.
"Depending on the spices and fillings used, they can be made into sweet or savory applications, adapted to various global cuisines and used across dayparts." These Picadillo-Style California Walnut Meat Empanadas model a plant-forward sensibility by featuring a savory walnut picadillo tucked inside buttery, flaky pastry.
A swap for traditional minced meat, the chopped California walnuts used in the filling offer a subtle chewiness, balancing the softness of the sautéed onions, green bell peppers and garlic. Additional filling components include tomato sauce, white wine, capers, olives, golden raisins and cumin for a flavorful bite.
Responding to increasing customer demand for plant-based proteins is a smart strategy. "An ingredient that chefs are already familiar with, like the California walnut, is a comfortable option for this exploration,"
says Williams.
ALL FIRED UP
A complete sensory experience in a singular small bite, this Charred Watermelon Salad checks all the boxes. From sweet to savory and spicy, bitter and sour notes, the dish delivers big on flavor, textural interest and visual appeal. Developed by Bryan Lee Weaver, executive chef/partner of Redheaded Stranger in Nashville, Tenn., in partnership with the National Watermelon Promotion Board, the intriguing starter features bright, bite-sized cubes of watermelon that are charred, cooled and then tossed in an ancho chile vinaigrette. Each is adorned with a dollop of whipped feta, a signature ingredient of Weaver's that includes cream cheese, fresh garlic and basil. Topped with pieces of tangy, turmeric-pickled watermelon rind, shaved celery and black sesame seeds, the dish is an ideal small-plate offering.
"Charring adds a bit of bitterness to the dish, as well as providing more interesting color for the plating," says Weaver. That touch of heat releases some of the fruit's juices and natural sugars, he adds, noting that this technique is an optimal way to draw out flavor, especially when the watermelon is out of season locally.
The rest of the flavor story is equally compelling: "Watermelon and feta just seem to go together," Weaver says of the sweet and salty pairing, adding, "The ancho chile vinaigrette provides spicy-sour flavors, and the pickled watermelon rind and shaved celery add crunch and color. "Even the black sesame seeds play a role, evoking tinier versions of watermelon seeds.
A memorable mezze
This Baked Feta with Honey, Orange, Olives and Thyme appetizer is a simple yet stunning offering, elevated with rich, whole-milk feta that has been coated in olive oil and honey and baked in the oven with other Mediterranean ingredients. The flavors of the salty feta, briny olives and tangy citrus are balanced by the sweet, all-natural honey. "The honey and orange add a special brightness to the dish," says Catherine Barry, director of marketing for the National Honey Board. The complex flavors take center stage when paired with a moderately neutral carrier, such as crackers, French bread or flatbread.
"The dish can be modified in a number of ways," says Barry. Seasonal updates, such as substituting different fresh or dried fruits, allow for subtle flavor shifts. The feta can be replaced with halloumi or with tofu for a dairy-free option. She also suggests adding nuts for crunch and texture; featuring a regional honey; and rotating different honey varietals throughout the year. "Orange blossom, clover, wildflower and buckwheat, for example, will each bring a different nuance to the dish."
GETTING FRESH
Chicora Alley, a bar and grill with two locations in the Greenville, S.C., area, menus a spirited play on the conventional fruit-and-cheese platter. Ben's Cheese & Grapes, named for owner Ben Dixon, features a cool grape salsa that's a refreshing foil to a warm queso dip, both scooped up with accompanying tortilla chips and served as a flavorful starter. "The two components are designed to complement each other in terms of both flavor and temperature," says Courtney Romano, foodservice consultant to the California Table Grape Commission. The salsa, prepped with red and green California grapes, onions, cilantro and lime, delivers fresh, bright flavors, along with a spicy kick from jalapeños and hot sauce. The queso offers a creamy contrast, with a small amount of the salsa stirred in for a subtle flavor boost.
"The grapes provide crisp, fresh texture and a delicate sweetness that balances the spicy and tart components of the salsa," says Romano. In an era when cross-utilization is king, the salsa can go a long way, brightening other menu items, especially Mexican-inspired dishes. It can replace pico atop nachos or add distinction to a burger build.