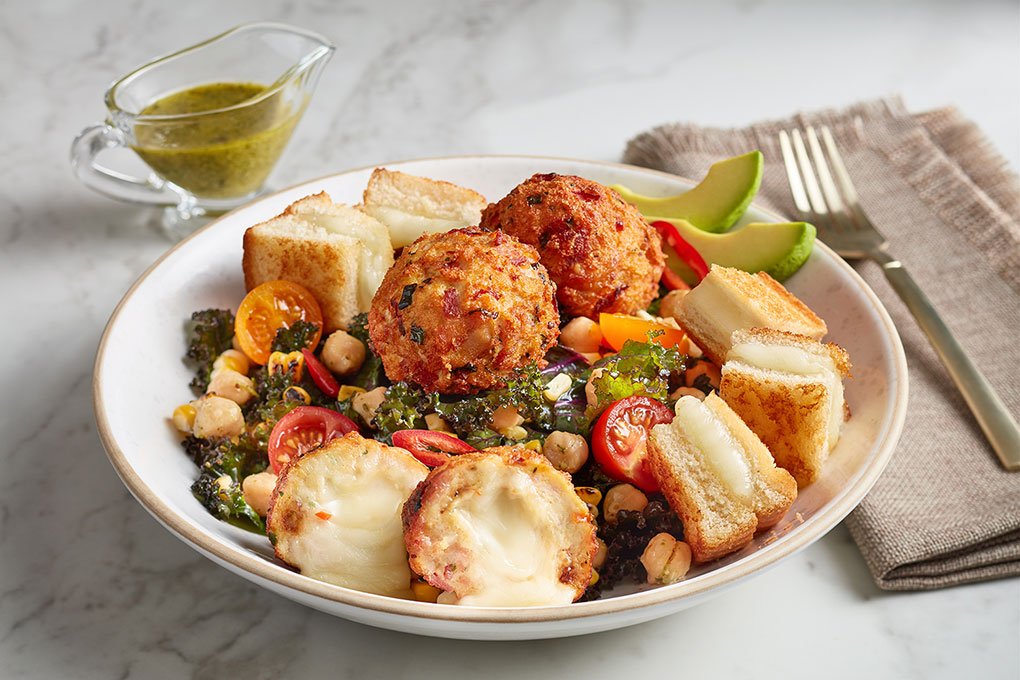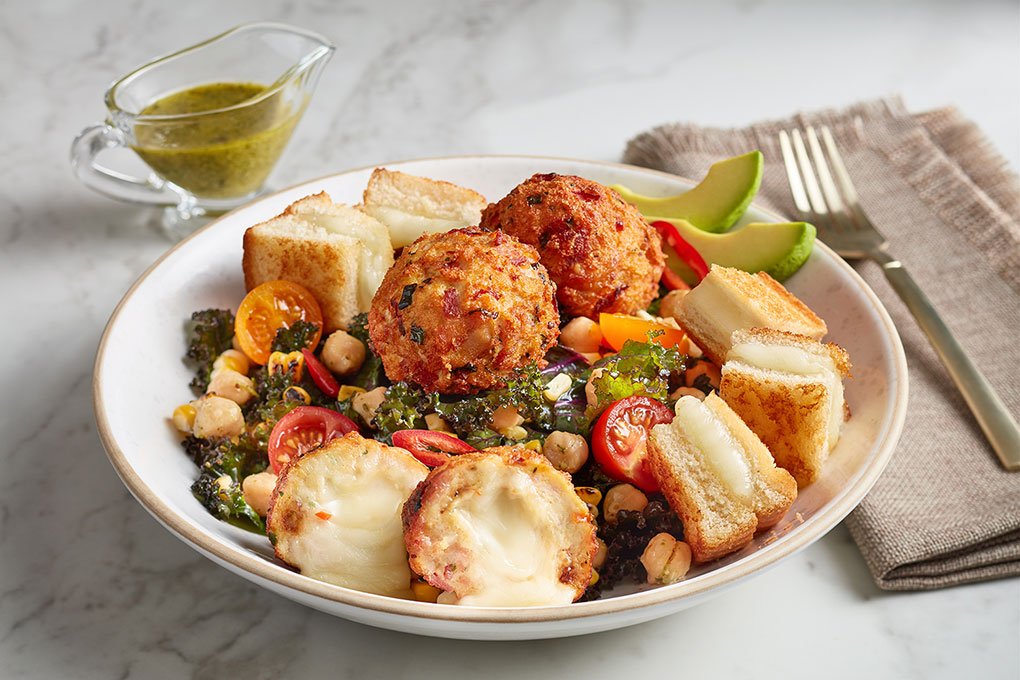 The Ultimate California Mozzarella Meatball Salad
Recipe courtesy of Chef Jay Smith
Sponsor: California Milk Advisory Board
Serves: 24
Description
Mozzarella-stuffed chicken meatballs served with mini grilled Real California cheese croutons over chickpeas, grilled corn, Fresno chiles, avocado, and a kale salad with a salsa verde vinaigrette.
Ingredients
California Mozzarella-Stuffed Chicken Meatballs: (Yield 72)
6 lb Ground chicken
2 lb Finely chopped bacon
8 oz Red bell peppers, 1/4 in dice
4 oz Green onions, finely chopped
4 oz Jalapeños, 1/4 in dice
4 oz Sundried tomatoes, 1/4 in dice
8 oz Grated Parmesan cheese
1 oz Finely chopped parsley
1 oz Salt
½ oz Black pepper
½ cup Water
2 ea Eggs
1 cup Breadcrumbs
4 ½ lb Real California Mozzarella cheese, cut ½ in x 1 in x 1 in (or .33 oz each)
Mini Grilled Cheese Croutons: (Yield 24 orders)
48 slices White bread, crust removed
24 slices Real California Mozzarella cheese, 2 mm slices, 3 in x 4 in
The Ultimate Mozzarella Meatball Salad: (Yield 24 orders)
72 each Chicken Meatballs
As Needed Melted Real California butter
24 each Mozzarella sandwiches
24 cups Red kale or kale, cut in 1-in pieces
24 cups Cooked, drained chickpeas
12 cups Grilled corn kernels
48 each Grape tomatoes, halved
9 cups Salsa Verde Vinaigrette
12 each Avocado, sliced ¼ in thick
144 slices Fresno chiles, sliced ¼ in on bias
1 bunch Cilantro
Directions
For the meatballs: Blend all the ingredients except mozzarella in a mixer with a paddle for 1 minute or until well blended. Place meatball mixture into walk-in for 30 minutes to chill before stuffing and shaping.
Portion mix using a #16 scoop onto a sheet pan. Stuff a piece of mozzarella into the center of each meatball and make sure the cheese is fully covered to prevent leakage. Cover and refrigerate.
For the grilled cheese croutons: Build bread and mozzarella to order or ahead of time. Cover and refrigerate until service.
For the salad (per serving): Place 3 chicken meatballs in fryer at 350 degrees F for 2 minutes and then in a 350 degree oven for 2 minutes.
Butter the exterior of 1 grilled cheese and place on a flat top or nonstick pan over medium heat and cook until golden brown on both sides. Cut each sandwich into sixths by splitting lengthwise and then into thirds.
While meatballs and sandwich are cooking, place 1 cup kale, 1 cup chickpeas, ½ cup corn, 4 tomato halves, and 6 Tbsp vinaigrette into a bowl and toss. Arrange in a serving bowl and then top with the fanned slices of ½ avocado in the center and the meatballs on the avocado. Surround the meatballs with the mini mozzarella croutons, 6 slices of Fresno chile and some cilantro leaves. Top the meatballs with additional Salsa Verde Vinaigrette.
Project Management: Summit F&B
Photography: Carlos Garcia // Food Styling: Peg Blackley & Bree Williams