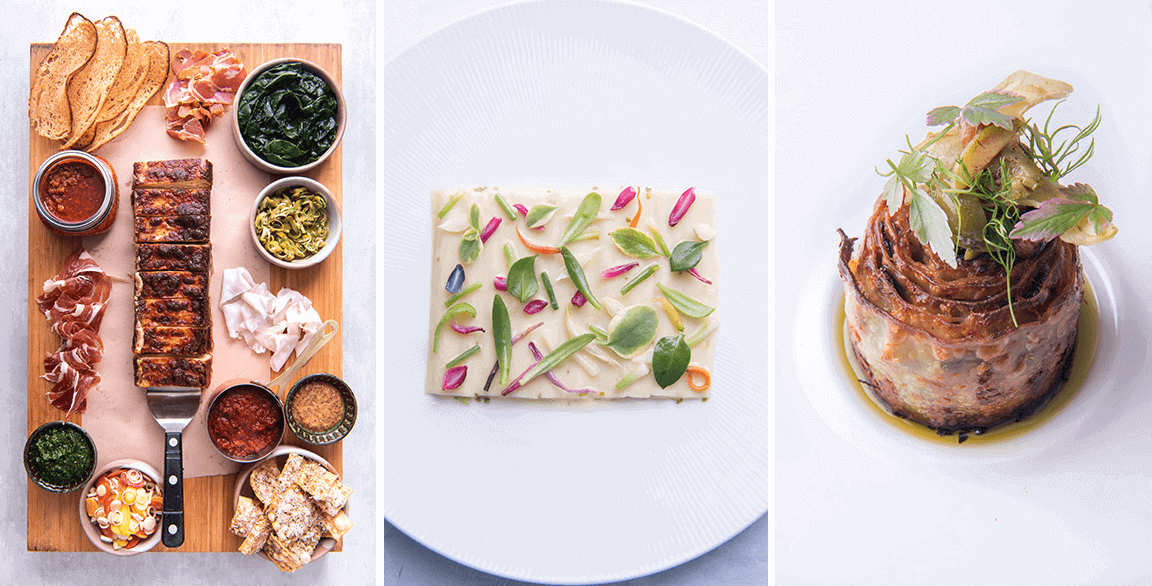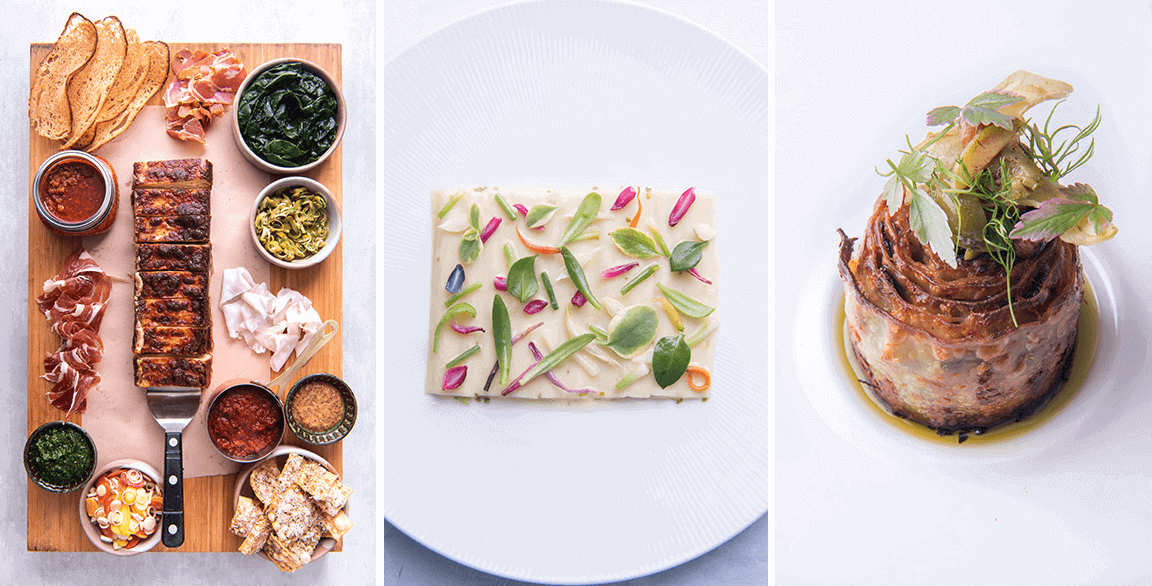 By Flavor & The Menu
January 24, 2022
Highly anticipated by chefs across the country, Barilla Lasagne Chef has arrived. These oven-ready, shelf-stable pasta sheets fit across a half hotel pan, making prep faster and easier with zero waste. To celebrate the arrival of this new foodservice product, we tapped Jamie Simpson, Executive Chef Liaison for the Culinary Vegetable Institute in Milan, Ohio. Known for his imaginative approach to ingredients, we asked him to choose three of Flavor & The Menu's Top 10 Trends, then use Barilla Lasagne Chef as the foundation of each creation.
Simpson's three modern takes on lasagne showcase pasta's ability to carry many of today's trends while still delivering the comfort and heartiness that diners know and love.
TREND #1: CHARCUTERIE

A surge in popularity with this shareable has sparked new innovation in the category, from new grazing board concepts to takeout-friendly charcuterie cones and boxes.
---
The key to a charcuterie board's success is the social aspect of it. Imagine ordering the charcuterie board…for one. I just cried a little. To bring pasta and charcuterie together I circled back to the nature of lasagne and the function of a mélange of cured meats artfully arranged on a board: community, togetherness, family. For this dish, I made one for the table. A flat terrine of sorts, on wood: the large lasagne sheets between artisan cheeses, whole-grain mustards, and hams—broiled, almost burnt, on top; a carving knife and an offset spatula for the people to sort out; complementary condiments, like hot honey, pickled vegetable relish, preserved fruit, tapenade, fresh herbs and breadcrumbs. From an operator's perspective, the prep is done yesterday and the pickup is passive: 'Fire this in the broiler and move on.'
---
TREND #2: SALT

Unique salt usage on menus including highlighting different varieties, like black lava and pink peppercorn, along with creative, strategic uses of salt.
---
My world is generally focused around vegetables so the concept I explored is salt-cured vegetables—10% by weight. I used a mix of turnips, petite radishes, garlic, mustard greens and carrots. I cooked a single sheet of the Barilla Lasagne, then plated it on a large coupé. I made a sauce of the salt-cured vegetables with olive oil to completely cover the lasagne sheet, then topped it with a selection of halophytes, or 'salt-tolerant plants' like sedums, crystal lettuces and seaweeds.
---
TREND #3: MODERN GREEK

Modernized Greek is having its moment, fueled in part by the flood of Eastern Med menu inspirations and restaurant concepts.
---
Greek food hits all the right buttons—it's balanced, flavorful, healthy, satisfying, memorable and clean. Unlike many cultures, the food isn't bound by its great grandmothers—it's elevated by them. For this dish, the path is simple: tomatoes, eggplant, lemon, garlic, grape leaves, whitefish and manouri cheese. I rolled them into a tall ramekin with our 'secret ingredient' and baked until crispy. I topped it with a salad of sliced olives, green chickpeas, fennel, parsley, and a boatload of green olive oil.
---
---
To learn more, visit barillafs.com/lasagne