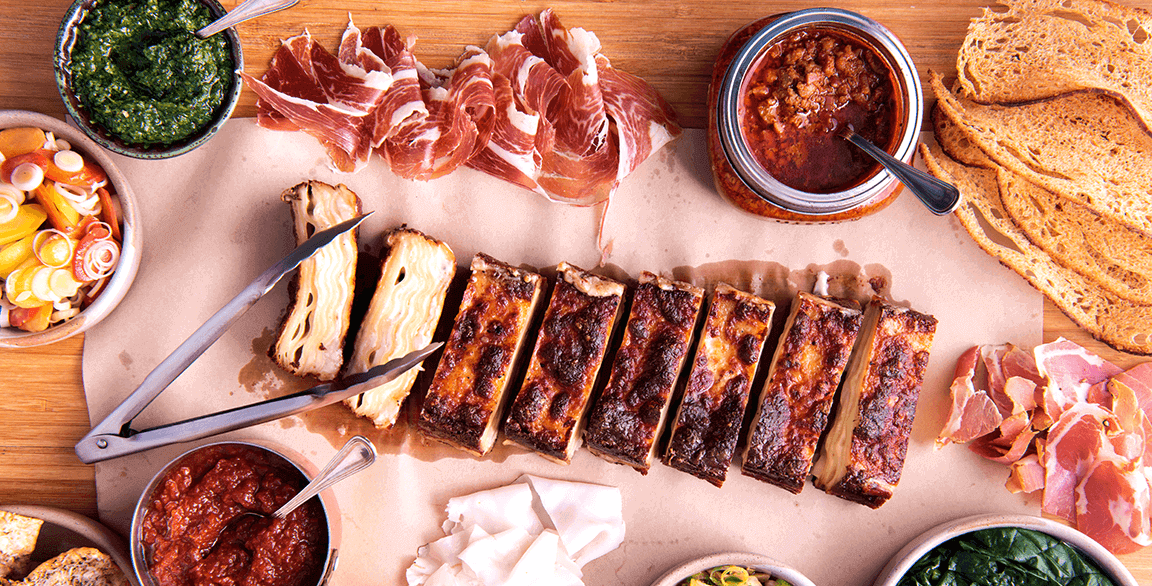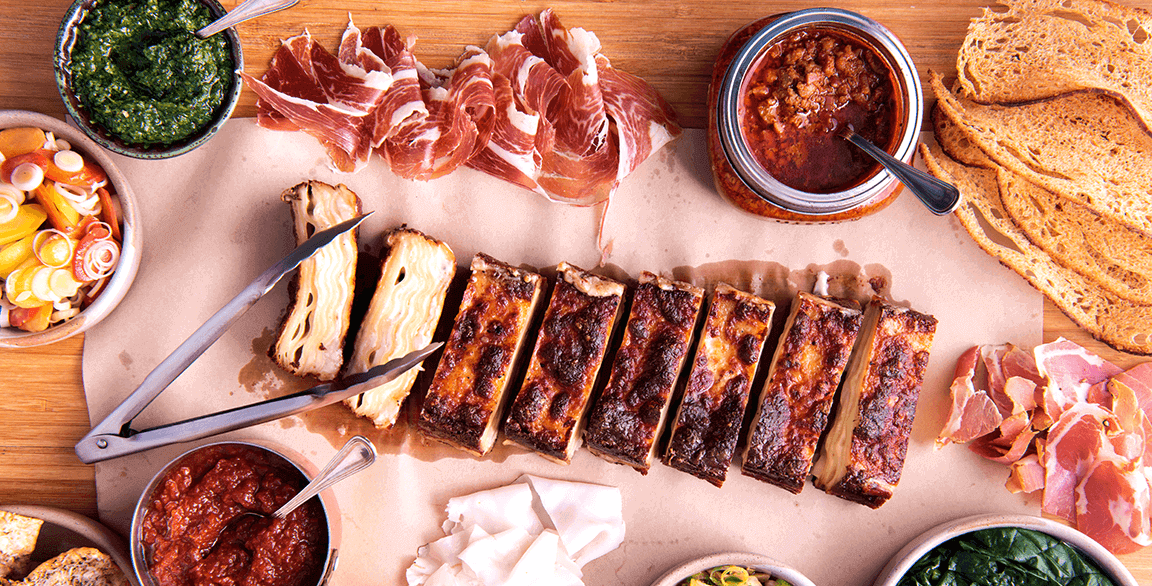 Charcuterie Board with Terrine of Lasagne
Servings: 4-6
Source: Jamie Simpson, Culinary Vegetable Institute
Photo: Michelle Demuth-Bibb
For the Terrine of Lasagne:
Butter, lardo, or rendered lard
1 enameled cast iron Paté Terrine
1 pint warm bechamel
A few spoonfuls of whole-grain mustard
¼ lb of Taleggio, diced
Black pepper
Fresh thyme
Salt
1 wedge Parmesan cheese, grated
A few al dente Barilla Lasagne Chef sheets, cut to fit
DIRECTIONS:
Start by lining your terrine with some sort of fat—butter, lardo, chilled bacon fat—anything that will coat all sides of the terrine.
Combine the bechamel, whole-grain mustard, Taleggio, black pepper, thyme, and salt in a pot until fully incorporated.
Grate some Parmesan onto the bottom of the terrine. Place your first layer of pasta followed by a shallow layer of mornay sauce and repeat until you reach the top of the terrine. Top with sauce mornay and finish with grated Parmesan.
To bake, preheat an oven to 450ºF. Place the terrine on a parchment-lined sheet tray to manage cleanup. Bake until thoroughly browned on all sides.
Remove from oven and allow to cool to room temperature before removing.
The terrine should be made in advance.
When ready to serve, slice the terrine and broil until hot and bubbly.
Serve with any condiments you might find appropriate for a charcuterie board. The pictured concept includes but is not limited to: puffed pasta "crackers," pickled vegetables, arrabiata, mustard, lardo, coppa, speck ham, parsley pesto, 'nduja, olive tapenade, wilted spinach, and shaved sourdough crostini.