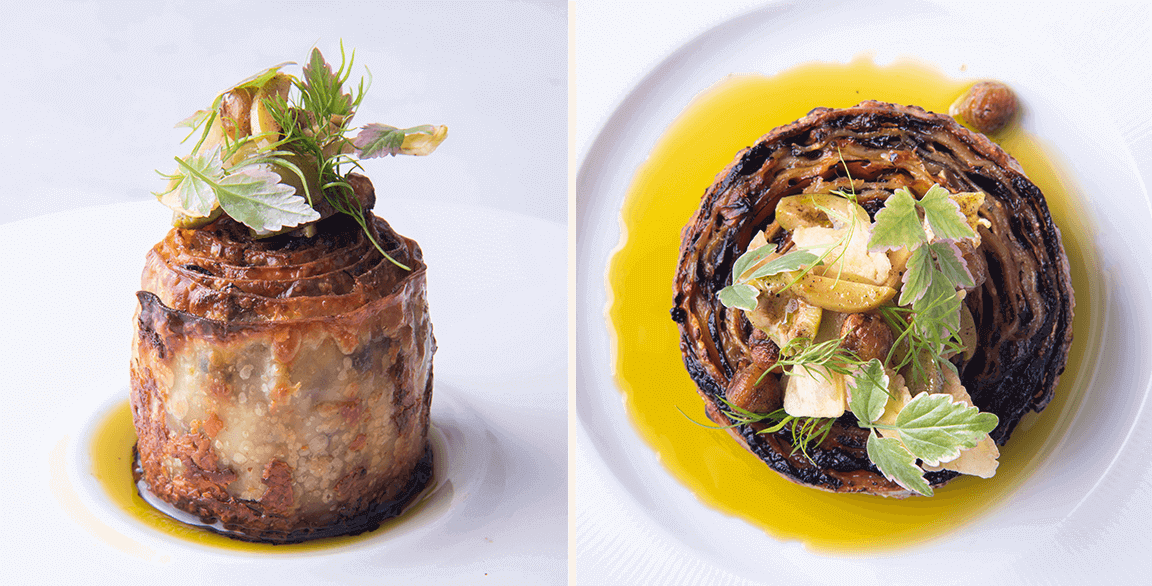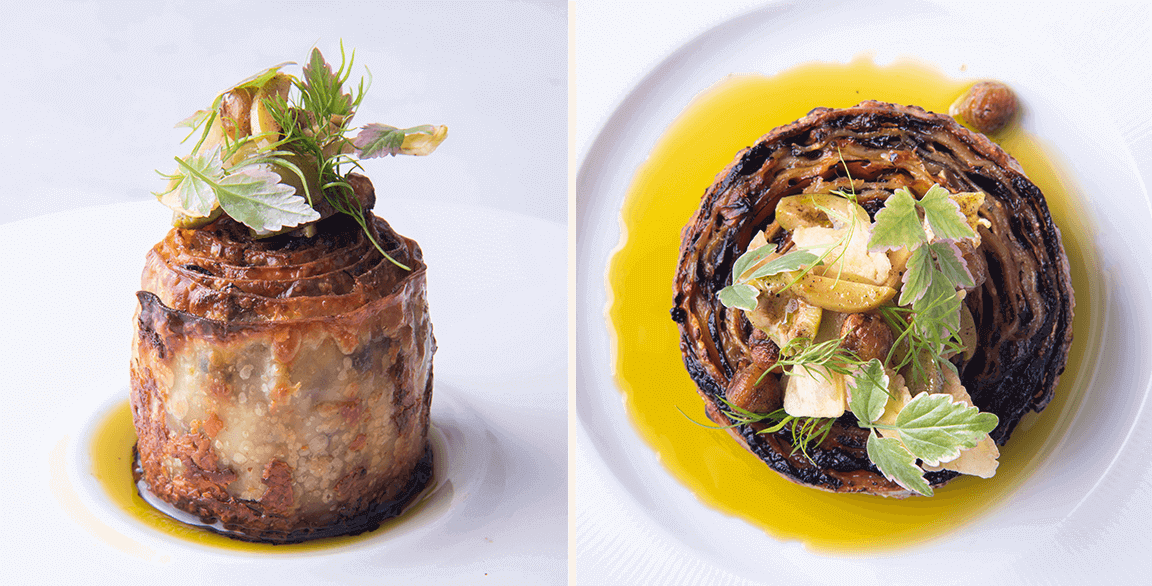 Greek Lasagne Roll
Servings: 2
Source: Jamie Simpson, Culinary Vegetable Institute
Photo: Michelle Demuth-Bibb
INGREDIENTS:
1 Red pepper, shaved as thin as the lasagne
½ Eggplant, shaved as thin as the lasagne
1 Roma tomato, shaved as thin as the lasagne
1 Fresh artichoke, shaved as thin as the lasagne
2 Barilla Lasagne Chef sheets, cooked and chilled
1 cup Halloumi, grated
1 pint Bechamel
½ cup Olive oil
6 Grape leaves, canned
½ cup Chickpeas
20 Olives, shaved as thin as the lasagne or broken into pieces
12 Fennel fronds, washed
12 Parsley leaves, washed
Salt
DIRECTIONS:
In a hot cast-iron pan or broiler, char all vegetables and season with salt.
Line two small springform pans or tall ring molds with a little olive oil and coat with grated halloumi cheese. Cut the lasagne sheets to the height of the ring, keeping as long as possible.
Spread a thin layer of bechamel over each strip and sparingly place a single layer of charred vegetables over that. Top with any remaining grated halloumi cheese. Start on one end and roll a single sheet as tight as possible. Continue that roll onto the next sheet and continue to roll until the diameter reaches size of the mold you will bake in. Repeat until all molds are filled.
Bake at 450ºF until the edges are crispy and the top is browned. Remove from oven and carefully remove from mold.
Make a salad with the chickpeas, any remaining vegetables, olives, fennel and parsley.
Top the lasagne with a nice green olive oil and the salad and serve hot.