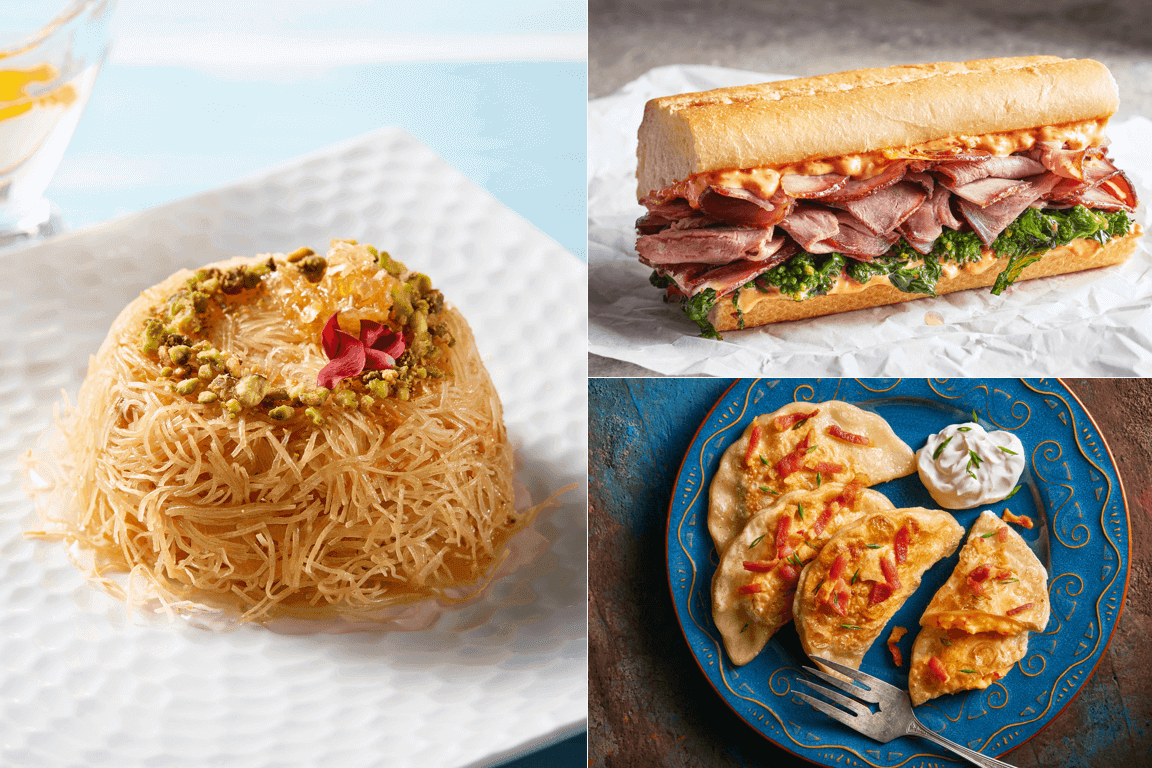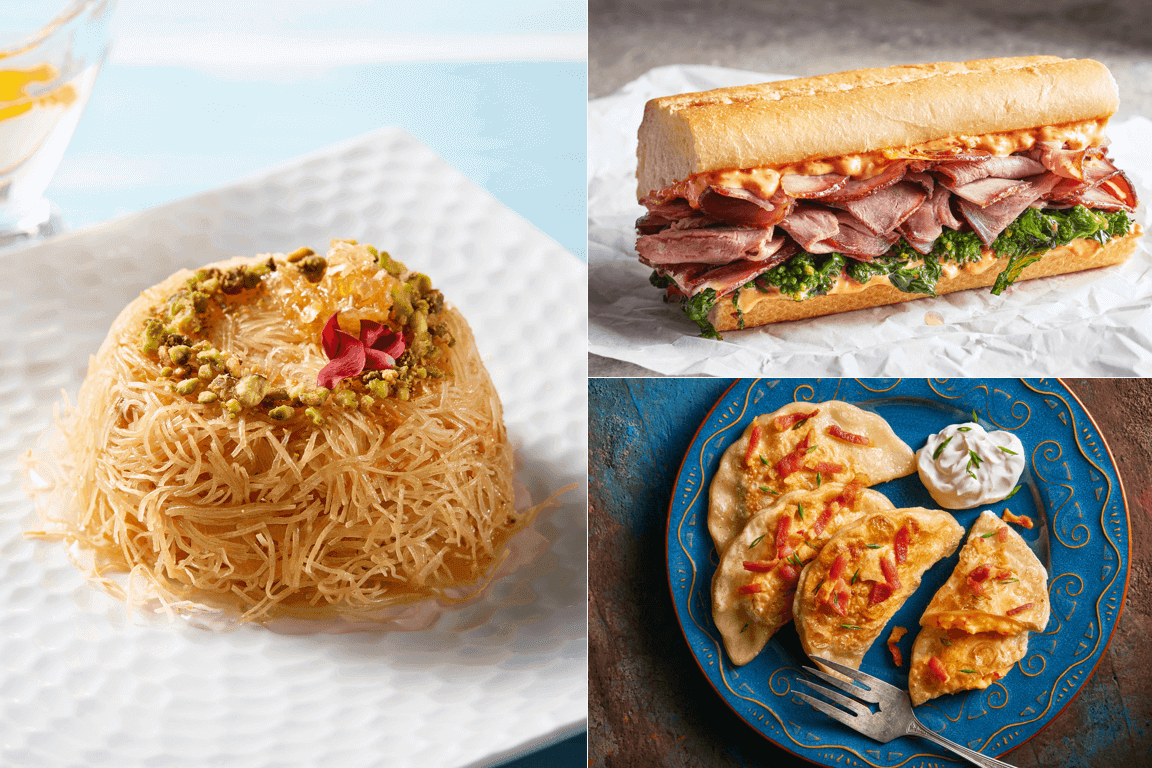 Kitchen Collaborative is a recipe-development initiative formed by Summit F&B and Flavor & The Menu. To fuel flavor innovation, a group of talented chefs partnered with sponsor brands and commodity boards to create recipes that showcase the passion and potential of our industry.
"Recipe development has absolutely influenced my career progression, even in QSR, which isn't typically associated with much cooking or anything culinary for that matter," says Michael Krimmer, Director of Menu & Culinary Innovation at Bojangles. "But most menu items that end up in a QSR do, in fact, originate as a recipe in a kitchen, and it requires development to take that recipe and turn it into something that can be made consistently and served quickly across hundreds of locations by thousands of crew members—and still be a delicious version of its original self. This is what has molded my career."
Recipe development for Kitchen Collaborative, however, was a bit of a new twist, Krimmer says, and he eagerly embraced the challenge, with its assigned ingredients and specific objectives, producing a trio of inventive mash-ups of different cuisines and signature dishes: California Knafeh, Price*s Pimiento Pierogi and Philly Roast Pork Sandwich with Lee Kum Kee® Sauce for Orange Chicken. "This is my favorite kind of recipe ideation," he says. "Putting together ingredients or cuisines in a way that's unexpected, but still conceptually makes sense, is approachable and, of course, tastes delicious. I love coming up with combinations and then going to Google and discovering that no one else has thought of these before!"
California Knafeh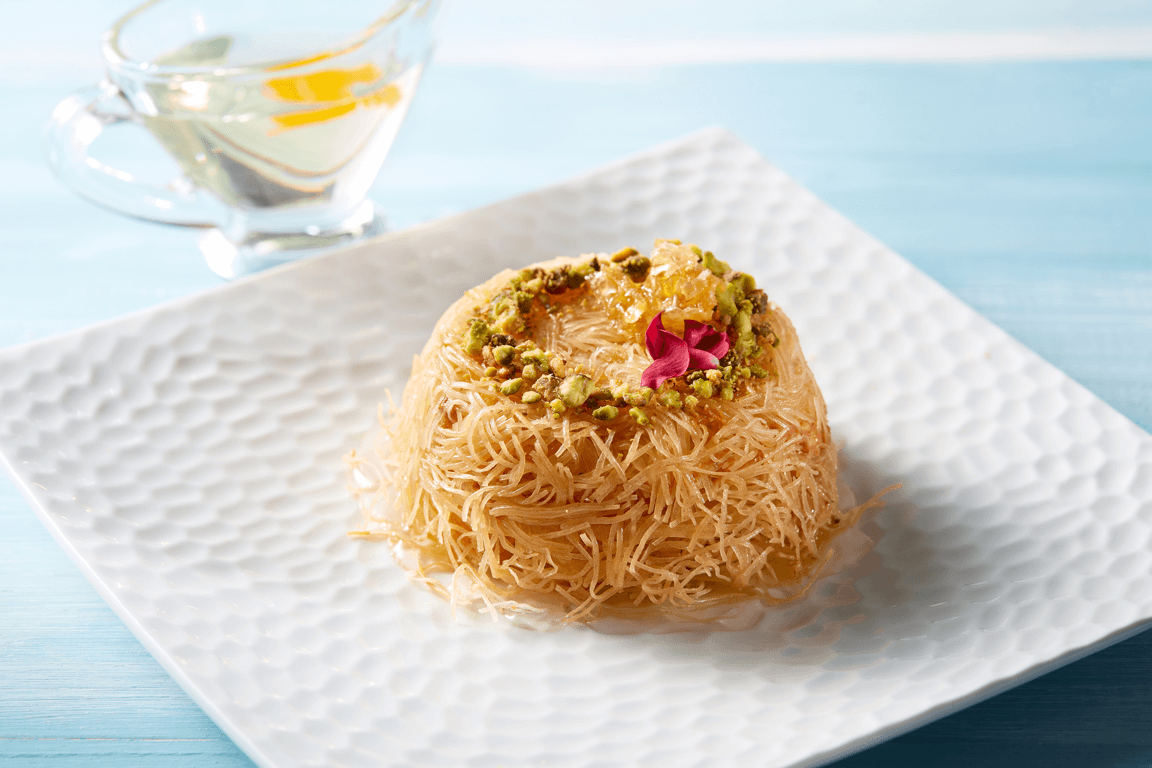 Photo: Carlos Garcia // Food Styling: Peg Blackley
In spinning up his take on knafeh, the traditional Middle Eastern breakfast-dessert-snack favorite, Krimmer says he lands somewhere between baklava and a cheese Danish. His recipe for California Knafeh is a take on the Lebanese version, he explains, "but it's made with decidedly Italian-style cheeses from California." Individual phyllo-style dough cups are filled with rich and creamy fresh mozzarella and ricotta. After baking, they are garnished with ground pistachios, dried rose petals and raw honeycomb. A simple syrup of sugar, water, honey, orange zest strips and orange blossom water is served on the side, allowing guests to control the level of sweetness.
"My grandmother, who was incredibly talented in the kitchen, was from Lebanon. So, I was lucky to grow up eating authentic Middle Eastern food. This recipe is based on hers, but uses something called 'sweet cheese,'" Krimmer recounts of his inspiration. "I knew I wanted to take the Italian cheeses down the dessert path—I'm a sucker for sweets—I just didn't know if the ricotta and mozzarella would work in Grandma's recipe until I gave it a try." And? "I would never claim I made something better than Grandma, but let's say the Italian cheeses work really well in knafeh!"
Krimmer is serious about preserving authenticity in this dish, using kataifi dough (found at any Middle Eastern or halal market, he says), along with ghee, delivering a subtle layer of flavor complexity that melted and even clarified butter can't quite match. "Considering there are just a few ingredients, this dessert is incredibly complex," he notes. "It's sweet, savory, salty, creamy, crispy, nutty and floral—such a unique flavor and texture combination for a dessert."
Price*s Pimiento Pierogi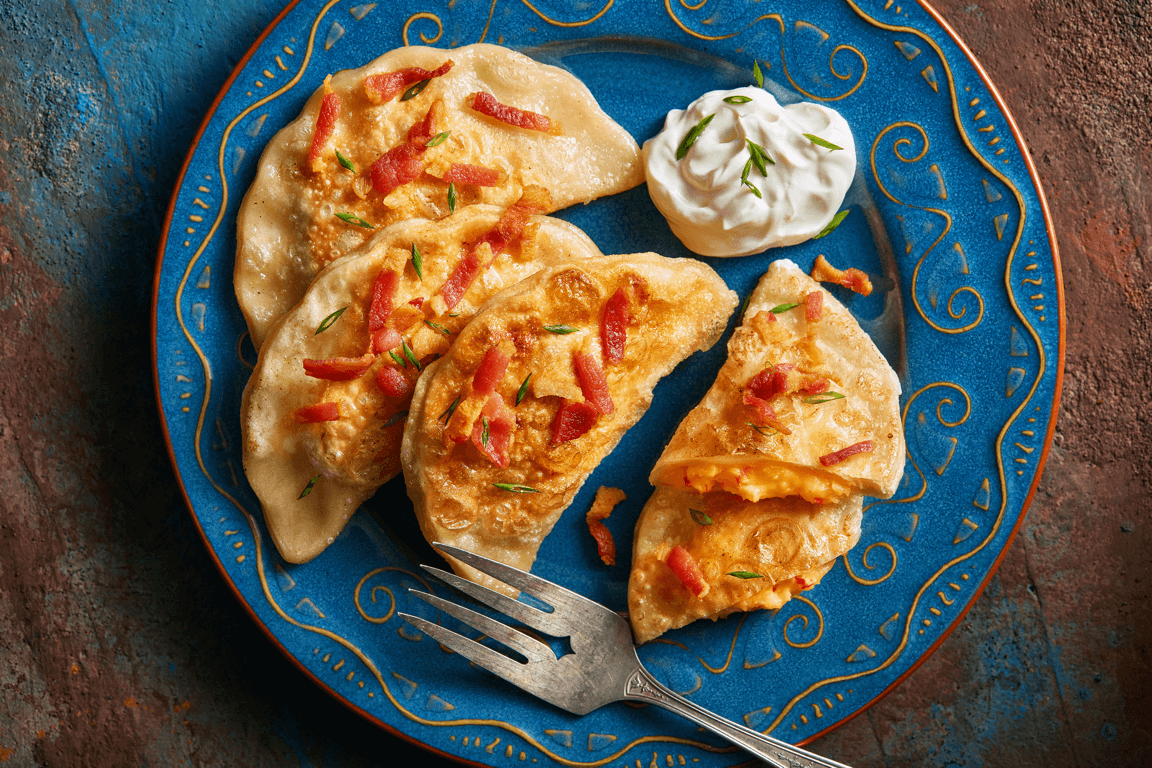 Photo: Carlos Garcia // Food Styling: Peg Blackley
"This recipe combines the uniquely Southern pimiento cheese with the decidedly un-Southern Polish pierogi for a bite that is savory, sweet, a little bit spicy and a lot of delicious," says Krimmer. "It turns out that these two things have always belonged together!"
While acknowledging that commercially prepared frozen pierogi have their place ("I used to eat them by the bagful"), and making them by hand is a labor investment, Krimmer committed to this recipe for Price*s Pimiento Pierogi because "Once you've had one made from scratch, it's difficult to go back. There's just something about the flavor and the chew of fresh-made dough that can't be replicated in the freezer aisle. Plus, making them from scratch opens a world of opportunities for fillings." In this case, it's a simple but flavorful mix of potatoes, Price*s Original Pimiento Cheese Spread and kosher salt.
Will Southern cuisine concepts buy into this cross-cultural mash-up? Krimmer is betting yes. "I feel like American Southern cuisine is going through a renaissance, and it's enjoying exploding popularity because it's modernizing and evolving, thanks, in part, to fusions with other cuisines and unexpected twists," he says. "This would be a great place to start on a menu in a New South concept."
Philly Roast Pork Sandwich with Lee Kum Kee® Sauce for Orange Chicken
Photo: Carlos Garcia // Food Styling: Peg Blackley
The Philly Cheesesteak may be top of mind when considering iconic dishes in the City of Brotherly Love, but Krimmer wants to redirect some of that ubiquitous fanfare to a lesser-known sandwich he feels is even more delicious. "I was in Philly with some time to kill before a flight, and instead of doing the Pat's-versus-Geno's cheesesteak test for the tenth time to settle the unwinnable debate, I took a coworker's advice to check out Reading Terminal Market," Krimmer recounts. "There was a long line at a place called Tommy DiNic's, so I figured they were doing something right. The person ahead of me recommended the Roast Pork Sandwich, and the rest is history!"
That sandwich serves as the inspiration for Krimmer's own Philly Roast Pork Sandwich with Lee Kum Kee® Sauce for Orange Chicken, to which he applied several traditional Asian sauces from Lee Kum Kee in a manner that "takes the Asian sauces out of Asia, without taking the Philly out of the roast pork sandwich." Presented with an objective to create a non-Asian recipe and a list of sauce options, Krimmer was struck by the idea of a garlicky broccoli rabe on an Italian roast pork sandwich. Pushing further, "My goal was to infuse as many sauces into that sandwich without losing its identity."
The pork is marinated in a mix of Lee Kum Kee Sauce® for Orange Chicken, along with Chinese five-spice, garlic cloves, a navel orange, chipotles in adobo, fresh ginger, honey and kosher salt for a full day before it is cooked for four hours. For the build, mayonnaise is spiked with Lee Kum Kee® Chili Bean Sauce and slathered on both sides of a toasted sub roll. Chopped broccoli rabe is coated with Lee Kum Kee® Roasted Sesame Dressing and placed on the bottom roll. Thin slices of pork roast are piled high before the sandwiches are closed. The result is a flavor and texture experience Krimmer initially found difficult to put into words, but did so when pressed: "The pork is sweet and savory, the mayo is creamy and spicy, the broccoli is nutty and garlicky and the bread is the chewy, crusty vessel that holds it all together."
"I love that this sandwich is so many different things, but it's not confused. It's a big departure from the Tommy DiNic's inspiration, but still pays homage to it. It uses ingredients that aren't typically put together, but complement each other perfectly," Krimmer explains. (And, he advises, the next time you travel to Philadelphia, "do yourself a favor and head to Reading Terminal Market to experience a sandwich that has no competition.")
Project Management: Summit F&B
Photography: Carlos Garcia // Food Styling: Peg Blackley