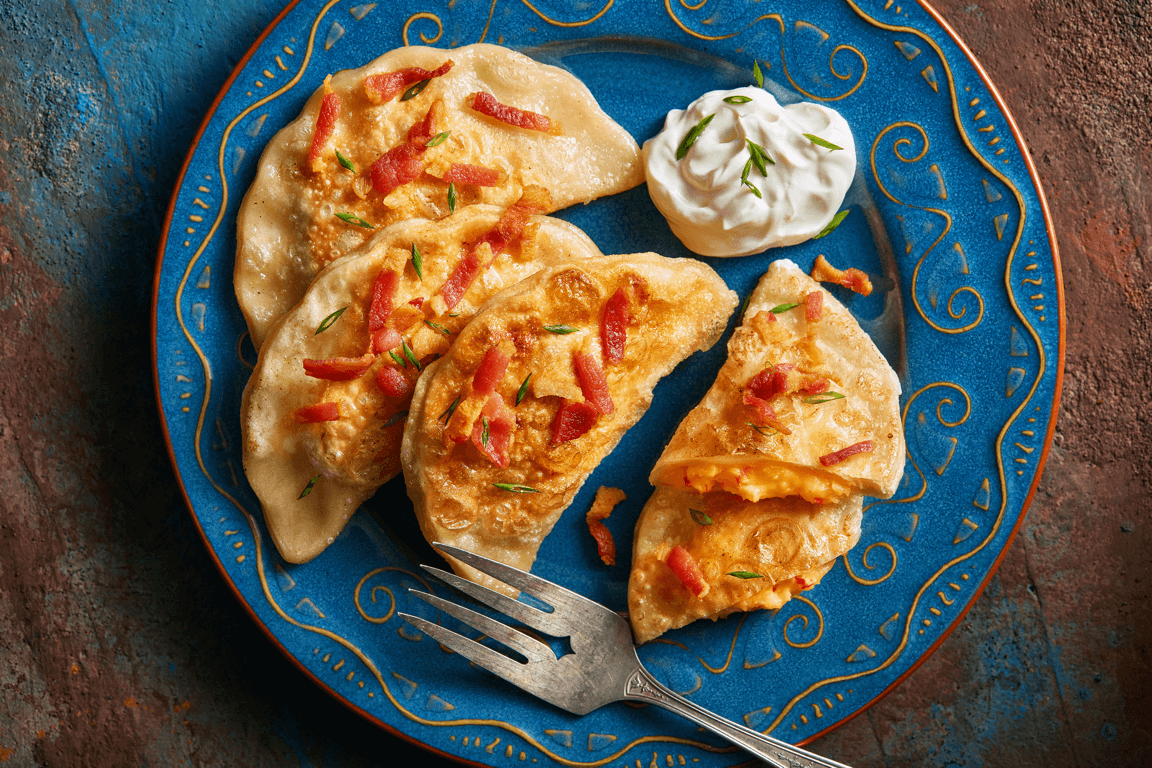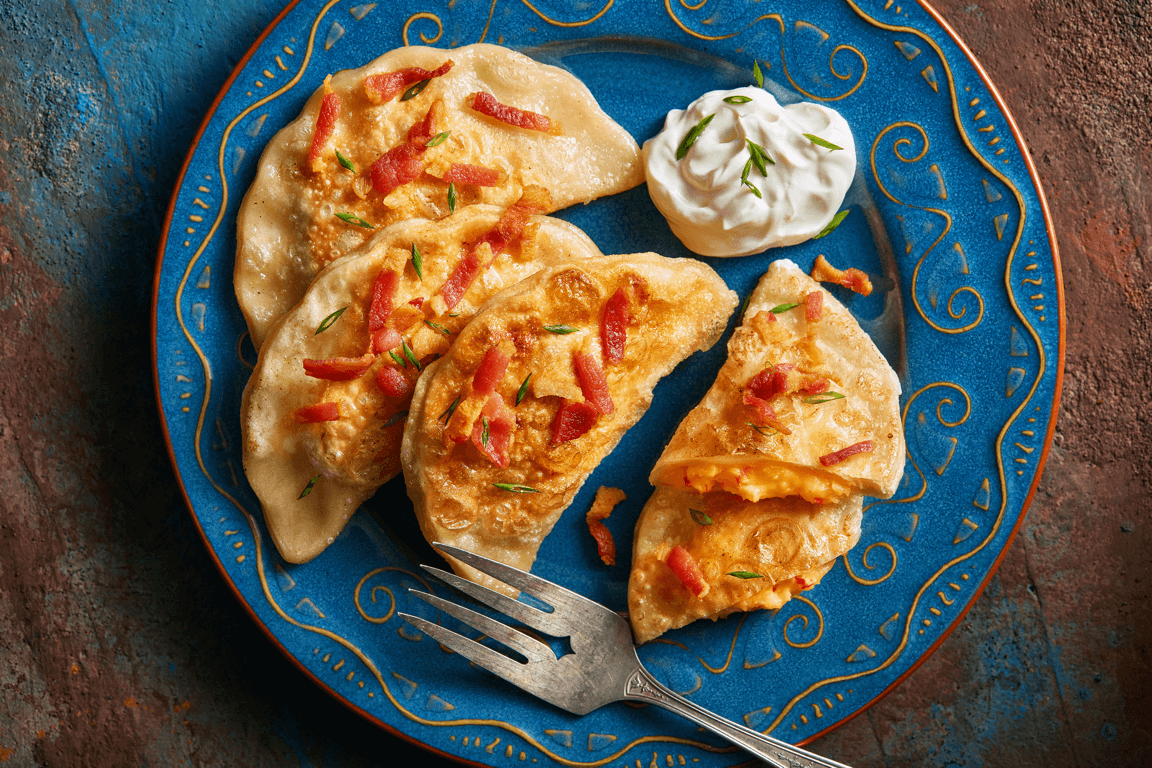 Price*s Pimiento Pierogi
Recipe courtesy of Michael Krimmer
Sponsor: Bel Brands USA
Servings: 48 pierogi
Ingredients
Filling:
2 lbs yellow potatoes, peeled
12 oz Price*s Original Pimiento Cheese Spread
1 Tbsp kosher salt
Dough:
6 c all-purpose flour
1 c whole milk
1 to 1 ½ c warm water
2 Tbsp butter, melted, cooled
2 tsp salt
To serve:
1 c butter, for pan frying
Sour cream, as needed
Cooked bacon, as needed
Fresh chives, as needed
Directions
For the Filling:
Boil potatoes until tender, about 20 minutes. Drain and mash potatoes until smooth. Set aside until completely cooled.
Combine the mashed potatoes, Price*s Pimiento Cheese and salt. Set aside or cover and refrigerate until needed.
For the Dough:
Using a stand mixer, combine the flour, milk, 1 cup of water, melted butter and salt and mix with a paddle or dough hook on low speed until just combined. The dough should start to come away from the sides of the bowl. If more water is needed, add it 1 Tbsp at a time until it comes together. If too sticky, add more flour 1 Tbsp at a time.
Let dough rest, covered, for 30 minutes.
In the meantime, get a large pot of salted water boiling.
Work with half the dough at a time. Start by taking roughly half the dough and roll out on a lightly floured work surface to approximately 1/8 in thick.
Cut out 4-in rounds and spoon about ½ Tbsp of the potato filling into each dough round.
Using a brush, wet the edges of one dough round, fold the top over the filling to meet the bottom edge. Crimp shut around the edge to make a half-moon shape.
Finish with the dough rounds and set aside as you go.
Take the remaining dough scraps and combine them with the other half of the dough. Repeat steps 4 through 6.
Take the remaining dough scraps, re-roll them and get as many rounds out as possible. Repeat until all dough and filling are used.
Boil pierogi in salted water, 12 at a time. When the pierogi float in the boiling water, cook them for an additional minute. Entire boil time is about 3 minutes.
Remove cooked pierogi with slotted spoon and set aside. Repeat until all pierogi are cooked.
To serve, heat ¼ c butter in a sauté pan over medium heat. Pan fry 12 pierogi at a time, cooking until slightly crisp on each side (about 1 minute per side).
Plate and garnish with sour cream, bacon and chives.
Chef Notes
Making pierogi is a time-consuming process, but entirely worth it considering what is available in retail/commercially. With that said, the pierogi can be made in bulk and frozen, before cooking them. Just add an additional minute or two to the boiling time.
Project Management: Summit F&B
Photography: Carlos Garcia // Food Styling: Peg Blackley