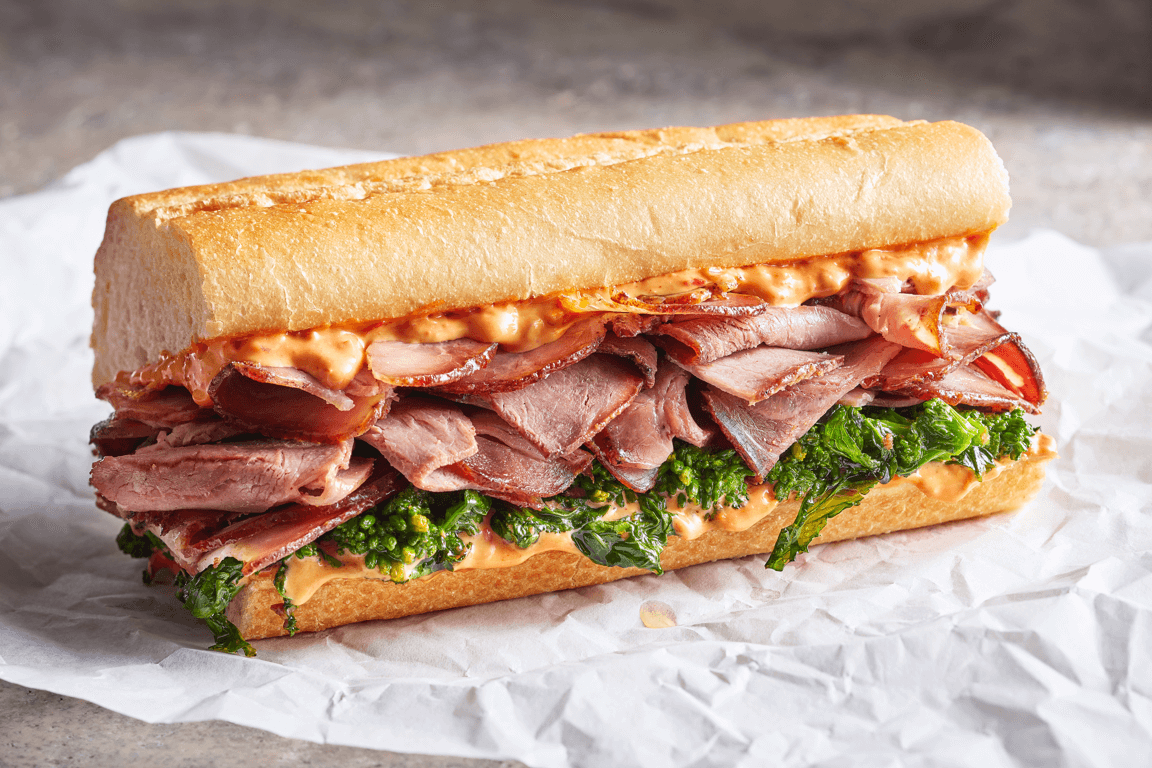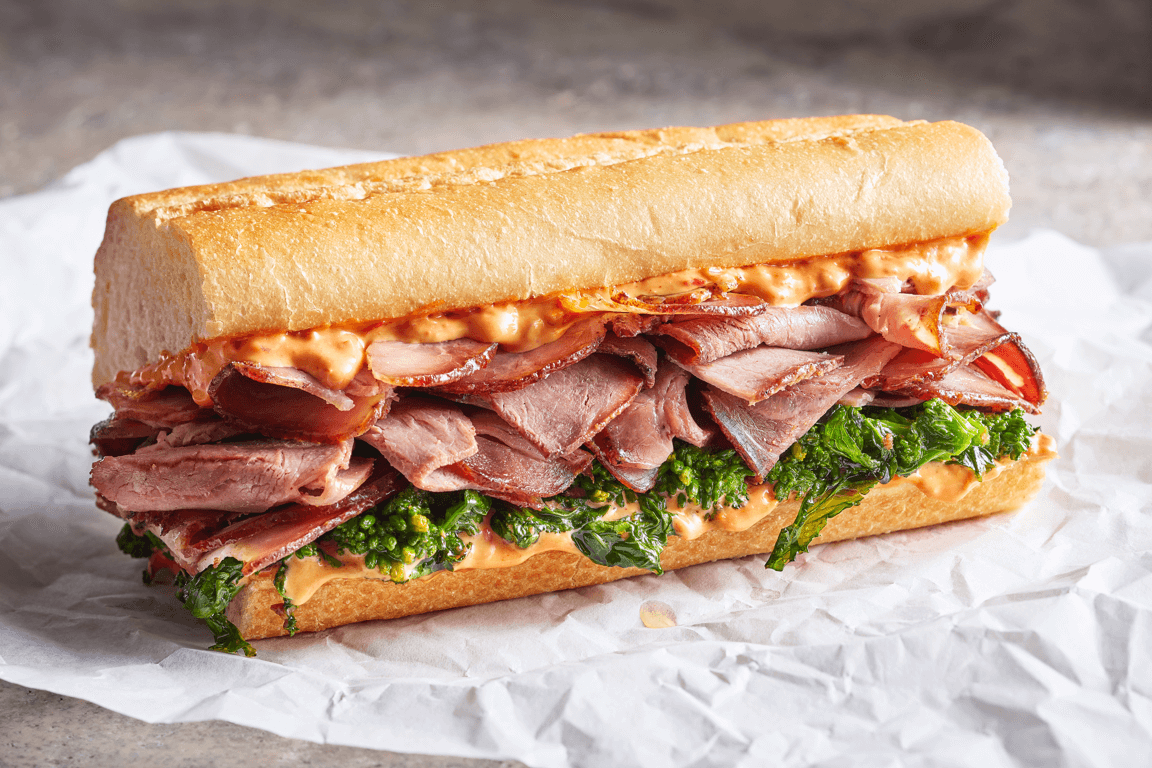 Philly Roast Pork Sandwich with Lee Kum Kee® Sauce for Orange Chicken
Recipe courtesy of Michael Krimmer
Sponsor: Lee Kum Kee
Servings: 4 Large Sandwiches
Ingredients
Roast Pork:
1 navel orange
1 4-5 lb boneless Boston butt
2 c Lee Kum Kee® Sauce for Orange Chicken
3 Tbsp Chinese 5 Spice
6 garlic cloves, peeled
2 chipotles in adobo
1 nub fresh ginger
2 Tbsp honey
2 Tbsp kosher salt
Chili Bean Mayo:
1 c mayonnaise
1 Tbsp Lee Kum Kee® Chili Bean Sauce
Broccoli Rabe:
1 Tbsp kosher salt
2 bunches broccoli rabe
2 Tbsp butter
¼ c Lee Kum Kee® Roasted Sesame Dressing
Sandwich:
Directions
For the Roast Pork:
Slice orange in half. Char the cut sides and peels on a gas burner or in a broiler. Let cool.
Juice the charred orange into a blender. Place juiced peels into a quarter hotel pan along with the pork roast.
Add the Sauce for Orange chicken, 5 spice, garlic, chipotles, ginger, honey and salt into the blender with the juice and blend until smooth.
Pour the blender mixture over the pork and rub the sauce onto the pork until completely covered. Cover pan and let marinate, refrigerated, for 24 hours.
Preheat oven to 300°F.
Remove pan from refrigeration and place in oven. Cook covered for 3 hours and uncovered for 1 hour, spooning the sauce over the roast two or three times during the last hour to develop a charred bark on the exterior.
Remove from oven and set aside to cool.
For the Chili Bean Mayo:
Combine the mayonnaise and Chili Bean Sauce and mix well. Set aside.
For the Broccoli Rabe:
Bring a pot of salted water to a boil. Boil broccoli rabe for 1 minute, then shock in ice water. Drain and rough chop the cooked broccoli rabe.
In a sauté pan, melt the butter over medium-high heat. Add chopped broccoli rabe and sauté for 1 minute. Add Roasted Sesame Dressing and toss until coated. Set aside and keep warm.
For the Sandwiches:
Toast bread rolls in a 350°F oven for 5 minutes, until crusty on the outside. Slice lengthwise.
Slather Chili Bean Mayo on both sides of the cut rolls. Spread about 1 c of broccoli rabe onto the bottoms of the rolls. Thinly slice the pork roast and pile about 12 oz of meat onto the broccoli rabe. Close sandwiches and serve whole or wrap in deli paper and slice in half.
Chef Notes
The bread is really the chef's choice. A nice crusty long roll works well here. Works just as well with a seeded or unseeded roll. This could even be done on a bun depending on your operation, just don't tell Tommy DiNic.
I debated a long time between cheese and no cheese. I opted out of cheese because there was already a lot going on with this sandwich and there is a disconnect between Asian flavors and cheese for me. However, it does work well with cheese too … use a nice melty provolone for that truly Philly feel if you decide to go that route.
Project Management: Summit F&B
Photography: Carlos Garcia // Food Styling: Peg Blackley