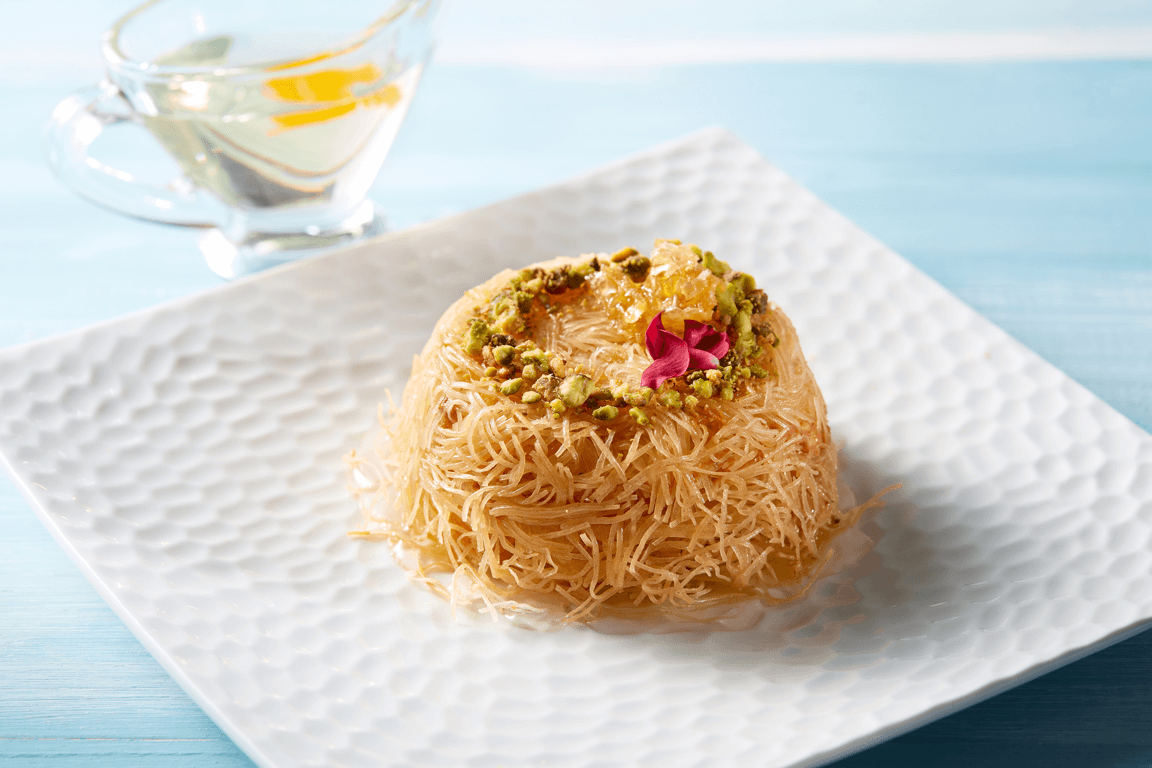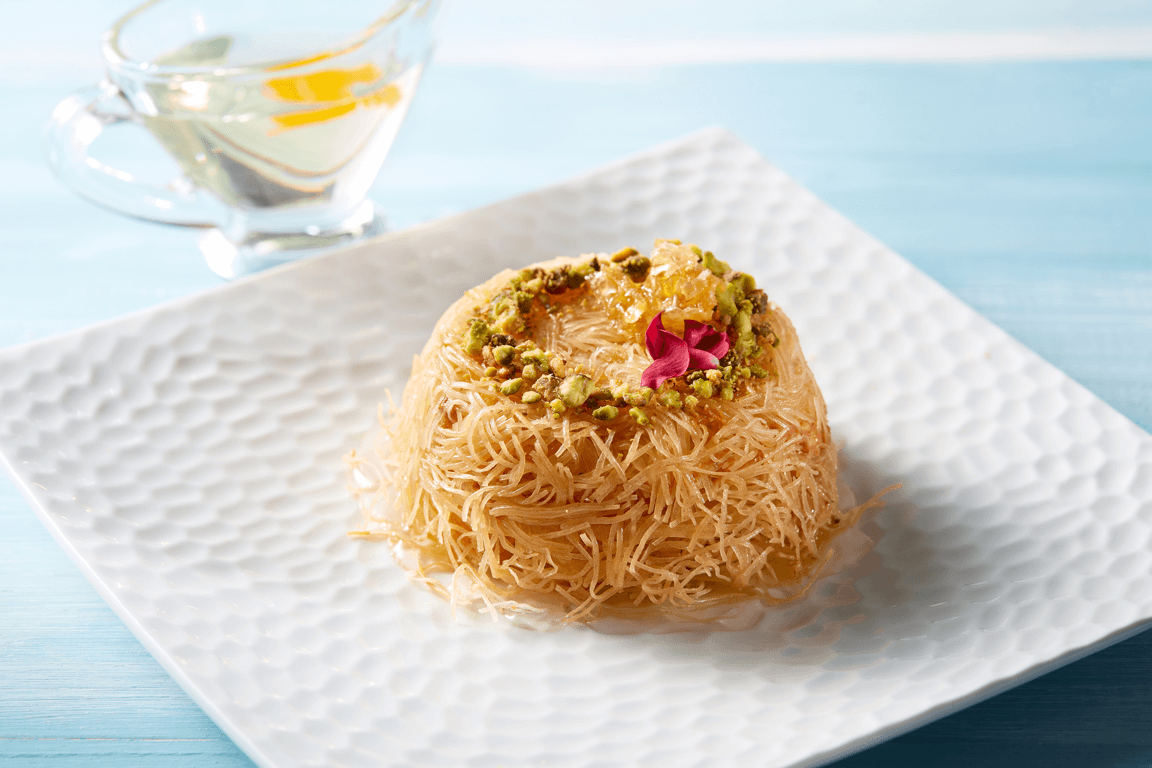 California Knafeh
Recipe courtesy of Michael Krimmer
Sponsor: California Milk Advisory Board
Servings: 24
Ingredients
Syrup:
4 c sugar
2 ½ c water
½ c honey
2 wide strips orange zest
2 Tbsp orange blossom water
Pastry:
2 lb shredded phyllo dough (kataifi), fresh or frozen and thawed
4 c Real California Ghee, warm
32 oz fresh Real California Mozzarella (2 balls)
32 oz Real California Ricotta cheese
Garnish:
½ c ground pistachios
1 raw honeycomb
¼ c dried rose petals
Directions
For the Syrup
Combine sugar, water, honey and orange zest in a small saucepan and simmer until sugar is dissolved. Remove from heat, remove orange zest and add orange blossom water. Set aside to cool.
For the Pastry
Preheat oven to 325°F.
Rough chop the kataifi or pulse in food processer until average size of the threads is about ½ in. Do not over chop or process.
In large mixing bowl, combine chopped kataifi and ghee. Use hands to mix and ensure that all threads are thoroughly covered in ghee.
Divide mixture roughly in half and evenly divide half of the kataifi into the bottoms of 24 jumbo muffin cups. Press down firmly to compact the dough into the cups.
Cut each fresh mozzarella into 12 slices (roughly ½ in thick). Place 1 slice on top of each kataifi cup.
Scoop 1 Tbsp of ricotta on top of each slice of mozzarella.
Evenly divide the other half of the kataifi into each cup and gently press the dough to slightly flatten the top.
Bake for 30 minutes, until golden brown.
Remove from oven and use a fork to pop the knafehs out of the cups.
For the Garnish
Top each knafeh with ground pistachios, rose petals and a 1-in square of honeycomb.
Serve warm with a small container filled with approximately 1/4 c of simple syrup for the guest to pour on the knafeh themselves.
Chef Notes
Kataifi can be found at any Middle Eastern or halal market or ordered online. There is dried kataifi, but it does not work as well for this recipe.
This recipe is based on using 3.5-in round jumbo muffin tins, but you can use ramekins, any shape tart rings, or any vessel of your choosing. This recipe can even be made in a springform or cake pan and cut into pieces or slices. The possibilities for shapes and sizes are endless.
Project Management: Summit F&B
Photography: Carlos Garcia // Food Styling: Peg Blackley