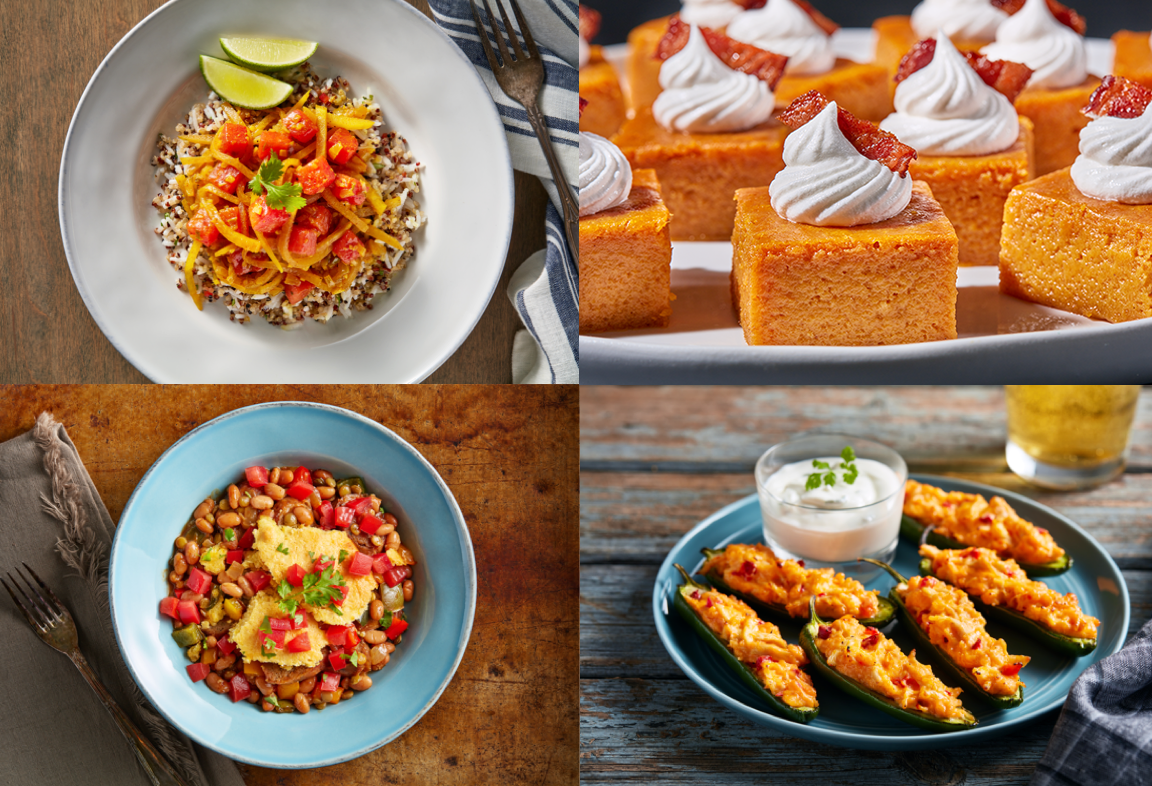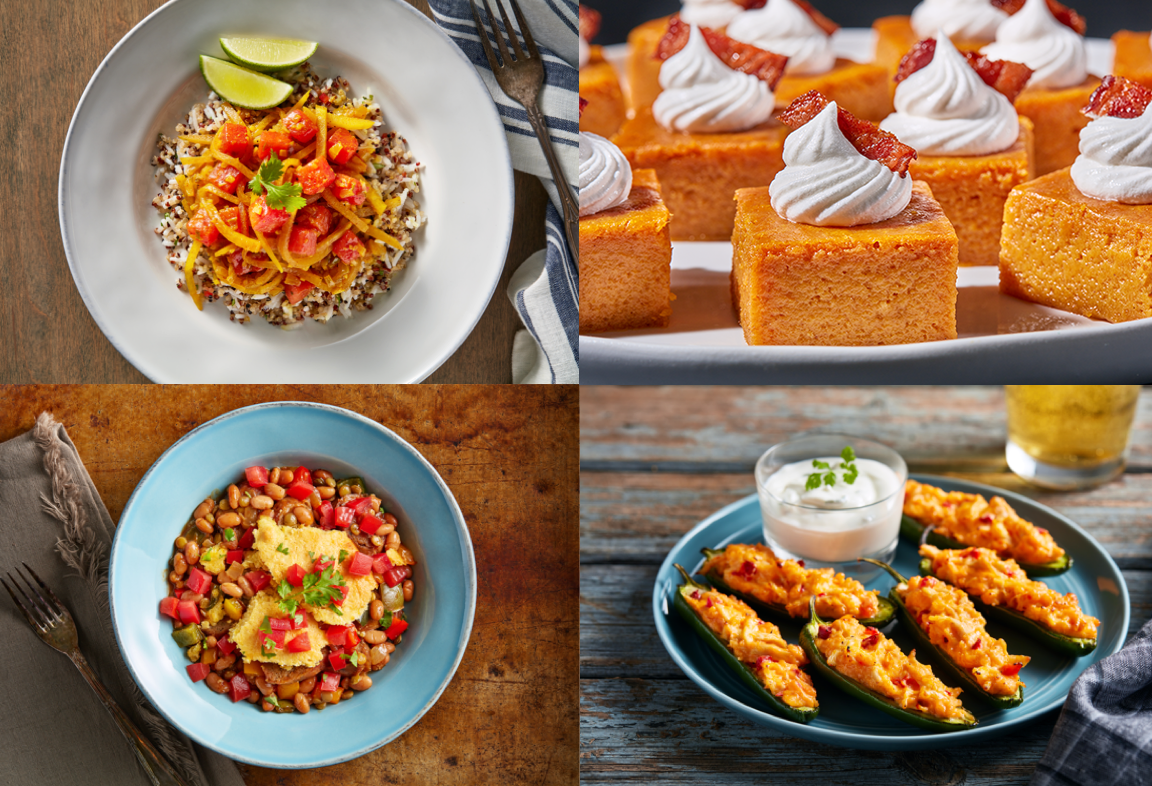 Kitchen Collaborative is a recipe-development initiative formed by Summit F&B and Flavor & The Menu. To fuel flavor innovation, a group of talented chefs partnered with sponsor brands and commodity boards to create recipes that showcase the passion and potential of our industry.
"I'm not a trend starter. I wish I was," says Chef "Jay Z" Ziobrowski. "But I'm inspired to come up with something new when people give me specific ingredients. That's a challenge I really love. I want to come to your house, look at your refrigerator and pantry, and then make you a five-course dinner with what I find."
As Corporate R&D Chef for Morrison Healthcare, Ziobrowski relishes opportunities to take all the different influences he soaks up—from magazines, social media, research and so on—and put them to work in flavor-forward creations. In Kitchen Collaborative, he discovered the perfect showcase for his talents in transformation and reinvention: Watermelon Rind Stir Fry Curry, "Crustless" Spicy Candied Bacon Pumpkin Pie Bar Bites, Bean Pot Vegetarian: Cowgirl Cornbread Casserole and Stuffed Chicken Pimento Cheese Jalapeños with a "Chickeny" Yogurt Crema.
Watermelon Rind Stir Fry Curry
Ziobrowski doesn't mince words when it comes to the values of reducing food waste in the kitchen—at home and at work. "Duh!" he says, adding, "I want you to put that. It's just such a no-brainer. It's about saving so many things: humanity, the planet, labor, costs. We have to pay more attention and not take for granted the things we keep throwing away." His passion for upcycling is reflected in his Watermelon Rind Stir Fry Curry.
"I've seen chefs pickle watermelon rind before. I know you have to soften and cook it," Ziobrowski explains. "I decided to make it into a lo mein, using the mandoline to julienne the white rind. It worked like zoodles!" To build flavor, he added sautéed onions, chiles, garlic, ginger, turmeric, cumin, curry and chile powder. "I even used some of the red watermelon flesh, and used quinoa as the base to provide protein," he notes.
"The rind is a great carrier. It soaks up the flavors similar to pasta, although it didn't rehydrate in quite the same way," notes Ziobrowski. He opted for yellow curry powder over red, green or another type. "I wanted to make it milder and not overpower the watermelon."
All together, the dish is the perfect blend, Ziobrowski says. "There's the sweetness of the watermelon, the spice of the curry and the slight bitterness of the rind, with the chewiness of the quinoa." It's a flavor-forward model of upcycling's potential. "I just made pasta with watermelon rind! It's a great teaching moment."
"Crustless" Spicy Candied Bacon Pumpkin Pie Bar Bites
There's nothing like a little friendly trash talk to spark culinary creativity. The idea to marry spicy heat and sweet pumpkin pie came out of a casual conversation with other chefs contemplating the possibilities and improbabilities of such a flavor combination. "When they said it couldn't be done, I was determined to do it," recounts Ziobrowski. And so he did. With the result, "Crustless" Spicy Candied Bacon Pumpkin Pie Bar Bites, Chef "Jay Z" has served up a winner in today's "swicy" flavor game.
The heat comes courtesy of Texas Pete® Original Dust Dry Seasoning, while the sweet is delivered in the pumpkin pie mix, amped with chopped pieces of thick-cut bacon candied in the oven with Texas Pete® Carolina BBQ Sauce. While brown sugar is the usual go-to choice for candied bacon, Ziobrowski decided to try the barbecue sauce. "And it just worked," he reports. "The fat of the bacon tones down the heat in the barbecue sauce. As for the dust—well, I love the dust. It's so cool." He describes it as a medium heat that intensifies with volume. While Ziobrowski includes just a small amount in the pie mix, he applies it literally—and liberally—as a finish. "Another idea would be to mix the dust with powdered sugar or cinnamon or both. That would be great!"
Ziobrowski broke another "rule" by positioning his creation as bar bites, rather than dessert. "I'd wanted to do bar food all along," he explains. "And this shows that pumpkin pie doesn't have to be a dessert. A good IPA would go with these bites really well." The dish certainly speaks to the enduring fascination with pumpkin spice added to everything each autumn. "Pumpkin is comfort," he insists." Pumpkin is Halloween. You gotta have pumpkin in fall, y'all!"
Bean Pot Vegetarian: Cowgirl Cornbread Casserole
Inspired by cowboy caviar, the iconic beans-and-veggies dip/salsa that was particularly hot on social media in Summer 2022, Ziobrowski spun up his own take, which featured two critical twists: the addition of lentils and a gender swap in the recipe name. ("I'm outnumbered by females at home. Why not call it 'cowgirl'?") Adding plant-based sausage brats into the build, he views the dish as something of a vegetarian version of hot dogs and beans.
A self-professed "legumes guy," Ziobrowski says he used the lentils to pump up the protein and complement the Bush's® Bean Pot Vegetarian Baked Beans. Green lentils were on hand, but they could be substituted with red or black varieties. The latter "would look sharp," he notes, mindful of the ever-important visual aesthetic factor. "Look how many people post photos of dishes before they've even tasted them!"
Here, the promise of the look pays off in flavor. The mildly seasoned beans are balanced by a mix of onion, garlic, bell peppers, poblano peppers, chile powder, hot sauce, cilantro and fresh tomatoes. A creamy cornbread crowns the dish—"potpie style," says Ziobrowski. "It's a hearty bite," he adds. "I'd be full after eating this."
Stuffed Chicken Pimento Cheese Jalapeños with a "Chickeny" Yogurt Crema
"This recipe was written for my wife," credits Ziobrowski, recalling a fairly typical family exchange about dinner and what was available in the refrigerator. Between two of her favorites—jalapeños and pimento cheese—and his own love of chicken (plus his pending Kitchen Collaborative assignment), the Stuffed Chicken Pimento Cheese Jalapeños with a "Chickeny" Yogurt Crema soon came into being.
Ziobrowski admits that one other influence was in play when ideating this dish. "All my neighbors were talking about a Buffalo chicken dip recipe on TikTok. I didn't want to do a dip, and I also wanted to use the pimento cheese for my wife," he explains. "And a flavorful stuffing for the peppers was similar to a dip, but different." Social media has become the must-have resource to follow for new recipes and food trends, asserts Ziobrowski. "It's not necessarily about what people have seen in a restaurant as much as what they see on TikTok, which subsequently is perceived as being something that's hot. Chefs need to be monitoring TikTok, as well as Facebook and Instagram."
Ziobrowski believes the dish lends surprise in nuanced ways. For example, fans of a traditional jalapeño popper will discover that the inclusion of chicken breast meat gives this dish a different texture. The mild flavor of the meat is fortified just enough with Custom Culinary® Gold Label Savory Roasted® Chicken Base and Custom Culinary® True Foundations™ Liquid Chicken Stock Concentrate to stand up to the pepper and cheese. In fact, his chef notes suggest using the stock flavoring as a finishing drizzle, a la a balsamic glaze. As for the cooling crema, Ziobrowski swaps in Greek yogurt in another nod to his wife, who doesn't care for traditional sour cream.
Project Management: Summit F&B
Photography: Carlos Garcia // Food Styling: Peg Blackley