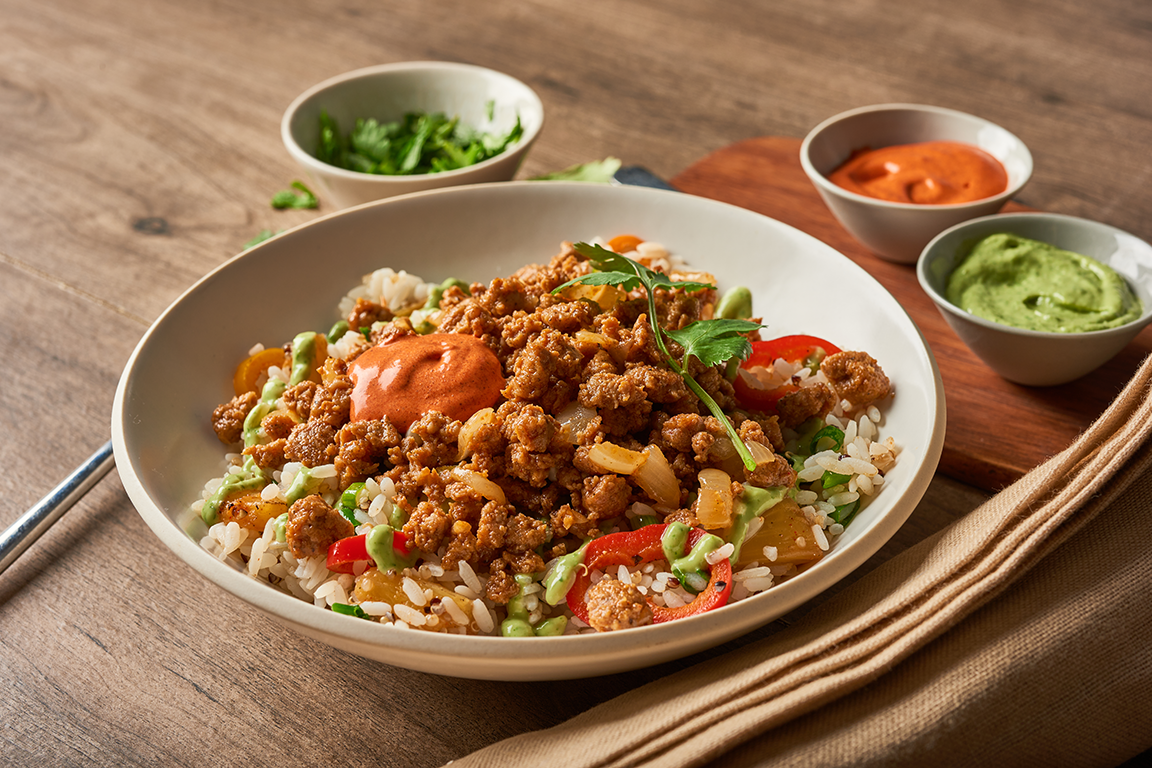 SPONSORED CONTENT
New Takes on Old Traditions
Three ways to leverage the popularity of Mexican comfort foods on modern menus
SPONSORED CONTENT
New Takes on Old Traditions
Three ways to leverage the popularity of Mexican comfort foods on modern menus
By Flavor & The Menu
November 1, 2023
By Flavor & The Menu
November 1, 2023
For decades, when most Americans sought the comfort of their favorite Mexican foods, they turned to the largely homogenous (and thus familiar and reliable) Tex-Mex-style fare that has long been the staple of quick-serve and fast-casual Mexican-American restaurants. But as customer embrace of global flavors continues to proliferate across this country, opportunities abound to push at the conventions of those ubiquitous offerings.
Today's Mexican comfort foods boast a modern sensibility, one that leans on the familiarity of ingredients and flavor profiles presented in new forms and combinations. Indeed, the runway for innovation here moves in both directions. Operators can push their signature flavors into familiar Mexican comfort formats (tacos, nachos, taquitos, quesadillas, burritos, etc.) or pull Mexican comfort flavors into other landmark dishes (think birria-style burgers, pizza with al pastor sauce or churro French toast). Specific ingredients, combinations and preparations also play a role in expanding the definition and extending the menu opportunities.
For Eric Chieca, Executive Chef, Burke Corporation, there are a number of common characteristics of Mexican comfort foods. "Smoking, roasting, grilling and baking with distinct flavors like mole, chile, lime, oregano, garlic are key elements. Avocado, beans, peppers, rice, broths, cheese, tortillas (corn and flour) also are part of the make-up of Mexican comfort foods," he cites, adding empanadas, tamales, elote and queso to the list of signature dishes. Kyle Flottman, Brand Manager, Burke Corporation, has his own favorites: "Growing up in Texas, I was constantly surrounded by Mexican food and culture, so Mexican comfort food to me is albondigas soup and birria stew—anything heartwarming that you can share with family and friends."
Burke Corporation's Mexican-inspired line of fully cooked and seasoned premium meat toppings offers a labor-saving, flavor-forward solution to help chefs make the most of opportunities to explore inventive transformations of Mexican cuisine signatures. Here are three menu inspirations that showcase the potential.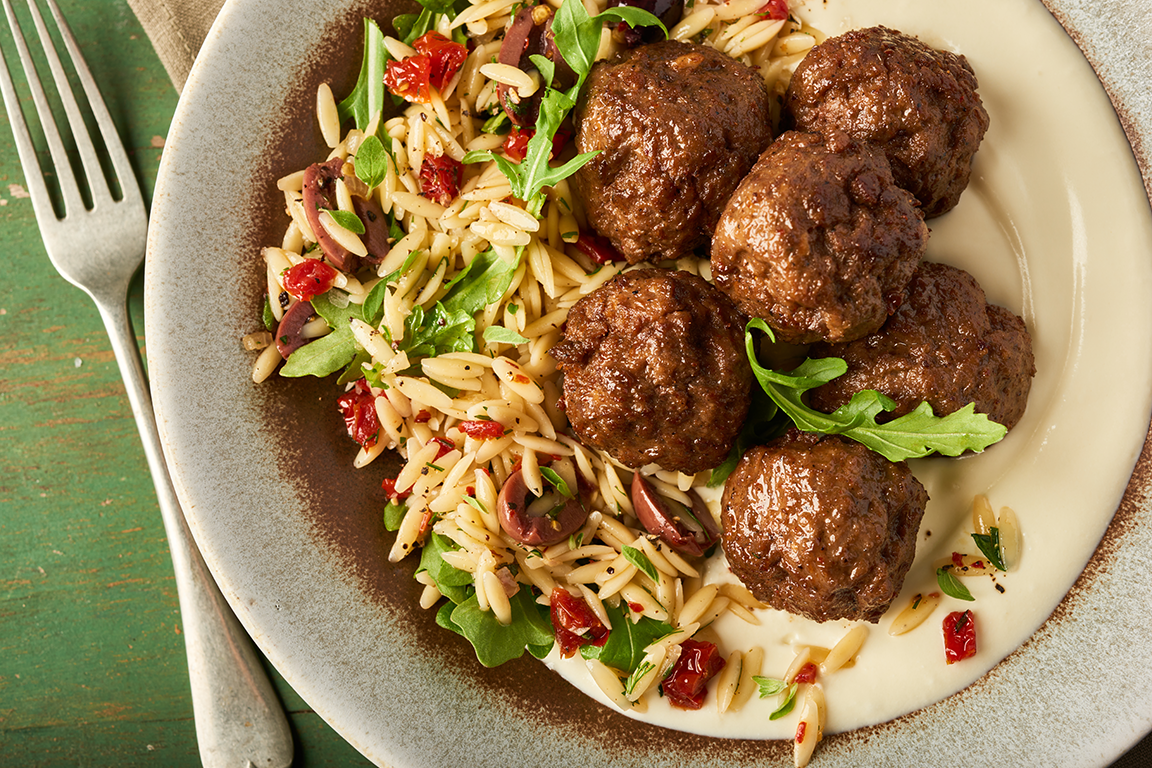 1
Meatballs with Orzo and Whipped Feta
This simple but sophisticated dish surprises with the addition of flavorful Beef Meatballs with Smoky Chipotle Seasonings. Orzo and feta are both more commonly associated with Mediterranean and modern Middle Eastern flavor profiles, so this Mexican-inflected mash-up is sure to deliver global intrigue.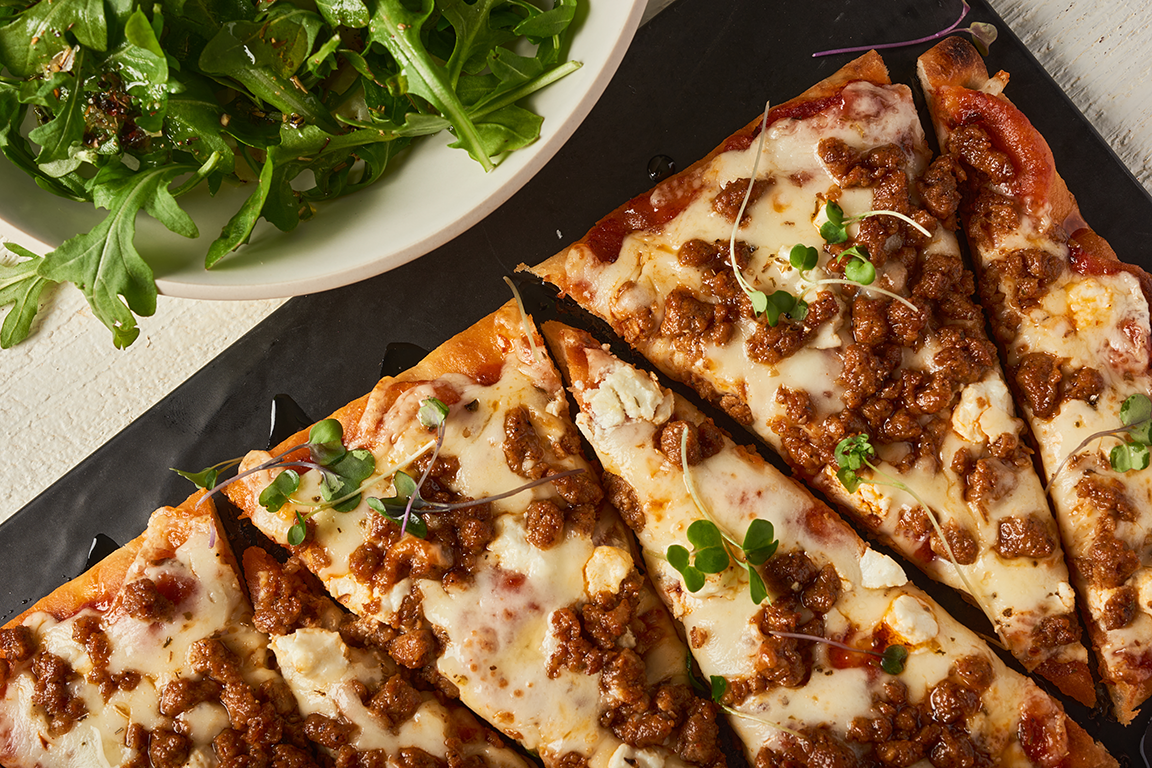 2
Chorizo Flatbread
Pizza and flatbreads are an ideal canvas for flavor explorations that are well suited to the cautious consumer. Here, a crispy pizza crust is topped with Mexican-Style Beef crumbles, creamy Oaxaca cheese, sweet honey and cilantro microgreens.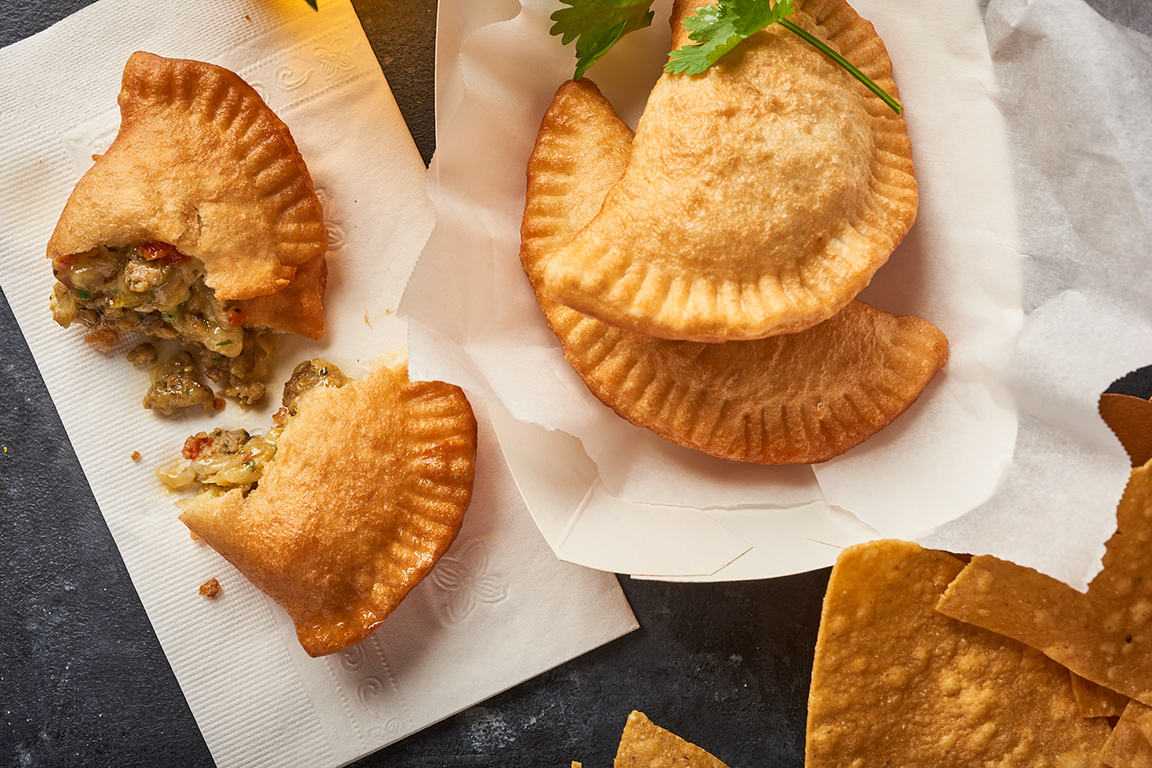 3
Salsa Verde Empanadas
Handheld savory pies enjoy strong consumer appeal today, and empanadas are a perfect vehicle for delivering menu versatility and flavor adaptability. Featuring an abundance of cilantro, spices and fresh garden flavor, this dish gets its Mexican comfort notes from Cooked Sausage with Salsa Verde-Style Seasonings.
Change Agents
Whether you push your menu in modest or bold directions, it's hard to go wrong in meeting consumer demand for Mexican flavors. According to 2022 estimates from The Food Institute, the market for Mexican food is poised to grow by $113.85 billion through 2026, signaling both opportunity and obligation to expand your menu.
If Mexican cuisine is far outside your own comfort zone, Chef Chieca suggests turning to experts like Rick Bayless. "I have personally used the Rick Bayless Mexican Kitchen cookbook for inspiration on Mexican comfort foods," he says.
Balance is the key to meeting consumer expectations, says Chef Chieca. "Be inclusive of flavor traditions, but use a touch of flavor inspiration in the preparation. For instance, a chile lime dusting on the flatbread before and after the other ingredients will spike the flavor a touch. Or use a sprinkle of Cotija cheese as a finishing touch to many dishes. And, of course, tap into the Mexican-inspired line of Burke products to bring both creativity and traditions alive!"
The line-up features six varieties of meatballs, sausages and crumbles that take inspiration from the seven culinary regions of Mexico:
Cooked Sausage with Salsa Verde Style Seasonings: Highlighting green chiles, onion, cilantro and garlic
Beef Meatballs with Smoky Chipotle Seasonings: Delivering hints of smoke, sweet and spice.
Chicken Sausage with Tinga-Style Seasonings: Offering the robust flavors of tomatoes, chipotle, garlic and chile pepper
Pork & Beef Meatballs with Albondigas-Style Seasonings: Featuring the spicy notes of ground red pepper, onion and garlic
Chorizo Sausage Crumbles: Providing the kick of ground red pepper, paprika, garlic and cumin
Mexican Style Beef Crumbles, Zesty: Putting cumin, green chiles, garlic, paprika and tomatoes in the spotlight
The BURKE® Inspired product line offers multiple advantages to foodservice operators, starting with a distinctive punch of flavor in each small bite. "They're also extremely versatile—across applications and across dayparts," says Flottman. "You aren't just adding one product for one LTO; you can open yourself up to a multitude of exciting and on-trend options to enhance your menu."
Easy to work with—fully cooked and individually quick frozen (IQF)—the products flow from the package, allowing operators to use the exact amount needed without risking waste. Food safety is another valued benefit of the fully cooked meats. Working with raw meat inevitably increases the risk of cross-contamination issues, says Flottman. "Our products eliminate that worry, so back-of-house employees can focus on creating dishes their customers will love."
"Comfort is our go-to in any time of crisis or stress," says Chef Chieca. "With that said, the twists to the familiar is what we do as chefs. Applying creativity and 'playing' with our food leads us to new and fun takes on the familiar. If we don't evolve, we don't discover. And if we don't discover, well, that is just plain boring. Traditions and evolution must walk hand in hand, though; one cannot happen without the other."
Click here to learn more about the Burke Corporation, Mexican-Inspired products.