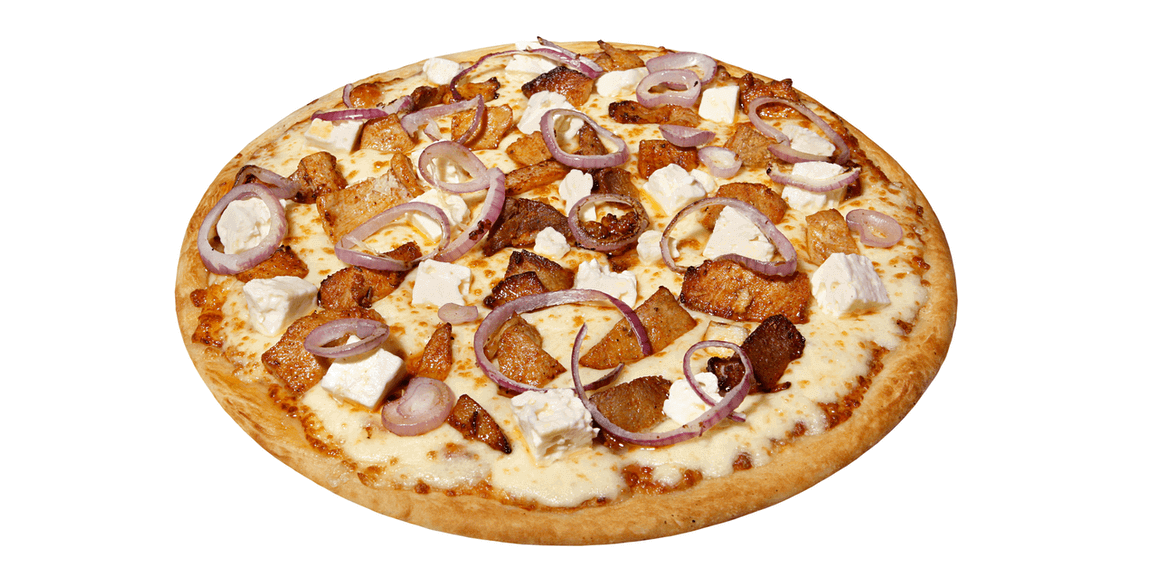 By Rob Corliss
May 17, 2022
Pizza is an easy bridge for blending the commonalities between Greece and Italy as bright Mediterranean tastes tell a compelling flavor story. Greek influence is simple and familiar yet yields a refreshingly new pizza experience. Red-, white- and olive oil-based sauces benefit from an infusion of Greek-centric stylings and can easily move between the lightness of thinner doughs or richer, more decadent offerings. Popular feta cheese adds recognizable tanginess and easily blends with mozzarella, pecorino, Parmesan or fontina, while less common manouri or kasseri cheeses introduce intrigue for guests craving discovery. Pizza makers can opt for pairing builds with traditional toppings or bring in Greek favorites like shaved gyro meat. Contemporary pizza requires a strong signature finale, thus completing a pie with a finishing flavor has gained prominence. Avgolemono sauce, tzatziki purées, fruit vinegar syrups or citrus mists all are inventive approaches.
Here are ideas and menu examples demonstrating how Greek flavors work harmoniously on any style of pizza. The impactful flavors garner attention, pop off a menu board and give diners more reasons to love pizza.
IDEAS FOR GREEK-INSPIRED PIZZA BUILDS:

CHICAGO STYLE
White Greek Pizza: Deep dish crust + spinach + seasoned ground beef + spicy white sauce (olive oil-feta-manouri-mozzarella-garlic-red pepper flakes)
DETROIT STYLE
Mediterranean Pizza: Thick crust + oregano pepperoncini + brick cheese + pink sauce (tomato sauce-alfredo sauce) + cup-and-char pepperoni
ST. LOUIS STYLE
Crete Orchard Pizza: Cracker thin crust + tapenade-olive oil sauce + Provel cheese + orange juice mist
NEW YORK STYLE
Gyro Pizza: Hand-tossed crust + sun-dried tomato sauce + mozzarella-Asiago + shaved gyro meat
FLATBREAD STYLE
Tzatziki Chicken Pizza: Thin pillowy flatbread + garlic-lemon sauce + mozzarella-feta + roasted pulled chicken thigh + tzatziki finishing drizzle
STUFFED CRUST STYLE
Kasseri Stuf't Pizza: Stuffed crust (kasseri cheese-garlic paste-oregano) + white sauce + mozzarella + charred broccolini + crisped prosciutto + fig balsamic syrup finishing drizzle
ON THE MENU:
Mediterranean: Roasted chicken, artichoke hearts, red bell peppers, green olives, onions, feta
—Little Star Pizza, San Francisco
Pizza Boat: Garlic, olive oil, mozzarella, kasseri and three toppings
—Napoli's of Waldorf, Waldorf, Md.
Denny's Greek Style: Canadian bacon, feta cheese, fresh tomatoes, pineapple, Greek olive oil
—Pizza Olympia, Anchorage, Ak.