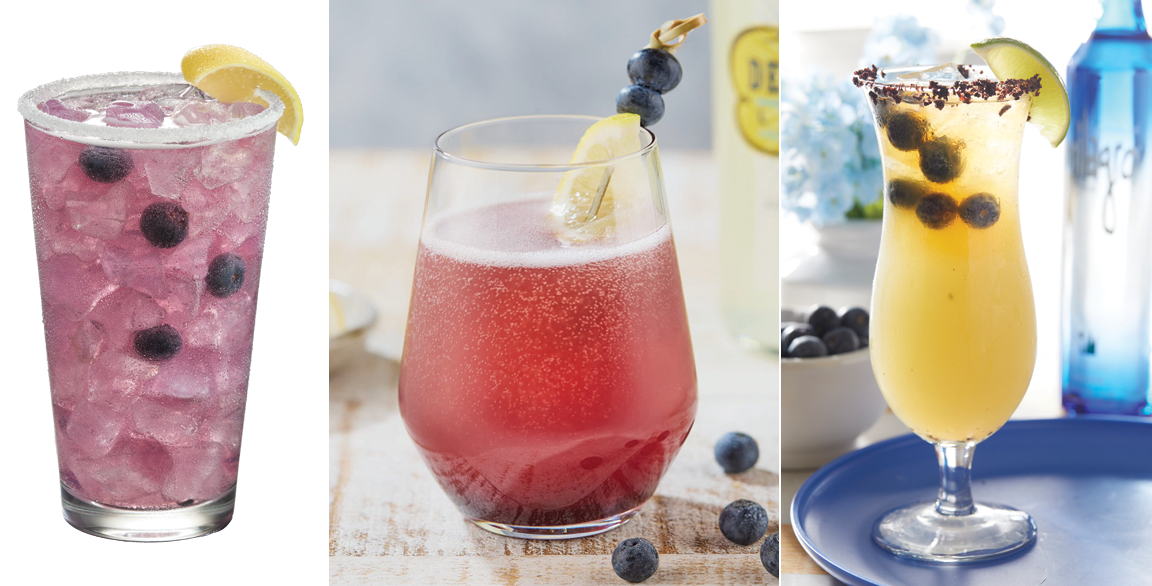 By Flavor & The Menu
December 2, 2022
Guests gravitate toward hand-crafted cocktails," says Lucas Dudley, VP of franchise operations for Legendary Restaurant Brands, parent company of Bennigan's. "When you include fresh blueberries as an integral part of the drink, they really like it—and you can charge more." Blueberries are also a go-to cocktail builder at Another Broken Egg Café, a breakfast/lunch concept based in Orlando, Fla. "We think there's tremendous value in the premium nature of blueberries," says Jason Knoll, VP of culinary. "We've had great success with blueberry-themed drinks. I think guests value the freshness cues and the striking color, along with the built-in health halo blueberries introduce to alcoholic beverages."
Consumer data around the power of blueberries backs up in-market success stories: A majority of patrons across all restaurant types agree that blueberries increase healthfulness of a menu item (72%), signal freshness (62%), brighten up flavors (64%) and improve taste (64%) and more than half of patrons (54%) would like to see more blueberry cocktails on menus*.
A Surprising Cocktail Boom
Knoll shares that the cocktail program at Another Broken Egg has taken off over the last few years, with the restaurant brand putting both marketing and menu strategy behind its menu to help drive success. "We have moved from alcohol representing a 3.5 percent product mix to now pushing 13 percent," he says. "We are selling a whole lot of margaritas—and we are a 7 a.m. to 2 p.m. concept."
The Brunch Blueberry Margarita started life as a fall LTO in 2020. "It performed so well that we moved it to the core menu the following year," says Knoll. The drink features Milagro Tequila, Grand Marnier, fresh sour mix, fresh blueberries and a blueberry rim. "You get this intense blueberry color on the rim, and the beautiful fruit floating in the glass. The margins are great for alcohol, and using fresh blueberries allows us to turn a better profit because we can charge a bit more," says Knoll.
The Lemon Blueberry Mimosa has been a standard on the "Brunch Bubbles" menu for five-plus years, starring Lemon Vodka and Wycliff California Champagne infused with the fresh fruit flavor of blueberries. "We're now working on a blueberry mule that will be going into test soon, hoping to add it to our cocktail list next year," says Knoll.
Differentiating with Blueberries
Bennigan's Dudley describes five seasons that anchor the menu strategy: spring, summer, fall, winter and St. Patrick's Day. This legacy brand is known for its fun, casual pub setting. Creativity, approachability and uniqueness in the marketplace are all important here: the Blueberry Harvest Margarita hits on all counts.
"This is our third year running the cocktail in our fall promotion," says Dudley. "It did so well the first time, our franchisees asked for it back. When you see blueberries, there's a great value perception for the guest. The drink is unique—you don't necessarily think of blueberries with tequila, but they help us tell a seasonal story with a margarita." The Blueberry Harvest Margarita features Sauza Blue 100% Agave Tequila, DeKuyper Triple Sec, Finest Call Premium Lemon Sour, fresh blueberries and Red Bull Blue Edition, served with a lemon wedge and sugar rim.
In the spring, Bennigan's ran a Blueberry Lavender Mojito, with Cruzan Citrus Rum, Monin Lavender, Monin Elderflower, Red Bull Blue Edition, muddled mint and fresh blueberries. "Blueberries signal 'fresh,' and 'handcrafted,' to our guests," says Dudley. "Those are really important values to them."
Find on-trend menu ideas featuring blueberries or contact us for custom innovation support at blueberry.org/foodservice.
* USHBC Patron Study, 2021