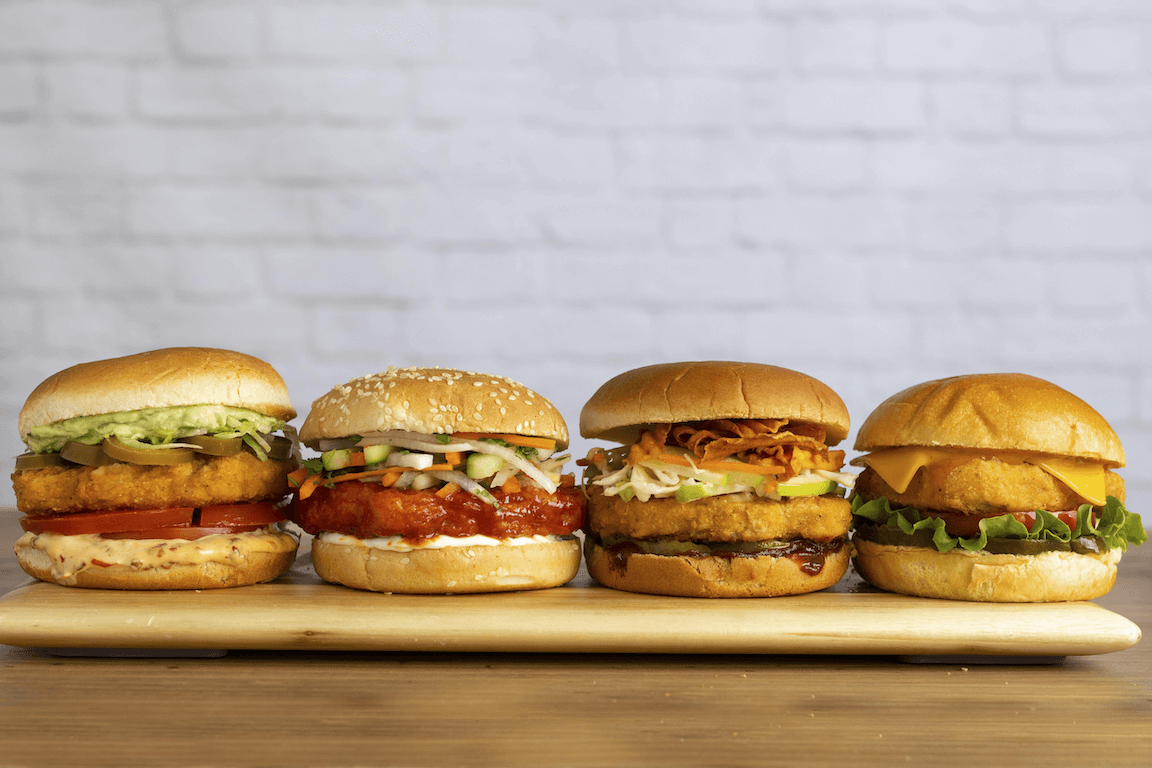 By Flavor & The Menu
February 14, 2023
As fried chicken sandwiches continue to top menu popularity surveys year after year, some chefs and recipe developers may be feeling a measure of battle fatigue. After all, success in the so-called chicken sandwich wars requires careful calibration on two fronts: create handhelds that are flavor-forward, inventive and new, but don't compromise the fundamental elements prized by diners. Fortunately, there are abundant sources of inspiration to tap—and room for multiple winners to capture the flag.
"I think the chicken sandwich is popular for the same reason chicken itself is—it's extremely versatile, and the price point remains reasonable," says Zoe Schor, Chef/Owner of Split-Rail, an upscale-casual new American restaurant in Chicago. And with fried chicken a longstanding comfort food leader, "The fried chicken sandwich lends itself to all sorts of variations—every one of them crispy and delicious," she adds.
An argument can be made that the 2.0 generation of chicken sandwiches was centered on carrying heat levels higher and higher. Some trend watchers see the global pantry now dominating, as this handheld continues to evolve to a 3.0 iteration. Kit Ortman, Customer Marketing Manager at Conagra, has his eye on the data, and reports that Asian influences are driving menu innovation within this category, showing up in both flavor and format. "According to Datassential, Korean barbecue has enjoyed 39% growth over the last four years, while the bao bun has risen 20% in the same period," Ortman says. There are several other Asian signature ingredients that can be employed in an effort to provide differentiation to chicken sandwiches. Ortman cites teriyaki, lemongrass, soy sauce, katsu and wasabi as prime examples.
While Split-Rail stands by its classically simple preparation, Schor is seeing Asian influences on the fried chicken sandwiches menued by fellow Chicago-area restaurateurs. "These go far beyond the sweet/hot glaze served with an 'Asian' slaw," she notes, pointing to hot spots that are showcasing Indian and Cambodian flavor profiles.
Ortman also expects to see chefs lean more into chicken sandwich recipes that deliver a distinctive tangy flavor through accompaniments and condiments. Pickled ingredients are on the rise, according to Datassential, with pickled jalapeño standing out with a 36% growth rate. Ortman observes greater opportunities for slaws, as well as mustard, one of Flavor & The Menu's 2023 Top Ten Trends.
Pickled jalapeños and spicy mustards are fresh ways to deliver the fire that customers continue to crave in their chicken sandwich. Indeed, Schor isn't ready to close the door on the opportunities around spicy heat. "Fried chicken and heat go hand in hand," she says. "I'd like to see more dry heat applications for the chicken sandwich. We see dry-rubbed chicken wings a lot—a dry-spiced fried chicken sandwich can bring all that heat with a little less mess."
Ortman agrees that spicy heat isn't going away anytime soon—certainly not when you look at the growth rate of several top sauces, marinades and flavor profiles applied to chicken sandwiches today. "Spicy mayo is No. 1, with a 98.7% growth rate over the last four years, followed by chipotle aioli, rising 57.3%, according to Datassential numbers," he says. Heat seekers are also continuing to choose hot sauce (+37.2%) and Sriracha (+32.2%), along with hot, banana and sweet peppers (each rising more than 20%).
Offering a meatless alternative, like the craveable, versatile filets in Gardein's™ Chick'n line, is another means of offering value on the menu and solutions in the prep kitchen. Flexitarian dining continues to gather steam across demographics, with consumers increasingly seeking plant-based proteins that can deliver the same taste expectations and experiences in favorite menu items like chicken sandwiches. In its 2021 Plant-Based Protein Study, Mintel found that 86% of consumers who order plant-based proteins don't identify as vegan or vegetarian.
Gardein plays well in the flexitarian space, notes Ortman. Position it loud and proud as a meatless option or take a more understated tone, with a simple notation that any chicken sandwich on the menu can be prepared on request with this plant-based protein substitute. Gardein's Chick'n Filets, Breaded Chick'n Filets and Ultimate Plant-Based Breaded Chick'n Filets provide foodservice kitchens with a full range of preparation options to serve as is or be customized with signature seasonings and ingredients.
Gardein Plant-based Chick'n products work with every chicken sandwich trend, whether it's spicy condiments, Asian influences, tangy accompaniments or other flavor-forward innovations. Use it in a build with other plant-based toppings (tomato, lettuce, slaw, peppers, eggplant, pickled veggies) and promote it as a Plant Powered Chick'n Sandwich. Or pair it with bacon and a fried egg, sandwiched in a waffle, for a craveable breakfast sandwich that doesn't highlight its meatless identity at all. You'll quickly discover that its craveable taste and enviable versatility can be your secret weapon in the ongoing chicken sandwich wars.
To discover more chicken sandwich inspirations, and learn how you can access helpful videos, culinary support, trend insights, staff training and rebates, visit gardein.conagrafoodservice.com