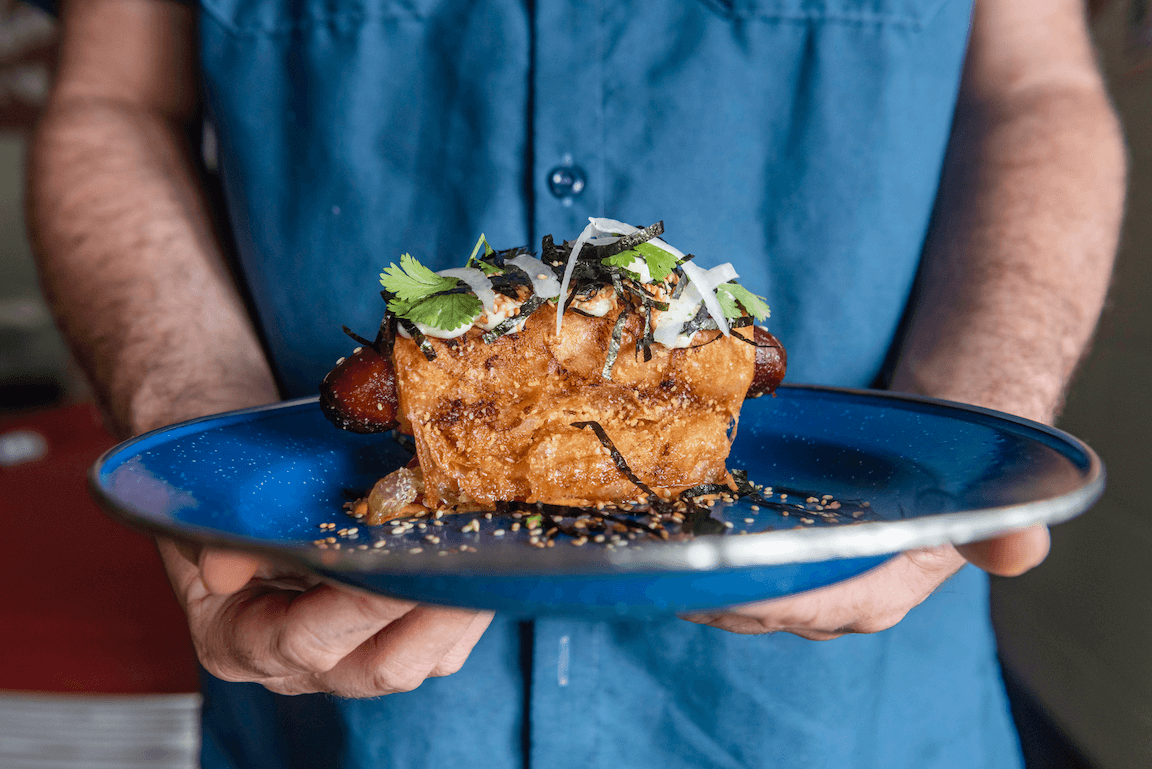 By Katie Ayoub
January 19, 2023
Mustard has long been a utility player in the kitchen, a reliable condiment that is versatile and adaptable. On today's foodservice playing field, where trends like next-level sandwiches and burgers, creative global mash-ups, nuances in sweet-heat combos and punches of assertive flavor drive excitement, mustard easily steps into the role of star player.
Across the country, chefs are flexing mustard's muscle. Whether they're starting with a foundation of yellow, karashi, stone ground, Dijon or Chinese, to name a few, the condiment is helping fuel innovation. At famed Turkey and the Wolf, a sandwich shop in New Orleans, the Foot Longboi "Pig in a Blanket" features sambal mustard. Rather than squeezed over top, the mustard is deep fried into the bread. Nate Barfield, chef de cuisine, rubs a premade paratha roti with a mixture of yellow mustard and sambal, then rolls the hot dog within and deep fries it. "The sambal and mustard together give you a really acidic, spicy condiment that cuts through the fatty, smoky flavor of the hot dog," he says. "We garnish it with what we call 'MSG mayo:' nori sheets cut in strips, sesame seeds, diced onion and cilantro."
Since pastrami has made its way beyond its traditional deli roots, chefs are now playing with its profile and diners loving all of the resulting creative iterations—many of which involve mustard. That momentum has helped drive further innovation. Catie Randazzo, executive chef of Huckleberry Bakery and Café in Santa Monica, Calif., leverages the craveable, classic pairing of pastrami and mustard, giving it an original spin as an element in a twisty Matzo Ball Soup. "The dish has a crispy chicken thigh, preserved lemon, confit carrots and a mini buttermilk biscuit—to represent the matzo ball, of course—nestled into a shallow bowl with fresh chicken broth. It's finished with our pastrami mustard butter to add a touch of gloss and nostalgia," says Randazzo.
The California-based Dog Haus chain also innovates within the pastrami and mustard pairing, squeezing yellow mustard onto a hot flattop to caramelize before adding slices of pastrami over top, letting the condiment sear into the meat. That unique mustard-grilled pastrami was featured in an LTO called The Uncle Morty, a sandwich created in partnership with TV and YouTube personality Sam Zien. The sandwich also includes an all-beef patty, white American cheese, dill pickles, caramelized onions and aïoli, served on grilled King's Hawaiian Rolls.
A MUSTARD FOR ALL REASONS
Of course, mustard's reach is deeper and wider than its role as pastrami's counterpoint. "Mustard is multi-dimensional and can create uniqueness on your menu," says Steven Goldstein, founder of FoodThinque. "Whole-grain mustard is beautiful for adding body and character when finishing sauces. To build flavor in plant-based dishes, look at smoked mustards; rub a whole cauliflower head or add it to Brussels sprouts. Mustard is a great flavor builder—and one that you already have in your pantry. You can look to other ingredients to mix in, like horseradish, honey or miso, depending on where you want to go."
Bryce Shuman, executive chef, combines Pommery mustard with local ricotta cheese and salt to make his ricotta mustard, which accompanies the Pretzel Crisps at Sweetbriar, a New American restaurant in New York. It's an elevated take on the classic pretzel and mustard combination. "The spiciness of the mustard is a really nice foil to the naturally creamy ricotta cheese. It burns a little in the back of your throat, but it all goes down so smoothly," says Shuman.
Doug Turbush, chef/owner at Seed Kitchen & Bar in Marietta, Ga., turns to mustard to round out a sauce and impress its own flavor profile on the Chicken Schnitzel, which features miso mustard. "Mustard plays a key role in this top-selling dish," he says. "We use whole-grain mustard balanced with reduced wine, white miso paste and cream to create an umami-rich sauce."
The world of ingredients that sweeten, deepen or sharpen different styles of mustard is extensive, giving this trend a long runway. "The simple addition of fruit purées, distilled spirits, wine derivatives and fermented elements take mustards to new destinations," says Daniel Carpenter, managing director and partner of Sterling-Rice Group. "Combined with its affinity to slow food cooking techniques, mustard plays well with tried-and-true foodservice formats such as burgers and chicken sandwiches, either in familiar iterations or expressed with new flavors such as maple, Key lime or blueberry."
At Jack & Charlie's No. 118 in New York, a restaurant known for refined twists on American favorites, the Soft Pretzel Bites are paired with a simple yet elegant whipped mustard butter. Indeed, mustard butter is making its own name as a condiment to watch thanks to its satisfying mouthfeel and flavor, along with ease of execution. In Avondale, Ill., TriBecca's Sandwich Shop menus a Cubano with mojo pork, ham, pickles, Swiss, chipotle aïoli and mustard butter.
HOT STUFF: KARASHI
Karashi, the hot, peppery Japanese yellow mustard, has much to offer modern menu development. Thanks to the continued exploration of the global pantry, the love of all things spicy and the growing embrace of Japanese flavors and dishes, the scene is set for its adoption. "America's palate has been expanding to include spicier flavors, and if you're trying to reach consumers who want more in-your-face heat levels, like the very spicy mustards, then take a look at mustards like karashi," says Mike Kostyo, trendologist and associate director, Datassential.
At NR, a ramen-centric restaurant in New York, Takashi Igarashi, head chef, uses karashi to help deliver Japanese flavors in his Deviled Egg + Egg + Egg, which features a creamy yolk whipped with karashi and wasabi that's then topped with uni, caviar and an umami dashi jelly. In Los Angeles, at the modern Korean-American restaurant Yangban Society, the Avocado & Shinko Pear appetizer sports a hot mustard vinaigrette, made with Korean hot mustard powder.
"Consumers love sweet-heat flavor profiles, and there are creative ways to introduce sweeteners, like a molasses mustard or a smoked honey mustard," says Kostyo. "If you are worried that karashi or other hot mustards are too bold, add a sweet ingredient, and you'll open up a wider consumer base."
Mustard is a familiar condiment with so much potential and possibility for trend-forward innovation, offering a direct pathway to new ideas.