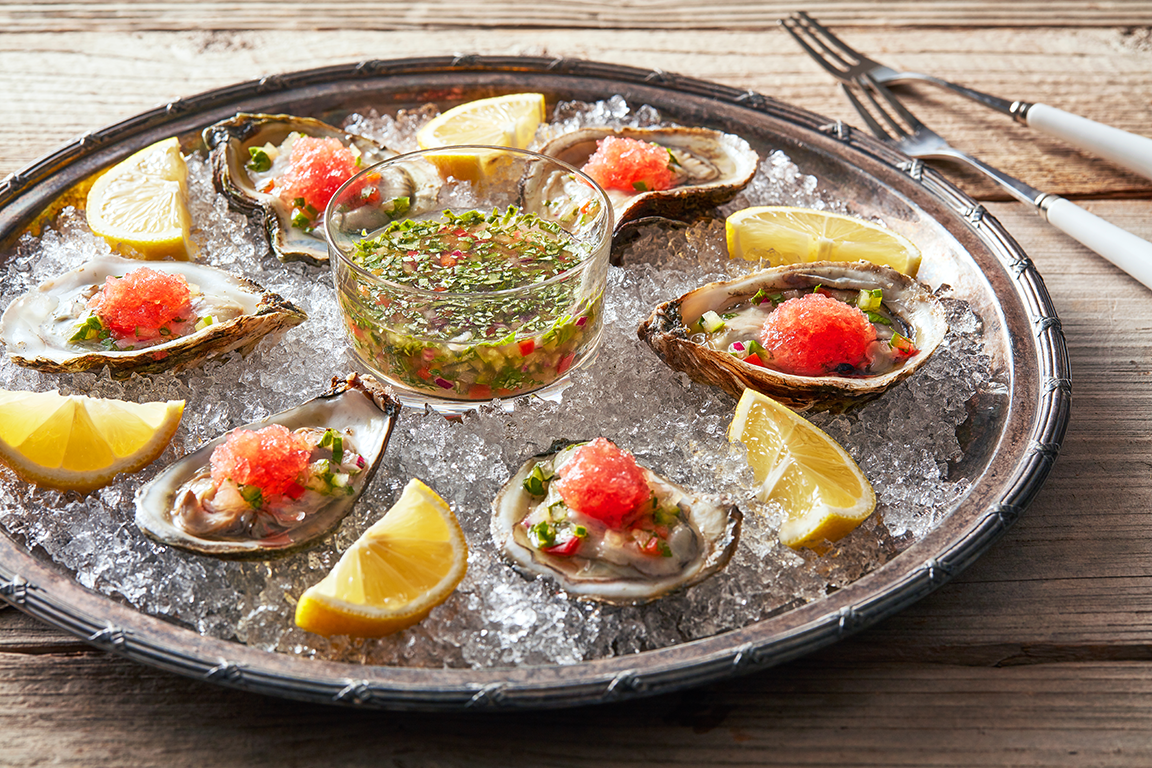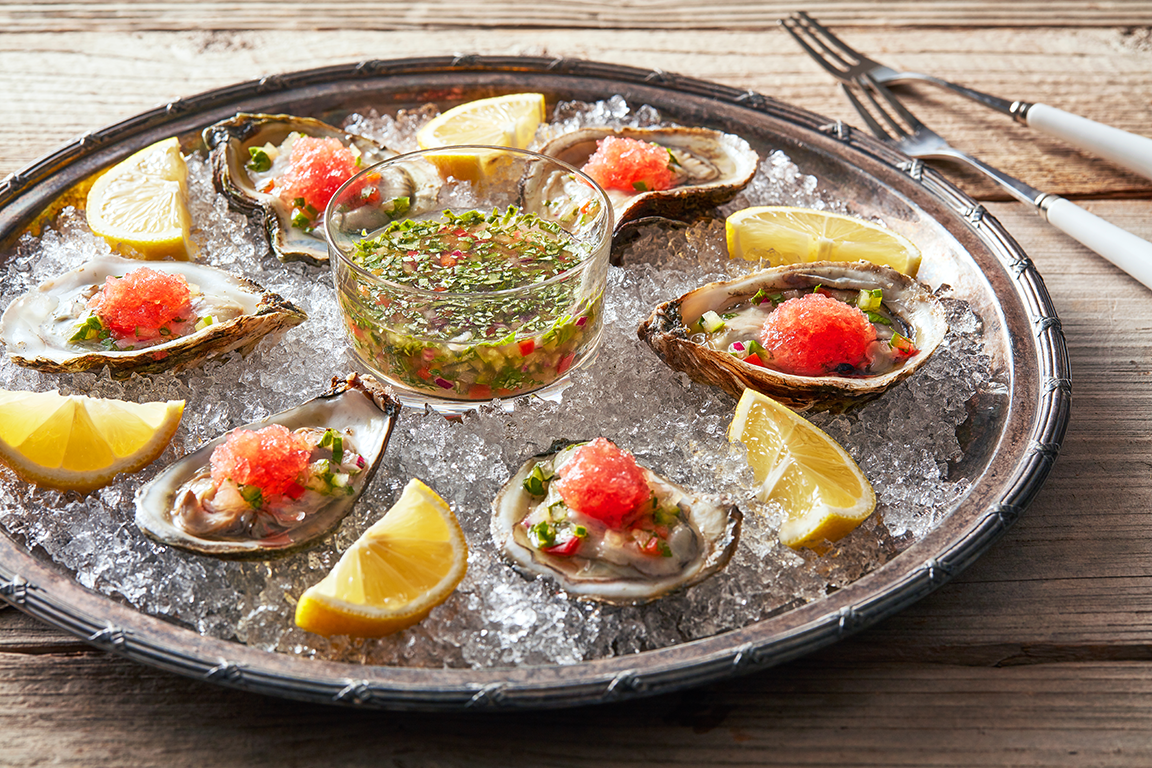 Watermelon Rind Mignonette and Watermelon Granita with Oysters
Recipe courtesy of Jason Gronlund
Sponsor: National Watermelon Promotion Board
Servings: 24 oysters
Ingredients
Watermelon Mignonette:
1 lb watermelon rind, peel removed
4 oz minced red onion
4 oz minced red bell pepper
1 ½ oz minced jalapeño pepper
1 oz finely chopped cilantro
1 oz finely chopped basil
1 c cold water
1 c cider vinegar
1 Tbsp kosher salt
3 Tbsp sugar
As needed prosecco (optional)
Watermelon Granita:
8 c diced watermelon
1 c jarred Korean ginger tea with honey
1 c yellow Sriracha sauce
½ c sugar
½ c raspberry vinegar
Directions
For the Watermelon Mignonette:
Trim any flesh that remains on the rind.

Very finely julienne the rind with a mandoline

and finely chop.

In a container with a tight-fitting lid, combine the chopped rind with the onion, red pepper, jalapeño, cilantro, basil, water, vinegar, salt, and sugar. Put the lid on and shake gently. Shake the container a few times to blend well and allow the salt and sugar to dissolve.
Keep the mignonette chilled to keep the ingredients crisp and preserve the flavor.
For the Watermelon Granita:
Purée the watermelon chunks in a food processor or blender and measure 4 c of purée for the granita.
Put the Korean ginger tea in the top of a double boiler to heat. Strain it through fine cheesecloth to remove the citrus rind and ginger chunks. Measure 1 c liquid for the granita.
Add the tea, Sriracha, sugar and vinegar to the watermelon purée. Whisk the ingredients vigorously to ensure the sugar is dissolved.
Freeze the mixture in an ice cream machine according to the directions. Or pour it into a 2-in full-size hotel pan and freeze. Scrape a fork through the mixture every hour or so to make it form crystals.
For Service:
Immediately before serving, top freshly shucked oysters with 1 tbsp each granita and mignonette. Optional: For a fresh bubbly flavor, add a splash of prosecco on the oysters.
Chef Notes
The watermelon rind granita adds sweet, heat and tart contrast to each bite and uses the whole watermelon.
It's very important to have fresh shucked—not pre-shucked—oysters, as the fresh salty liquor balances well against the mignonette and granita.
The granita and mignonette can be used on fresh shucked clams as well, they're also great to dip fresh cracked crab and lobster.
The granita will last for 90 days frozen. The heat can be increased based on consumer base.
Project Management: Summit F&B
Photography: Carlos Garcia // Food Styling: Peg Blackley