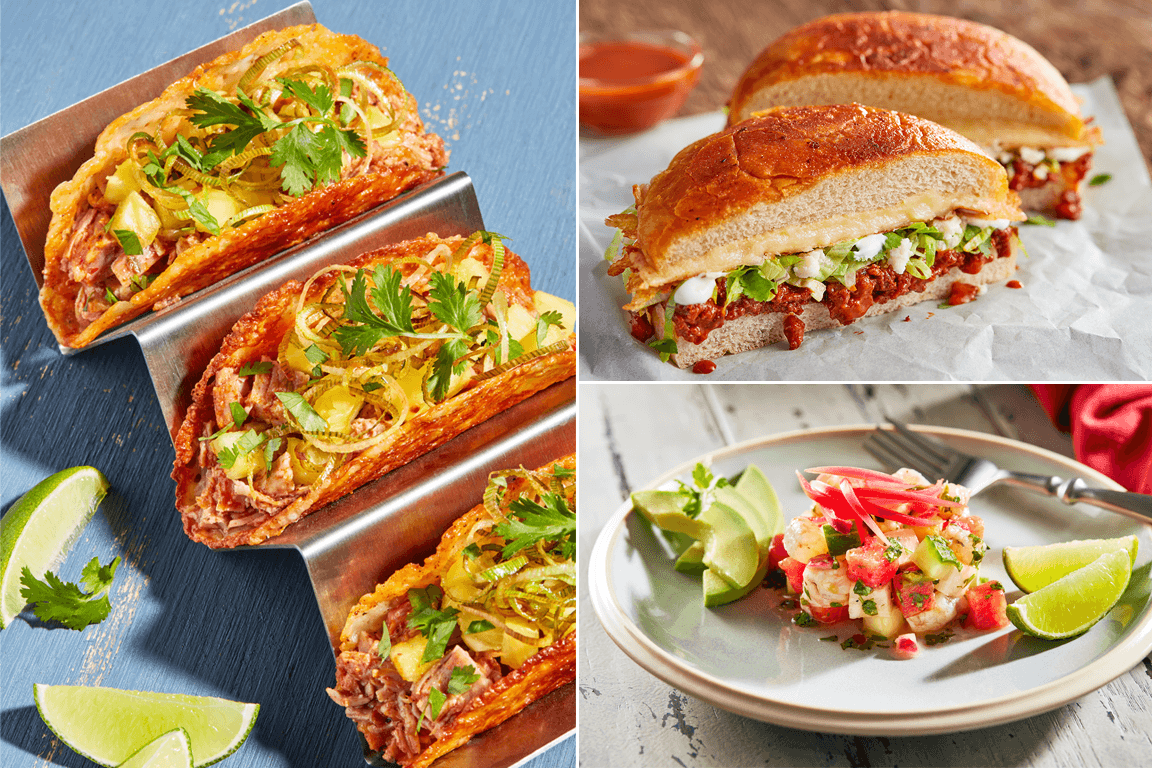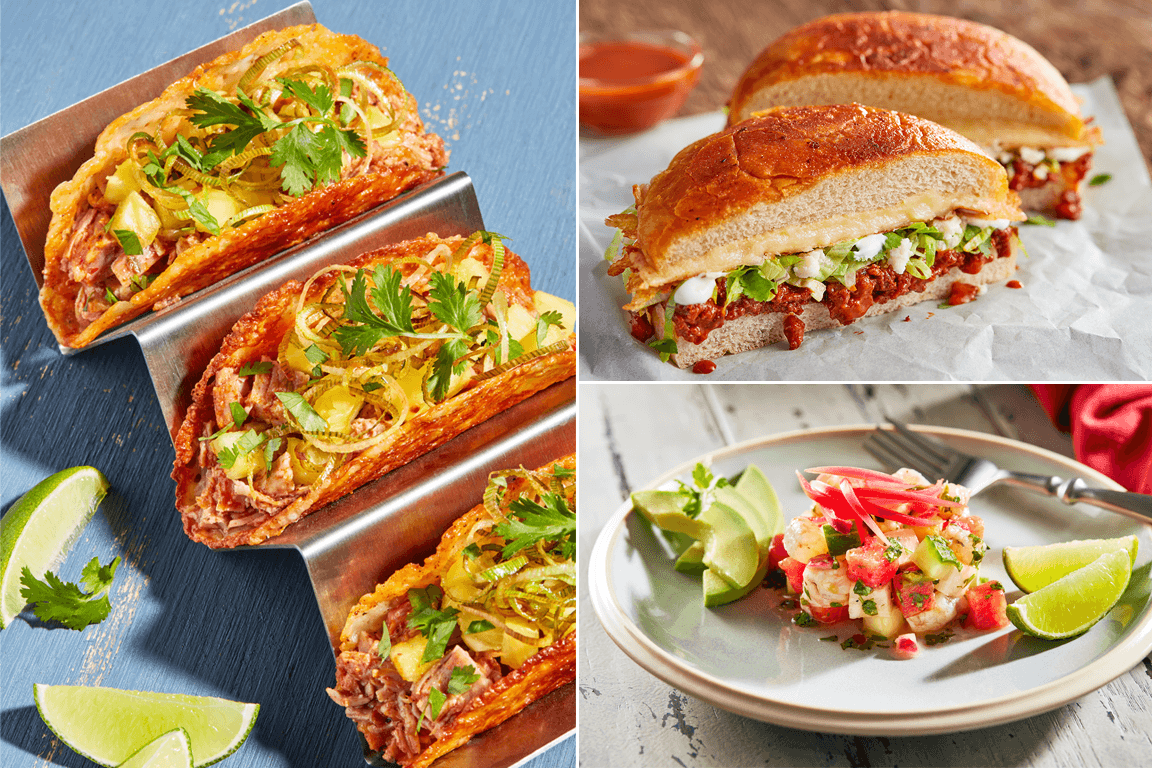 Kitchen Collaborative is a recipe-development initiative formed by Summit F&B and Flavor & The Menu. To fuel flavor innovation, a group of talented chefs partnered with sponsor brands and commodity boards to create recipes that showcase the passion and potential of our industry.
When asked to cite key sources of culinary inspiration, Walter Rivas doesn't hesitate: "Flavor & The Menu, of course!" Formerly with On the Border as Manager of Culinary Innovation, he also gives credit to social media, especially TikTok, YouTube and Instagram. "I have seen so many chefs play with different cuisines, and it has helped give creative shape to my own cooking," Rivas says. "Ninety-five percent of my TikTok feed is cooking videos from all over the globe. It's opened my eyes to a whole world of food!"
Tapping an impressive sphere of influence, Rivas puts his own culinary creativity on display in three recipes for Kitchen Collaborative: Pambazo Chorizo Al Pastor Torta, Frico Carnitas Tacos and Marinated Watermelon Ceviche.
Pambazo Chorizo Al Pastor Torta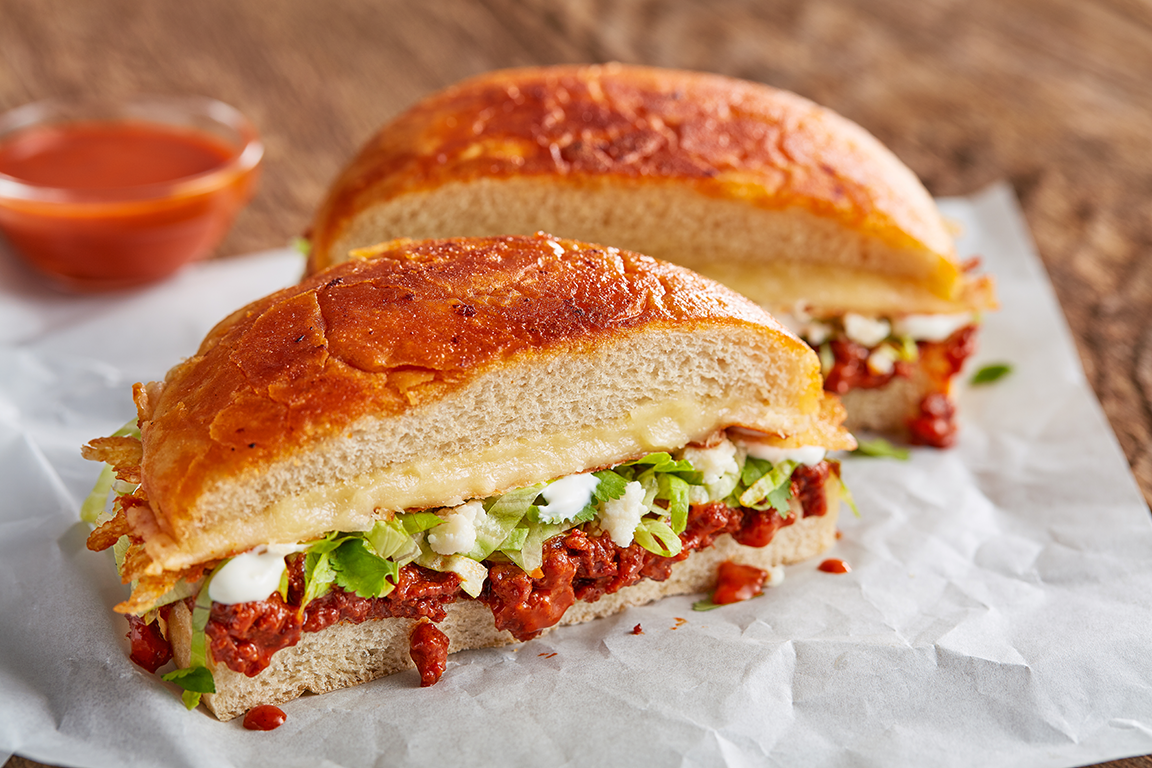 Photo: Carlos Garcia // Food Styling: Peg Blackley
Surely, there must be a correlation between the number of napkins required to handle a messy, saucy, drippy handheld and its level of craveability, with both lines on the graph arcing upward in a perfect parallel. This Pambazo Chorizo Al Pastor Torta, featuring Custom Culinary® Master's Touch® Ancho Flavor Concentrate and Custom Culinary® Al Pastor Sauce, is one dish that heads off the chart. "My wife's family is from Mexico, and they make pambazos all the time," says Rivas. "Given the ancho and al pastor products, I saw an opportunity to step away from tacos, and instead incorporate those flavors in a rich sandwich."
A pambazo features bread dipped into oil and then toasted. For this build, Rivas uses telera or bolillo rolls, dipping the outer side of each half in a mix of Ancho Flavor Concentrate and canola oil. "This is meant to be a messy sandwich, so don't skimp on the amount of ancho oil," advises Rivas. The bread is placed on a flattop, oil sides down, and cooked until a dark, golden brown. The filling features cooked chorizo combined with Al Pastor Sauce, followed by layers of shredded lettuce, crema, queso fresco and cilantro. A frico of Chihuahua cheese is melted into the top half of the bread to crown the handheld.
"The Ancho Flavor Concentrate provides a rich and flavorful addition to any sauce—or, in my case, an ancho oil—and the flavor plays well with others. The spiced, tangy Al Pastor Sauce provides great depth to any protein," says Rivas. Diners will find this pambazo a unique flavor experience, he notes. "There's the pepper flavor from the ancho oil on the bread, plus the richness from the al pastor chorizo and the cheese. These are perfectly balanced by the crema, queso fresco and lettuce, which all add freshness." While torta vendors in Mexico often use coated bread and a cheese frico crust, Rivas reports that it's a bit less common to use both in the same dish. "But it provides a great combination of flavors and textures. This is a sandwich people will want more of."
Frico Carnitas Tacos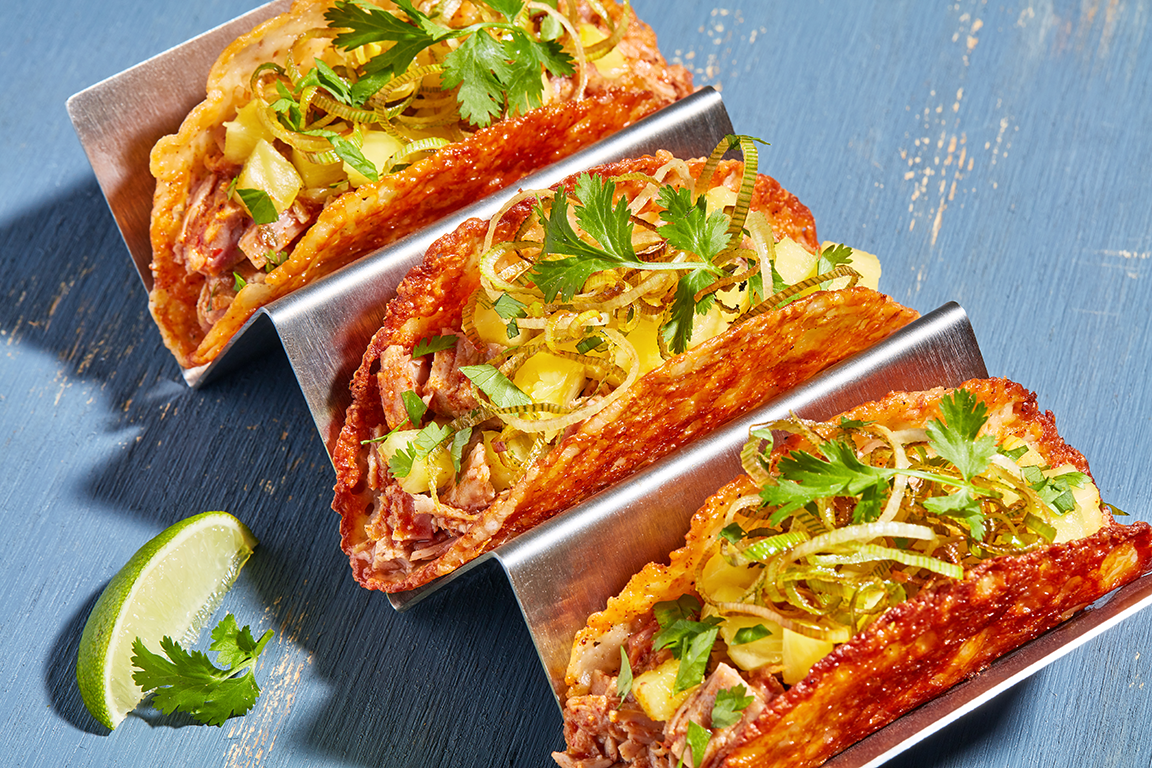 Photo: Carlos Garcia // Food Styling: Peg Blackley & Bree Williams
When it comes to taco shells, the flour-versus-corn and fried-versus-soft tortilla debates are further confounded by a new player on the field. In his Frico Carnitas Tacos, Rivas doesn't merely attach a frico layer to a tortilla, he creates a 4-in. frico disk and makes it a pliable carrier for a flavor-forward mix of barbecue pork, diced pineapple and fried leeks. "I wanted to make an item that is a bit on the keto side, and cheese is always a good option," says Rivas. "Jack cheese was selected for its low-moisture content, while also being a terrific melting cheese. It develops a great crust, and with its mild flavor, it's a fantastic vehicle for seasonings."
These start with Texas Pete® Original Dust Dry Seasoning, which Rivas rubs into the pork, along with black pepper, cumin and oregano, before cooking the meat in bacon fat. The Dust is also applied to the cheese as it melts.
The cooked pork is tossed in Texas Pete® Eastern Carolina BBQ Sauce. "It provides a great acidity and vinegar taste to the pork," says Rivas. "It really helped to balance the fatty, rich meat, as well as providing great flavor. The pineapple and barbecue sauce meld and complement one another, each providing a different acidity that adds to the complexity and uniqueness to the tacos." A final differentiator is found in the fried leeks, which Rivas calls a "fun twist" on the conventional choices of white diced onions or scallions.
Marinated Watermelon Ceviche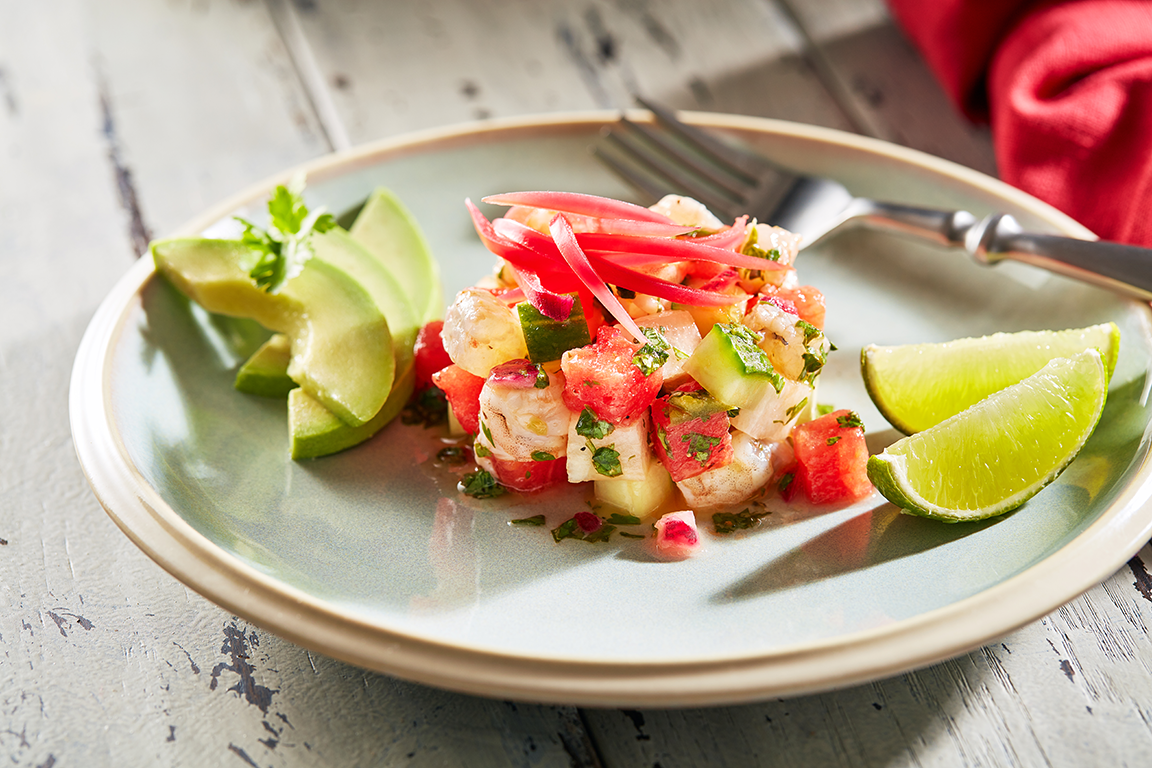 Photo: Carlos Garcia // Food Styling: Peg Blackley
A light, flavorful start to the meal. That's how Rivas envisioned this Marinated Watermelon Ceviche, also featuring shrimp, pickled onions and a cilantro-based chimichurri. "The chimichurri is a bit different from your typical steak chimichurri, as the main ingredient is cilantro," says Rivas. "When combined with the watermelon, it adds a citrusy, salty and acidic element that really elevates the sweet watermelon."
Diced watermelon and cooked shrimp are combined with cucumber, jicama and jalapeño, and mixed with chimichurri sauce, salt and lime juice and plated as the base of the dish. Pickled red onions are placed on top, and it's finished with a sprinkle of cilantro, avocado slices and lime wedges. It can be served with tortilla chips or other crackers.
Rivas characterizes this dish as a ceviche instead of a salad, citing the two marinades. "Lime juice is used to marinate and cook the shrimp, while the chimichurri sauce is used to marinate the watermelon and other ingredients," he explains. "These change the texture and the profile of the dish."
Coconut can be used instead of shrimp to present a vegan alternative. "With our guests continually changing, I think it's crucial to provide a variety of dietary and lifestyle options in order to really stand out and differentiate ourselves in the industry," Rivas says.
Project Management: Summit F&B
Photography: Carlos Garcia // Food Styling: Peg Blackley