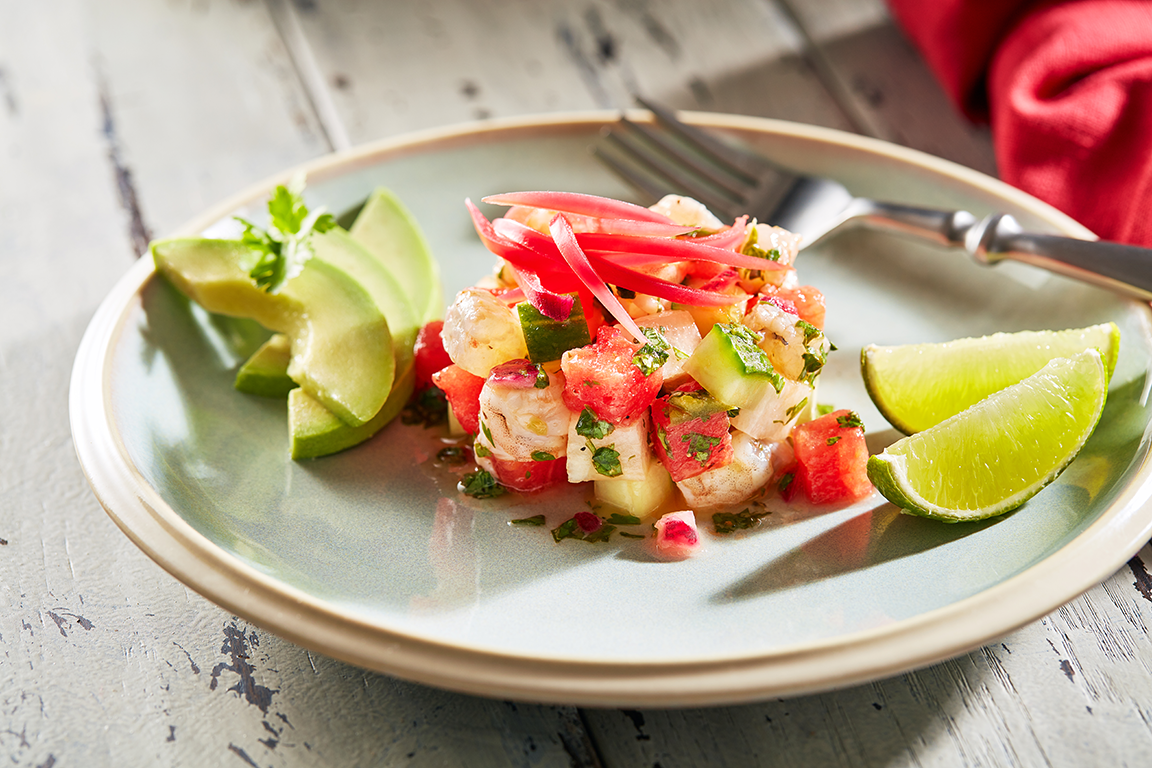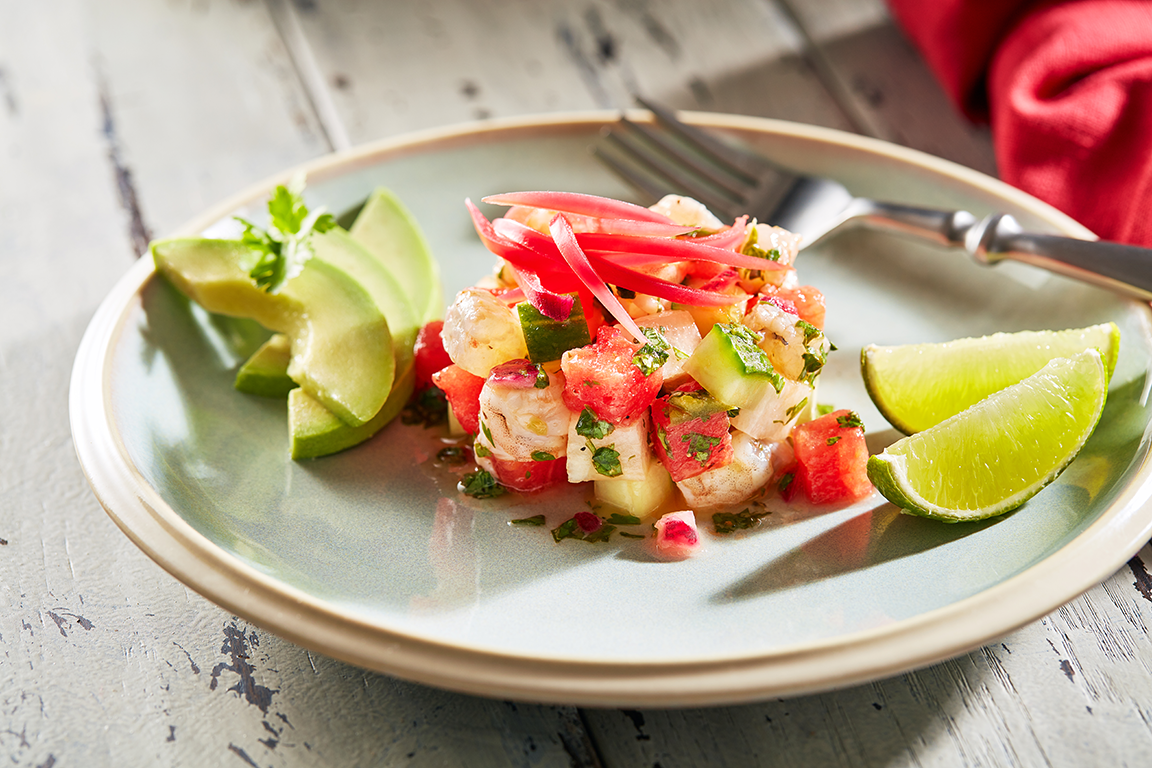 Marinated Watermelon Ceviche
Recipe courtesy of Walter Rivas
Sponsor: National Watermelon Promotion Board
Servings: 24
Ingredients
Chimichurri Sauce:
1 jalapeño
½ c canola oil
½ c fresh lime juice
2 Tbsp chopped garlic
¼ c chopped red onion
1 c cilantro, chopped
1 tsp black pepper
1 Tbsp salt
Cooked Shrimp (optional):
1 lb raw shrimp, peeled, deveined
½ c fresh lime juice
Pickled Onions:
1 lb red onion, sliced
2 c red wine vinegar
½ c sugar
Ceviche
8 c ½-in dice watermelon
4 c ½-in dice cucumber
4 c ½-in dice jicama
4 c ½-in dice Cooked Shrimp
2 oz jalapeño, minced
3 fl oz Chimichurri Sauce
1 Tbsp salt
2 fl oz fresh lime juice
12 oz Pickled Onions
4 oz chopped cilantro
¼ avocado, sliced
48 lime wedges
Directions
For the Chimichurri Sauce:
In a blender (or with immersion blender) combine jalapeños, oil, lime juice, garlic, onion, cilantro, pepper and salt. Blend for about 5 seconds, so ingredients are chunky instead of smooth.
Put into a ninth pan and set aside.
For the Cooked Shrimp (if using):
In a 4-in third pan, combine shrimp and lime juice. Let lime juice marinate shrimp for about 1 hour, refrigerated.
Once shrimp is opaque, drain lime juice and dice shrimp into ½-in pieces. Set aside.
For the Pickled Onions:
In small sauté pan, combine onions, vinegar and sugar and cook over medium heat until mixture begins to boil.
Remove from the flame and set mixture aside. Place in refrigerator to cool.
For the Ceviche:
In a large stainless steel bowl, combine watermelon, cucumber, jicama, shrimp, jalapeño, chimichurri sauce, salt and lime juice. With a rubber spatula, evenly combine all ingredients.
To plate, place 1 cup of the watermelon ceviche topped with ½ oz pickled onions and a sprinkle of cilantro. Garnish with avocado slices and 2 lime wedges.
Chef Notes
If you would like to make a vegan version, substitute coconut instead of shrimp.
Serve with your choice of tortilla chips or crackers.
Project Management: Summit F&B
Photography: Carlos Garcia // Food Styling: Peg Blackley