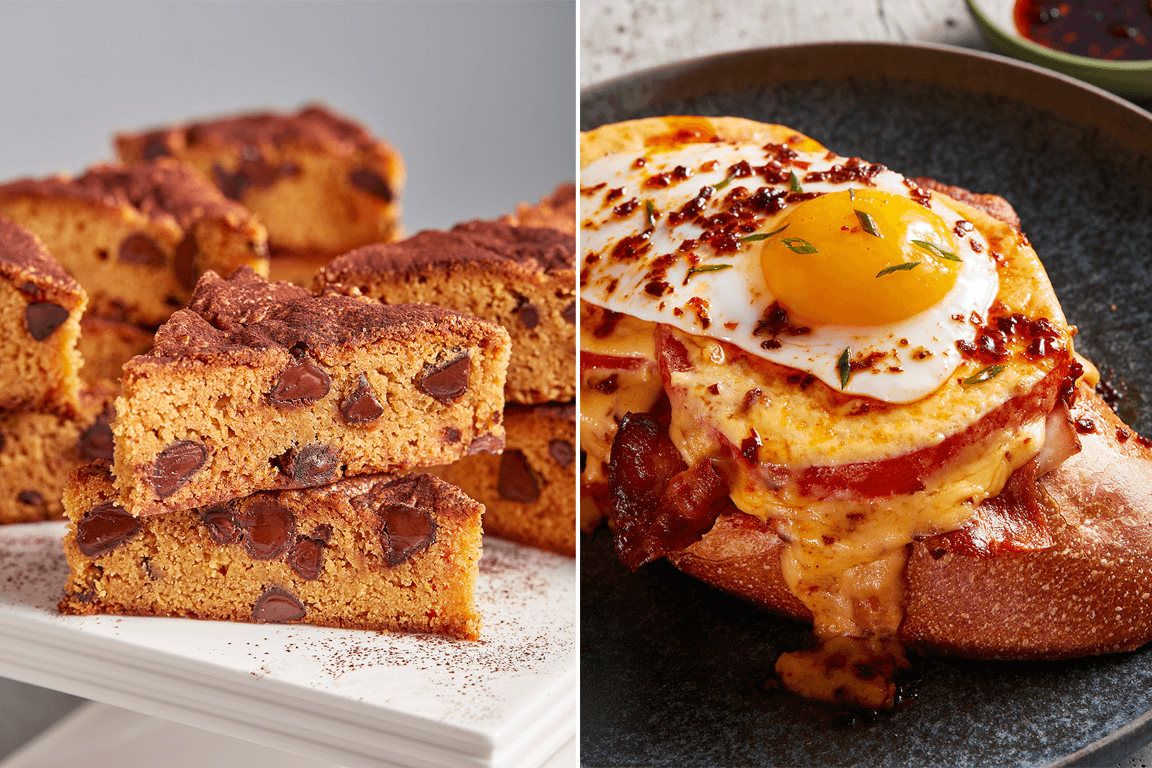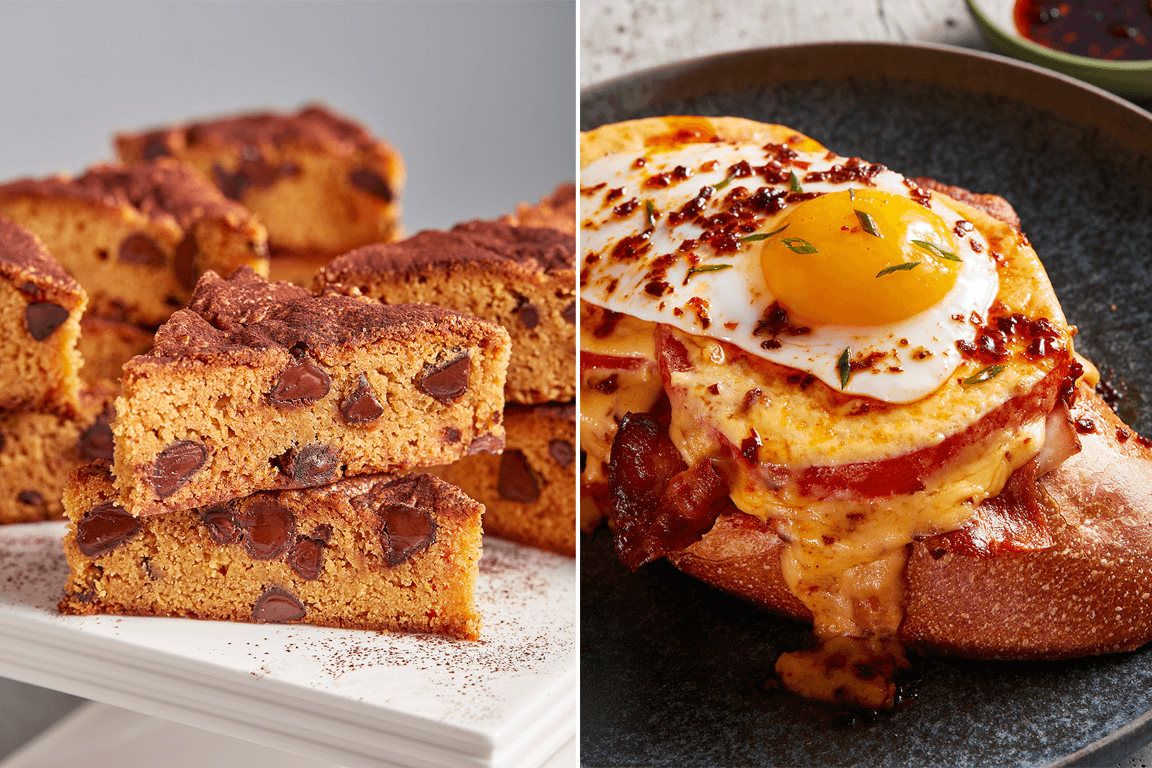 Kitchen Collaborative is a recipe-development initiative formed by Summit F&B and Flavor & The Menu. To fuel flavor innovation, a group of talented chefs partnered with sponsor brands and commodity boards to create recipes that showcase the passion and potential of our industry.
"It's a very trite answer, but my mother is my first and most impactful influence in trying new things in the kitchen," says Owen Klein, recently appointed VP, Menu & Culinary Innovation at CAVA. "She always made sure that food was exciting! Nowadays, I'm addicted to that—playing around with food and seeing what works together."
Klein admits that he can be "all over the place when developing recipes," enjoying projects like Kitchen Collaborative that set a few boundaries. "It helps for me to have some guidelines—that actually opens up creativity," he explains. Thoughtful, inventive flavor play is certainly on display here with his Miso Magic Chocolate Bars and Kentucky Hot Hot Brown, both developed during his former tenure as VP Global Culinary Innovation, CKE Restaurants.
Miso Magic Chocolate Bars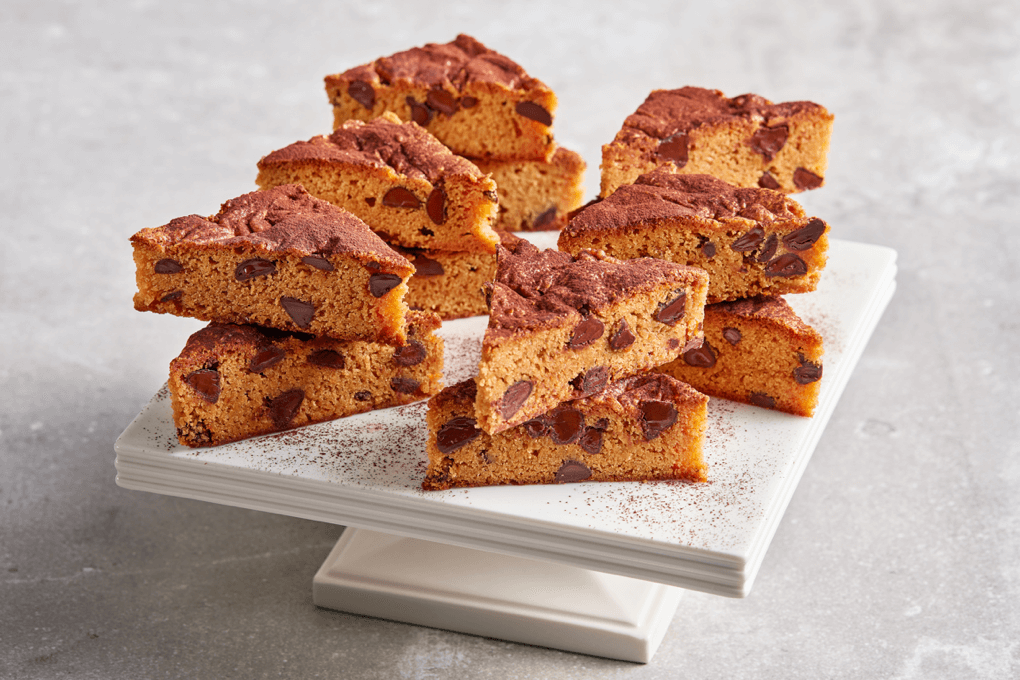 Photo: Carlos Garcia // Food Styling: Peg Blackley
Klein is a longtime fan of mixing sweet with savory profiles when it comes to dessert in general—and these Miso Magic Chocolate Bars in particular. "It's still dessert at its core, but it has tons of depth," he says. "I wanted to highlight chocolate chips with an ingredient that was plant-based, but had fermented notes to add that depth."
He turned to a favorite go-to: "Miso is my secret weapon," Klein says. In specific, he opted for shiro, or blonde, miso for this dish, explaining, "Red miso is sweeter, but it's the wrong kind of sweetness for this bar. I was thinking more in the way of a brookie or a blondie mash-up."
Another unexpected ingredient in the bars is butternut squash purée. "The squash brings a bit of natural sweetness, while working well with the miso. Squash and chocolate are really complementary, bringing out the cocoa flavor. The squash purée, like applesauce, also enhances the texture. The bars have a crispy top and fudgy interior," says Klein.
His choice of Ghirardelli® 52% Cacao Dark Chocolate Chips over other products in the company's line was also well considered. "While I tend to lean more toward darker varieties, there's something about the miso and the squash that really amped up the chocolate flavor in the 52 percent product more than the others," says Klein, noting that the effect is subtle but distinctive. "It coaxes it out, rather than just sitting there."
Admitting that his initial recipe ideas leaned toward elevated desserts, Klein ultimately chose "to bring flavor nuances to something that you could make at home. But it has that 'wow' factor and can draw diners from the foodie angle, the flavor-explorer perspective, vegans and people who just like brownies."
Kentucky Hot Hot Brown with Lee Kum Kee® Chiu Chow Style Chili Crisp Oil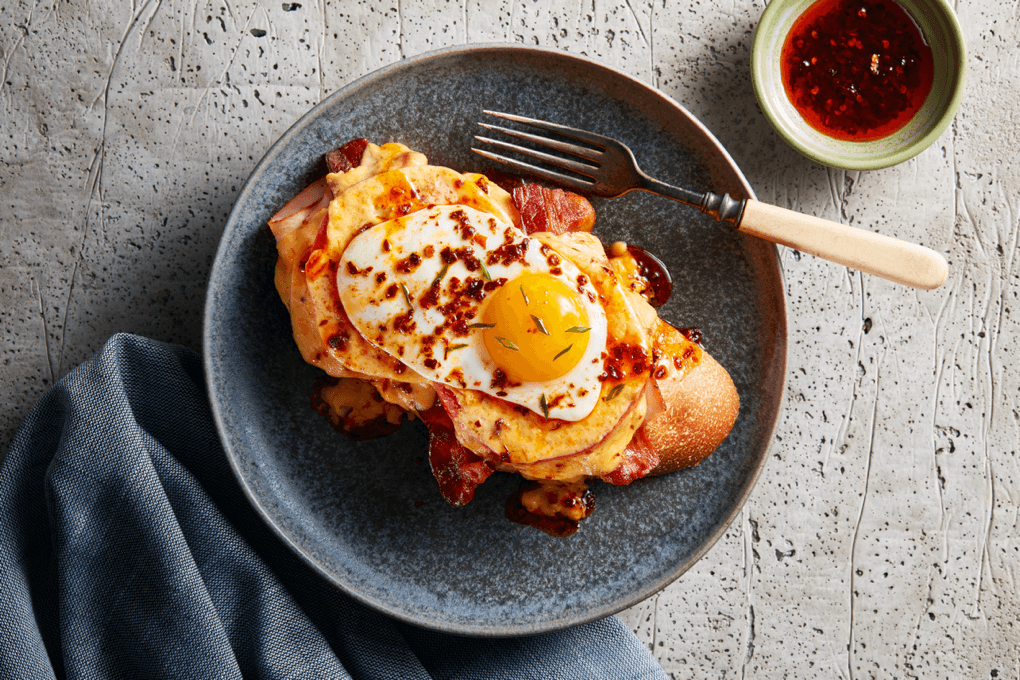 Photo: Carlos Garcia // Food Styling: Peg Blackley
Presented with the flavor-forward lineup of Asian sauces, marinades and oils from Lee Kum Kee and tasked with the intriguing challenge to pursue a different cuisine direction in his recipe ideation, Klein was undaunted. "I wanted to do the most Middle America dish possible, adding some Asian spike," he says of this Kentucky Hot Hot Brown with Lee Kum Kee® Chiu Chow Style Chili Crisp Oil.
While Klein equates the classic Kentucky Hot Brown sandwich to a "Southern Croque Madame," the iconic open-faced sandwich introduced a century ago at Louisville's famed Brown Hotel doesn't typically feature a fried egg and it swaps turkey for ham. But Klein's version blends the most craveable elements of both dishes. It's made with toasted slices of French bread, deli turkey slices, thick-cut bacon, tomatoes, a cheddar-and-cream sauce, a fried egg and a garnish of minced chives. Klein injects some heat—and dials up the visual aesthetic—courtesy of Lee Kum Kee Chiu Chow Style Chili Crisp Oil added to both the Mornay sauce and the fried egg.
"Chile crisp and chiu chow have been having their moments for the last two years and one of my favorite things to do is to fry an egg in one or the other. It creates red, crispy edges—a really cool look—and is freaking delicious," says Klein of this "fork-and-knife" brunch or lunch option. Even if diners are unfamiliar with this regional favorite, Klein believes that its Americana identity will convey trust.
The heat level of the chiu chow-style chile crisp is fairly mild, promises Klein, putting it just below a jalapeño. "It's a flavoring that gives you some textural appeal with the crispies," he says. Klein characterizes the flavor vibe of the entire sandwich build as "indulgent, cheesy and slightly spicy."
Project Management: Summit F&B
Photography: Carlos Garcia // Food Styling: Peg Blackley