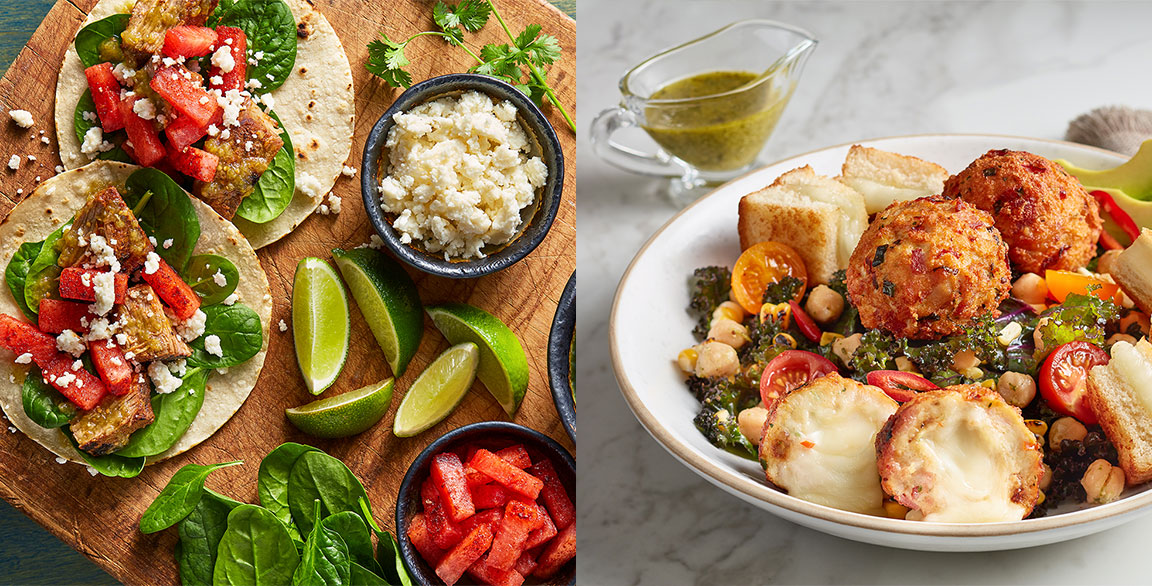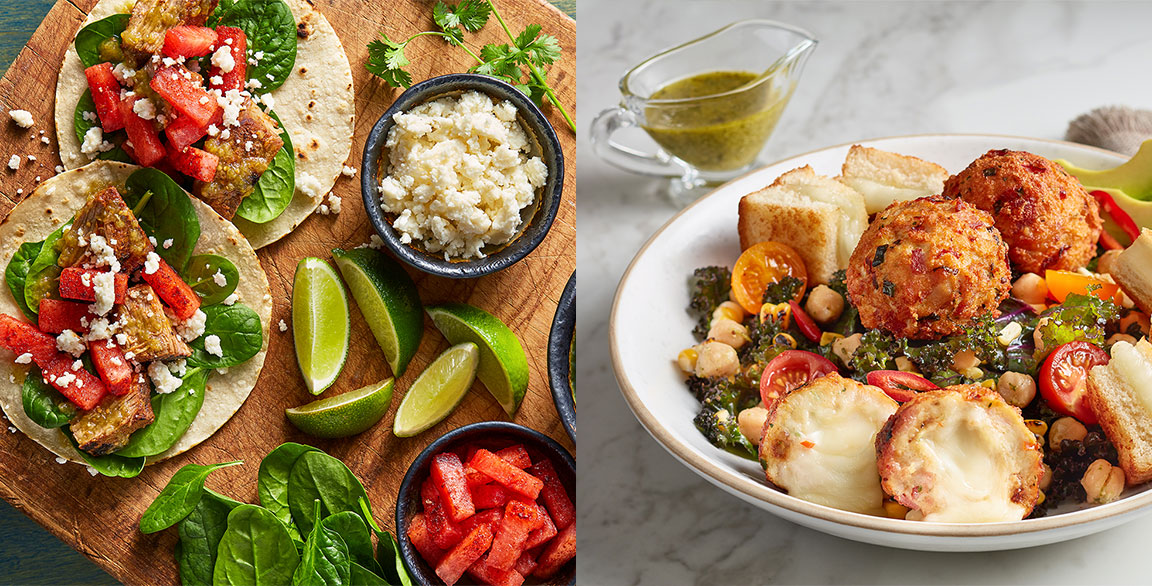 Kitchen Collaborative is a recipe-development initiative formed by Summit F&B and Flavor & The Menu. To fuel flavor innovation, a group of talented chefs partnered with sponsor brands and commodity boards to create recipes that showcase the passion and potential of our industry.
CHEF SPOTLIGHT: JAY SMITH
Jay Smith, Corporate Executive Chef at Bloomin' Brands, understands that dining decisions shouldn't ever be taken for granted, and certainly not in these times of rising inflation and ongoing pandemic anxieties. The crave factor arguably has become more powerful than ever in enticing consumers into restaurants. Smith seeks to imbue menu development with liberal doses of craveability and surprise in the name of crafting memorable dishes. His Ultimate California Mozzarella Meatball Salad and Smoky Watermelon and Carnitas Tacos are two excellent examples of this flavor philosophy in action.
The Ultimate California Mozzarella Meatball Salad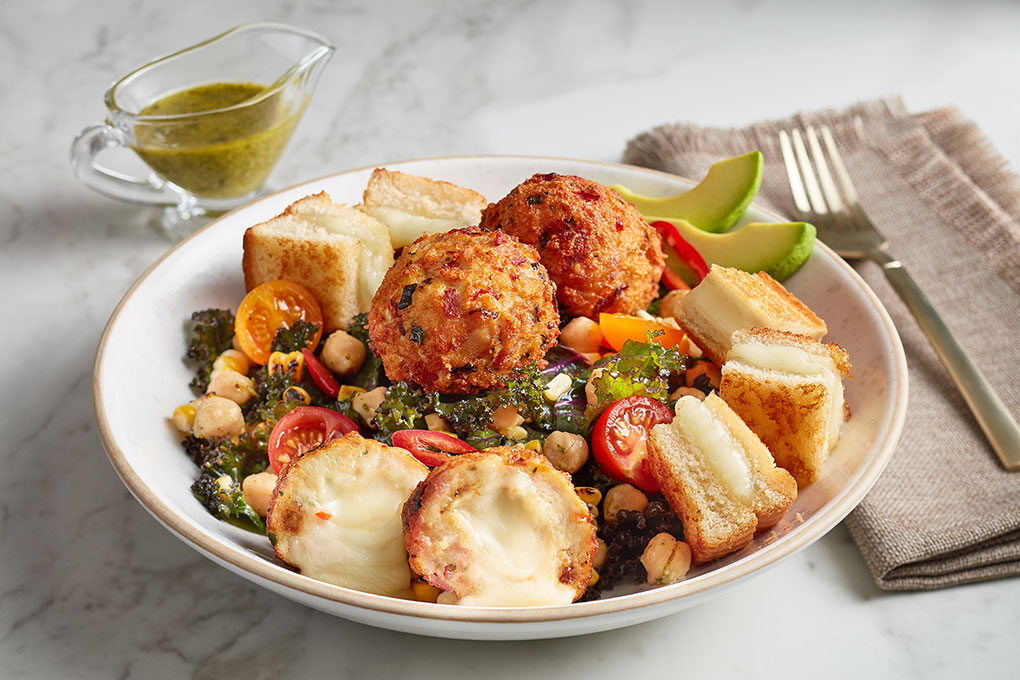 Photo: Carlos Garcia // Food Styling: Peg Blackley & Bree Williams
"I try to introduce craveability and flavor into everything I create," says Smith. "It needs to be memorable and delicious." From its intriguing name to its cheese-centric indulgence to its decidedly Cali sensibility, Smith's Ultimate California Mozzarella Meatball Salad certainly promises an unforgettable taste experience.
Mozzarella- and Parmesan-stuffed chicken meatballs are served with mini grilled cheese "croutons" over a salad of chickpeas, grilled corn, grape tomatoes, Fresno chiles, avocado and kale with a salsa verde vinaigrette. Smith credits a few different inspirations for his creation, including a periodic Carrabba's menu favorite—the Meatball Magnifico—which itself is based on an Italian polpettone. "Plus, when you are starting with California cheese, you can't overlook the amazing produce the Golden State has to offer," says Smith. "Some of my most memorable produce experiences have taken place in California."
Confounding expectations is also at the heart of Smith's distinctive choices. "I wanted to surprise the consumer," he explains. "There is nothing better than cutting into a meatball and seeing cheese ooze out of it." Other unpredictable touches include his protein choice: "Chicken is viewed as healthier and lighter than beef or pork." The addition of the mini grilled cheese sandwiches establish another layer of decadence.
"This salad is one you want to take pictures of and tell your friends about," says Smith. "It isn't an everyday salad. It is a celebration, an indulgence, a special occasion." While the dish admittedly leans to a more adventurous palate, he notes, "I think it speaks to all of us at the right time."
Smoky Watermelon and Carnitas Tacos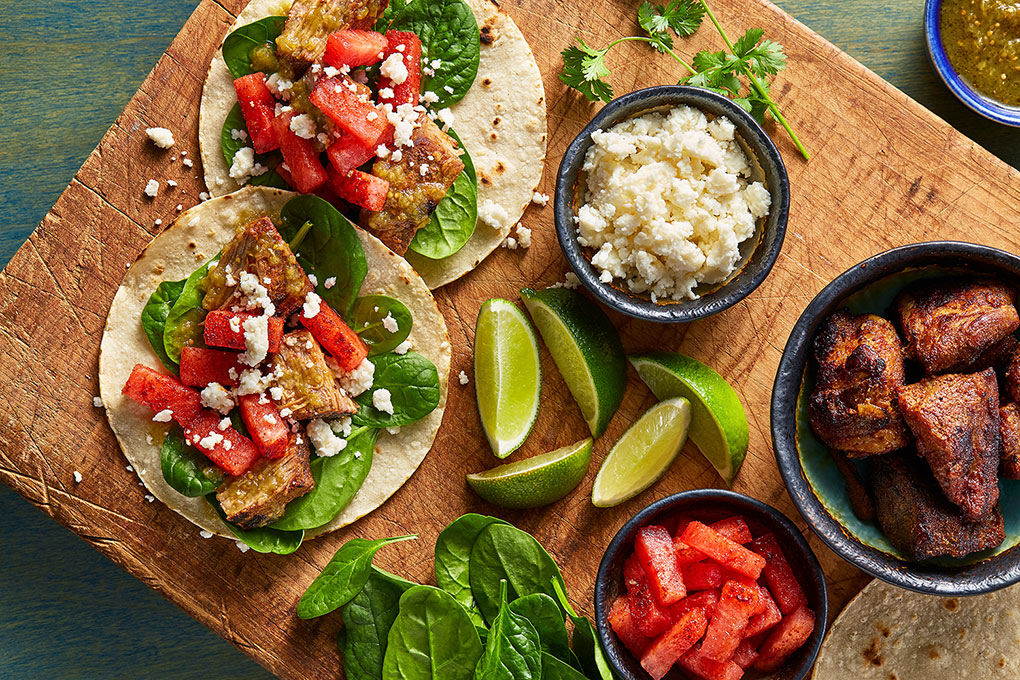 Photo: Carlos Garcia // Food Styling: Peg Blackley & Bree Williams
Chile-rubbed compressed watermelon and slow-cooked carnitas together make for a distinctive pairing sure to attract diners seeking that singular something in a flavor combination. "The young, adventurous eater" is the target market Smith is eyeing with his Smoky Watermelon and Carnitas Tacos. "I wanted to create something craveable, but something unique," he explains. "And everyone loves a good taco."
Smith begins with a simple, smoky, spice rub mix composed of chipotle chile powder, smoked paprika, cayenne pepper and salt. He uses this to season cubes of watermelon, which are then placed in a bag and vacuum sealed to compress the fruit. After refrigerating for 12 hours, the watermelon cubes are cut into matchsticks. "It's another way to make it look unique and let the watermelon stand out," he says. Diced pork shoulder gets the same smoky rub before being combined with onions, garlic and chipotle chiles in adobo and braised until fork tender. Prior to service, the carnitas mix is grilled on skewers. For the taco build, Smith uses a grill-heated corn tortilla topped with spinach, three pieces of hot carnitas, a salsa verde, queso fresco and the watermelon matchsticks. A garnish of cilantro and a lime wedge finish the dish.
Applying the spice rub to the watermelon is key to adding greater depth of flavor, says Smith. He points to the thoughtful equilibrium of the sweet, spicy, smoky watermelon with the juicy, tender, savory pork, plus the toppings of the queso, cilantro and a squeeze of the lime wedge. "Salty, sweet, smoky and spice. In balance, they all harmonize together," he says.
Project Management: Summit F&B
Photography: Carlos Garcia // Food Styling: Peg Blackley & Bree Williams