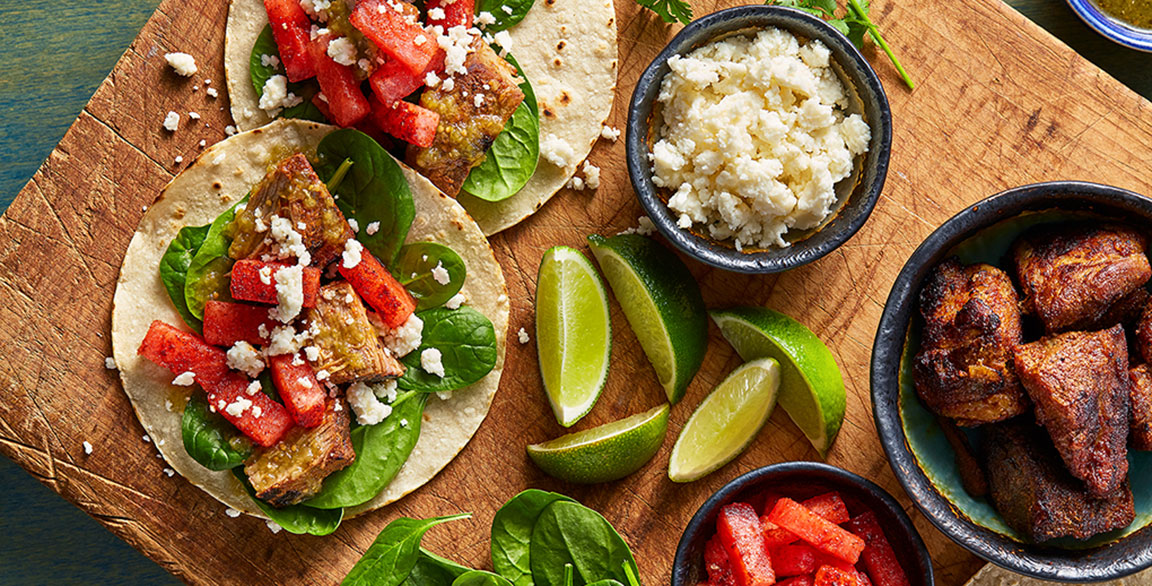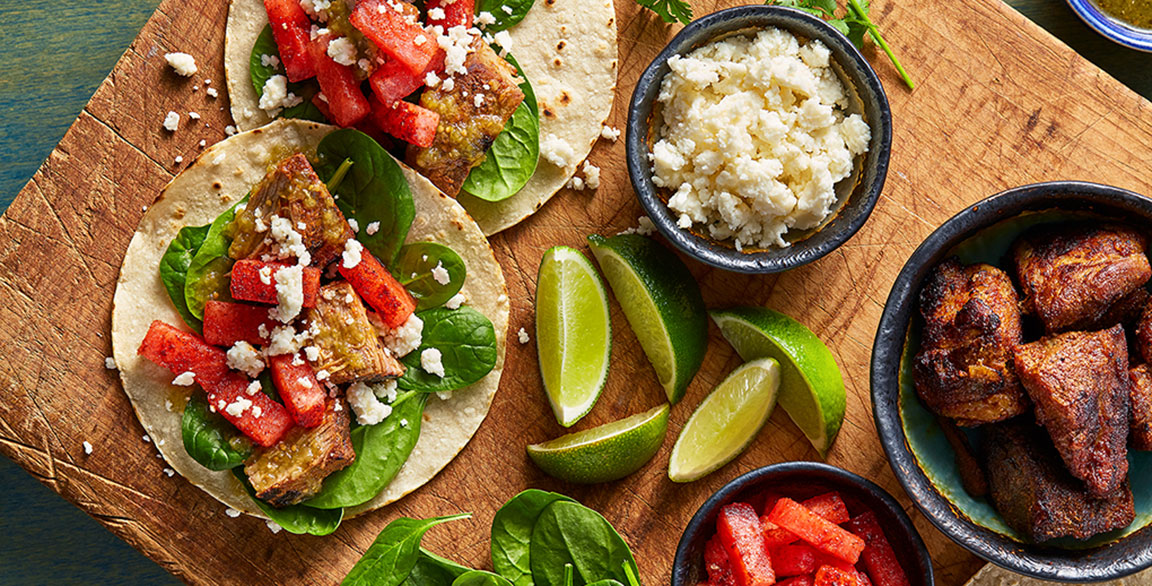 Smoky Watermelon and Carnitas Tacos
Recipe courtesy of Chef Jay Smith
Sponsor: National Watermelon Promotion Board
Serves: 24
Ingredients
Smoky Spice Rub
3 Tbsp chipotle chile powder
3 Tbsp smoked paprika
1/3 tsp cayenne pepper
1 ½ tsp salt
Smoky Chili Watermelon
1 ½ lb watermelon, cut in 1-inch dice
1 Tbsp smoky spice rub
Carnitas
5 lb pork shoulder, cut in 2-inch dice
5 Tbsp smoky spice rub
3 Tbsp salt
6 oz onion, cut in ¼-inch dice
1 oz finely chopped garlic
1 (7-oz) can chipotle chiles in adobo
Watermelon and Carnitas Tacos
24 ea corn tortillas (heated on grill)
72 pieces carnitas, skewered
3 cups spinach, stemmed
1 cup salsa verde
1 1/2 cups crumbled queso fresco
1 1/2 lb smoky chili watermelon matchsticks
24 leaves cilantro
24 ea lime wedges
Directions
For the spice rub: blend and store airtight.
For the watermelon: season the watermelon with the smoky spice rub. Place into a bag and then vacuum to compress watermelon. Refrigerate for 12 hours and then use within 2 days.
To use, cut the watermelon cubes into matchsticks 1 in. x ¼ in. x ¼ in.
For the carnitas: season the pork with the spice rub and salt. Combine it with the onion, garlic, and chipotles in a 4-inch-deep hotel pan. Cover airtight with foil.
Place in a 350 degree F convection oven for 2 hours and braise until the pork is fork tender.
Let cool and then cover and refrigerate.
Place carnitas skewers on a grill and heat evenly until hot throughout.
Place a tortilla on a plate and top with ½ cup spinach and 3 pieces hot carnitas.
Top with salsa verde, queso fresco, and watermelon matchsticks.
Garnish with a lime wedge and cilantro leaf.
Project Management: Summit F&B Photography: Carlos Garcia // Food Styling: Peg Blackley & Bree Williams