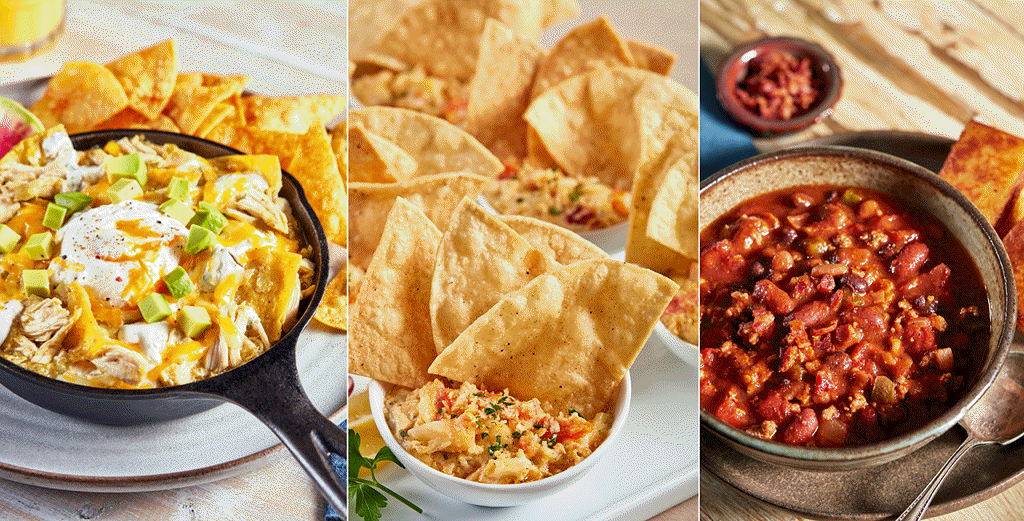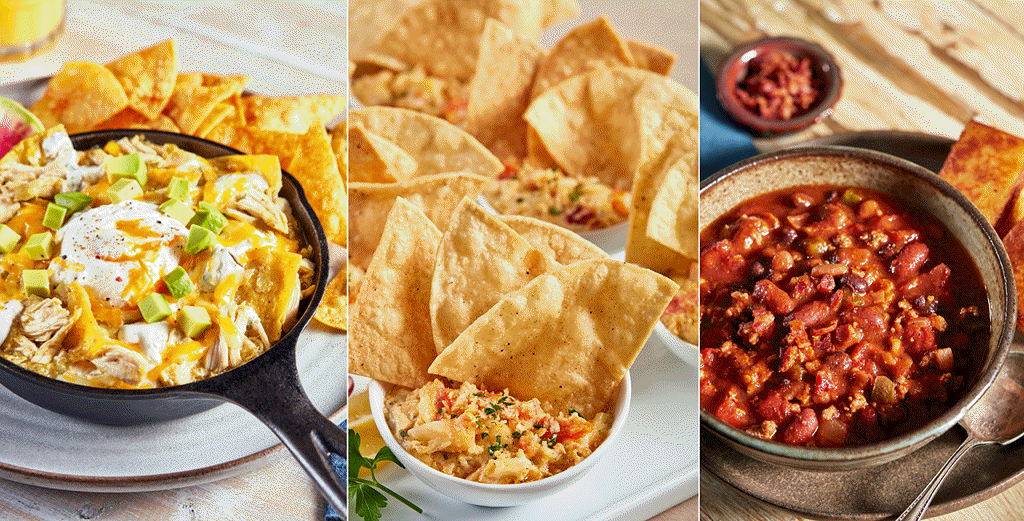 By Patricia Fitzgerald
November 17, 2022
Kitchen Collaborative is a recipe-development initiative formed by Summit F&B and Flavor & The Menu. To fuel flavor innovation, a group of talented chefs partnered with sponsor brands and commodity boards to create recipes that showcase the passion and potential of our industry.
CHEF SPOTLIGHT: James Patterson
With rising food and labor costs continuing to drive adoption of creative back-of-house tactics, James Patterson, Corporate Executive Chef, Porter's Neck Country Club, in Wilmington, N.C., finds that a back to basics approach yields its own innovation. "We have been focused on cross-utilization more than ever when writing menus, going back to the fundamentals and making more things from scratch," he says. "It's taking us back to the building blocks of flavor, knowing the roots and original purposes of ingredients and then finding new ways to use them."
Patterson demonstrates a sure hand in putting those fundamentals to work in his recipes for Kitchen Collaborative: Chilaquiles Verdes con Pollo, Carolina Baked Seafood Dip with Boursin® and South of the Border Bush's® Three Bean Chili. In each, he focuses on enhancing flavor, building crave and maintaining a comfortable familiarity for guests.
Chilaquiles Verdes con Pollo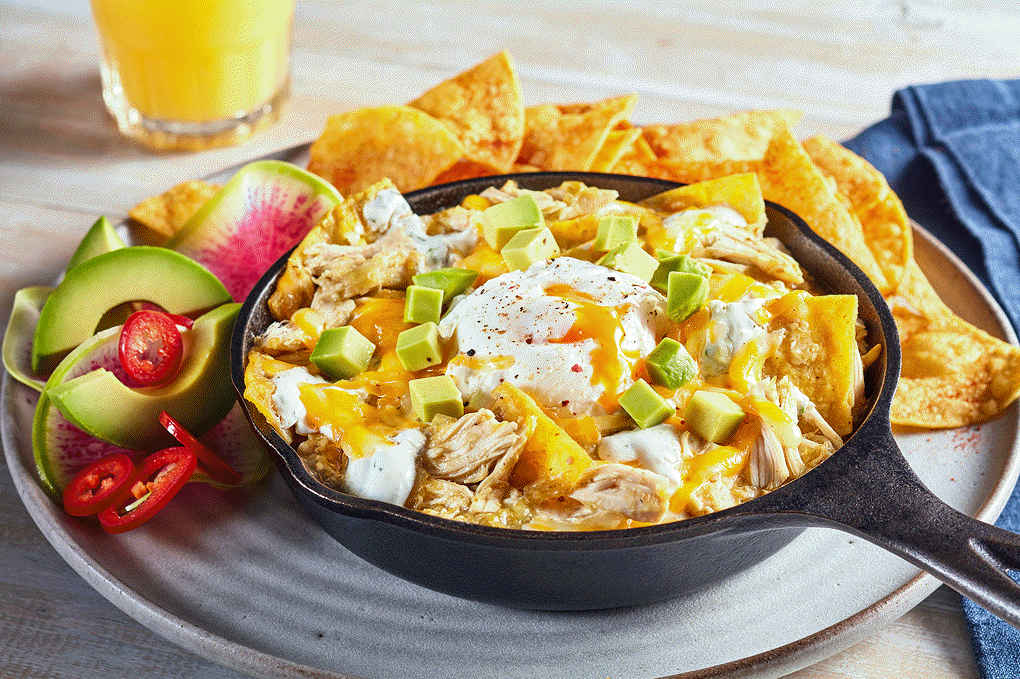 Photo: Carlos Garcia // Food Styling: Peg Blackley & Bree Williams
Patterson tapped a deeply personal memory when developing this Chilaquiles Verdes con Pollo. "I had a version of this dish in the Dominican Republic on my honeymoon, and it has been a great memory for more than 15 years. I can still recall its aroma, texture and taste," says Patterson. "I like to give our guests a sense of travel and adventure in their dining experiences. Expanding their flavor palates will bring them back for more and for what's next!"
Patterson's take on the traditional Mexican favorite puts Tyson® NAE, Fully Cooked, 100% All Natural, Boneless, Skinless, Low Sodium Pulled Chicken in the hero spotlight. Without prior experience with the product, Patterson was pleased with this introduction, finding the meat tender and flavorful, with enviable versatility and great potential for reducing labor and food waste.
For the chilaquiles, Patterson simmers the chicken with roasted tomatillo and jalapeño salsa, then mixes it with crispy, flash-fried corn tortilla chips. It's then topped with poached eggs, a cilantro-lime crema and a shredded cheddar-Monterey Jack cheese blend before a brief bake to melt the cheese. A sprinkle of diced avocados is the finishing touch for service. This preparation "allows for a great presentation, while bringing all the traditional aspects of the dish to life," says Patterson. The result is a deft construction that evinces both simplicity and dimension in each flavorful bite.
Carolina Baked Seafood Dip with Boursin®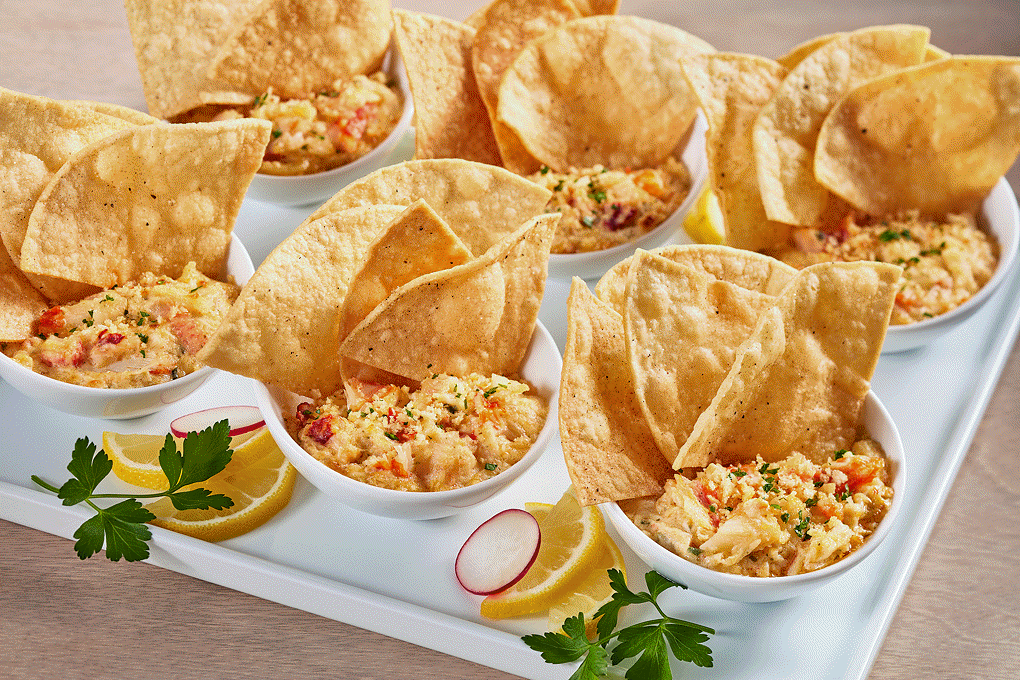 Photo: Carlos Garcia // Food Styling: Peg Blackley & Bree Williams
Patterson has three words to describe the flavor experience of his Carolina Baked Seafood Dip with Boursin®: "Bold. Exciting. Memorable." The dish features a mix of lobster, crab and surimi, punched up with the robust flavors of caramelized onions, horseradish, Worcestershire sauce, hot sauce and the garlic and herbs of Boursin® Professional Frozen Gournay Cheese Cubes.
"Each of the seafood proteins brings a unique component to the dish," says Patterson. "Lobster is known for its sweet, buttery flavor, while crab tends to be a bit more briny, although with a delicate sweetness, as well. Surimi brings the balance and helps to even out the bite. Between the three, diners will find sweet, salty and umami and three totally different textures."
The Boursin certainly delivers the decadence, credits Patterson, but he adds cream cheese, Parmesan and mayonnaise to dial up the rich, creamy texture and provide balance to all the strong flavors in the dish. "I want folks to remember all of the components—the sweet, the salty, the acid, the heat and the savory," he says.
Craveability was top of mind for Patterson as he pulled in each ingredient of the build. "Anyone who tries this combination will find their mouth, mind and stomach yearning for another bite. As with every good starter, appetizer or even bar snack, I find myself wanting the next bite, yet trying to savor the last."
South of the Border Bush's® Three Bean Chili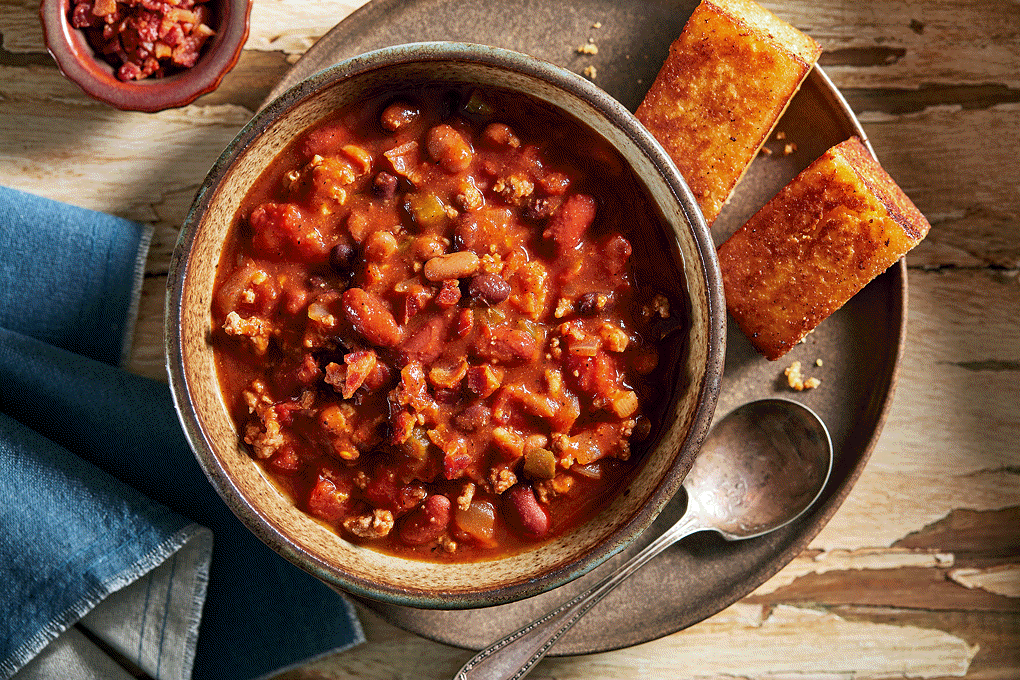 Photo: Carlos Garcia // Food Styling: Peg Blackley & Bree Williams
"Growing up, I can recall my father making chili in the fall and winter, which family and friends would enjoy on Sunday afternoons while watching basketball. This rendition was my take on highlighting Bush's foodservice-quality beans in a personal favorite," says Patterson, who showcases not just one, but a trio of different Bush's products in his South of the Border Bush's® Three Bean Chili: Bush's Best® Sidekicks™ Taco Fiesta™ Black Beans, Easy Entrees™ Texas Ranchero™ Pinto Beans and Light Red Kidney Beans. "All three beans bring their own unique qualities to this dish. Pintos are known for being earthy and creamy, while kidneys are firm and sweet and black beans are like a sponge, absorbing the flavors of other ingredients that they are cooked with."
The hearty dish also features not one, but three proteins: ground sausage, applewood smoked bacon and ground chuck. "Again, the complexity of the flavor profiles of each meat helps me to make a chili to write home about," says Patterson. "Ground chuck is known for having a little more fat than traditional ground beef—and we all know that more fat means more flavor! I use a local sausage famous for its blend of spices and seasonings. Then the bacon brings a bit of smoke, along with textural interest."
Diced onions, peppers, tomatoes, beef stock, tomato paste and sauce, sugar, cayenne, salt and pepper are, Patterson says, "all components that every good chili deserves. And this chili can be 'doctored up,' as my dad would say, by adding ingredients that you may have on hand—maybe you have some beef scraps from trimming filets or some extra ground chorizo, red bell peppers or jalapeños." But he cautions against adding more vegetables or spices: "I wouldn't want to lose the focus of this being a chili."
Project Management: Summit F&B
Photography: Carlos Garcia // Food Styling: Peg Blackley & Bree Williams