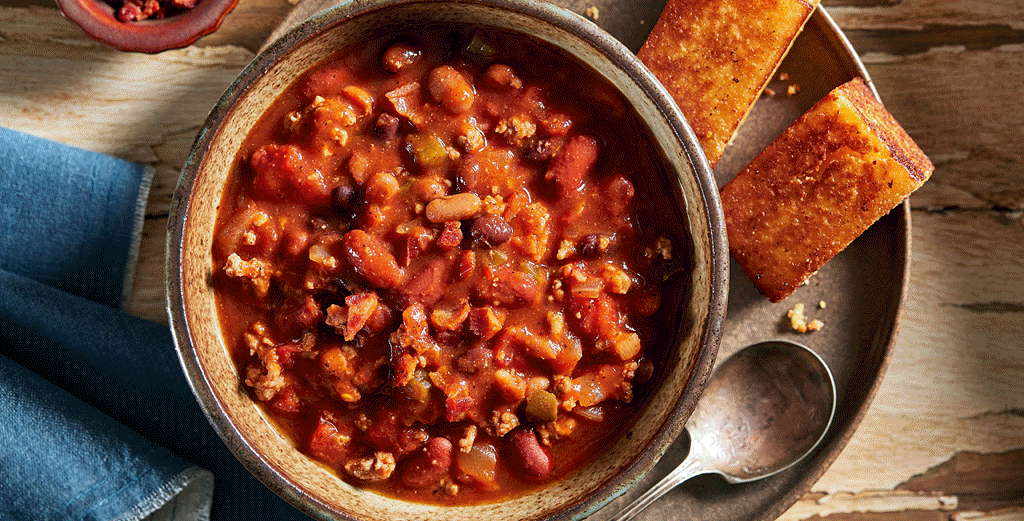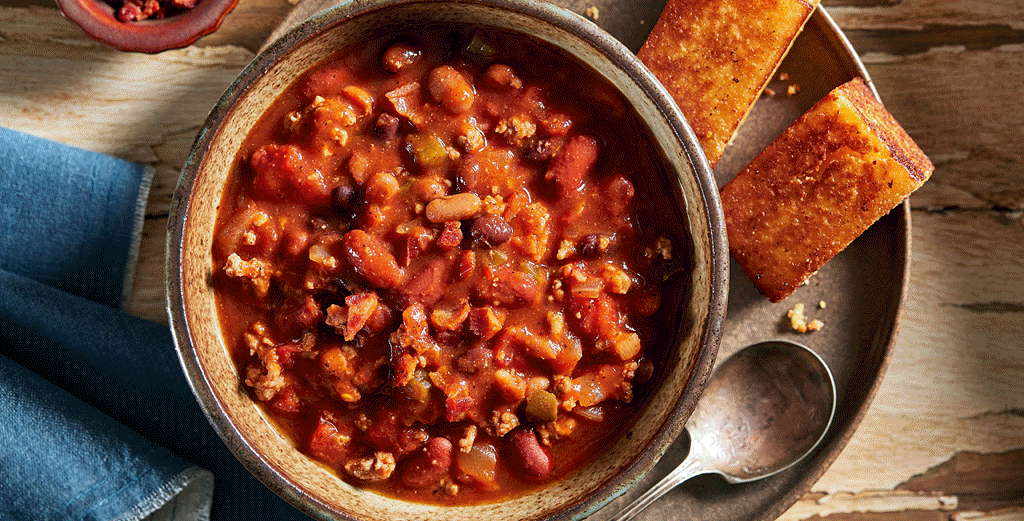 South of the Border Bush's
®

Three Bean Chili

Recipe courtesy of James Patterson
Sponsor: Bush's Best

Servings: 48
Ingredients
½ c olive oil
8 medium yellow onions, diced
8 medium green bell peppers, diced
1 c granulated sugar
1 c tomato paste
2 ½ Tbsp salt
1 ½ Tbsp ground black pepper
½ tsp ground cayenne
3 qts beef stock
1 #10 can petite diced tomatoes
1 #10 can Bush's Best

®

Sidekicks

™

Taco Fiesta™ Black Beans
1 #10 can Bush's Best

®

Easy Entrees

™

Texas Ranchero® Pinto Beans
1 #10 can Bush's Best

®

Light Red Kidney Beans, strained and rinsed
2 qts tomato sauce
5 lb ground chuck, cooked, drained, crumbled
2 lb spicy sausage cooked, drained, crumbled
1 lb applewood bacon, cooked and rough chopped
Directions
Heat olive oil in a large stock pot over medium heat for 2 minutes.
Add the onions and peppers. Cook for 5 minutes, stirring occasionally.
Add the sugar, tomato paste, salt, pepper and cayenne, stir to incorporate.
Add the stock, diced tomatoes, all the beans and tomato sauce and stir thoroughly.
Add the beef, sausage and bacon and stir in.
Bring chili to a low boil. Reduce heat and simmer uncovered for 30 minutes.
Serve chili topped with options such as shredded cheese, sour cream, sliced jalapeños, etc.
Chef Notes
I feel that chili is always better on day two or three. Make a large batch, chill and refrigerate. Heat up one gallon at a time and enjoy; serve with some Saltines.
Project Management: Summit F&B
Photography: Carlos Garcia // Food Styling: Peg Blackley & Bree Williams