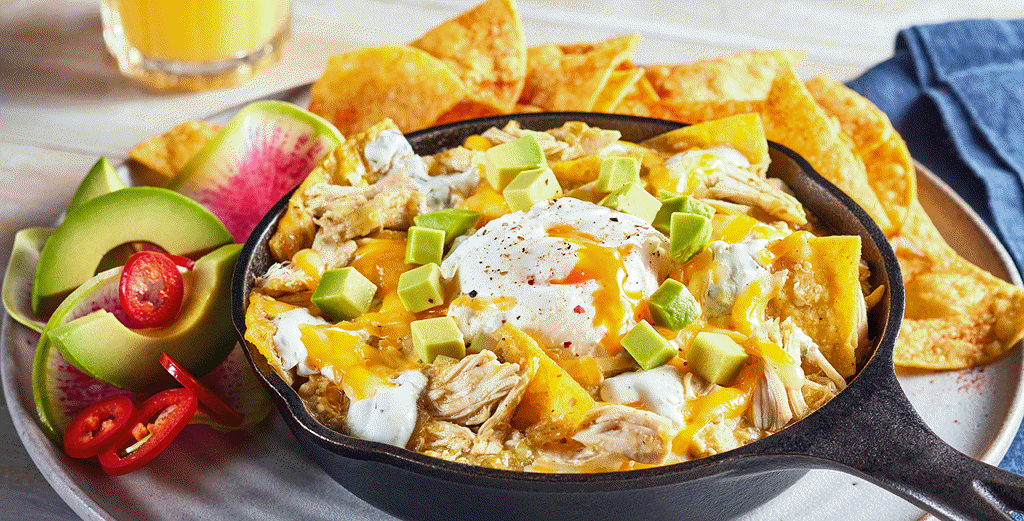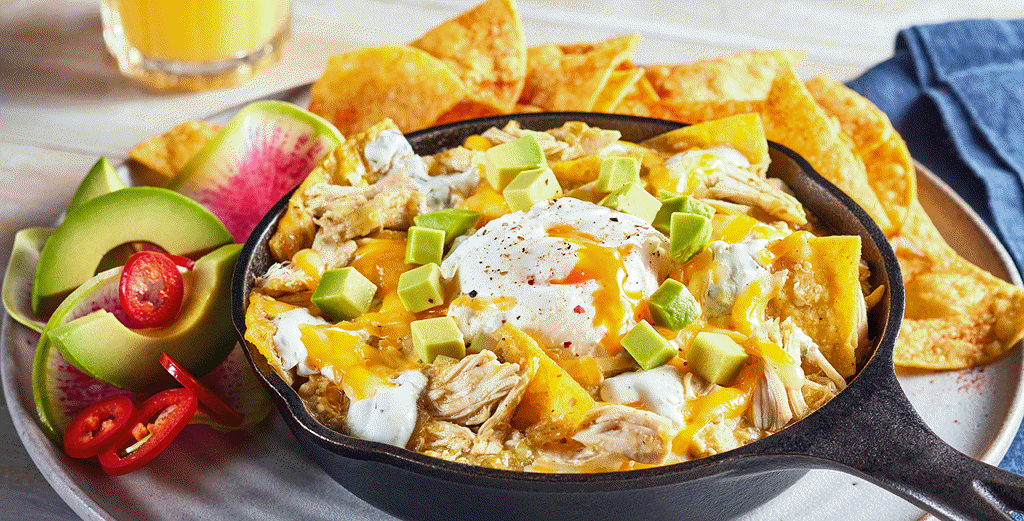 Chilaquiles Verdes con Pollo
Recipe courtesy of James Patterson
Sponsor: Tyson Foodservice
Serves: 40
Ingredients
1 qt sour cream
¼ c lime juice
2 Tbsp finely chopped cilantro
5 lbs Tyson

®

Fully Cooked, 100% All Natural*, Boneless, Skinless, Low Sodium Pulled Chicken
1 gal roasted tomatillo salsa/salsa verde
48 (6-inch) corn tortillas
80 soft-poached eggs
2 lbs finely shredded Cheddar-Monterey Jack cheese blend
24 ripe avocados, medium dice
Directions
In a food processor, blend the sour cream, lime juice and cilantro. Divide the mixture between two piping bags.
In a medium stock pot, bring the chicken and salsa up to a strong simmer. Remove from heat.
Cut tortillas into eighths and flash fry until crispy. Gently fold the tortilla chips into chicken mixture.
Divide chicken-tortilla mixture between two 2-inch hotel pans.
Gently layer the poached eggs evenly over the two pans.
Pipe the cilantro-lime crema over each pan.
Sprinkle half of the cheese over each pan.
Bake at 350 degrees F for 5 to 10 minutes, until cheese is melted.
Top each portion with diced avocado and serve.
Chef Notes
This can be served as a lunch or dinner option by leaving off the eggs. Possibly serve with refried beans, seasoned black beans, elote, etc.; the possibilities are endless.
Salsa roja can be substituted for the roasted tomatillo salsa.
*All-natural, minimally processed chicken with no artificial ingredients
Project Management: Summit F&B
Photography: Carlos Garcia // Food Styling: Peg Blackley & Bree Williams