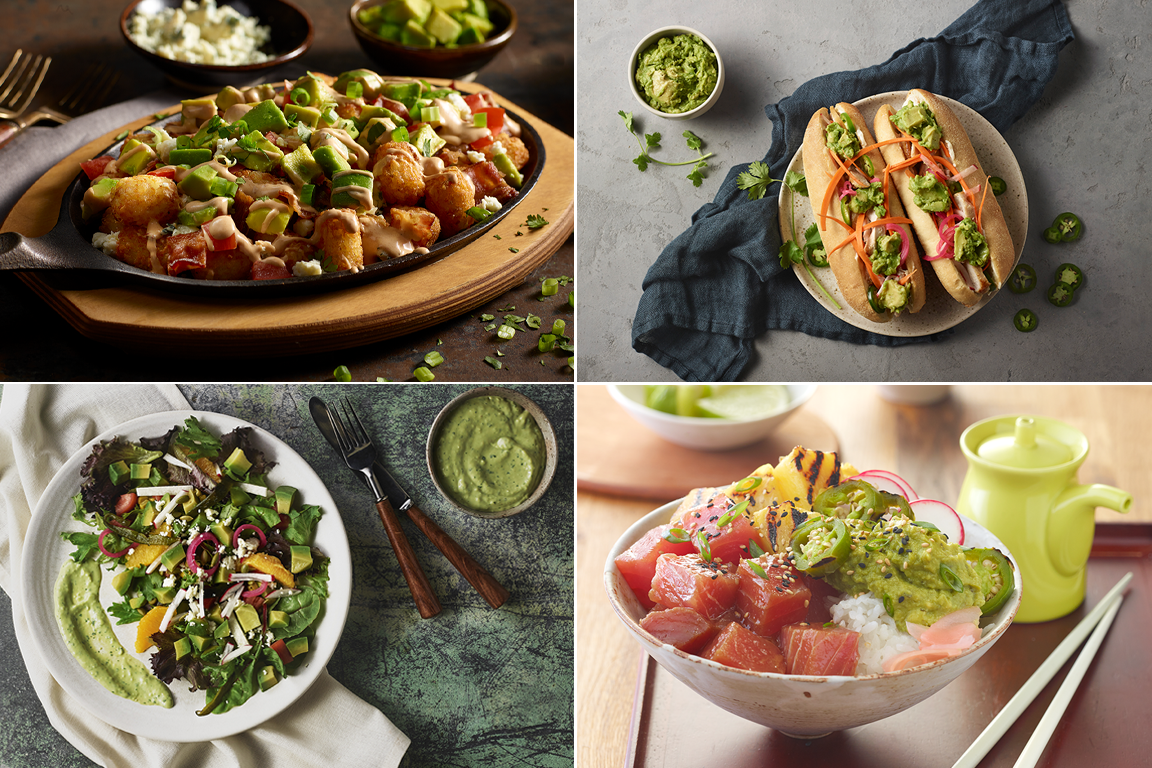 American diners are ready and eager for more inventive menu applications featuring avocados, thanks in large part to the influence of social media, the internet and chef-centric TV. But some foodservice operators may need convincing to push beyond guacamole and avocado slices in a salad or tucked into a sandwich. "Consumers are ready for everything," says Chef Dan Burrows, consulting chef for MegaMex Foods. "They're already eating avocados at home; during COVID, they became a regular part of consumer grocery lists and today you see them front and center in supermarket aisles. Chef-driven operations already understand this popularity, but in many mainstream midscale, family and fast-casual concepts, there's a lot of opportunity here."
That opportunity begins with the fundamental appeal of avocados. "I don't know too many people who don't like the flavor of avocado," says Burrows. "It's mild, but unique. It acts as a nice palette to build upon with other ingredients for greater flavor dimension." He also points to its creamy texture and its health halo as a source of "good" fat. Together, these attributes present a long runway for menu exploration. "For example, I'm seeing more chefs leverage avocado's creaminess, neutral flavor and nutrient profile to serve as a delicious replacement for mayonnaise or butter." Its cooling effect to balance the heat of spicy dishes is a natural fit with Mexican cuisine favorites, but can be applied to other recipes, as well.
Burrows also points to its complementary qualities, allowing for pairings that can easily elevate dressings, dips and even hummus. "Avocados can work well in unconventional hot applications, too, like avocado fries. Bread it and deep fry it, and you'll get the characteristics you expect in potato fries: crispy, warm on the outside and creamy on the inside." Indeed, appetizers, shareables, small plates and sides are good entry points for showcasing avocados in new and intriguing ways. "Chefs know diners will look at these and say, 'I like guacamole, so I'll go ahead and try this dish for $8.99,'" says Burrows, connecting the dots that then lead to more inventive applications, including seafood dishes. Recent research from Technomic (Ignite Menu Q4 2021-Q4 2022) shows avocados enjoying menu penetration in 57% of seafood concepts, with menu mentions including such examples as Ahi Tuna Tartare (with a wasabi-avocado mousse) and Spicy Lobster Avocado Toast. "There's a great balance between sweet seafood and avocado," explains Burrows.
WHOLLY® AVOCADO products from MegaMex Foods, LLC, can help operators bypass many of the red lights and caution signs that impede their swift adoption of trend-forward menu inspirations that hit all dayparts and fit a wide range of concepts. WHOLLY® AVOCADO products provide fruit in several ready-to-use formats that deliver the menu versatility and back-of-house support needed to gain a competitive edge. Here's a look at four of these formats in trend-forward action.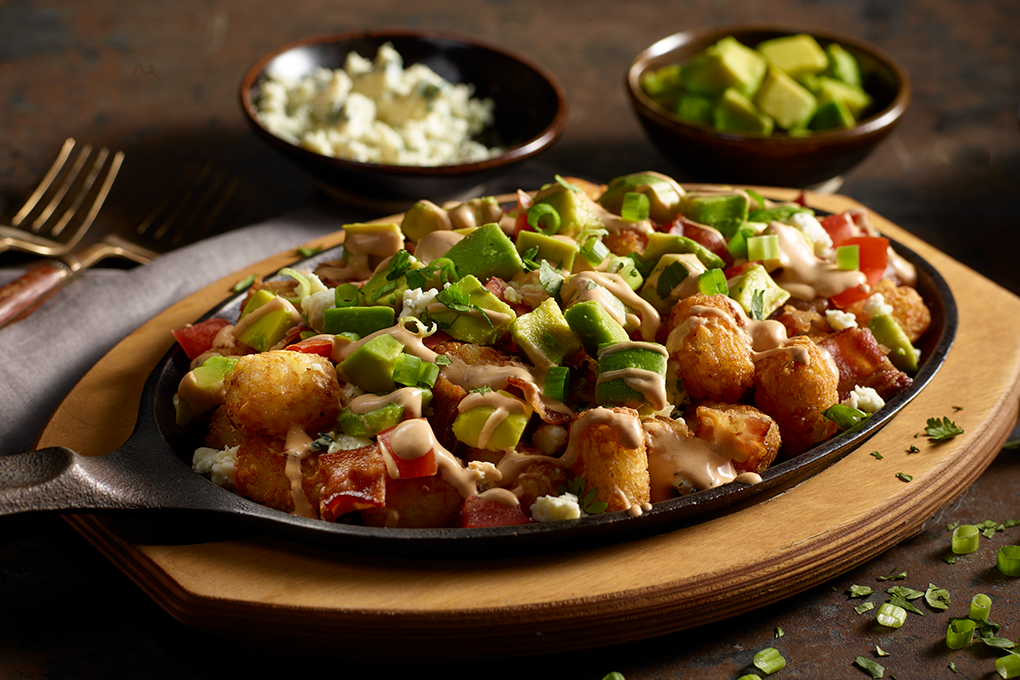 1

Avotots featuring Diced Avocado

A twist on the popularity of loaded fries, this shareable features crunchy tater tots topped with diced avocado, gorgonzola crumbles, diced tomatoes, scallions and cilantro, with a lime crema drizzle stepping in for sour cream. "People love fried potatoes, even though they know they should be limiting white carbs and fried foods," notes Burrows. "The avocado offers some balance and the health halo, plus great flavor."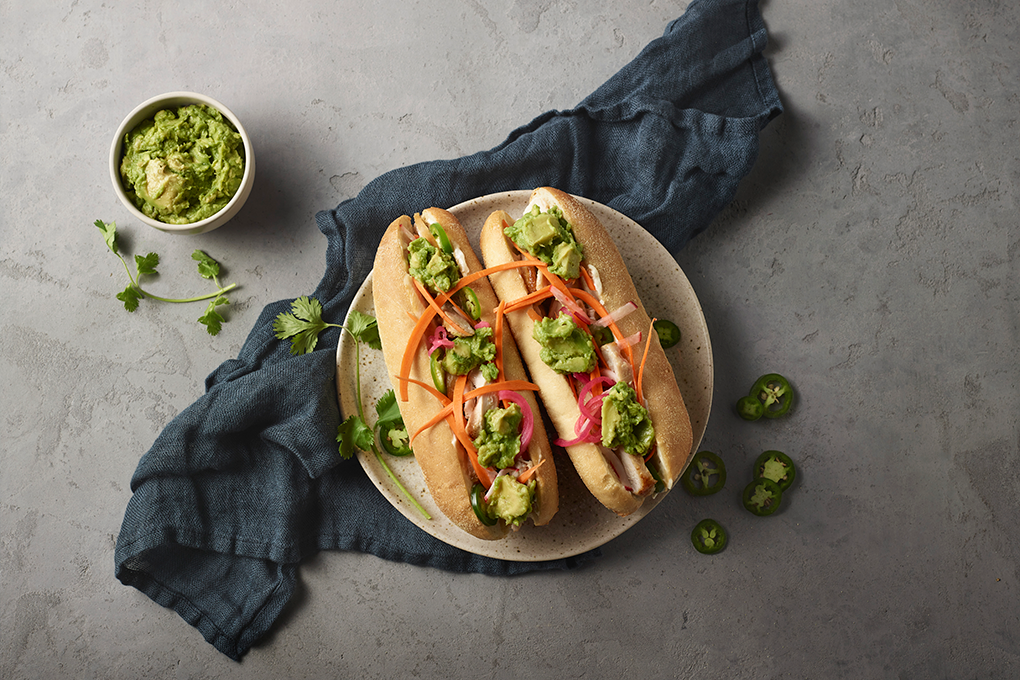 2

Mexican-Style Bahn Mi Sandwich featuring Chunky Avocado

"Everyone is looking for new takes on sandwiches," says Burrows, and this mashup of Latin and Asian profiles is sure to catch the eye. "On a traditional bahn mi, you'd have a liver pate as the spread, which actually turns some people off. But you can get the same creaminess using avocado. We added radish, lime and cilantro to the traditional daikon carrot slaw. Plus, there's a crunchy softness from French bread. Craveability results when you hit all the taste senses, and deliver contrasting textures. It makes the food exciting."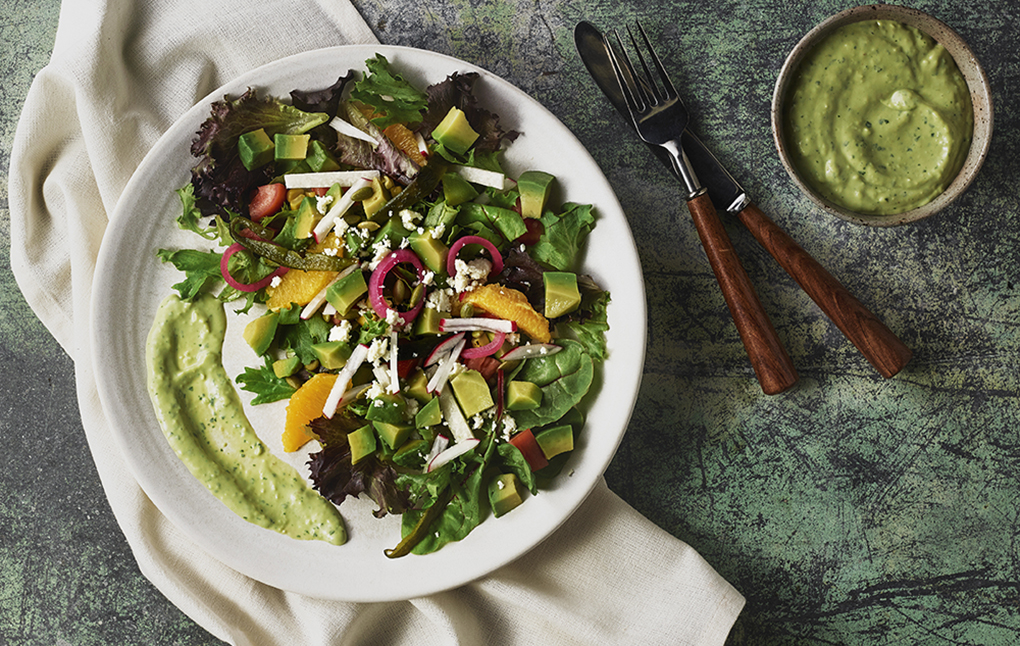 3

Latin Market Salad with Green Goddess Dressing featuring Avocado Pulp

Tap the recent revival of interest in Green Goddess salad dressing with an easy-prep signature version using a smooth avocado puree, mayonnaise, buttermilk, cilantro, tarragon, basil, garlic and lime. "Avocado pulp is a preferred alternative to a green dye or even an avocado powder, potentially eliminating a separate SKU as a bonus. In fact, this pureed product is good for many dressings, including a vinaigrette. It delivers greater viscosity and a natural emulsification," says Burrows.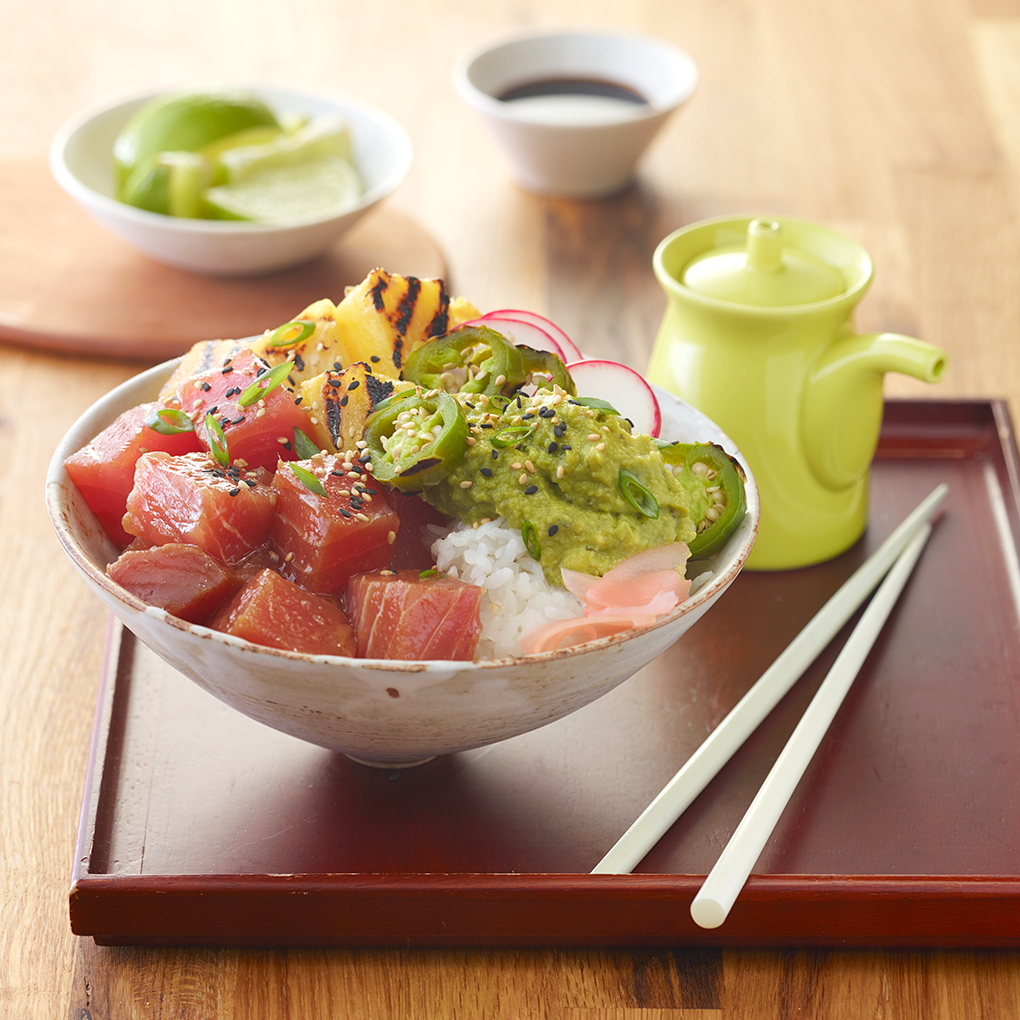 4

Poke Bowl featuring Hand-Scooped Avocado

Avocados are becoming a common ingredient in many poke recipes, reports Burrows. This one features yellowfin tuna, sticky rice, grilled pineapple and jalapeños, sliced radishes, ginger, hand-scooped avocado and a sesame seed finish. "Using hand-scooped avocado here is a huge labor-savor," he notes.

"The fact is that there are so many ways to cut and use avocados that it becomes a favorite crayon in the box," says Burrows of the compelling and craveable menu moves on tap when WHOLLY® AVOCADO products come into play.
One Product Line: Multiple BOH Solutions
But menu versatility is not the only advantage to seize here. "These products are ready for any recipe application by simply opening a bag," says Burrows, noting an estimated 30-minutes-per-case time savings. "It's also going to be completely and consistently ripe, as opposed to receiving a case of fresh avocados, which is likely to include whole fruit at different ripeness stages." In fact, he suggests that WHOLLY® AVOCADO products provide kitchens with consistent quality and help eliminate waste.
The product line also provides food and kitchen safety benefits. "People simply don't wash their avocados," laments Burrows. "The whole fruit has been handled over and over from the field to your walk-in and now your associate inserts the knife through skin that may carry dangerous pathogens and cross-contaminate the flesh. WHOLLY® AVOCADO products are picked at the peak of ripeness and then put under pressure in a process where no added preservatives are needed and no microorganisms can grow." The use of WHOLLY® AVOCADO products also eliminates the risk of what surgeons have come to call "Avocado Hand," a common injury that results from improperly slicing whole fruit.
Versatility, labor savings and safety. WHOLLY® AVOCADO checks every box.
"Take a step back and look at your menu. Ask, 'How can I incorporate more avocado into the mix?'" advises Burrows. "Maybe as a fat replacer, maybe as an unexpected spread or maybe to elevate a dish. Step beyond guacamole and avocado toast and put its versatility as a healthy, flavorful, textural 'crayon' that you can pair with anything." Give avocados the greenlight to refresh your menu.