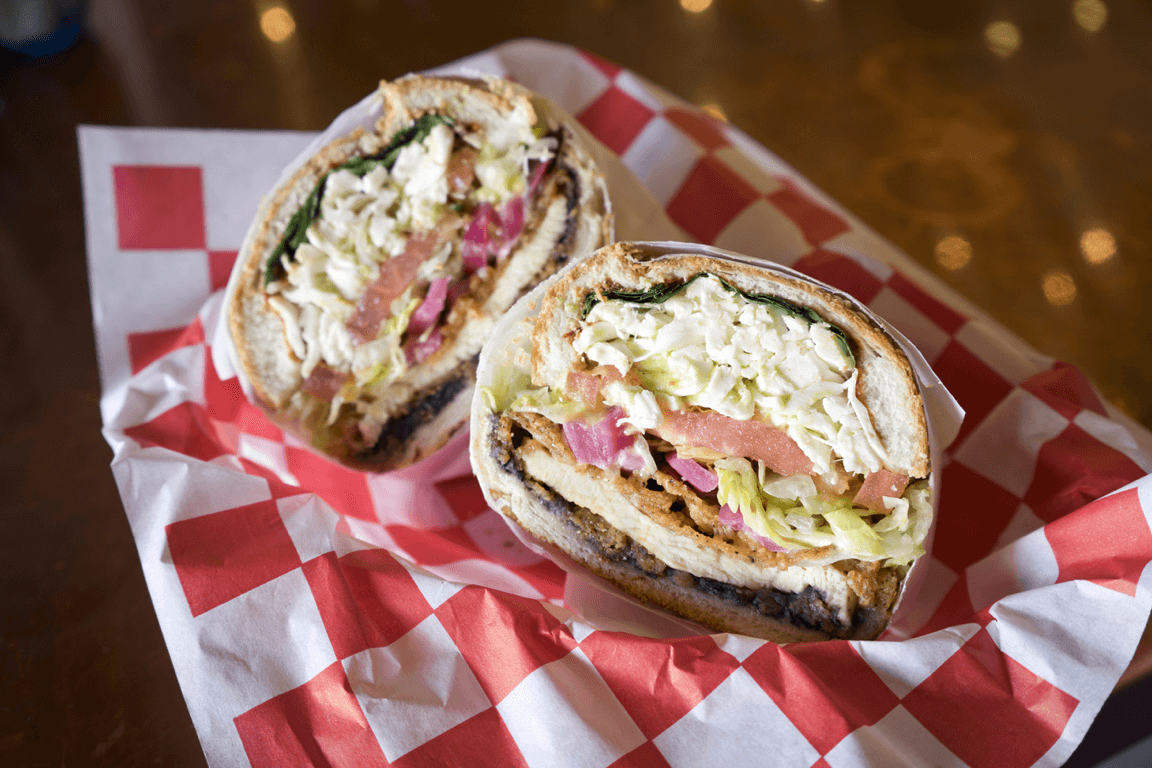 Chefs can count on the fact that most American diners are drawn to the lively flavor combinations of Mexican cuisine. That makes it a rich source of modern menu innovation. When menu developers narrow the field of play down to handhelds, they're practically guaranteed a winning dish, landing on best-bet flavors while providing the on-the-go convenience inherent in the format.
Of course, tacos, burritos, even tortas, are longstanding Mexican handhelds on American menus—with creative iterations aplenty. We're highlighting three lesser-known handhelds, each a craveable street food from Mexico that holds opportunity for signature translation here.
1

Guacamaya

Guacamaya is not only fun to say, it's incredibly savory and moreish. Hailing from street carts in León, Guanajuato, the build is simple yet effective: a bolillo roll is layered with chicharrones, avocado and pico de gallo. A dipping sauce made with chile de árbol is often served with it. In the U.S., it presents a first-to-market opportunity, showing up on few menus. La Michocoana Paleteria Tortilleria in Schaumburg, Ill., stays close to the original with its Guacamaya Sandwich featuring pork skin, lime and very hot pico de gallo salsa. Guacamaya Oasis in Downey, Calif., moves the profile into its Breakfast Burrito and riffs on the classic, packing a flour tortilla with homestyle beans, black beans, pico de gallo, romaine, queso, sour cream and a protein of choice.
2

Tetela

The tetela is Oaxaca's answer to the empanada. It's a triangular pocket made of masa stuffed with a few ingredients that traditionally involves only seasoned black beans and quesillo (a local Oaxaca cheese), along with a side of salsa. The tetela is a truly authentic Mexican dish, pre-dating the Spanish conquest of the country. And although similar to a quesadilla, the tetela is made with a raw tortilla. It's stuffed with ingredients, folded into a triangle, then cooked on a comal.

Today, chefs are taking the tetela in new directions. At Damian in Los Angeles, the polished Mexican eatery from acclaimed chef Enrique Olvera, the Tetela Turnover with Swiss chard is filled with ayocote beans and "asiento de pollo."

Rogelio Garcia, executive chef of both Auro and Truss Restaurant + Bar at The Four Seasons Hotel in Napa Valley, Calif., says the possibilities with the tetela are endless. His Lamb Tetela with salsa verde and avocado bends toward a Californian sensibility. "I'm using the ancient masa with ingredients grown in the Napa Valley. The Lamb Tetela brings me back to flavors I grew up eating. It's hearty and welcoming." He makes the filling by combining ground American lamb, chorizo, raisins, green olives, onion, garlic and seasoning. To plate, he places the tetela atop ayocote bean purée, then tops the tetela with salsa verde, avocado, cilantro and watercress. "The salsa verde gives it a creamy, bright flavor that balances the lamb and chorizo," he says. "Tetelas are not found on menus—that was one of the reasons I wanted to highlight it."
3

Cemita Poblana

The cemita is perhaps the most familiar of the three handhelds here, and is a masterpiece of an overstuffed sandwich, squeezing in a craveable combination of Mexico's greatest hits, including Oaxaca cheese, ripe avocado, pickled jalapeño, milanesa (breaded and fried meat) and papalo (Mexican herb)—all served on a cemita, a crusty sesame seeded bun.

Originating as a street food in Puebla, a number of restaurants have paved the way for further translation, demonstrating this sandwich's ability to take on signature moves. Cemitas El Tigre in New York offers a variety of options, all building from a strong foundation. Each cemita starts with avocado, Oaxaca cheese, chipotle, papalo, pickled onions, mayo, lettuce, tomato and bean purée, then guests can choose from options like Southern fried chicken, garlic portobello mushroom and carnitas.

At The Cathedral Restaurant in Paterson, N.J., eight cemitas are on offer, including an Al Pastor and a Chorizo con Huevo. The eatery also includes a Cecina Cemita, which stars a traditional Mexican beef jerky that's poised to make deeper inroads onto American menus. By menuing Mexican handhelds—familiar formats that are readily embraced by consumers—new ingredient introductions like cecina are easier to bring into the mix.