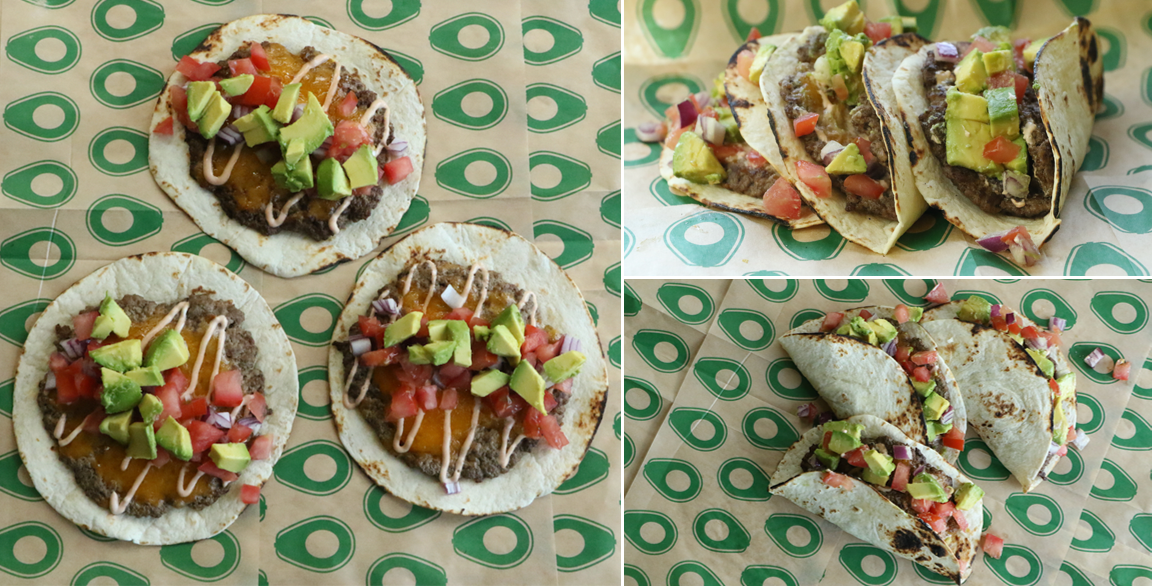 The smash taco is an irresistible smashed burger and taco hybrid, rocketing to popularity on TikTok. It's a burger patty smash-griddled edge-to-edge directly into a small flour tortilla over high heat, flipped over then loaded up with cheese plus toppings and folded like a taco.
While TikTok is by no means a sole source of innovation, it can at times provide ancillary insight for form and flavor considerations that strongly resonate with Gen Z—and it has the power to impact broader flavor trends. Herein lies the opportunity for operators. The genius behind the smash taco trend lies in its flavor stacking. The cooking technique produces crispy, greasy (in a craveable way), cheesy, meaty layers of flavor. The heavy lifting has already been done; all it needs is chef-curated premium cues.
Being rooted in two powerhouse favorites, coupled with portable convenience, makes this less gimmicky and worthy of moving into a restaurant setting. Here we expand ways chefs can elevate smash tacos, adding depth of flavor and signature style.
1
MEAT PATTY + SEASONING
Ensure the meat patty gets pressed as thin as possible with the tortilla, to deliver a quick cook time and perfect build.
Feature premium beef call outs like Wagyu, Akaushi, Angus or short rib/brisket blend. Offer double meat. Use pork, turkey or chicken for leaner appeal and game meats or lamb for exotic adventure. Plant-based has its place here along with ground seafood blends. Feature mixes like chorizo/beef, Italian sausage/beef or breakfast sausage for a different approach.
Any of the above benefit from judicious seasoning. Go classic with steak or barbecue spice blends or introduce trend-forward global seasonings.
TRY THIS:
Double Cowboy Smash Taco: Waygu beef (chipotle) + Havarti + shaved smoked brisket + roasted portobello and red peppers + truffle aïoli + flour tortilla
Greek Smash Taco: Lamb/beef (Dijon) + feta-olive-fresh tomato chop + baby spinach + ranch-ziki + flour tortilla
2
CHEESE
Quick melting cheese is ideal for smash tacos. A slice of white/yellow American, Colby Jack or Havarti will start melting upon placement. Fine grated cheddar, pepper Jack or strips of Oaxacan cheese will disperse quickly. Soft dollops of Boursin, goat cheese, fine crumbled queso fresco or blue cheese add textured richness. Queso will envelop the senses, while frico will amplify crunch.
TRY THIS:
Banh Mi Smash Taco: Heritage pork + Boursin + pickled daikon-carrot-cucumber + jalapeño + cilantro + flour tortilla
Old School Smash Taco: Angus beef + grated cheddar cheese + shredded romaine + hot pickle spears + comeback sauce + flour tortilla
3
TOPPINGS
Keep toppings smaller in size to facilitate ease of eating. Chefs can take the burger or taco route with topping selections. Fresh, acidic and spicy flavors will expertly contrast smash taco richness, while a fried egg would create an over-the-top breakfast rendition.
TRY THIS:
Mexican Smash Taco: Chorizo/beef blend (Tajín) + queso fresco crumbles + avocado slivers + pickled onions + flour tortilla
B-fast Smash Taco: Breakfast sausage + American cheese + small-chopped maple bacon + fried egg + flour tortilla
4
BIRRIA-STYLE
A smash taco straddles the line of a taco while resembling the crispy crust of a quesadilla (created by griddling the tortilla in the burger grease), which makes using birria as a dipper feel like a natural fit and way to elevate the overall experience.
TRY THIS:
Birria Chimi Smash Taco: Akaushi beef + charred corn queso + poblano chimichurri + flour tortilla + smoked tomato consommé
Birria Jerk Smash Taco: Jerk chicken thigh + grated pepper Jack + green mango slaw + flour tortilla + Caribbean coconut curry broth