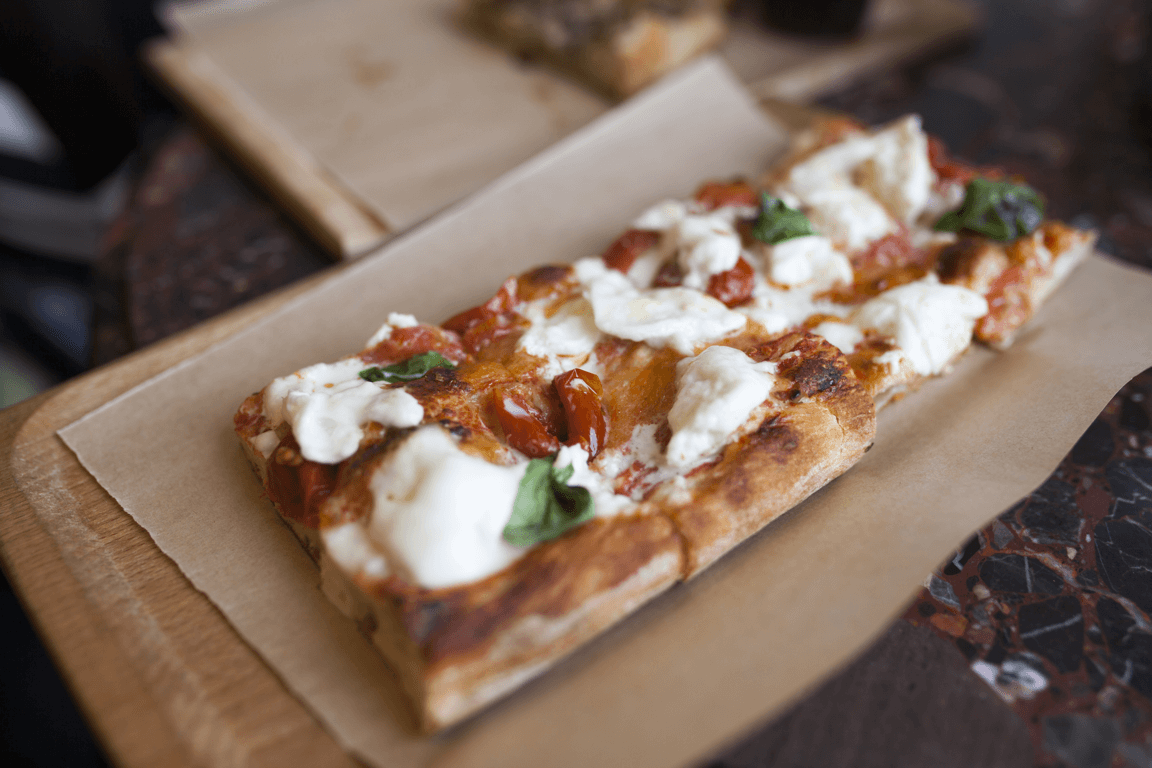 By Liz Barrett Foster
April 5, 2023
Pizza is one of America's favorite foods, no matter how you slice it. But in the case of Sicilian-style, tavern-style and Roman-style, these growing regional pizzas happen to be cut into squares and rectangles.
Social media influencers, an expansion of regional chains and a rise in pizza shipments nationwide are all contributing, in part, to the spread of otherwise region-specific pizza styles.
Additionally, consumers, more than ever, crave something different, according to Tony Gemignani, owner of Pizza Rock, with three locations in and around Las Vegas. It's because of this that Pizza Rock offers a variety of regional pizza styles, including, among others, Sicilian, Roman and tavern-style (menued as "Chicago cracker thin"). "Subcategories in the pizza world are getting popular now," says Gemignani. "It's not just Chicago, it's Chicago tavern. Or maybe they know about New York pizza, but what's Sicilian?"
TAVERN-STYLE PIZZA
Anyone hailing from the Midwest is familiar with tavern-style pizza. The super thin-and-crispy round crust is cut into squares for a light snack that's easy to handle. Decades ago, tavern-style pizza was served alongside beer in bars across the Midwest, hence the name tavern-style. Historic pizzerias that have become known for this style include Chicago's Vito & Nick's, Italian Fiesta Pizzeria and Villa Nova in Stickney, Ill. Chicagoans are longtime fans of the style.
As consumers continue to embrace tavern-style pizza, even chains have tried to ride the wave, including Domino's, with the addition of it crunchy thin-crust pizza, cut into squares (or tavern-style). Native Chicagoan Emmett Burke opened his supper club Emmett's on Grove in New York as an homage to tavern-style pizza. His version features artisan-type ingredients such as burrata, Grana Padano, prosciutto di Parma, and caramelized onion.
SICILIAN-STYLE PIZZA
Sicilian-Style pizza is a light and airy thick-crust pizza that's cut in rectangular slices. Originating in Sicily, the style came to America with the arrival of Italian immigrants. Well-known Sicilian-style pizzerias in the U.S. include L&B Spumoni Gardens in Brooklyn, N.Y., Galleria Umberto in Boston and Prince Street Pizza in New York.
Toppings are traditionally light on this pizza, with sauce and cheese being the stars. But traditions are made to be broken. Zoli's in Dallas-Fort Worth offers its entire pizza menu with an optional upgrade to a Sicilian. Favorite combinations include the Honey Bastard, topped with mozzarella, hot soppressata, bacon marmalade and habanero honey. And at Big Mario's New York Style Pizza in Seattle, the Mai Tai Sicilian is adorned with fresh-cut pineapple, Italian ham, mozzarella and red sauce.
ROMAN-STYLE PIZZA
Roman-style pizza, also known as pizza al taglio, is baked in rectangular trays and sold by the weight or slice. A bit younger than Sicilian or tavern-style pizza, Roman-style is believed to have originated in, you guessed it, Rome in the 1960s, popping up in the U.S. just a few years ago. Credit usually goes to chef Gabriele Bonci, who serves his light and airy scissor-cut slices out of Chicago's Bonci.
Roman-style pizza is the ideal vehicle for highlighting fresh, seasonal ingredients that are colorful and vibrant. Bursts of color from vine-ripened tomatoes, peppery arugula, and velvety prosciutto are common. Popular cheeses you may find on Roman-style pizza include burrata, buffalo mozzarella, feta, goat or gorgonzola. "When you see Roman-style pizza, you're blown away by it," says Gemignani. "It's like going to an ice cream parlor and seeing all the flavors in front of you."
California Pizza Kitchen co-founder Rick Rosenfield and his wife Esther recently opened Roca Pizza, a Roman-style pizzeria in Pacific Palisades, Calif., pulling ingredient and flavor inspiration from California's eclectic food culture.
Tavern-style, Sicilian-style and Roman-style pizzas offer endless opportunities for operators looking to diversify their menu offerings. Every pizza style is a potential crowd pleaser, inviting customers to share, customize and experiment with new flavor combinations.