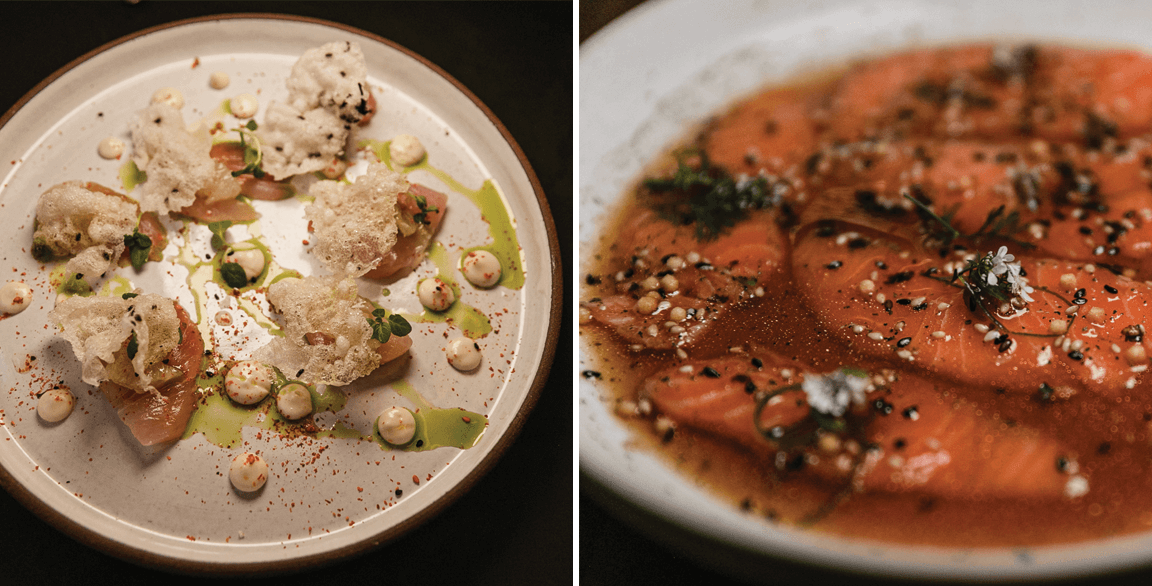 As a continuation of our Flavor Expedition menu-trends tour of Los Angeles, we highlight two more trends poised to shape culinary exploration and growth.
DRY-AGED FINFISH
Dry-aged beef has been a fixture on steakhouse menus for decades, and today's fishmongers are following suit, applying similar techniques to finfish and netting great results. We were fortunate to witness the dry-aging process firsthand at The Joint, a seafood market in the Sherman Oaks area. After fish is unloaded on the dock, it's carefully cleaned and then hung whole by the tail to age for a period of between five and 20 days in an environment controlled for temperature and humidity.
During this process, the proteins shrink, fortifying their natural flavor, while fattier species are the beneficiaries of textural enhancements similar to the marbling in beef. Because of this, it is increasingly common to see species like king salmon, mackerel and bluefin tuna (otoro) dry aged for raw menu offerings like sashimi, crudo, carpaccio and tartare. Although leaner, branzino also has become a dry-aged favorite.
The aging process firms the flaky white fish, providing greater consistency on the grill and other large-format applications. With the Pacific Ocean a stone's throw away, Los Angeles chefs are promoting this valued-added technique on menus to intrigue guests. As dry-aged finfish continues to surface on menus, operators should view first-to-market opportunities with an eye on its potential.
While at The Joint, we tried three raw, unseasoned samples of finfish that had been dry aged for 10 days. The Bluefin Chutoro had a mild oceanic flavor and a soft texture, while the Japanese Aji Mackerel boasted the firmest bite. Our team's favorite, though, was the Ora King Salmon because it cut like butter and featured the most memorable umami flavor.
Magari, the newly opened Japanese-Italian restaurant in Hollywood, features a crudo of dry-aged yellowtail slices accentuated with coconut-kosho, grapefruit and a crunchy rice crackling topping. And just west, the insanely delicious crudo at Ella Beverly Hills showcases thin marbled slabs of Ora King Salmon dressed with a tamari chile relish, Korean gochugaru oil, sea bean salt and lemon. On the hot side of the menu, the subtle Dry-Aged Grilled Branzino is served crispy skin-side up with a rustic spicy ginger relish and a palate-cleansing herb salad.
FAT-WASHED COCKTAILS
Fat-washed cocktails first pinged our radar during our Chicago expedition when we visited Pigtail, José Andrés' speakeasy bar. Since then, we have noted an increase in the mentions of pressed plant-based oils and rendered animal fats on craft cocktail menus across the country.
The preparation is forthright, and the result is compelling. The oils or fats are smoothly mixed with distilled liquors at ambient temperatures and then chilled. Cooling the washed spirits under refrigeration congeals the fat, allowing it to naturally rise to the surface where the fat cap can be easily removed by hand. Since fats are soluble in alcohol, the spirits absorb and retain their flavors, creating a new category of captivating cocktail possibilities and presents a unique way of elevating a bar program.
At Pigtail, we tasted the Consommé Cocktail featuring pork consommé with palo cortado, amontillado and an egg espuma (foam) finish. In the Silver Lake neighborhood of Los Angeles, Bar Moruno's Ibérico Old-Fashioned is made with Buffalo Trace bourbon washed with Ibérico jamon fat, mezcal, Calvados, bergamot bitters and Moruno spice. Its Salmon Martini is composed of salmon-washed Tanqueray gin and Tximista blanco vermouth, and garnished with a caperberry.
Next week, in Part 3 of Flavor Expedition: Los Angeles: Nikkei cuisine, Japanese-Italian mash-ups and yuzu kosho