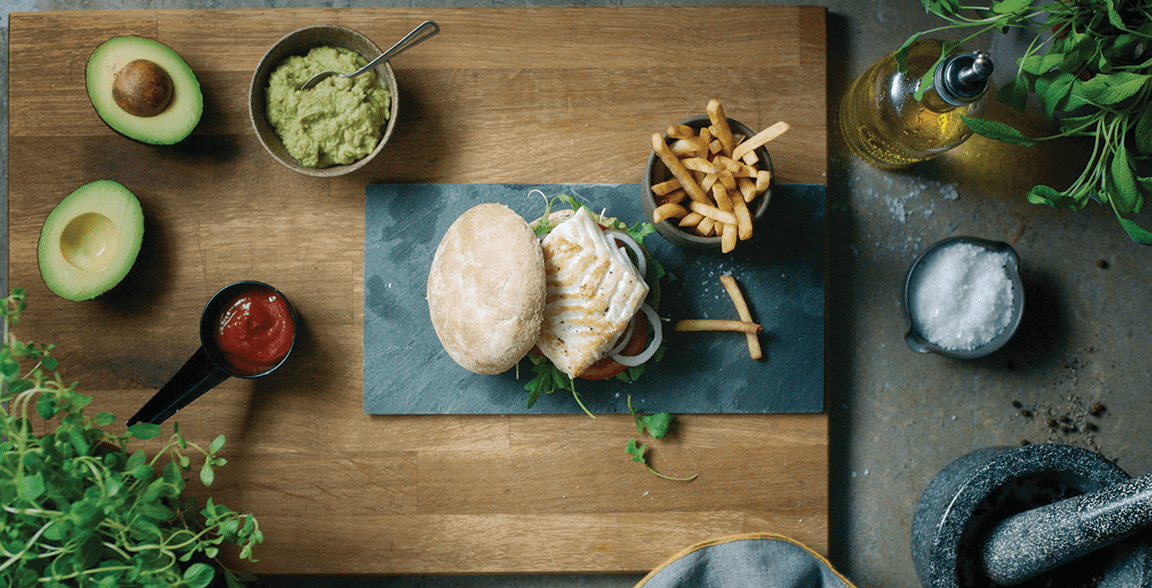 Often ceding the culinary spotlight to flashier finfish, cod is an undersung contender whose time has come. Cod, with its mild taste and flaky texture, offers chefs a long runway for menu innovation, as it plays well with a variety of seasonings and menu formats to deliver memorable flavor experiences.
The ice-cold waters of Norway create the perfect environment for cod to thrive, leading to the world's largest cod stock supply. With year-round availability, cod from Norway lends itself to the broadest spectrum of menu applications, no matter the season or the cuisine. "The flakiness of Norwegian cod makes it one of the most luxurious fish you can eat," says Chef Christopher Haatuft, on behalf of the Norwegian Seafood Council. Haatuft recently received his first Michelin star for his restaurant, Lysverket, in Bergen, Norway. He praises cod's versatility, noting that it works well anchoring crowd-pleasers like fish and chips, fish sandwiches, burgers and fried fish tacos, as well as in a wide range of global cuisines from Scandinavian to Southeast Asian.
"The large, almost boneless fillets of Norwegian cod make it an excellent choice for a variety of preparations, including grilled, roasted and sautéed. Add it to stews or curries or even serve it raw in sushi," says Haatuft. "Another modern way I've used cod is by swapping tofu for cubes of cod to lend a delicate, tender texture and flavor to an umami miso soup."
Cod also delivers back-of-house advantages. "Cooking Norwegian cod is quick and easy. Those large fillets make it an ideal protein to keep stocked and then cut and prepare as desired. One of my favorite ways to cook cod is to keep it simple: Roast in a sauté pan, baste it with butter and when it's just hot in the center, it's done."
Cod's lean, white meat boasts several important nutrients: protein, selenium and vitamins A, D and B12. It's a good source of omega-3s, antioxidants and is rich in iodine, which supports brain health.
Trend-Forward Applications
Elevate your burger lineup with tender, flaky cod, easy to prep and poised to complement virtually any flavor profile you want to serve up. For example, pairing pan-fried cod with fresh guacamole, tomato, arugula, onion and basil yields a luxe but healthy handheld with a south-of-the-border spin. Or play with Southeast Asian flavors by adding buttery cod to the deep flavors of a Thai coconut curry with sweet carrots, bell peppers, serrano peppers, snow peas and fresh herbs for a hearty, on-trend bowl build.
When you specify cod and other seafood produced in Norway, you're partnering with a responsible seafood nation. Norwegian cod has been rooted in Norwegian culture for more than 1,000 years. With this foundation for both existence and trade, Norway's fishing industry has a long-standing reputation for quality, food safety and sustainability.
Visit seafoodfromnorway.us/b2b to learn more.