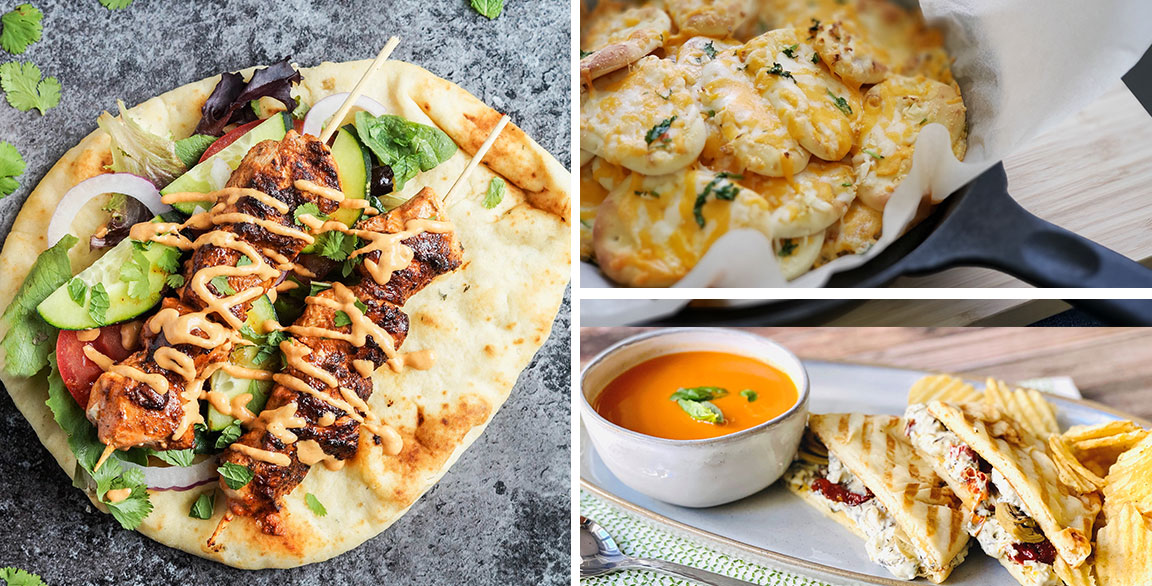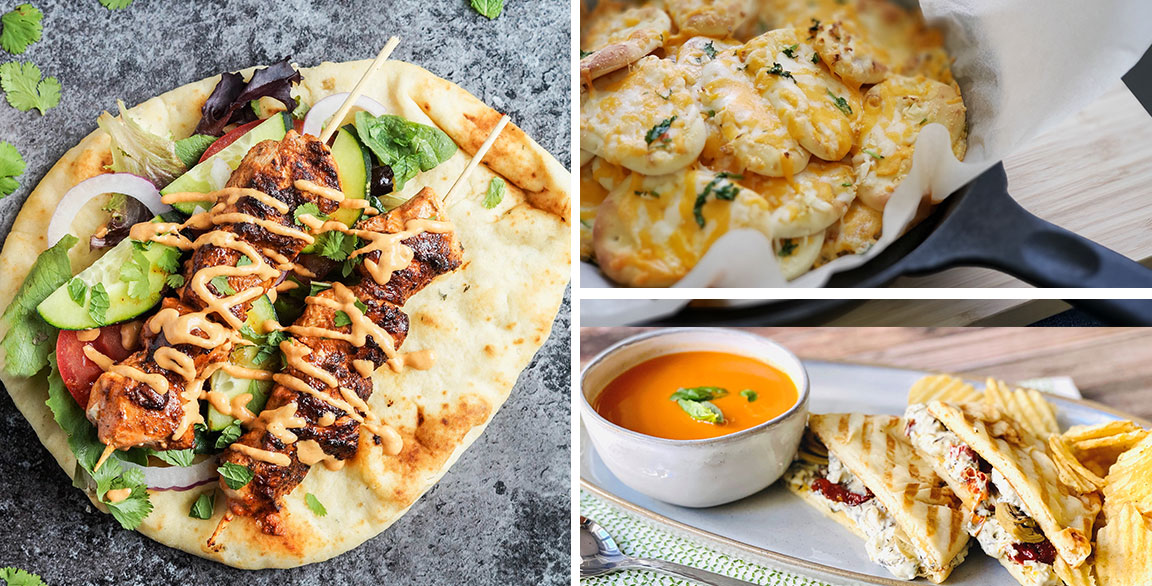 By Flavor & The Menu
November 4, 2021
Soft and chewy naan and flatbreads are menu heroes for today's foodservice operators. The familiarity of these carriers gives chefs license to play with boundary-pushing flavor profiles, and their inherently sturdy build allows for a vast range of ingredient toppings and fillings. The adaptability and operational ease of fully baked flatbreads presents operators with a timely means to cut through the nonsense of labor and supply shortages by applying a bit of naan-sense to their menus.
Stonefire Authentic Flatbreads is the leading naan provider in the United States, boasting several products, shapes and sizes that can work in a wide variety of restaurant concepts and across all dayparts. Authentically crafted and offering a clean label, Stonefire's naan, flatbreads and pizza crusts provide forward-leaning menu developers with a broad platform for singular and signature invention.
Stonefire's lineup offers operators resourceful solutions that won't compromise quality, menu creativity or memorable dining experiences for customers.
Here are a handful of menu ideas featuring Stonefire's naan and flatbreads.
Naan (Original, Mini & Rounds)
Stonefire Naan is made with real buttermilk and ghee and is hand-stretched, so every individual teardrop-shaped piece is authentic and unique. It's baked in a patented tandoor tunnel oven for a soft, pillowy bite. Rounds, available in 4-, 8- and 10-in. sizes, provide uniformity in shape, but maintain consistent flavor and texture.
French toast has long served as an effective canvas for inventive flavor play in the breakfast and brunch space. Departures from conventional recipes begin with the bread, and naan joins challah, brioche, sourdough, baguettes and croissants in amping up interest beyond the reliable, albeit predictable, thick slices of a white loaf bread. Naan's charred bubbles add visual interest and craveability while its sturdy build holds up to any variety of toppings and drizzles, making it endlessly customizable.
Infuse your lineup of handhelds with new interest by swapping conventional carriers for a pair of Naan Rounds or a folded Mini Naan. Naan rounds stand in for sliced bread, sandwiching layers of craveable and customizable fillings, like chicken katsu, with crispy, panko-crusted fried chicken cutlet, shaved slaw and mayo. Or for a fresh twist on Banh Mi, wrap pork belly, pickled carrots, thinly sliced cucumbers, sliced chiles and cilantro with a Mini Naan. Its thin, flexible texture allows it to fold without cracking for on-the-go dining. The same principles can be used for a twist on tacos, with naan deftly holding any combination of fillings here, and even standing up to dippable options like trending birria.
S'mores has become a bona fide flavor system, its nostalgic profile popping up everywhere from ice cream mix-ins to elegant tableside desserts. Stonefire's large teardrop-shaped Original Naan provides menu developers a blank canvas from which to serve up signature desserts like a S'mores Pizza. Topped with chocolate sauce, graham cracker crumbs and tumble of marshmallows, torched until golden brown, this dessert offers a memorable, shareable sweet, and proves naan can be cleverly cross utilized as a signature dessert base.
Flatbreads
The longer, rectangular and oval shapes of Stonefire Flatbreads allow for both conventional and cutting-edge flatbread applications, while boasting a signature taste and texture of the naturally fermented and baked product.
Trend-forward flatbreads provide a foundation for a wide array of ingredient combinations. As consumers are so accepting of this category, it's a clever way to push the boundaries with signature menu offerings. Flatbreads offer chefs an open canvas for culinary creativity, easily taking on toppings of proven flavor systems.
Chicken Spanakopita is a beloved profile that readily transitions to a flatbread. A build of chicken, spinach, feta and a signature tzatziki sauce makes for a new take on this Greek classic. A BBQ Pulled Pork Flatbread stars with a barbecue sauce that is then topped with shredded cheese, pulled pork, pineapple, pieces of crispy bacon and a finishing drizzle of house barbecue aioli. Tapping another popular flavor system, Chicken Alfredo easily converts to a flatbread topping with a twist, with a creamy Alfredo base, pulled chicken, crumbled goat cheese, yellow peppers, olives, spinach and red pepper flakes.
Naan Dippers
A bite-sized version of the Original Naan recipe, Naan Dippers are perfectly shaped to complement dips, spreads and charcuterie platters. Imaginative chefs will discover they have even greater potential for signature menu offerings.
Naan Dippers are a perfect fit in a takeout-friendly Eastern Med-inspired "box" build that pairs the miniature naan with hummus (topped with olive oil and chile flakes), tabouleh salad, a grilled shishito pepper and three crispy, crunchy falafel balls. Refresh the components by subbing in baba ghanoush, tzatziki or labneh for the hummus. Bite-sized, dippable naan are a smart addition to mix-and-match or grab-and-go boxed menu offerings.
The soft, pillowy chew of Naan Dippers provides an intriguing textural contrast to conventional chips in a shareable platter of Naan'chos. Topping these with beans, olives, cheese, guacamole, salsa, sour cream, minced onions and garlic, and a sprinkle of cilantro lends a comforting familiarity yet updates this favorite shareable. Naan's sturdy structure allows for an expanded pantry of ingredients to signaturize nachos.
Miniature naan offers an easy-prep option for dessert menus, too. Toss them in a cinnamon-sugar mix and serve with a side of caramel sauce for a shareable, interactive dessert offering. Coatings of cookie crumbs or crushed, brightly colored sugary cereal, or a flight of complementary sweet sauces provide further customization here. Transforming Naan Dippers into a sweet and snackable option also opens up the opportunity for an anytime item.