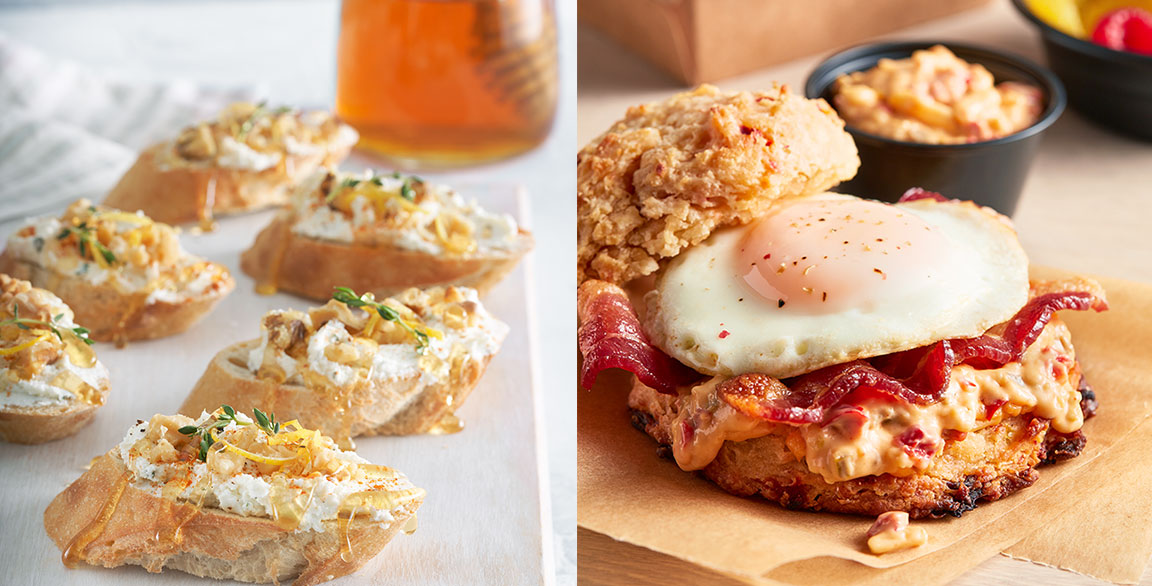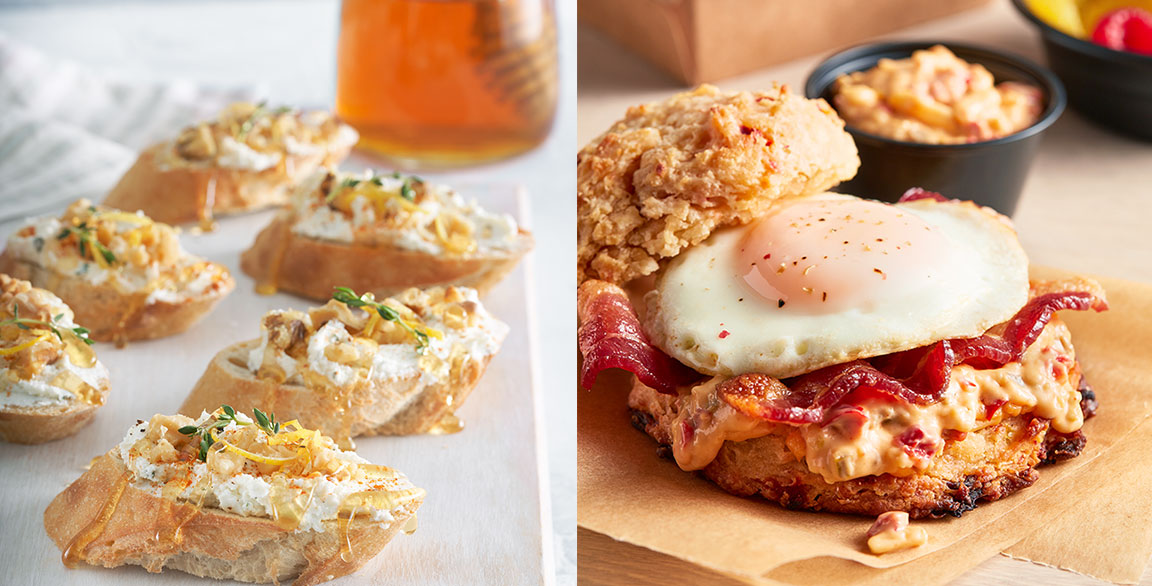 By Flavor & The Menu
November 7, 2021
Kitchen Collaborative is a recipe-development initiative formed by Summit F&B and Flavor & The Menu. To fuel flavor innovation, a group of talented chefs partnered with sponsor brands and commodity boards to create recipes that showcase the passion and potential of our industry.
CHEF SPOTLIGHT: JONATHAN BUCKHOLZ
It's not the sheer number of notes on the score that produce melodies that make the heart sing. It's the right notes in the right combinations. Flavor experiences that stir the soul also can result from the artful blends of just a few simple ingredients. Jonathan Buckholz, Research and Development Specialist at Bloomin' Brands, produced two culinary compositions for Kitchen Collaborative—the Honey, Herb Goat Cheese and Walnut Crostini and the Spicy Price*s® Pimiento Cheese Breakfast Biscuit—that reflect his flavor philosophy.
Honey, Herb Goat Cheese and Walnut Crostini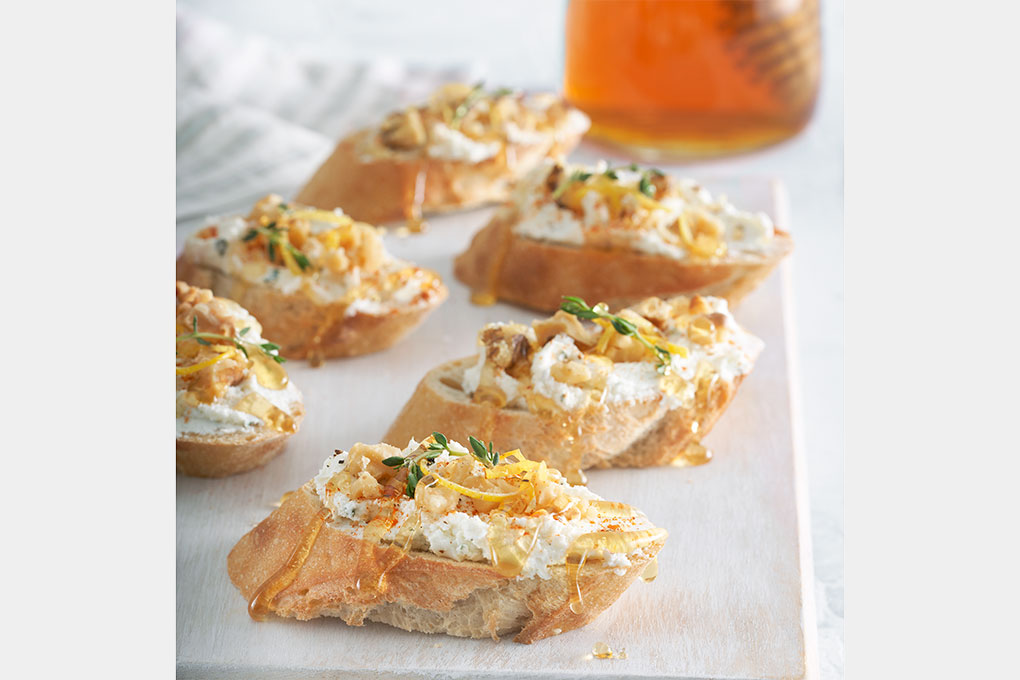 Photography: National Honey Board// Food Styling: Peg Blackley & Bree Williams
"To quote my mentor at Bloomin' Brands, Chef Efrem Cutler, 'Flavor is like a symphony,'" says Buckholz of his hopes for the culinary score he composed with this simple, but hardly simplistic, Honey, Herb Goat Cheese and Walnut Crostini. "It should be a balance of sweet, savory, bitter, salty, pungent and umami—and I really believe this dish emphasizes that."
With the exception of the assigned orange blossom honey, all the other ingredients came straight from Buckholz's pantry. "I did a similar crostini in the past, and I knew it would be a great vessel for the honey to be the hero of the dish," he explains, pronouncing the varietal "delicious" with a "great hint of orange and floral flavor."
For the spread, goat cheese is boosted with basil and thyme. "This is a spread recipe that I've used before, and the herbs give an earthy, minty and slightly lemony flavor to the tart goat cheese." A sprinkle of walnuts, a pinch of cayenne and a drizzle of honey complete the dish.
Spicy Price*s® Pimiento Cheese Breakfast Biscuit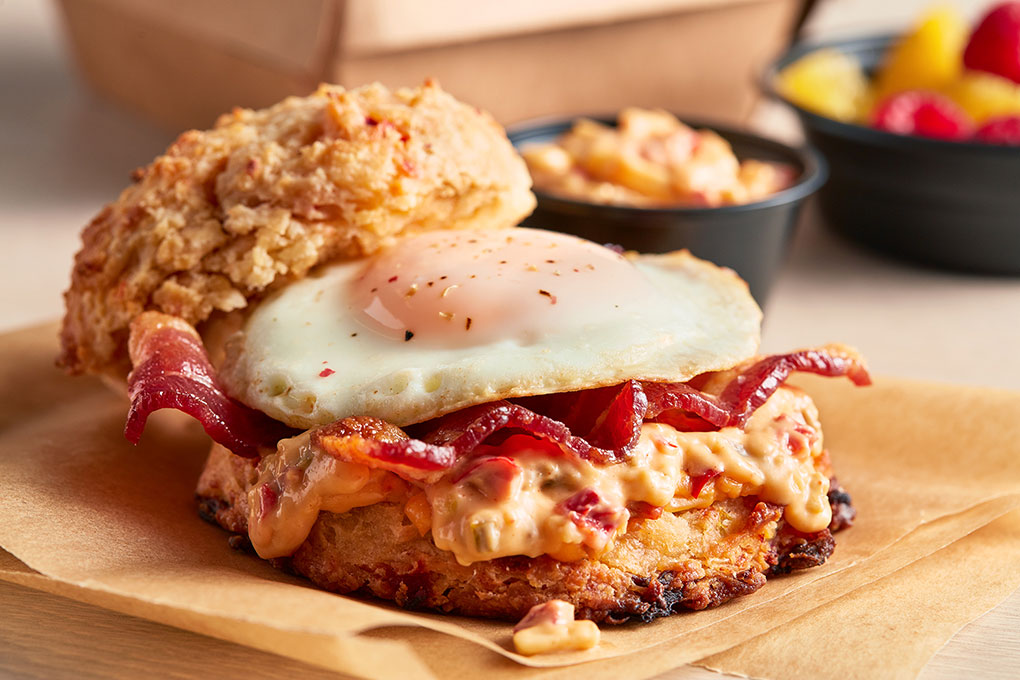 Photography: Carlos Garcia // Food Styling: Peg Blackley & Bree Williams
While pimento cheese is continuing to see more menu play, it may need a bit of hand-holding in areas outside of its traditional Southern boundaries, where it's a craveable go-to. Menu applications rooted in familiarity help make inroads among demographics that are less familiar with its flavor. Buckholz chose to go all in with its distinctive profile when creating the Spicy Price*s® Pimiento Cheese Breakfast Biscuit featuring Price's Southern Style Spicy Jalapeño Pimiento Cheese Spread from Bel Brands USA. "I wanted the customer to be immersed in pimento cheese," he explains.
Initially Buckholz used the spread only in the biscuit dough, but found that it didn't deliver quite enough of a flavor kick, so he added it to the sandwich build as well. He warms the spread and then applies it to the bottom half of the biscuit. Two small bacon slices are shingled above the cheese, with an over-easy egg placed on the bacon. Another tablespoon of the warmed pimento cheese spread is added on top of the egg before the other biscuit half crowns the sandwich.
The sandwich just might help to draw in a few more pimento converts, and Buckholz was a fan of how the spread functioned. "I used it in both a cold and heated state," he notes. "I was worried it would break when heated, but there were no issues." The bold flavor also receives high marks. "There's just enough heat to make it addicting," he says.
Project Management: Summit F&B
Photography: Carlos Garcia // Food Styling: Peg Blackley & Bree Williams