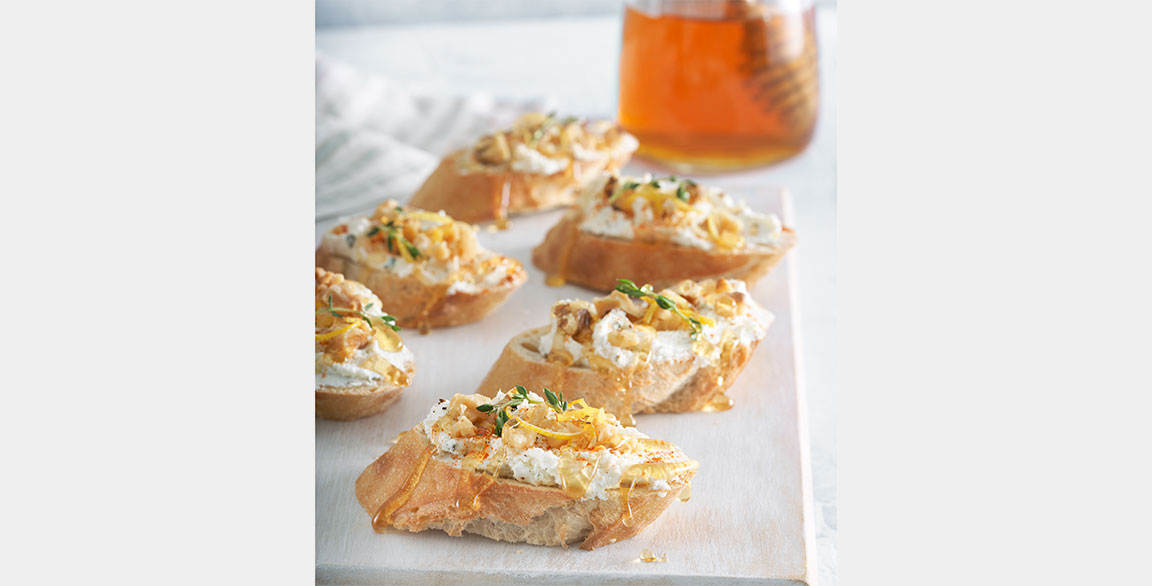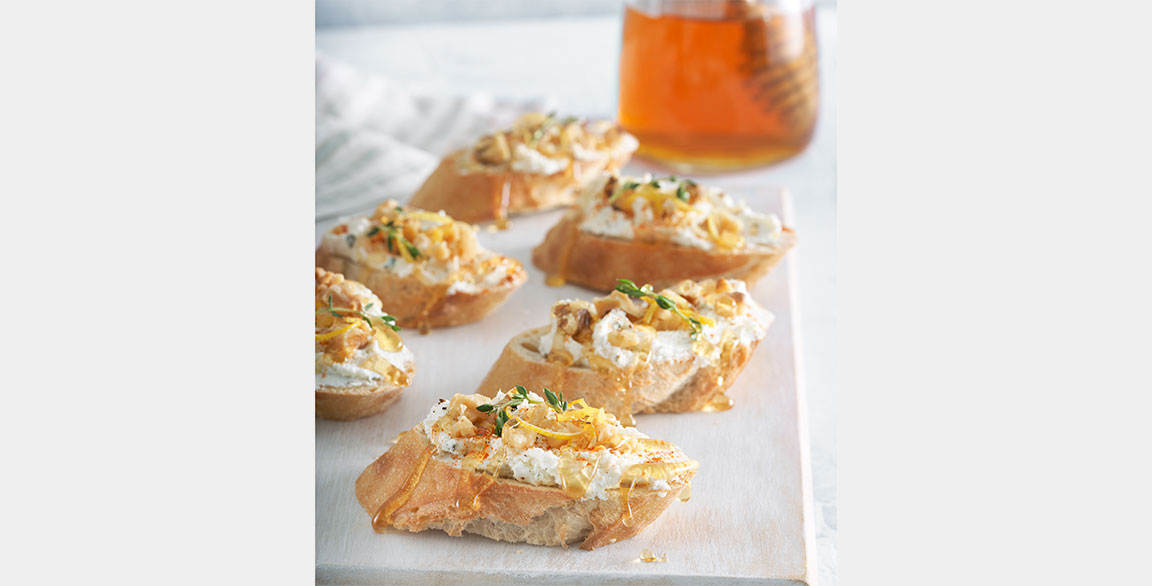 Honey, Herb Goat Cheese & Walnut Crostini
Recipe courtesy of Chef Jonathan Buckholz
Sponsor: National Honey Board
Serves: 36
Ingredients
1 ea 24-inch French baguette
as needed herb goat cheese (see recipe below)
1 cup roasted walnuts, coarsely chopped
3 Tbsp lemon zest
to taste cayenne pepper
2 ¼ cups orange blossom honey
For Herb Goat Cheese:
1 lb goat cheese, at room temperature
1 Tbsp basil, finely chopped
1 Tbsp thyme, finely chopped
¼ tsp ground black pepper
½ tsp kosher salt
1 tsp lemon juice
Directions
For the crostini: heat the oven to 350

°

F. Cut the baguette into ¼-in slices on a 45-degree angle. Place the slices on a large sheet pan. Bake for 5 minutes, or until the center of each slice is not soft to the touch. Remove from the oven and allow to cool to room temperature. Place in an airtight container.
For the herb goat cheese: place all the ingredients except lemon juice in an 8-qt mixer and blend on medium-low speed until the ingredients are well combined. Scrape down the sides of the bowl and return to low speed and add the lemon juice. Mix until well combined. Place in a container, set aside if using immediately or refrigerate until use.
For the crostini build: evenly spread 1 Tbsp of the herb goat cheese on each crostini. Sprinkle the walnuts over the cheese. Sprinkle the lemon zest over the crostini, then a pinch of cayenne on each. Drizzle the honey over each crostini and serve.
Chef's Notes
Pull herb goat cheese from the refrigerator 30 minutes prior to use to bring to room temperature for crostini build.
Project Management: Summit F&B
Photography: National Honey Board