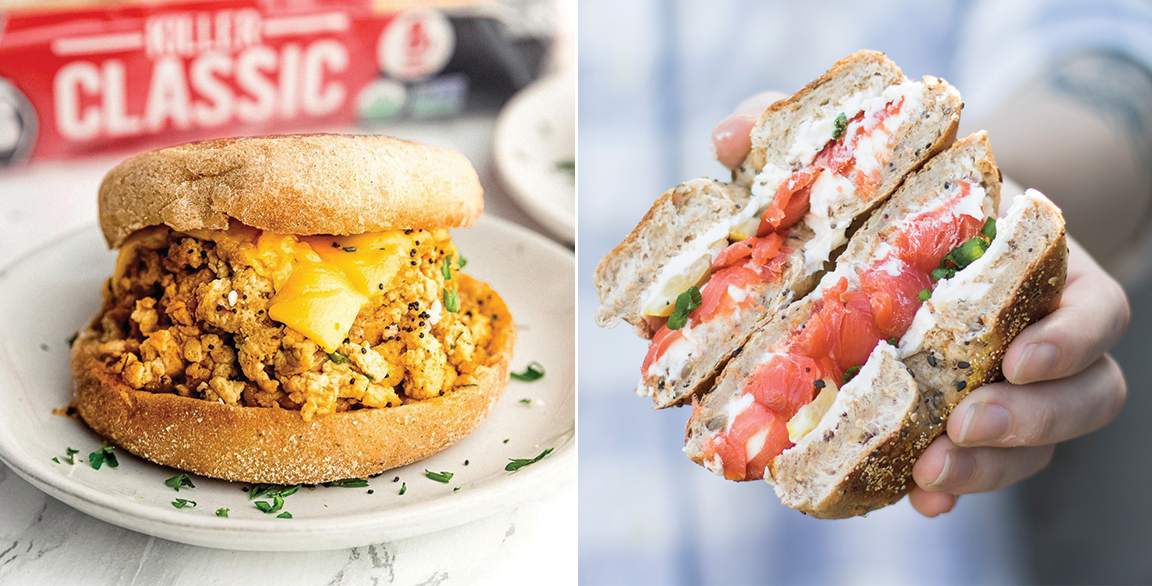 To stand out in an ever-crowded landscape, modern breakfast sandwiches need to deliver on a number of consumer expectations.
Portability √
Power packed nutrition √
Premium ingredients √
Boldly flavor forward √
Trusted, reliable quality √
When your sandwiches are built upon one of the eight varieties of breakfast breads, bagels and English muffins from Dave's Killer Bread, they start with a foundation that checks all the boxes.
Dave's Killer Bread, the retail favorite now available in foodservice, is perfectly suited for operations ready to kick up their morning menus with best-in-class breakfast sandwiches. Leading with killer taste and texture, boasting the organic "health halo" and offering the advantages of a recognized and well-regarded brand name, these products will give your breakfast program a big boost.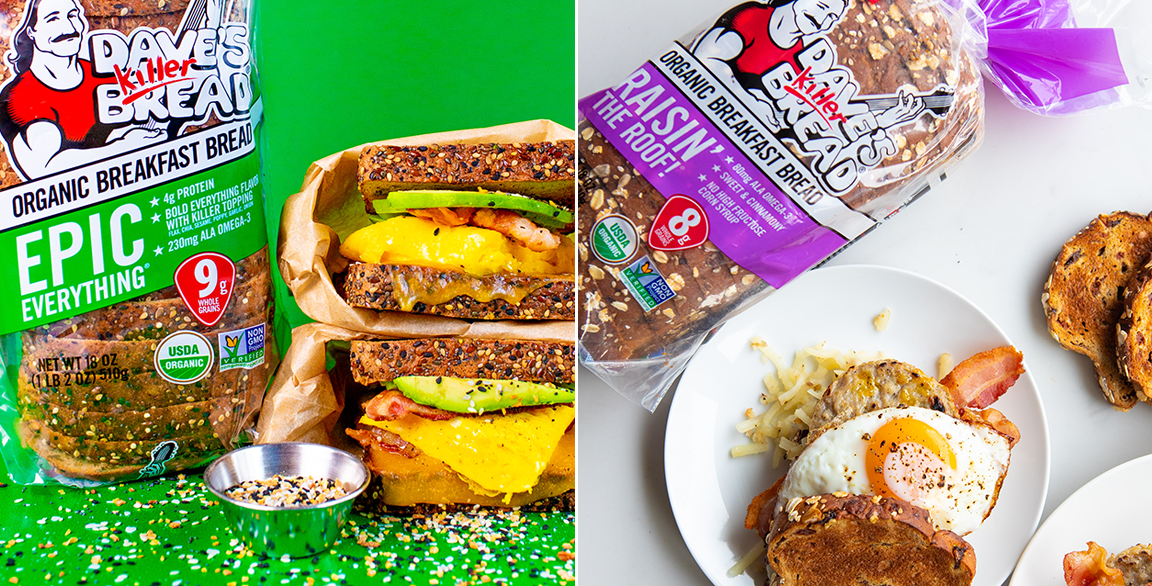 ---
Breakfast Sandwiches Rise and Shine:
37% of all QSR breakfast orders were sandwiches1
Breakfast sandwich servings have increased 14% since pre-pandemic figures in August 20191
24% of consumers worldwide source breakfast from a restaurant or other foodservice venue2
39% of consumers worldwide purchase breakfast sandwiches2
Breakfast sandwiches were one of the few breakfast items to continue growing on menus during the pandemic3
---
Wake up to the difference Dave's Killer Bread can deliver:
ORGANIC BAGELS
Plain Awesome® features 5 super grains: quinoa, spelt, rye, millet and barley.
Cinnamon Raisin Remix® delivers sweet and cinnamon in equal measure.
Epic Everything® is loaded with flax, chia, sesame, poppy, garlic and onion.
Boomin' Berry® features delicious berries and fruit swirls, including cranberry, blueberry, blackberry and acai.
ENGLISH MUFFINS
Killer Classic™ is power-packed with super grains (quinoa, spelt, rye, millet and barley).
Rockin' Grains™ features a mix of grains (millet, quinoa) and seeds (flax, sunflower).
ORGANIC BREAKFAST BREADS
Raisin The Roof!® serves up the classic sweet-and-cinnamon combo.
Epic Everything®® is everything you want from a mix of garlic, onion, poppy, sesame, chia and flax.
Every breakfast product in the Dave's Killer Bread line:
is packed with whole grain nutrition contains no bleached flower contains no high fructose corn syrup
is certified USDA Organic and Non-GMO Project verified
uses no artificial colors, flavors or preservatives
Discover more about the killer taste and texture of organic breakfast breads, bagels and English muffins from Dave's Killer Bread at flowersfoodservice.com/brands/daves-killer-bread
1 NPD Group, August 2022
2 Breakfast Global Menu Category Report 2022, Technomic
3 Datassential, Flavor & The Menu, "To-Go Breakfast Wakes Up," October 2022