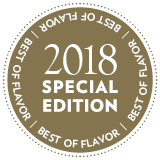 At Egg Shop, the name says it all: Come here for egg-centric dishes served in a creative way. At both locations, in New York's SoHo neighborhood and in Brooklyn, one of the top brunch items, the Pepper Boy, is a model of innovation in the breakfast space.
"It's a superhero," says Nick Korbee, Chef and Co-founder. "Simply cry out when you're in need, and Pepper Boy will be there to vanquish the pangs of hunger with one swift kick in the huevos!"
Pepper Boy revamps the classic Denver omelette, placing egg scramble in a panini roll and swapping ham for maple-cured black-pepper bacon—an all-star pairing that brings a subtle syrupy sweetness and a warm hint of smoke.
Melted Gruyère and caramelized onion aïoli add rich flavor, and green bell pepper completes the profile.
Answering the demand for gluten-free options and the call for unique sandwich carriers, diners can substitute the roll for a hollowed-out bell pepper. Soft scrambled eggs sit inside, while the Gruyère and bacon are placed on top and broiled to melt the cheese.