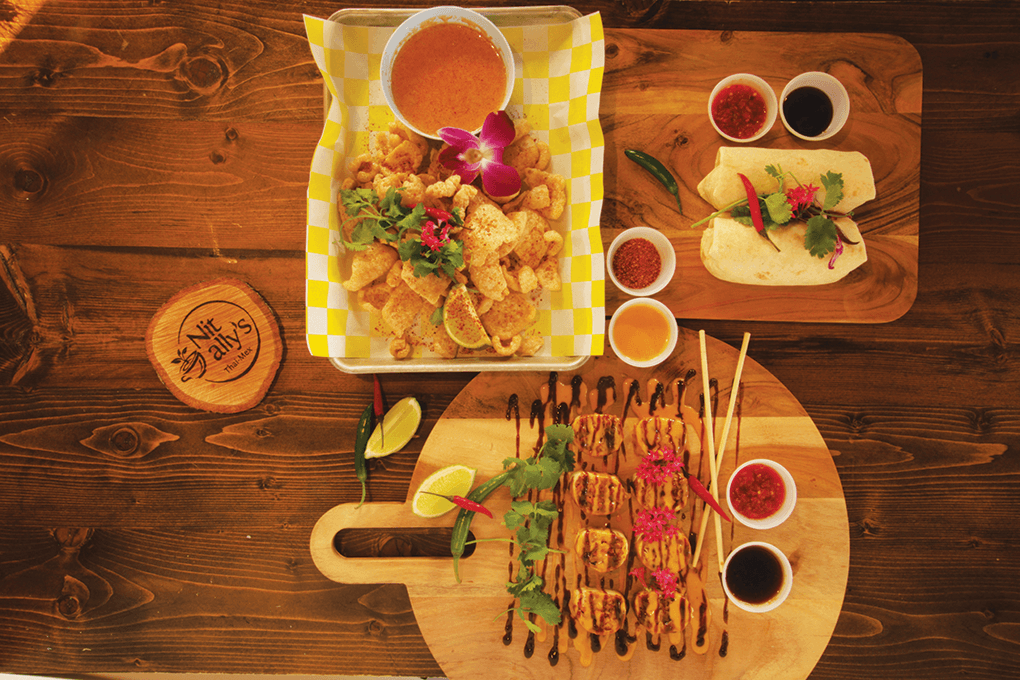 By Katie Ayoub
January 9, 2023
Thai cuisine is full of fresh, aromatic, bright, big flavors. It carries an energetic street-food vibe and intrinsically plays in both plant-forward and meat-centric worlds. Today, it's serving as inspiration for eclectic, craveable mash-ups, bringing together Thai flavors, ingredients and/or formats with American, Mexican, Korean—whatever finds the right synergy on the plate or in the glass. The time is right for Thai mash-ups, thanks to a number of factors.
Consumer comfort level lays the foundation for discovery, setting up a baseline for mash-up innovations. "In our flavor database, we track which cuisines or ingredients are 'on fire,' which essentially means that the percentage of consumers who say that they're either aware of or that they've tried a particular ingredient or cuisine has increased substantially in the past four years," says Mike Kostyo, trendologist and associate director, Datassential. "Thai cuisine is one that is most definitely 'on fire,' but it is still somewhat new to consumers—there's not a major Thai chain in this country. It's a category that is ripe for mash-ups." Some of those trending flavors and ingredients appearing more frequently on menus include Thai tea, pandan, Thai bird's eye chile, lime leaf, Thai basil, lemongrass, chile jam and, of course, Sriracha. And those ingredients, along with other Thai flavors, have jumped beyond authentic Thai restaurants and into progressive, eclectic coffeehouses, bars, restaurants, pop-ups and food trucks across the country.
CHEF-DRIVEN AUTHENTICITY
There's been a meaningful shift in foodservice as to how "authenticity" is defined. Instead of looking to strict parameters dictated by the narrative of a cuisine, authenticity is transforming into individual chefs' stories. "When the authenticity movement first began, it was, 'If you're cooking Oaxacan food, you can't use anything that's not from Oaxaca and you have to be Oaxacan.' That staunch definition of authenticity just makes innovation stagnant," says Nikki Freihofer, strategy director, The Culinary Edge. "Folks began to realize that food is constantly evolving because culture evolves, and that is okay. Trends like Thai mash-up are now bubbling up from chefs who are claiming a personal authenticity that is born from, say, growing up in Queens with a mother who is Thai and a father who is Mexican." From that experience, Thai-Mexican cuisine is forged, with authentic flavors and techniques melting together into something new and exciting.
Chefs across the country who share similar stories are driving innovation behind the Thai mash-up trend. At Night + Market, Thai-American Kris Yenbamroong, chef/owner, serves fare that he describes as "L.A. Thai," drawing on his family's food culture and his Los Angeles upbringing. With three locations in Los Angeles and one in Las Vegas, he has forged his own style of Thai cooking, serving fun, casual dishes such as a Fried Chicken Sandwich with papaya slaw, ranch, jalapeño and cilantro, and cocktails like the Thai 75, featuring gin, lemongrass and prosecco. In New York, Sam Yoo, who boasts Momofuku credentials, opened Golden Diner, an Asian-centric concept that he calls "a love letter to New York," the city of his youth, where he remembers frequenting Thai restaurants. His Thai Cobb Salad takes an American classic and punches it up with flavors from Southeast Asia. It features Thai basil, mint, bean sprouts and spiced peanuts, along with the expected lettuce, bacon and medium soft-boiled egg. A Thai bird's eye vinaigrette adds a punch of heat, made with Thai bird's eye chiles, fish sauce, light soy and cane vinegar. "It's a bright refreshing salad that still presents as familiar," says Yoo. "It sells really well." For dessert, he offers Thai Tea Tres Leches Cake, infusing Thai tea flavor into the milks, and finishing with toasted dried coconut, lime zest and Chantilly cream.
Chefs like Yoo and Yenbamroong, and many others across the country, have moved the needle on Thai flavor play, demonstrating whimsy, craveability and possibility, all the while heightening familiarity among consumers nationwide. That has paved the way for greater adoption and continued innovation. "It comes down to execution," says Freihofer. "If you menu a pad Thai taco, the execution of flavor in each of those elements has to be good, and you have to be respectful of origin."
CREATIVE WAYS IN
As with most adaptations of global profiles, translation into familiar formats is a proven method for menu wins. Robert Danhi, chef and leading expert in Southeast Asian cuisine, offers a few suggestions. "Begin with an iconic Thai dish that most of your customers already know, such as pad Thai noodles, tom yum soup or green papaya salad, and create new forms," he says. "Imagine tom yum soup dumplings, pad Thai spring rolls stuffed with sweet, sour and spicy noodles, and a new version of green papaya salad topped with coconut-crusted fried shrimp, rather than the dried, fermented shrimp that may overwhelm palates."
The Black Thai, an "Ameri-Thai" food truck in Greenville, S.C., serves the Thai Fried Garlic Sausage, a Thai-style gourmet hot dog topped with green curry sauerkraut and wasabi mustard and served in a grilled Amoroso roll. Nitally's in St. Petersburg, Fla., specializes in Thai-Mex cuisine, serving a menu of fun mash-ups like ThaiMex Nachos, featuring pan-fried chorizo seasoned with both Mexican and Thai spices, ground beef and creamy nacho cheese over tortilla chips; Chicharrones with Curry, adding Thai red curry sauce to the quintessential Mexican pork rind snack; and the Mexican Sushi, which showcases a creative approach to Thai fried rice. It's made with chipotle, Thai herbs and chicken, then wrapped in a flour tortilla and cut into sushi-like rounds and served with Sriracha dipping sauce. In Chicago, Andrew Zimmerman, chef/partner at Proxi, offers an example of Thai-infused accents in fine dining. His Tagliolini with jumbo lump crab is sauced with a rich emulsion of butter and nam prik pao (also called Thai roasted chile jam), a touch of lemon juice and Thai basil. The pasta dish is finished off with fried garlic and cilantro.
"Mexican food is at the mass adoption stage here," says Freihofer. "That typically comes with spice, heat, chiles, herbs and fresh flavors. Because we're at a point of ubiquity with Mexican food, there is this opportunity for similar flavor experiences, but from different origins. Thai has a lot of fresh ingredients, makes use of heat and chiles, and has interesting produce. When you apply all of that to familiar formats, it's more approachable with a lot of profiles that American consumers are already into."