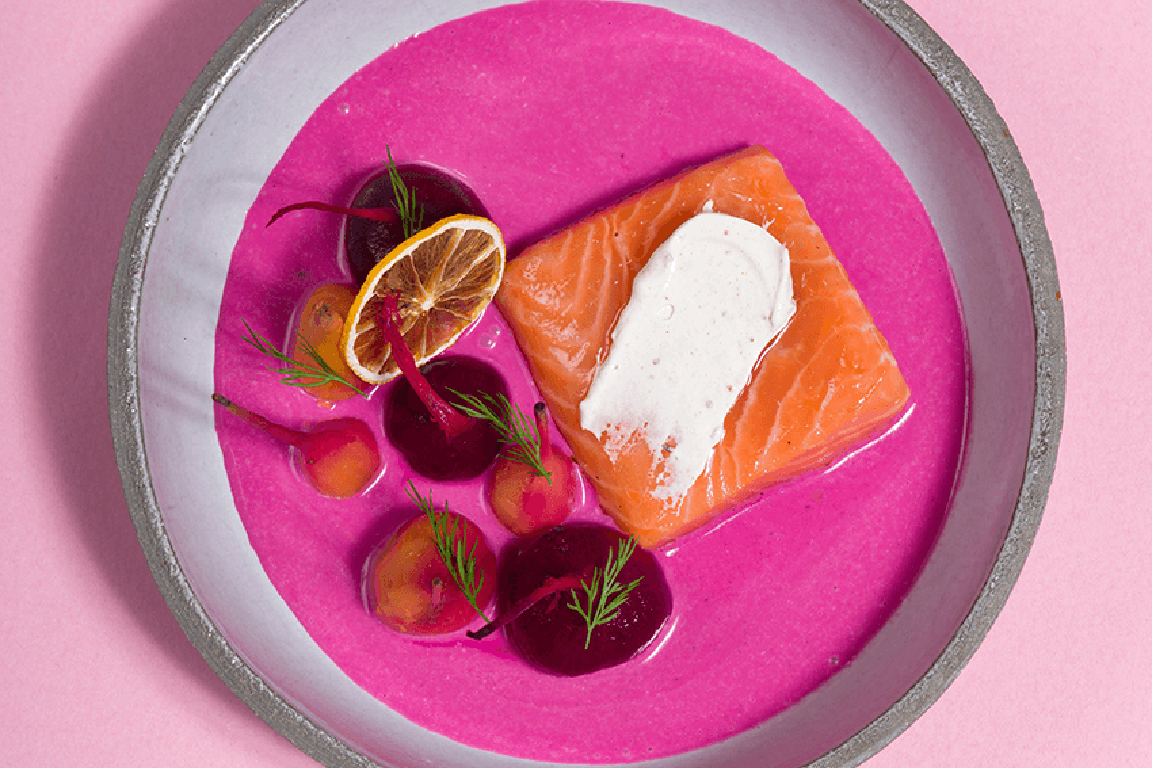 Color has always been integral to recipe building, helping deliver that full sensory experience patrons look for in restaurant dining. But today, color is pulling into sharper focus, drawing inspiration from nature and wowing the world with its incredible spectrum, as savvy menu developers leverage its wide-ranging aesthetics. Color is playing a greater role in youth marketing, serving as an attention-grabbing town crier for online ordering and conveying joy on the plate (or in the glass) through vibrant or subdued hues of blue, pink, green, orange, purple and more.
"Natural dyes have been used for centuries to color food, and in a back-to-the-future framework, vegetables, fruits, spices and botanicals are being applied in new ways to deliver fun, adventure and flavor experimentation—all driving menu preference and purchase. The future of colorful menu items is bright," says Pam Smith, RDN, culinary nutritionist and founder of Shaping America's Plate. "Natural plant-derived ingredients are key to elevating this evolving color trend. For example, use ube rather than purple dye, or create blue magic with butterfly pea flower." These ingredients are two in a long list of naturally derived colors to explore, including blue spirulina, green pandan, blueberry powder, purple carrot extract, chipotle, lavender, turmeric, beets and hibiscus.
And although these ingredients are wholesome, with health halos that glow brightly, this color trend is not tagged as a health-and-wellness trend. Instead, it's ruled by its biggest driver: our collective eagerness for joy after years of pandemic-era drudgery and hardship. Consumers are seeking out moments of fun, experiences that lift their mood. "People are looking for high-impact sensory experiences with colors that really pop and are exciting. And by exciting, I don't mean that the colors necessarily have to be assertive all the time," says Maeve Webster, president of Menu Matters. "They simply have to be mindfully employed to elicit a certain emotional reaction. Pastels will elicit one, while super bright colors will elicit another. We've essentially been in sensory deprivation tanks for three years, and now everybody is looking to make up for lost time."
Webster believes today's heightened role for color is due in large part to ongoing shifts in pop culture drivers. "The social media channels that dominate are highly visual, driven by younger consumers who want engagement that is visual first, second and third," she explains.
As Rob Corliss, founder of ATE (All Things Epicurean), sees it, color sets up the sales pitch, and flavor closes the deal. "Aesthetic color is the first sensory purchase driver, then flavor slides into the deliverable as the hook that delivers on the expectations initially set by color," he says.
GLOBAL'S COLORFUL INFLUENCE
Today's use of culinary color runs on a parallel track with the global flavor trend. Take a look at how somewhat far-flung, plant-derived colors have proliferated on American menus, showing up in everything from specialty coffee drinks and brunch items to desserts and cocktails. Ube, the vivid purple yam from the Philippines, leads the color guard, with deep purple items like Ube Bae, a boozy drink at Asian-fusion eatery Best Quality Daughter in San Antonio, made with Rum-Bar overproof rum, orange juice, pineapple juice and coconut cream, and Ube Pandesal Dinner Rolls served warm with ube butter at White Rice Bodega, a Filipino restaurant in San Diego.
The Boat, a Seattle restaurant that specializes in Vietnamese fried chicken and waffles, goes for a more subtle, whimsical approach with its Pink Pineapple Waffles brunch dish, which features caramelized, naturally pink-hued pineapple flesh baked into the batter. It's served in wedges, along with a side of whipped coconut cream and peanut-sesame crumble. Fast-casual chain Mochinut, based in Los Angeles, menus mochi doughnuts, Korean rice flour hot dogs, bubble tea drinks and soft serve. This last menu area mindfully keys into color and emotion, offering three mood categories: Joy in a cone, Bliss in a sundae cup with boba, and Delight with a mochi doughnut. The colors for each soft-serve flavor variety are muted: Honey Butter is pale yellow, Strawberry-Lemon is soft pink and Melon is a light green.
Colored buns are a phenomenon that work as a universal carrier for American and global handhelds alike. Arby's has demonstrated the buns' broad appeal, featuring toasted red chipotle buns for both its Diablo Chicken Sandwich and its Diablo Roast Beef Sandwich. At PogiBoy, a Washington, D.C., concept that specializes in Filipino food, the Original Pogi Burger is served on an eye-catching bright purple ube bun. Flower Burger, a plant-based chain with its first U.S. outlet in Los Angeles, is a category leader in how far plant-derived color can go, menuing a rainbow of options. Its violet bun is colored with purple carrot extract, a pink bun features cherry and beet extract, and a green bun boasts spirulina and turmeric. Innovations like these keep both fun and Instagrammability front and center, demonstrating that Technicolor on a plate need not involve artificial flavors.
PLANT-FORWARD FTW
Whether serving a polychromatic burger bun or a more wholesome menu item driven by naturally-derived color, part of the conversation can be credited to consumers who care about simplicity and the functional benefits of ingredients. And this road leads straight to the plant-forward movement, where color plays a huge role, says Webster. "It satisfies modern consumer values for transparency and cleaner sourcing."
Smith agrees, encouraging operators to use color to build menus that stand out. "What is new and presenting opportunity is the wide availability and heightened awareness of naturally derived colors. Many are already being sought after as superfoods for their inherent health benefits, such as improved immunity and cognitive health," says Smith. "For instance, turmeric doesn't just provide a bright yellow. Matcha doesn't just provide a vibrant green. They both bring anti-inflammatory power into play."
Beauty is also restorative. At New York's modern American restaurant Sweetbriar, the Salmon Mi Cuit sits in a stunning neon pink sauce that is made from a purée of red cabbage, beets and potato—a riff on borscht from Bryce Shuman, executive chef. Timothy Jacob, chef de cuisine at Lazy Bear, a San Francisco fine-dining dinner party concept, makes a blanket of vibrant green powder for his Potatoes Barigoule, a dish that stars marble potatoes, wild morel mushrooms and glazed English peas topped with a creamy potato fondue, enriched with California heavy cream and California extra-sharp white cheddar. He makes the finishing dust by dehydrating baby spinach and tarragon leaves, along with parsley and dill sprigs, then grinding them to a fine powder.
Kim Haasarud, owner of Garden Bar PHX in Phoenix, menus a cocktail that brings the ocean and its botanicals to the desert. Deep Blue is made with Gray Whale gin (which features sea kelp, coastal juniper, fir and mint), lime leaf cordial and blue algae for color. "Traditionally, blue cocktails are colored with blue curaçao," she says. "This cocktail is colored with an all-natural ingredient from the ocean: blue algae. Our guests love that it's not as sweet as most blue cocktails."
Joy can be elusive and fleeting. But the hospitality industry can be a welcome and reliable source that consumers turn to for much-needed doses of whimsy, surprise and delight. Creative use of color can be the differentiator for brands looking to serve up memorable moments.