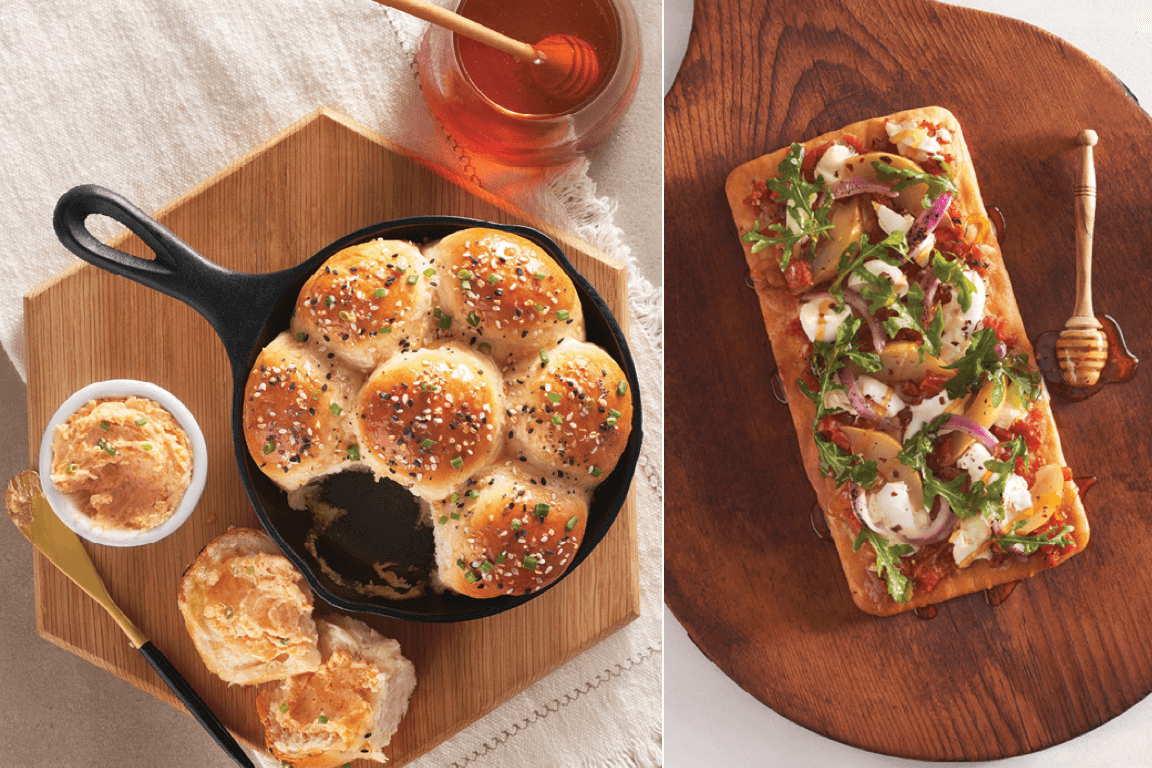 Honey is at the heart of many modern menu moves, but its impact may be most potent in today's red-hot — in every regard — "swicy" trend. When done right — and done with honey — the sweet-spicy combination lifts the flavor experience with nuanced dimension. The bar bites, snacks and shareable apps category is especially well-suited to explore honey-based swicy opportunities — as well as several other leading trends, like globally inspired flavors and Instagrammable board presentations.
"Our recent innovation work hits on many trends we're seeing in this space, and it's incredibly rewarding to see honey at the forefront of standout menu items that truly wow customers," says Chef Hayley Christopher, Culinary Director at Sterling-Rice Group. "Honey lends itself beautifully to sweet, savory and spicy profiles, with each varietal providing different highlights to a dish."
"'Swicy' is everywhere this year. Hot honey was just the beginning," continues Christopher, noting that it crosses cuisines and categories, such as vegetarian flatbreads, which are another buzzworthy shareable. With unexpected toppings like Honey Burrata and Pickled Pear, chefs keep both intrigue and flavor front and center. Similarly, visual stunners prime for social media shares continue to captivate at any daypart, says Christopher. The gorgeous honeycomb presentation and addictively craveable flavor of Cheesy Beehive Buns with roasted-garlic honey-cheese butter make for a showstopping addition to a starter menu.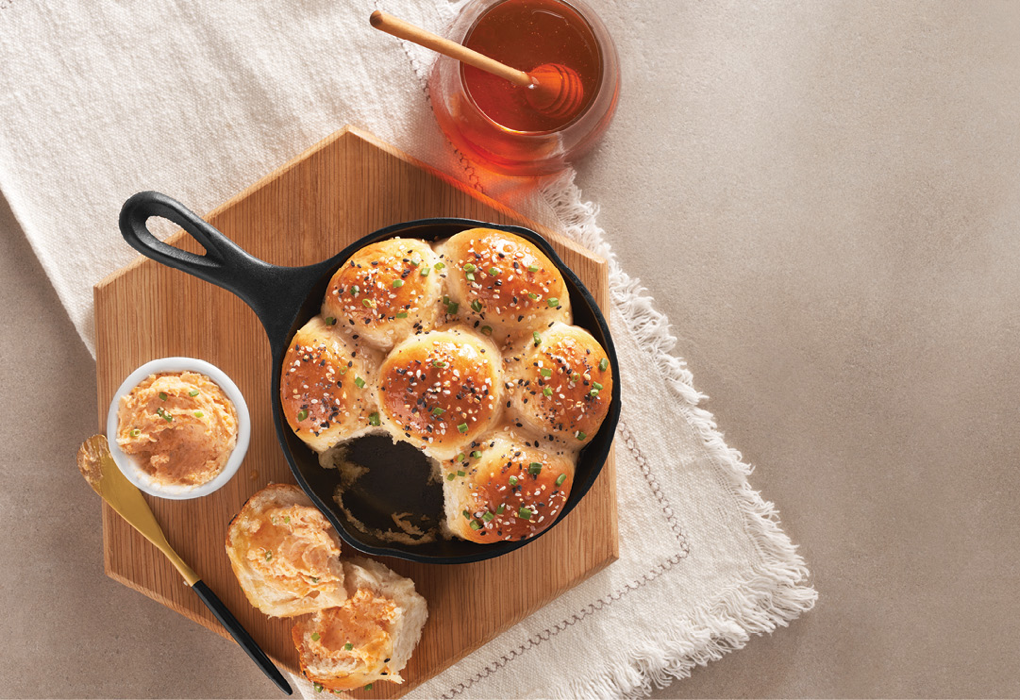 Photo Credit: National Honey Board
CHEESY BEEHIVE BUNS
Pillowy honeycomb buns studded with cheese, baked in a honeycomb pattern and a pull-apart style, slathered with a roasted garlic-infused wildflower honey-butter drizzle and served with honey-cheese butter.
The distinct shape of these cheese-filled buns creates buzzworthy appeal, making them an eye-catching shareable perfect for happy hour gatherings. Inspired by a Middle Eastern favorite traditionally drenched in spice-infused honey, this spin takes a more savory approach with the garlic-infused honey glaze and an addictive honey-cheese butter.
Honey Buzz: The light and fruity notes of wildflower honey provide the perfect sticky-sweet glaze for these soft yeasted buns. The natural sweetener amplifies the flavors across this dish and helps to create more tender buns that retain their fluffiness.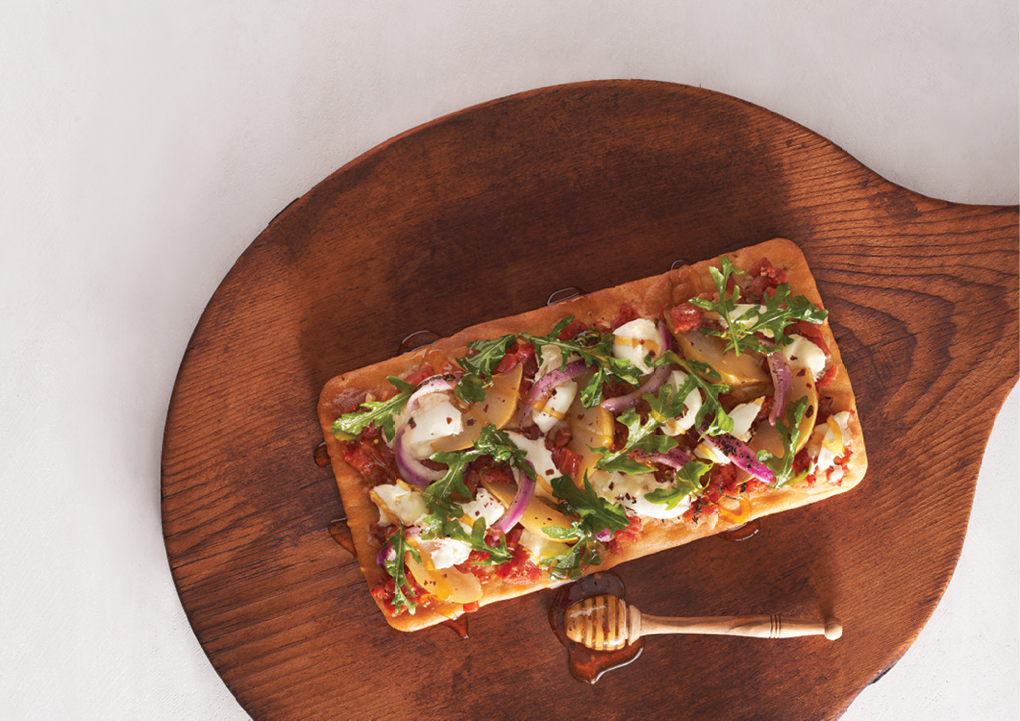 Photo Credit: National Honey Board
HONEY BURRATA AND PICKLED PEAR FLATBREAD
Naan flatbread layered with ripe tomato concassé, torn fresh burrata, grilled honey onions, tangy pickled pear slices and honey vinaigrette-dressed arugula and a finish of hot honey drizzle.
Spicy honey, with its gorgeous, sweet heat continues to gain traction as an ideal flavor component. Here it finishes the flatbread with a swicy tang, accenting the sweet burrata, peppery arugula and pickled pear. Vegetarian flatbreads are trending and with fresh, seasonal, vibrant ingredients — accented with pops of honey — this dish checks all the boxes.
Honey Buzz: Wildflower honey mellows the pungency and softens the bite of chargrilled onions. Honey is also a perfect pickling medium, delivering a balanced sweetness. Clover honey, in particular, pairs perfectly with pears.
TAKE THE PLEDGE
"Without bees, we'd be lost as chefs," says Chef Christopher. "The role of bees as pollinators of more than 90 different agricultural crops is just monumental." Using real honey on menus helps support honey bee health, which, in turn, supports the global food supply.
Honey Saves Hives is a national campaign designed to raise awareness about one of our most precious natural resources: honey bees. When you buy and use real, delicious, natural honey for your menu, you're taking steps to support honey bee health and ensure the sustainable production of the global food supply.
Learn more and take the Honey Saves Hives pledge here.
To get these recipes and learn more about the valuable role honey can play on your menu, visit honey.com/foodservice.