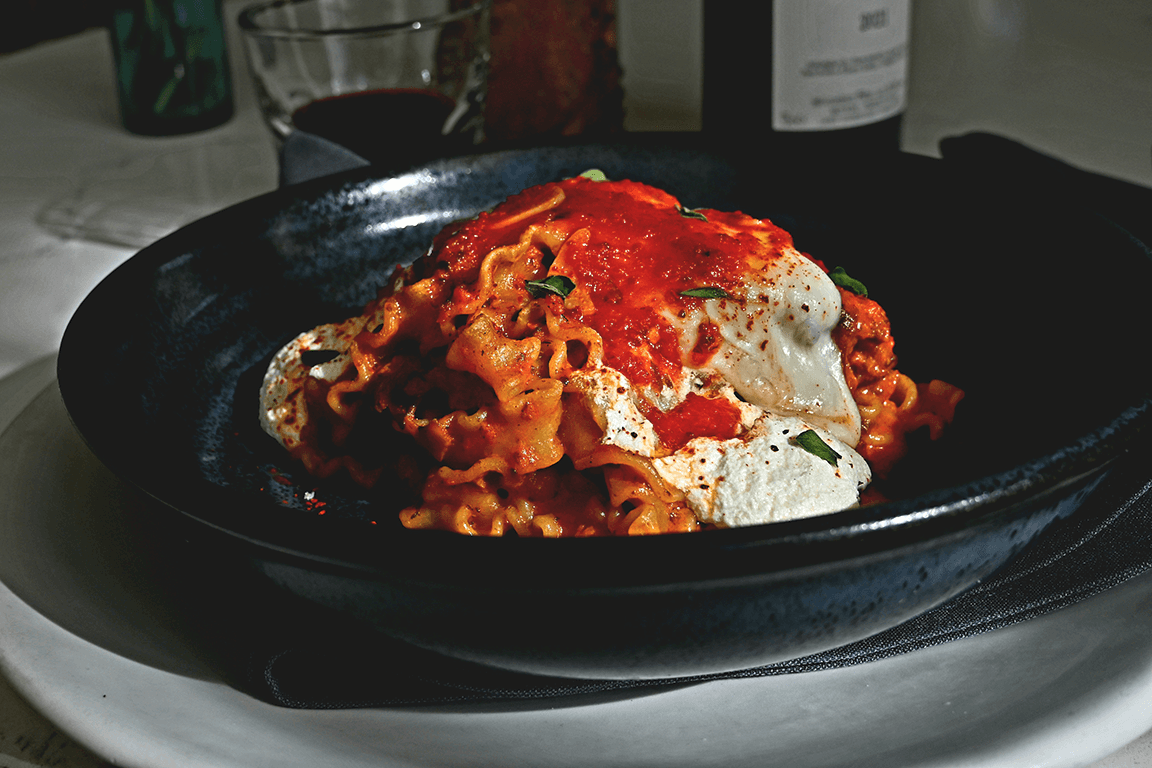 Pasta's popularity with consumers and versatility for operators make it a menu mainstay year after year. Keeping options craveable and signature is key. Here, we outline three pasta categories, offering modern renditions within each one. All three are wrapped in the commonality of pasta's comfort, versatility and enduring potential for signature flavor.
1
LAYERED PASTA
Italian- or Greek-style lasagna provides menu developers opportunity to innovate within each layer. Modern interpretations include flavored béchamel, burrata dollops, cheese creams, demi- glace infusions, enhanced pasta sheets, thinly stacked extra layers of pasta and/or vegetables. Raw, pickled, grilled, roasted or fried vegetable medleys add intrigue while heartier versions see layering of ingredients like Bolognese blends, roasted lamb leg slices or pulled chunks of Barolo-braised beef short rib for soul-soothing flavors. Contemporary approaches to plate presentations are converting classic pan-baked and square sliced layered pasta dishes, embracing eye-catching freestyle constructions, as well as individually portioned round-stacked or rolled involtini forms.
MENU SIGHTINGS
Freestyle "Lasagna:" Garlic mafaldine, mushroom Bolognese, whipped ricotta (during brunch, guests can add an egg)
Segnatore, Chicago
Anelletti: Baked ring pasta with ragú Bolognese, eggplant, mozzarella, peas, besciamella cream
Pane Pasta, New York
Baked Burrata Lasagna: Freshly made pasta, Bolognese, Asiago cream, fontina
Il Porcellino, Chicago
Lasagna Piemontese: Fresh pasta layered with wild mushrooms, beef brisket, Gruyère and mushroom glacé
House of Lasagna, New York
Pastichio: Layers of long macaroni with ground tenderloin, topped with béchamel cream sauce and baked
Spiro's, St. Charles, Mo.
2
BRUNCH PASTA
Brunch is an ideal occasion to infuse bold, bright playfulness into hot and cold pasta creations. Contemporary interpretations include global flavors, miniature pasta forms, spaghetti fritter appetizers, starch mash-ups, fruit or vegetable inclusions and crunchy toppers. Traditional or new takes on bacon-heavy pasta carbonara, and pasta with vodka sauce or pesto are natural brunch fits. Hummus pasta, a new TikTok sensation, showcased in a fresh primavera style, would be a welcome menu addition, tapping into craveable wellness with new sauce applications for plant-curious consumers.
MENU SIGHTINGS
Parm to Table Experience: Bucatini al pesto prepared tableside in a Parmesan wheel
Timpano, Tampa, Fla.
Beet & Duck Raviolini with daikon radish, huckleberry mostarda and sumac
Flour + Water, San Francisco
Koshari: Layered rice, lentil and pasta dish topped with fried onions and chickpeas, and served with a vinegar garlic sauce
Koshari Mama, Somerville, Mass.
Pad Thai Slaw: Kelp noodles, green papaya slaw, lemongrass, coconut, cilantro, peanut sauce
Planta, Washington, D.C.
Lobster Gnocchi: Miso butter, golden raisin hot sauce, sous vide egg
Bambola, Chicago
Spinach Pappardelle Carbonara with blackened shrimp and bacon
Neapoli, Red Bank, N.J.
3
ARRABBIATA SAUCE 2.0
This flavorful Italian "angry" tomato sauce speaks directly to today's heat-loving consumers. Contemporary interpretations include expanding the reach of arrabbiata across the menu.
TRY THIS
Add citrus, grated hard Italian cheese, briny olives or capers
Spoon over an omelette or shakshuka
Spread onto a fried chicken sandwich
Stir into aïoli
Swap out red pepper flakes with Calabrian chile
MENU SIGHTINGS
Breakfast Pizza with arrabbiata sauce, scrambled eggs, bacon and mozzarella cheese
Capo's Italian Steakhouse & Speakeasy, Las Vegas
Crispy Lasagna Fritters: Lasagna wedges, Evviva marinara, pesto ranch, whipped ricotta, arrabbiata aîoli, microgreens
Evviva Trattoria, based in Westford, Mass.
Arrabbiata Braised Short Rib cooked in arrabbiata sauce and served with Parmesan polenta
The Mill Kitchen & Bar in Roswell, Ga.