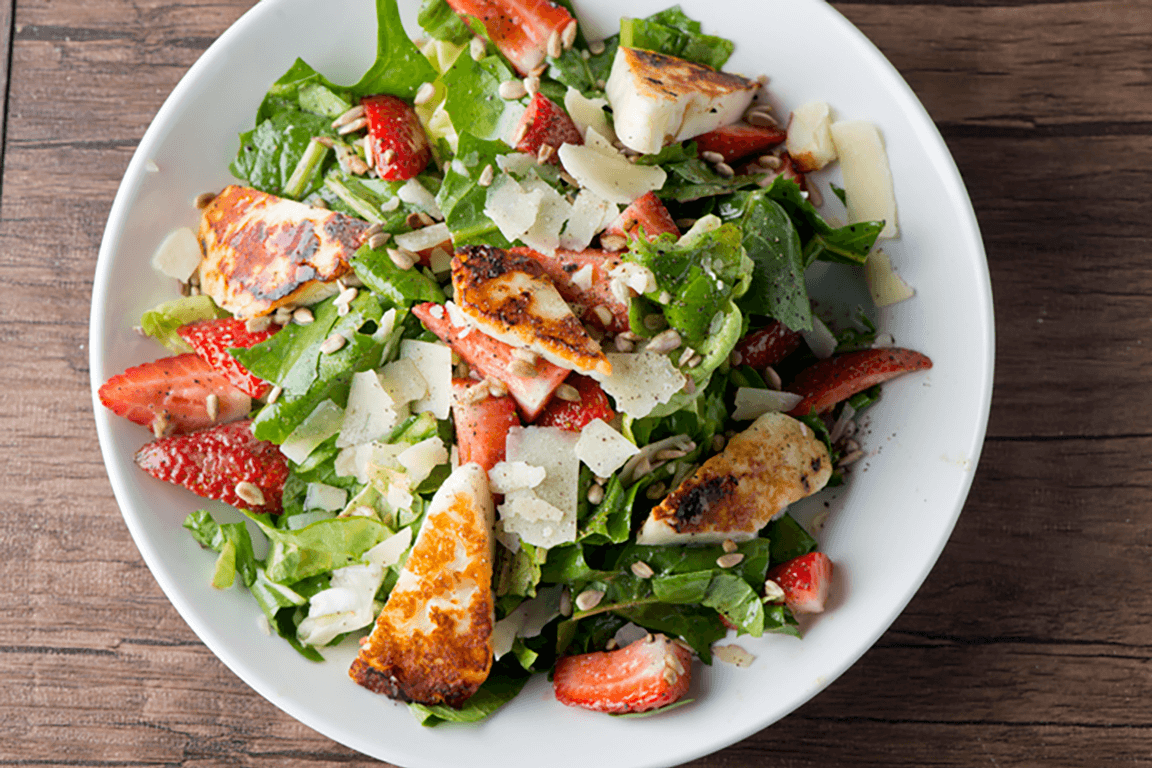 Operators looking to capitalize on the popularity of spicy flavors can set their gaze on salads. They provide the opportunity for endless ingredient swaps with unique interplays that introduce global heat trends.
Here are modern renditions of longstanding salad favorites, revitalized with a dose of flavor-forward heat and signature pairings.
WEDGE SALAD
Feature a spin on the classic wedge salad with smoked or roasted flavor treatments on hard squash or cruciferous vegetables like cabbage, Romanesco and cauliflower. Take this knife-and- fork salad to more substantial entrée levels by adding heat-spiked proteins and fiery dressings.
TRY THIS
Smoked Cabbage Wedge Vindaloo: Smoked napa cabbage wedge (cold) + seared Madras pork tenderloin slices (warm) + paneer + creamy vindaloo dressing + roasted cashews
Caribbean Tri-Tip Wedge: Honey rum butter-roasted acorn squash wedge (cold) + watercress + roasted jerk BBQ tri-tip slices (warm) + queso fresco + papaya-Serrano chimichurri + crushed plantain chips
CAESAR SALAD
Utilize bold Southeast Asian and Italian flavors as the conduit to heat up summer Caesar renditions. Pair varying hotness levels from punchy treatments, spiced cheeses, lettuce varieties and dressing variations, along with unique crunches to accentuate Caesar's tanginess.
TRY THIS
Thai Caesar: Romaine + arugula + bird's eye chile-pickled radicchio + grated honey-Sriracha Gouda + puffed rice crunchies + lemongrass-pandan Caesar dressing
MENU SIGHTING
Diavolo Chicken Caesar: Little gems, ciabatta crumbs
Bad Roman, New York
COBB SALAD
Cobb's bright flavors and contrasting textures are yearning for blasts of heat and global ingredient plays to elevate the traditional experience. There is myriad potential to spice the components and create new flavor-popping salads that embody the spirit of the classic.
TRY THIS
Chicago Cobb: Shredded kale + chunks of Italian braised beef chuck + peppered bacon + hot giardiniera + panko fried egg + roasted red peppers + fresh mozzarella + Dijon-beef jus vinaigrette
Mediterranean Cobb: Mesclun + kalamata chicken souvlaki + hot paprika caramel bacon + cucumber + hard-boiled egg slices + Calabrian falafel + peppered pita chips + htipiti dressing
VEGETABLE-CENTRIC SALADS
Non-lettuce salads offer operators a way to introduce everyday vegetables in delicious new formats. Flavorful heat infusions are an excellent vehicle for transforming something simple into extraordinary.
TRY THIS
Yucatan Elote Salad: Charred corn kernels tossed with achiote, corn chips, pepitas, sliced red pear tomatoes, shaved red onion, banana peppers, Cotija crumbles, habanero-citrus vinaigrette
MENU SIGHTING
Korean Scallion Salad: Scallion, gochujang vinaigrette, gochugaru, sesame seed
The Ginger Pig, Denver