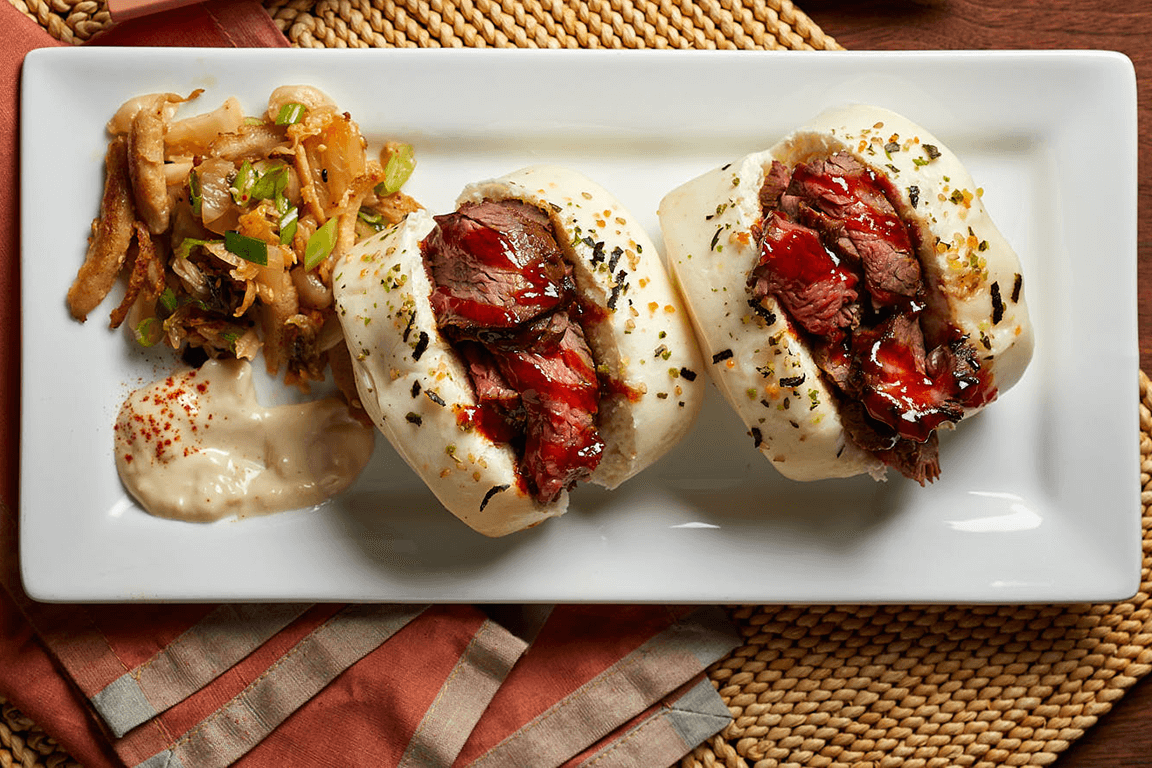 Tofu is a plant-based powerhouse that's long been in play on vegan menus. Today, many chefs are expanding their use of tofu, leveraging its strong positioning as a familiar plant-based protein and maximizing its subtlety in flavor. When viewed as a conduit for flavor development, tofu's culinary playbook is extensive. Given the range of options—silken, soft/medium, firm and extra firm—there's a world of texture play and application potential.
Here, we look to expand creative ideation around tofu with both culinary thought starters and menu sightings from restaurants nationwide, propelling flavor innovation into new realms.
1
PLANT-FORWARD OFFERINGS
Modern, creative builds starring tofu resonate with patrons in search of craveable options that boast healthy amounts of plant-based protein.
TRY THIS
Tofu "Cacio e Pepe" Style: Ginger butter sautéed chickpea tofu, roasted sweet potatoes, Chinese broccoli + Sichuan and pink peppercorns + finely grated pecorino Romano cheese
Menu Sightings
Crispy Tofu Sandwich: Tofu that has been brined for 24 hours, dipped in buttermilk and dredged twice, then fried fresh to order; served on Gott's butter-toasted egg bun along with dill pickle slices, green cabbage-cilantro slaw, red onions and housemade charred jalapeño mayo
Gott's Roadside, based in Northern California
Tofu con Gusto: Stout slices of extra-firm organic tofu sautéed in extra-virgin olive oil, garlic tapenade and ladled with signature red sauce
Un Bien, Seattle
Smoked Nut-Crusted Tofu Kebabs served with cremini, zucchini, peppers, red onion, tomato and basmati rice pilaf
Boots & Bones, Jersey City, N.J.
2
MEAT OR SEAFOOD PAIRINGS
Tofu's reach beyond vegan builds illustrates its modern positioning on menus today. Combining it with meat or seafood offers textural contrast. It also provides a way to beef up the protein count.
TRY THIS
Steak and Tofu Scramble (brunch): Seared skinny ribeye steak + turmeric tofu scramble + fried egg + chimichurri hashbrowns
Menu Sightings

BBQ Beef Bao Buns with tofu slaw
Destination Grille, Grimes, Iowa
Bun Rieu (soup): Tomato-based pork broth with crabmeat and shrimp, fried shrimp paste, fried tofu, pork hock and rice vermicelli noodles
Savory Vietnam Restaurant, Denver
CDG Meatball: Ground pork, chopped vegetables, housemade tofu
Cho Dang Gol, New York
3
NEW ANGLES TO INTRODUCE
Tofu's stealth is not defined by sweet or savory menu boundaries nor cold or hot recipe applications. Tofu can serve as a non-dairy baking ingredient, base for mousse/pudding/cheesecake and smoothie thickener. Blended tofu can act as lasagna or moussaka filling or silken tofu as a thickening agent in sauces, soup, condiments, dips and salad dressings (even in combination with plant/nut "milks"). Grated, seasoned and crisped extra-firm tofu crumbles work in larb or as a garnishing crumble in salads, fried rice or tacos. Tofu skin makes for a modern dumpling, egg roll or enchilada wrapper. Tofu's versatility is endless.
TRY THIS
Velveteen Forager: Whipped silken tofu + herbaceous chermoula + smoked portobello slices + fried tofu escabeche
Menu Sightings
Baked Tofu Doughnuts: Matcha green tea, honey, red velvet, double chocolate, Earl Gray
Ring Baked Tofu Donuts, Los Angeles
Chilled Tofu (appetizer): Sliced soft tofu dressed with sesame bang bang sauce, smashed cucumbers, peanuts
Hop Alley, Denver
Spicy and Sour Tofu Pudding: Housemade tofu pudding with chile oil, peppercorn, and pickles
Birds of a Feather, Brooklyn, N.Y.