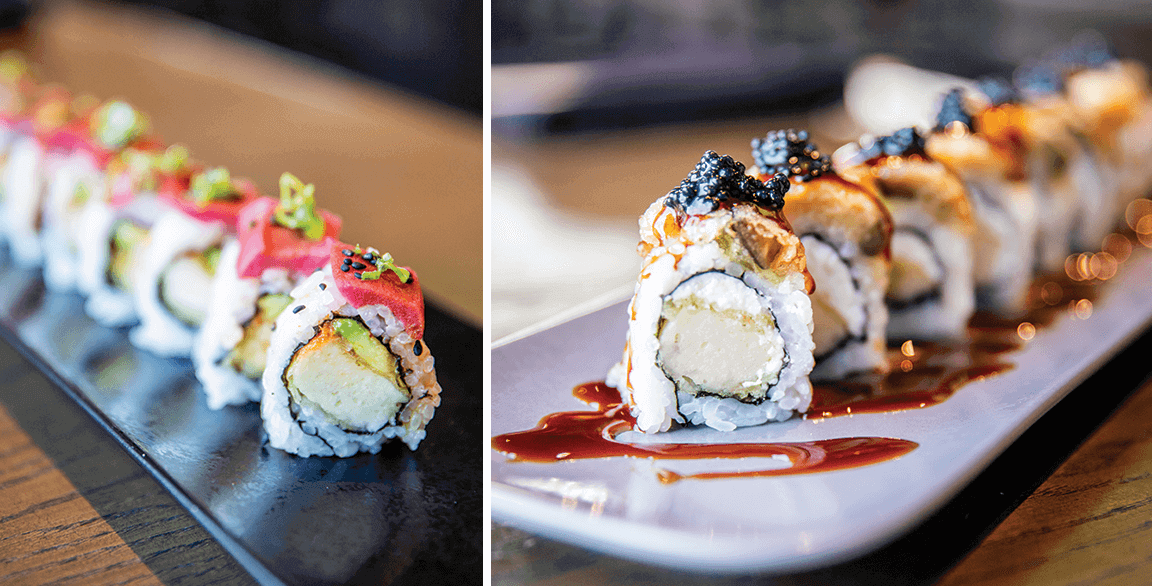 Blue Sushi Sake Grill, a sushi concept with locations in 10 states, prides itself on an Earth-conscious commitment to sustainable seafood, sourcing from vendors that supply responsibly caught and humanely raised products. In keeping with that brand imperative, the restaurant incorporates New Wave Shrimp®, the premium plant-based seafood alternative, to deliver modern menu solutions. New Wave Shrimp is the hero ingredient for two new vegan sushi rolls added to menus at all Blue's locations: Vegan Hot Night and Vegan Black Dragon.
The sustainable protein from New Wave Foods is versatile, flavor forward, appeals to flexitarian diners and eliminates concern regarding shellfish allergens, soy and gluten. New Wave Shrimp is easy to prepare and features the same bite, texture and taste of ocean shrimp.
Blue Sushi Sake Grill takes two approaches to developing its extensive lineup of vegan maki sushi, explains Nestor Rebolledo, Regional Operations Director for Flagship Restaurant Group, which operates the seafood chain. While the majority of the varieties lean on combinations of vegetables and sauces, the other approach relies on New Wave Shrimp to successfully mimic seafood protein. Both the Vegan Hot Night and Vegan Black Dragon are what Rebolledo calls "throwback items," swapping in the New Wave Shrimp for conventional shrimp tempura. The product is also used for a vegan shrimp tacos offering at Flagship's Roja Mexican Grill and a vegan curry at its Austin location of Plank Seafood Provisions, says Rebolledo.
The dishes debuted as part of Blue's "Veganuary 2022" menu promotion. Customer response was overwhelmingly positive. "They responded so well—through personal emails, social media, online reviews and feedback to our teams—that we moved these items from a limited-time-offer option to a permanent place on the menu," says Rebolledo.
Serving New Wave Shrimp is a small change that makes a big impact—on flavor, on menus and on the environment.
On-trend recipe ideas for a wide range of restaurant concepts and menu dayparts are available at newwavefoods.com/foodservice/culinary/