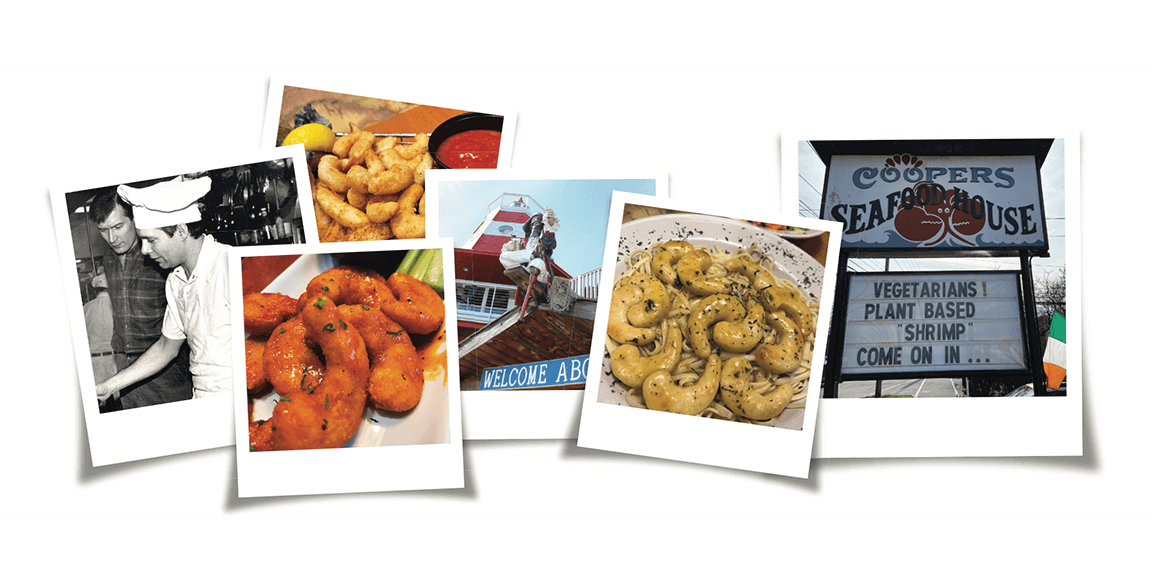 By Flavor & The Menu
July 28, 2022
In operation since 1948, Cooper's Seafood House in Scranton, Pa., prides itself on being a popular destination for locals and travelers alike. The seafood hotspot has expanded on its original 19th century railroad station building, and boasts a dining experience that emphasizes its unique décor, quality service and an extensive menu of flavorful seafood classics, from Alaskan King Crab Legs to New Orleans-Style Catfish.
With its "Nothing Is Ordinary" mission top of mind, Cooper's has added plant-based New Wave Shrimp® to its lineup, showcased as both an appetizer and an entrée. "New Wave Shrimp gave us a new way to market ourselves to a vegan clientele and offer them something unique and delicious that cannot be found anywhere else," says Jack Cooper, Managing Partner.
At Cooper's, New Wave Shrimp is featured on the menu as a Buffalo-style shareable with blue cheese and celery, as well as a shrimp-in-a-basket entrée, paired with fries, coleslaw and cocktail sauce. It's also offered as a shrimp stand-in in the Shrimp Scampi dish.
"It's tremendously exciting to see the increases in placements and interest for more plant-based seafood solutions on menus," says Michelle Wolf, Co-Founder and CEO of New Wave Foods, of the rise in menu sightings since the company took its signature product to market in early 2021.
Consumer interest in plant-based seafood crosses generations, each propelled by different drivers, says Wolf. While Gen Z tends to focus on the environmental benefits of sustainability, Millennials are drawn by plant-forward nutritionals and Gen X and Baby Boomers value the product for being cholesterol- and shellfish allergen-free.
This last advantage is quite attractive to menu developers who want to leverage the craveable flavor of shrimp but avoid shellfish allergens in their kitchen. "We have seen this a lot with Mexican concepts," says Wolf. "Shrimp is such a great addition for tacos, nachos, enchiladas." In fact, she sees growing interest in using the versatile product in an ever-widening array of menu applications, from chilis, chowders and street tacos to breakfast favorites like shrimp and grits, omelets and eggs Benedict.
"New Wave Shrimp has really found an audience with consumers that love shrimp, but due to allergens or diet, can no longer enjoy shrimp dishes the way they want to," adds Wolf.
Serving New Wave Shrimp is a small change that makes a big impact — on flavor, on menus and on the environment. On-trend recipe ideas for a wide range of restaurant concepts and menu dayparts are available at www.newwavefoodservice.com.