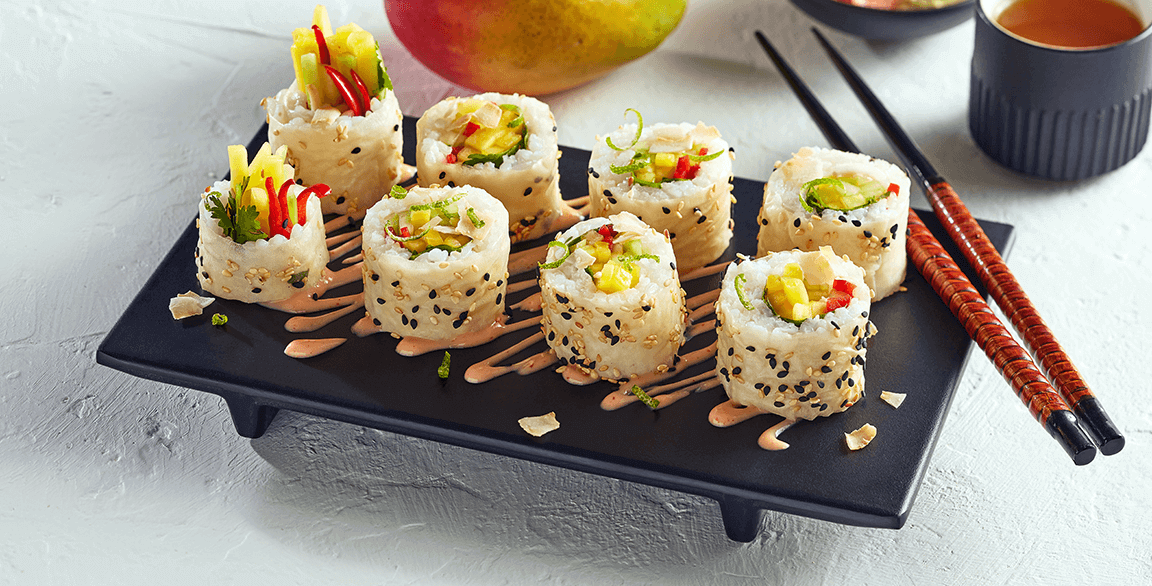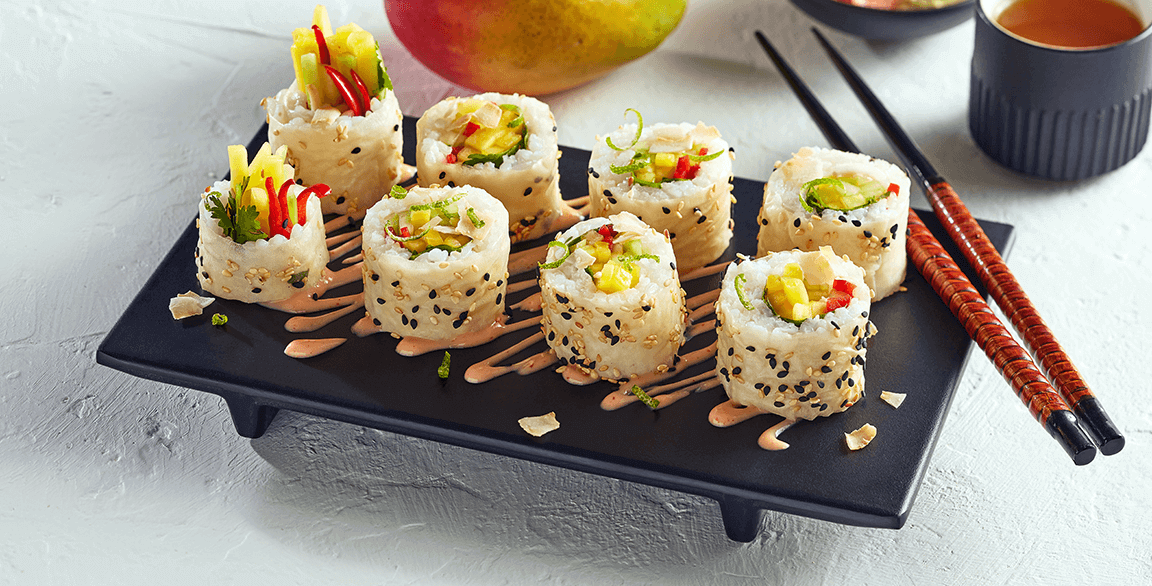 Mango Sushi Roll
Recipe courtesy of Chef Brandon Cook
Sponsor: National Mango Board
Servings: 1
Ingredients
1 soy paper wrapper with sesame seeds
3 oz sushi rice, cooked and warm (I like Calrose medium grain)
1 oz seasoned sushi vinegar
2 Tbsp cilantro leaves
1 fresh mango, cut in large julienne (1 cube per piece)
1 red jalapeño, stemmed, seeded, cut in small julienne
1 Persian cucumber, peeled and cut in small julienne
1 Tbsp Sriracha mayo
1 Tbsp toasted coconut
1 lime
Directions
Place 2 layers of plastic wrap onto a bamboo sushi rolling mat. Place the soy paper wrapper sesame seeds down.
Mix the cooked rice with the vinegar and spread an even layer over the soy paper wrapper, leaving about 1 ½ inches open on the top of the wrapper.
Layer the cilantro leaves 1 inch up from the bottom of the wrapper.
Layer the mango on top of the cilantro leaves.
Layer the jalapeño on top of the mango.
Layer the cucumber over the jalapeño.
Lift the bottom of the wrapper up and over the filling, keeping the ingredients as tight as possible. Continue to roll until only the wrapper without rice is exposed.
Lightly brush the top edge of the wrapper with a little water and continue to roll until sealed.
Remove the bamboo roller but not the plastic wrap. Using a sharp, long knife, make cuts about 1 ½ inches wide through the plastic wrap and roll.
Drizzle the Sriracha mayo onto the serving plate.
Remove the plastic wrap from each roll and arrange the rolls cut-side up.
Sprinkle the coconut over the rolls and plate. Microplane lime zest over the rolls.
Project Management: Summit F&B
Photography: Carlos Garcia // Food Styling: Peg Blackley & Bree Williams