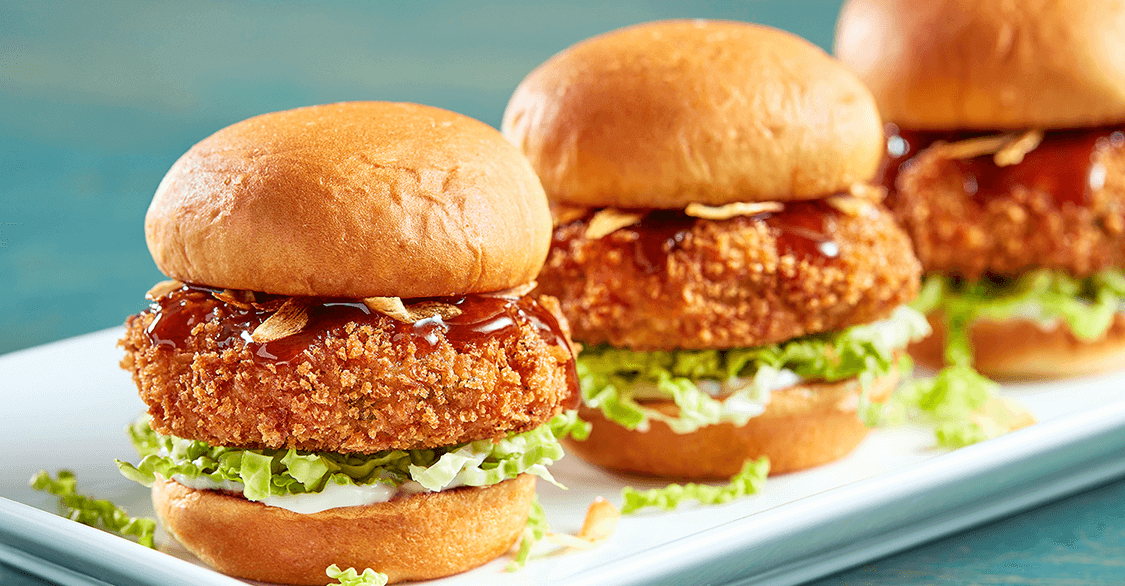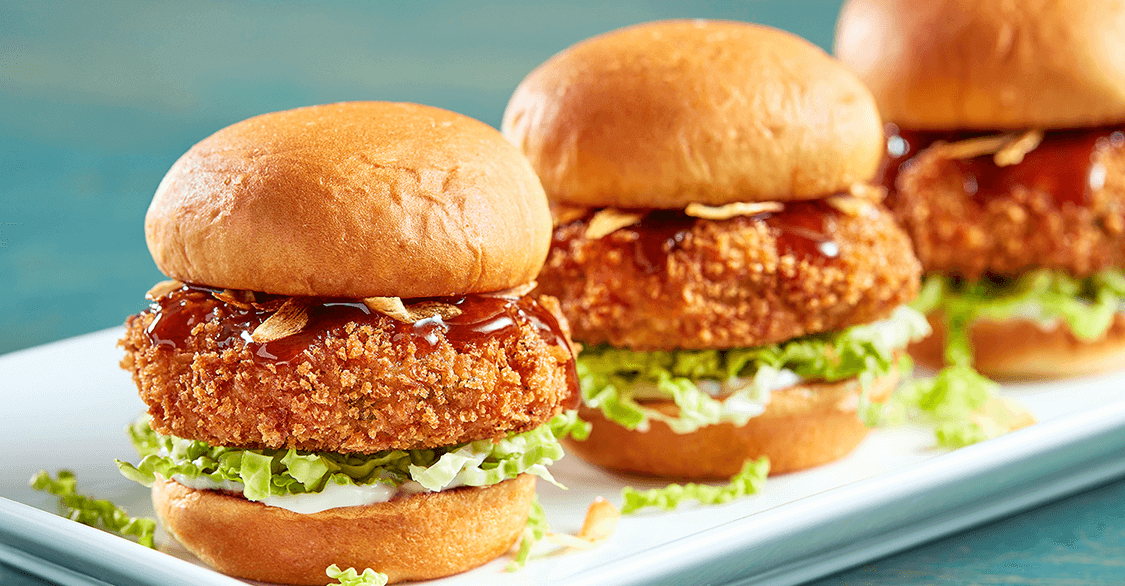 Garlic Shrimp Katsu Slider
Recipe courtesy of Chef Brandon Cook
Sponsor: King's Hawaiian
Servings: 4
Ingredients
8 oz shrimp, 75% chopped ¼-in/25% minced
1 oz water chestnuts, 1/8-in diced
2 green onions, minced
1 Tbsp minced cilantro
1 ½ tsp minced red jalapeño
1 ½ tsp minced garlic
1 ½ tsp light soy sauce
1 tsp fish sauce
½ tsp coarse salt
½ c all-purpose flour, seasoned with salt and pepper
2 eggs, beaten with a splash of water
4 c panko breadcrumbs, seasoned with salt and paprika
1 (9-count) package King's Hawaiian® Original Hawaiian Sweet Slider Buns
¼ c melted butter
½ c Asian-style mayonnaise
1 Tbsp fresh lemon juice
2 tsp 1/8-in chives
2 oz thinly shaved green cabbage
¼ c tonkatsu sauce
2 Tbsp crispy garlic
Directions
In a large bowl, combine the shrimp, water chestnuts, green onions, cilantro, jalapeño, garlic, soy sauce, fish sauce and salt. Fold together with a rubber spatula until evenly combined.
Form into nine equal patties, then dredge each one in the seasoned flour, dip in the egg and dredge in the seasoned panko.
Deep-fry the shrimp cakes at 350 degrees F for 3 minutes or until cooked through and golden brown. Transfer to a plate lined with paper towels and season with a pinch of salt.
Brush melted butter onto the cut sides of the slider buns and toast on a griddle until golden brown, 30 to 45 seconds.
Place the mayo in a small bowl and zest half of the lemon into the bowl over the mayo. Squeeze in the juice of the lemon and add the chives to the bowl, stirring to combine.
Spread the mayo onto the toasted cut surfaces of the slider buns.
Divide the cabbage among the bottom buns and top with the shrimp cakes.
Drizzle the tonkatsu sauce over the shrimp cakes and sprinkle with crispy garlic. Add the top buns and enjoy.
Project Management: Summit F&B
Photography: Carlos Garcia // Food Styling: Peg Blackley & Bree Williams