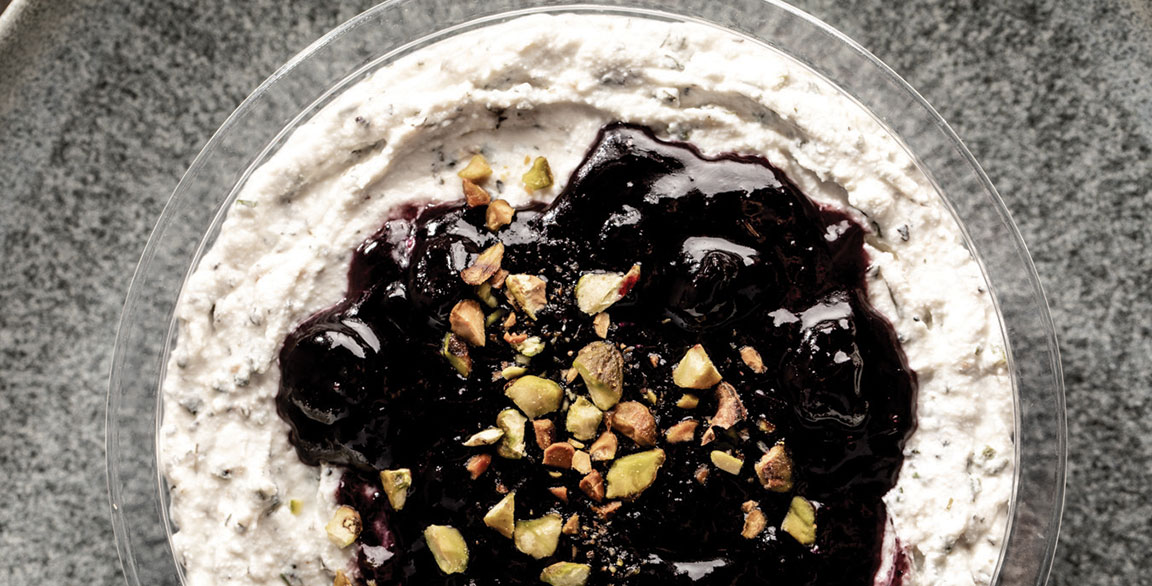 By Flavor & The Menu
November 1, 2021
"Our customers love blueberries and give us permission to try them in many innovations," says Chad Thompson, Product Innovation, R&D, with Einstein Bagels, explaining why blueberries are a go-to when ideating new items. That love of blueberries is a national phenomenon, thanks to its natural sweet-tart flavor, plump juiciness and superfood status. Its year-round availability makes it all the more appealing to operators, along with its ability to elevate flavor, boost nutrition and add striking color.
Here are seven distinct ways to utilize blueberries in their various forms, leveraging their signature qualities for unexpected applications.
1

PICKLED

Quick pickling is a savvy technique that helps extend the fresh blueberries' shelf life by re-plumping them and adding a tart pickled flavor. It gives them a new lease on life with all-new menu possibilities. Incorporate into salads, slaws and salsas to add a contrasting hit of color and acidity.
Inspiration
"We dry, ferment and pickle summer fruits, and blueberries are one of our favorites to use at the restaurant for our charcuterie plates. We get great reactions from people when they try the pickled blueberries because at first glance they look like fresh berries, but then have a burst of that tart pickled flavor."
HOSEA ROSENBERG, Chef/Owner of Santo and Blackbelly restaurants in Boulder, Colo.
2

POWDERED

Whole dried blueberries are powdered, concentrating the color while getting rid of all of the moisture, making this blueberry form ideal for including in spice blends, rubs, meringues, ice cream desserts, cocktail components, and more. For example, blueberry powder in a brisket's dry rub adds an extra layer of flavor, but it also gives the outer layer of the brisket a beautiful deep blue hue and a new textural component. Powdered blueberry is also a great thickener, like a roux.
Inspiration
"Powdered blueberries, heavy cream and honey in an Isi dispenser make any breakfast a better decision."
JASON KNOLL, VP of Culinary, Another Broken Egg
3

SAUCED

Of course, blueberries boast a naturally sweet flavor profile, but it's their light tanginess and balance between the two that makes them so versatile and the ideal modern accent to savory sauces. Blueberries give chefs broad versatility with nuanced flavor that helps deepen complexity in savory applications, turning a familiar sauce, glaze or compote into something new and craveable.
Inspiration
"In our Smoked Turkey Breast with an orange-ginger-blueberry sauce, the intense sweetness and rich color of IQF blueberries match well with the rich, savory umami notes of the turkey. It's a high-quality fruit with built-in cost savings, supply chain reliability and a long shelf life."
STEVE STURM, Senior VP of Food & Beverage, Firebirds Wood Fired Grill
4

FERMENTED

Lacto-fermented blueberries replace the sweet-tart, juicy flavor profile of fresh blueberries with a tangy, almost salty flavor and a jammy consistency. In savory applications, it adds an intriguing complexity of flavor and in sweet applications, it surprises with a contrasting undertone, like miso paired with caramel. Try blending fermented blueberries, then tossing roasted vegetables in the purée, or brushing the purée onto meats before grilling.
Inspiration
"I made this custard-based French dessert called a flaugnarde with a blueberry-cardamom compote and blueberry fool. I featured fermented blueberries, reduced the amount of sugar, and used almond meal to give it more body than the traditional version. It eats well and looks great."
KEVIN CECILIO, Senior Director Culinary Innovation, Sodexo, USA
5

FROZEN

In addition to helping with food cost and waste reduction, frozen blueberries can give menu items a sharper edge. IQF blueberries tend to break down easier than fresh when cooked, and the naturally occurring pectin helps thicken sauces.
Inspiration
"Our chefs are using frozen blueberries in a new brunch favorite: buckwheat pancakes topped with blueberry-thyme compote. We also love them in all types of salads and vinaigrettes and served over roasted vegetables."
JAMES BENSON, Director of Culinary Excellence of Yale Hospitality at Yale University in New Haven, Conn.
6

PURéED

Fresh blueberries get crushed, heat/enzyme treated, vacuum concentrated, then pasteurized, packaged and frozen, ready for beverage, sauce, dip, dressing and dessert innovation.
Inspiration
"We feature a blueberry purée in our Tropical Berry Lemonade at Daily Grill, with guest's choice of vodka, gin or rum. The cocktail is shaken with fresh mint and lemonade, then topped with Yellow Red Bull and garnished with a skewer of fresh blueberries. The purée makes it easy operationally. And using blueberries gives diners a little functional wellness with their cocktail."
TAMRA SCROGGINS, Director of Culinary at Grill Concepts
7

DRIED

Fresh or frozen blueberries get air-dehydrated, then further processed to dried fruit specs. Use them as "croutons" or inclusions in bowl builds, or crush them into a powder. Plump them with stock, juice or liqueur, then add them to grain bowls, puddings or other desserts.
Inspiration
"I love dried blueberries and use them as I use raisins, like in a rice pilaf that might have almonds, herbs and raisins I would replace with dried blueberries. I also like to stud proteins like a pork belly with raisins, so again go ahead and stud a pork belly with the dried blueberries pre-roast for a cool flavor and color combo."
DAVE WOOLLEY, Director of Deliciousness, Buffalo Wild Wings
Find on-trend menu ideas starring blueberries at blueberry.org/foodservice.