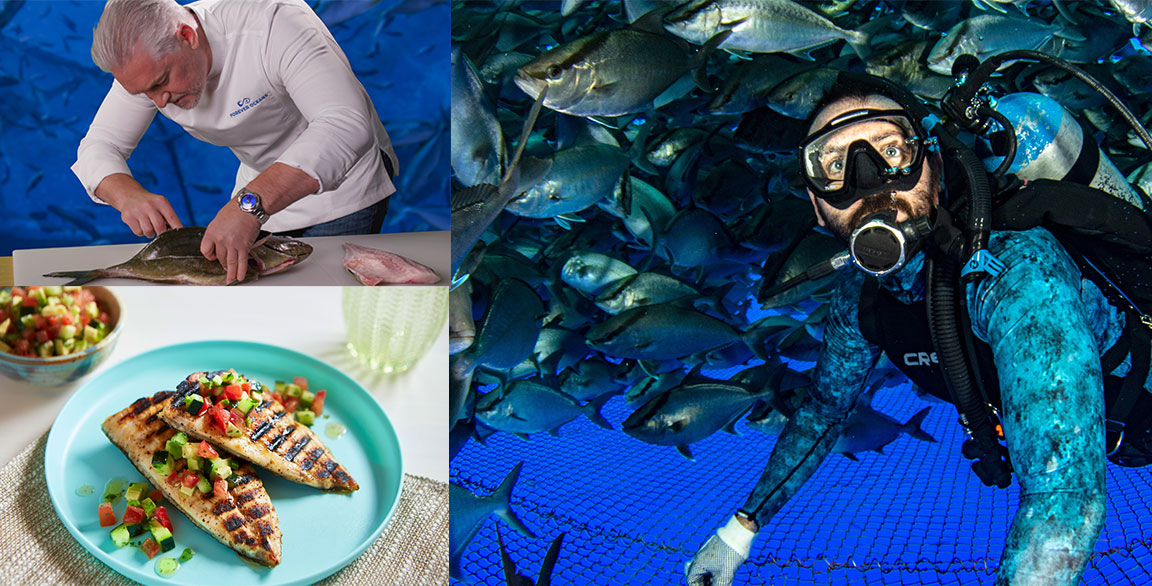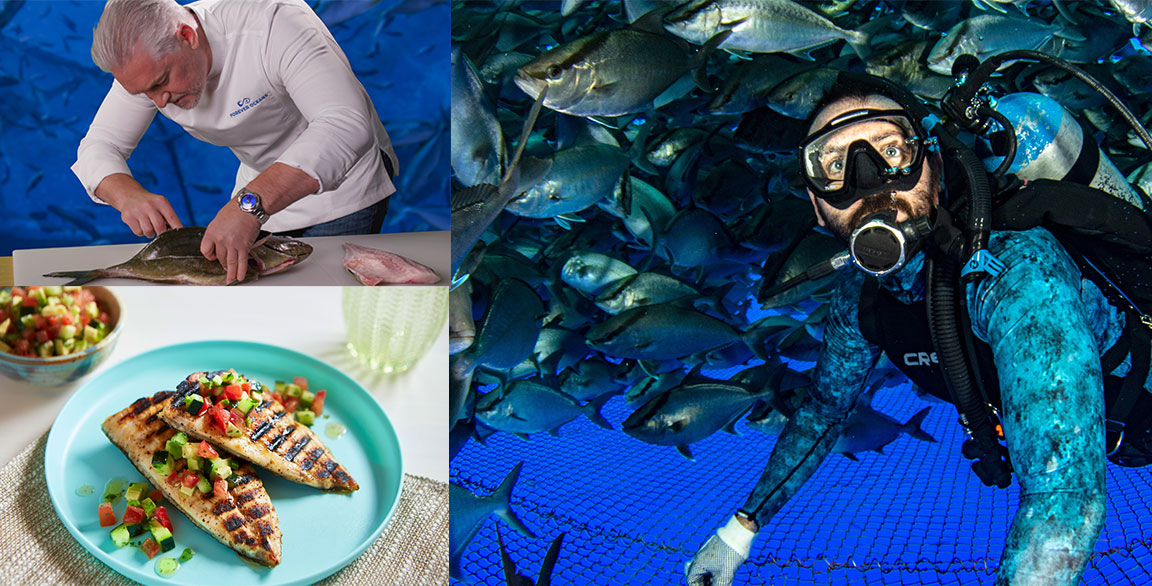 By Flavor & The Menu
November 1, 2021
Fresh-caught seafood on menus just got fresher thanks to Virginia-based Forever Oceans. This next-generation seafood company is leveraging technology to raise fish in off-shore enclosures that is delicious, versatile, and high in omega-3s.
"We've developed a game-changing process for protecting our oceans while efficiently raising fish that are contaminant free and high in omega-3s," says Monica San Miguel, Forever Oceans Chief Brand Officer. "Our decade-long trek toward a scalable technology solution is driven by robots who nurture the fish and help us to remotely monitor their health from scores of ocean enclosures around the globe."
Branded as Kahala™ by Forever Oceans, the term means "Cherished Land" in Hawaiian but is also the local name for an amberjack or longfin yellowtail (its scientific name is Seriola Rivoliana). The Hawaiian connection to Forever Oceans came from its research operations off the Kona Coast. The company has expanded its process on a broader scale with enclosures off the coasts of Panama, Brazil and Indonesia.
"We're bringing a sashimi-grade, light, flaky fish to market at a perfect time for restaurants," says San Miguel. "Consumer interest in fresh seafood has never been higher. By menuing Kahala, operators can support their brand by offering a sustainably delicious fish that is high in omega-3s and contaminant free." A new consumer survey conducted by independent researcher, Package InSight, supports San Miguel's claims.
Being fresh, flavorful and contamination-free are the top three determining factors in selecting a fish on a menu. Forever Oceans' Kahala checks all the boxes for success, especially when it comes to helping customers get the best in flavor from your menu.
Forever Oceans is also educating chefs and operators on the benefits of adding Kahala to their next menu. "We have built a powerful alliance of 35 chef influencers to help restaurants be successful," says Mark Allison, the company's Executive Chef. "I've never found a more consistently delicious fish with multiple ways to prepare the fish. Our influencers agree and are eager to add Kahala to their own menus.
Known as the "Godfather" of sustainable seafood, Chef Rick Moonen is one of those influencers and the host of Forever Oceans' Ocean-Raised Podcast. The podcast episodes include notable culinary legends ranging from José Andrés, Andrew Zimmern, Rick Bayless, David Burke, Jacques Pépin, Emeril Lagasse and Jasper White. The company has assembled a variety of dishes that can be used on restaurant menus in a new recipe book that can be found at ForeverOceans.com.
Forever Oceans Kahala is now available for purchase by restaurant operators. To learn more or request a free sample, visit ForeverOceans.com/samples.