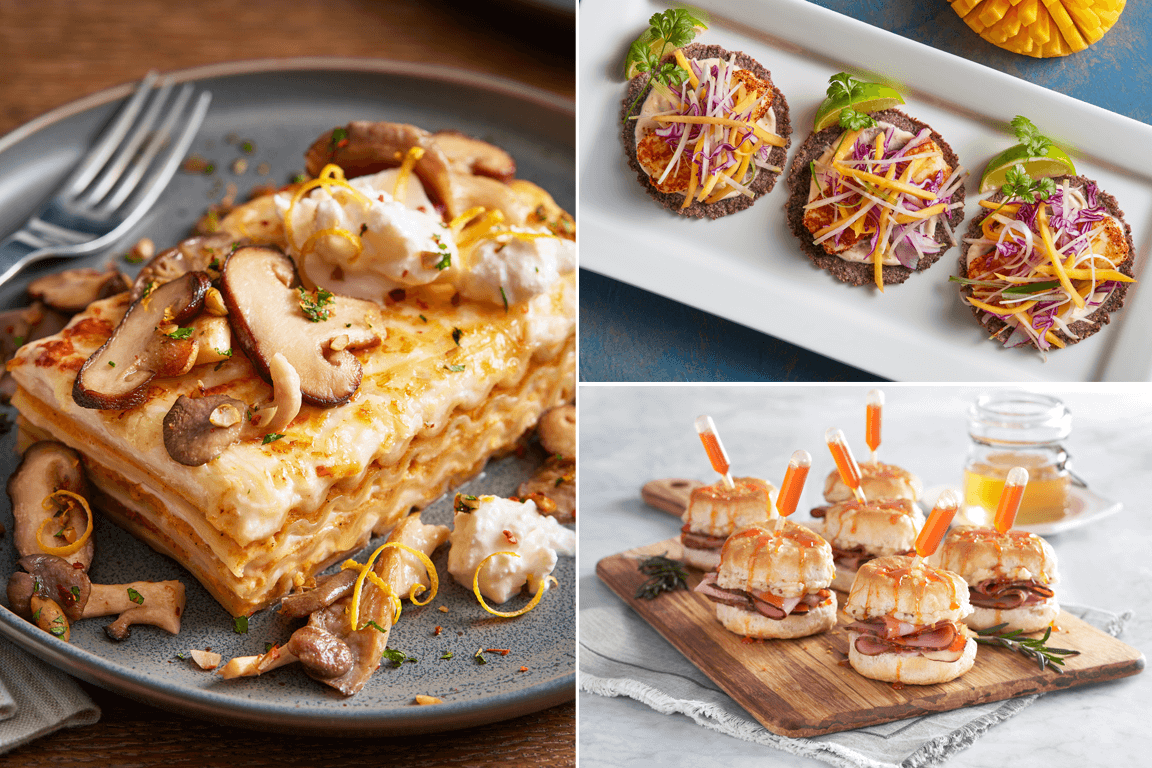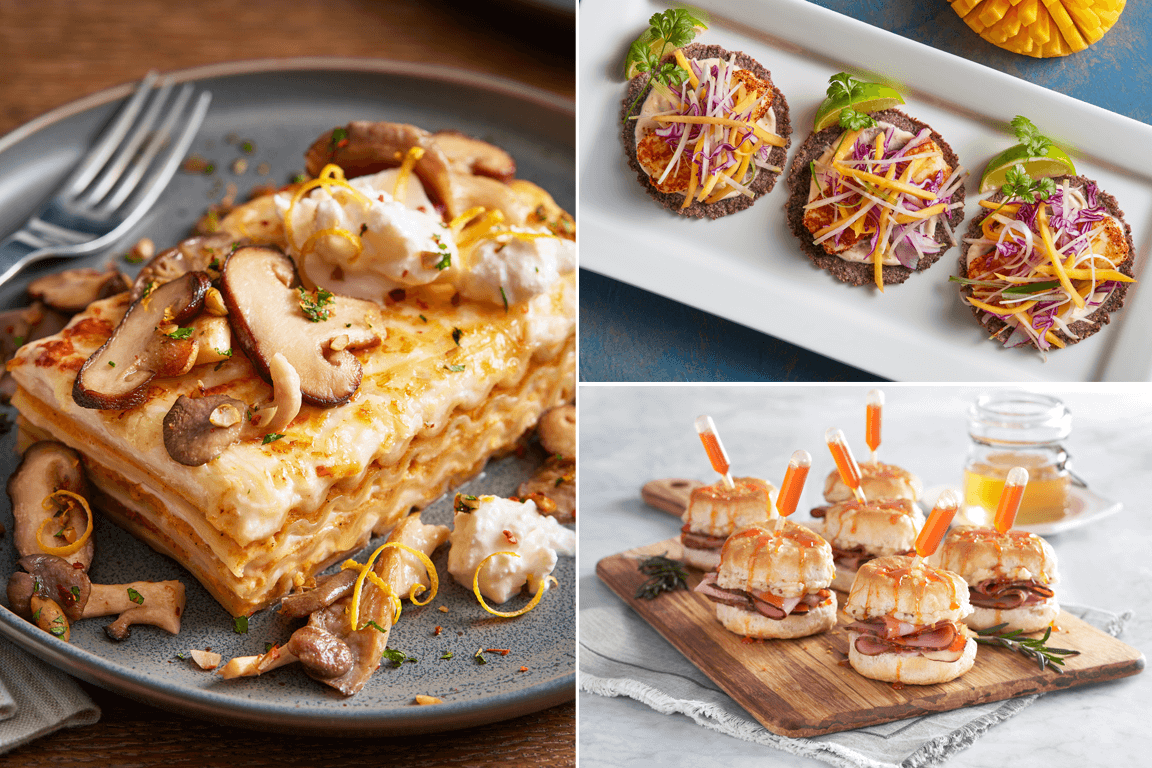 Kitchen Collaborative is a recipe-development initiative formed by Summit F&B and Flavor & The Menu. To fuel flavor innovation, a group of talented chefs partnered with sponsor brands and commodity boards to create recipes that showcase the passion and potential of our industry.
"I think we can learn a lot from dishes grounded in tradition—and then put our own, modern spin on them," says Thomas Dritsas, Culinary Concept Chef for the Whiskey Cake Kitchen & Bar and Ida Claire concepts from Front Burner Restaurant Group. "Take a dish like a classic vichyssoise," he cites. "We can revisit the varieties of potatoes or source different alliums for the leeks. We can apply different cooking techniques to the potatoes, like a confit or coal roasting over a particular type of wood. We can even substitute plant-based dairy for the cream. Making such discoveries has been my core inspiration throughout my career."
The three recipes Dritsas created for Kitchen Collaborative reflect his enthusiasm for creating next-level iterations of iconic dishes, in this case: lasagna, tacos and Southern-style biscuits. Each demonstrates thoughtful considerations of elements to either retain or replace. The Barilla® Foraged Mushroom Lasagnette, for example, uses a sweet potato mousse filling; the Seared Halloumi and Mango Tacos feature an unconventional protein; and the Beehive Biscuits and Ham sliders get an infusion of hot honey. But these are only the initial steps Dritsas takes to lift the flavor experience.
Barilla® Foraged Mushroom Lasagnette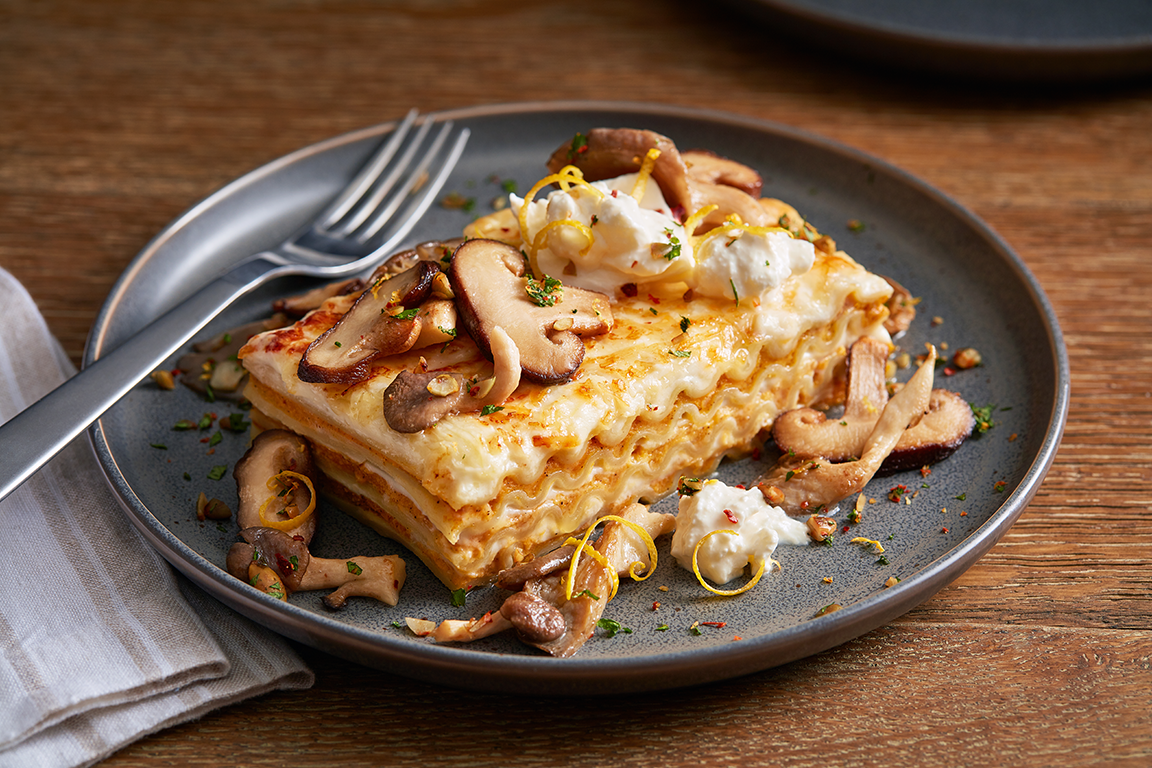 Photo: Carlos Garcia // Food Styling: Peg Blackley
Your Nonna's lasagna may always stand unchallenged in culinary memory, but the indulgent, elevated complexity of this Barilla® Foraged Mushroom Lasagnette, featuring a sweet potato mousse, garlic cream, pumpkin seed gremolata, burrata and an abundance of umami-rich mushrooms, may eclipse, at least temporarily, the supremacy of those nostalgic recollections. Dritsas wanted to push at the boundaries of lasagna, keeping a structural base that is familiar to diners, but taking the flavor, content and character of the dish in an unexpected direction.
Reflecting on the classic comfort of lasagna, Dritsas says he enjoys a similar feeling from sweet potatoes and draws other parallels: "They hit the same note in this dish that mozzarella, ricotta or meat do in a classic lasagna build." He leaned into the garlic cream to add a richness that complements the sweet potatoes. Dritsas credits Barilla Lasagne Chef no-boil, ready-to-bake lasagna sheets with providing a "super simple" base upon which to assemble the layers of cream, mousse and pasta.
Dritsas applies a broad definition to the "foraged mushrooms" in the name of the dish. While he opted for shiitake and oyster, "I wanted to cast a wide net for whatever mushroom the chef prefers," he notes, adding that morels, chanterelles, hedgehogs, cepes and porcinis are other flavorful options. The mushrooms are not baked into the lasagna layers, but used as a topping after being sautéed in butter and lightly seasoned with salt. "The lasagna would be good with a mushroom filling, but I felt cooking them simply, with care, would best represent their character as a supporting player in the dish."
In addition to the mushrooms, the dish is topped with crumbles of burrata, a generous drizzle of brown butter and a dollop of gremolata made with lemon, parsley and toasted pumpkin seeds. "The gremolata adds depth and balance to the richness of the filling, while bringing pops of freshness to the earthiness of the mushrooms and brown butter," Dritsas explains. "As you enjoy the components all together, it should teleport you to an autumn day, walking in the woods, wrapped in a warm coat and kicking up brittle leaves."
Seared Halloumi and Mango Tacos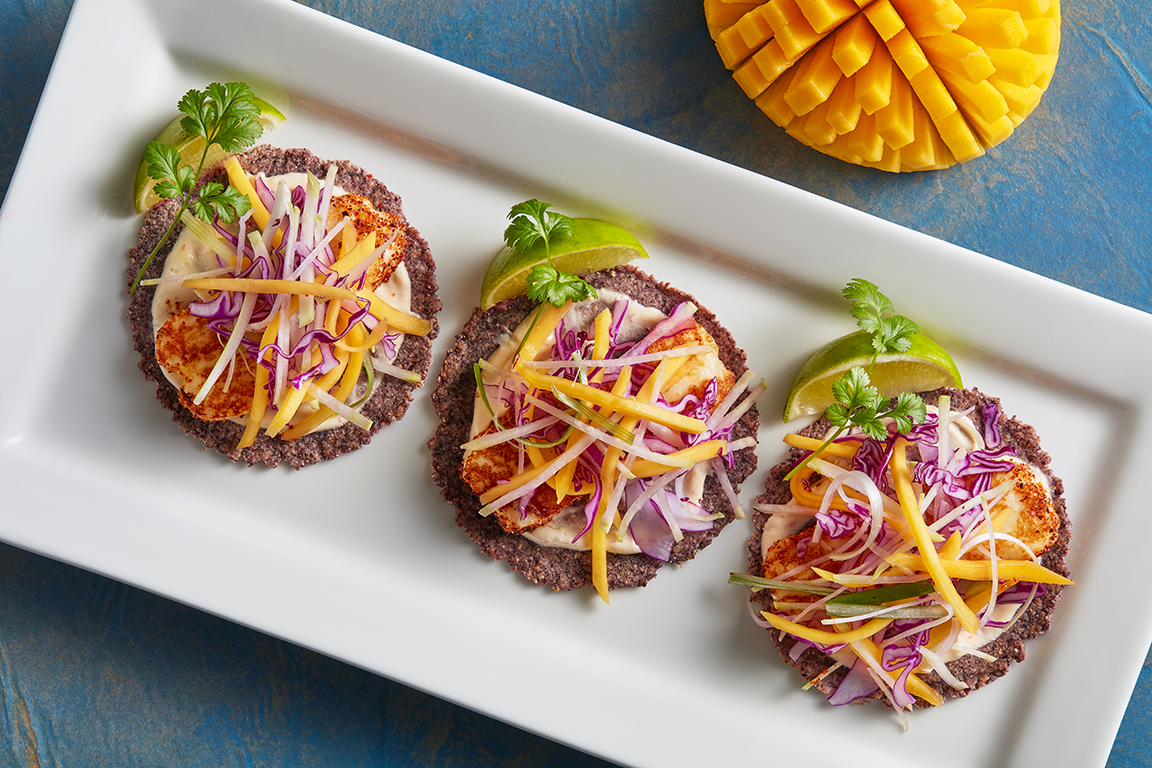 Photo: Carlos Garcia // Food Styling: Peg Blackley
The humble taco continues to serve as a leading platform for inspired culinary play, allowing chefs to explore intriguing combinations of flavors and textures. In these Seared Halloumi and Mango Tacos, Dritsas steps up to the opportunity by starting with an unconventional protein choice. "Halloumi is such a blank canvas to work with," he says. Given its semi-hard texture and high melting point, "It holds up to various cooking techniques, and it is also adaptable in supporting stronger flavors, such as the mango and Tajin."
Seared on two sides, with the uncooked sides getting a coating of Tajin, the halloumi is then placed upon a bed of mango-habanero crema, which has been spread across a blue tortilla. A generous helping of fresh mango-kohlrabi slaw tops the cheese. Cilantro sprigs and chile threads serve as finishing touches.
Each component in the build was selected with care. Consider, for example, the kohlrabi, chosen above other cabbage options, largely thanks to its adaptable, slightly floral flavor, which doesn't overpower the other ingredients, says Dritsas. In addition, "I wanted some crunch, but not the super crunch found in a standard cabbage, as that would be an abrasive contrast to the soft bounce of the halloumi," he notes. Similarly, "Use of the blue corn was intentional, due to the subtle color profile of the other elements. I am a big fan of blue corn, and when it's freshly ground, it can produce a flexible, moist vessel for all the other ingredients."
Dritsas sees potential for this dish in several global cuisines, particularly concepts that specialize in Greek, Turkish or Latin dishes. "It could be a 'mexaterranean' connection among all the ingredients," he says.
Beehive Honey Biscuits & Ham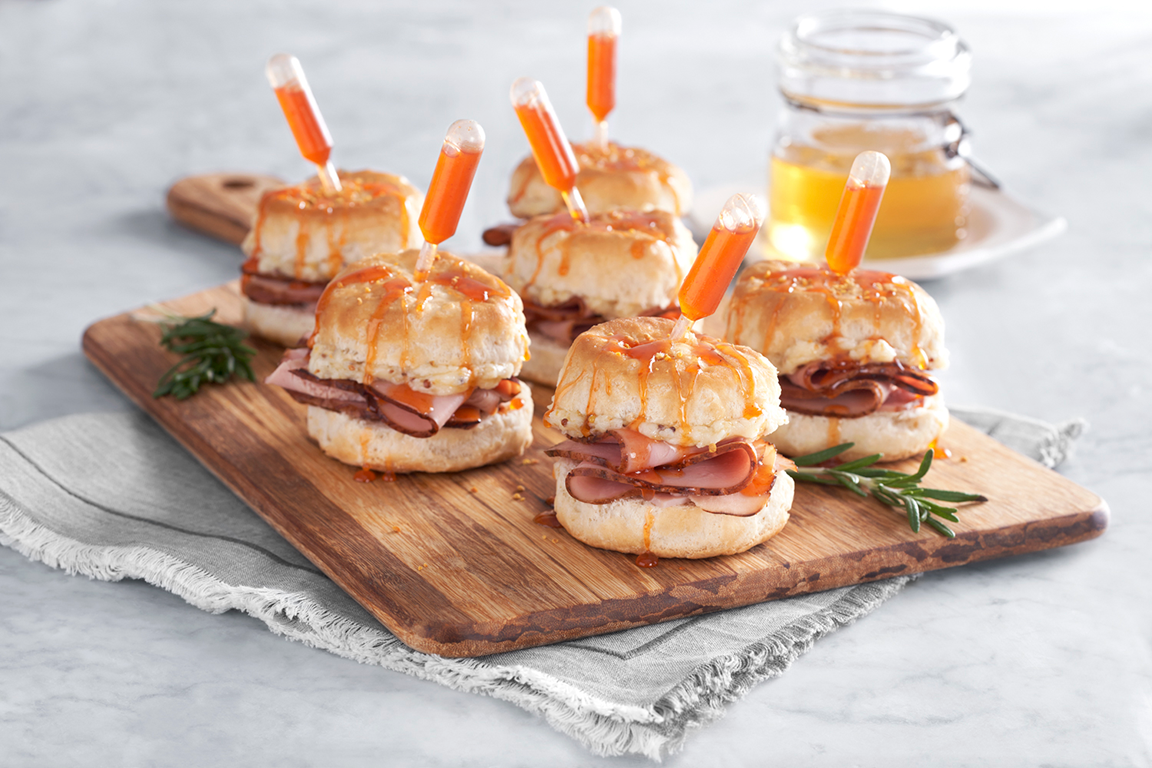 Photo: National Honey Board // Food Styling: Peg Blackley
Given that the baseline craveability of Southern-style honey butter biscuit sliders is pretty high to begin with, Dritsas found himself taking on the delicate challenge of elevating an iconic dish without alienating its fans. For his Beehive Honey Biscuits & Ham, that meant swapping in a rosemary lamb ham, adding bee pollen dust and kicking up the flavor with a hot honey infusion.
Dritsas calls the lamb ham an "amazing" product that carried the richness of the protein with a slightly grassy tone. "It went very well with the honey and lifted the complexity of this Southern staple," he notes. "Regular ham brings salt, but very little character. I wanted to pull every lever of flavor that I could stack up to create a craveable biscuit experience."
For the hot honey, Dritsas selected a citrus varietal to combine with ground Aleppo pepper and jalapeño hot sauce. "I like to pair up sweet versus heat to balance the two, and I liked the citrus notes it brought," he explains, noting that rosemary or tupelo are other solid options that bring different sensory experiences forward. "A chef might prefer the floral notes of rosemary to bring a savory component to the show or bring some buttery character from the tupelo into the biscuit. The person making the dish sets the journey; they don't need to be locked into what I experienced when creating it."
His choice to use crushed bee pollen dust as a grace note for the biscuits was a means of introducing another product from the labors of bees, Dritsas explains. Its primary function is to add to the "floral stacking" of the dish. "Visually, it's a 'flower versus flour' dusting on the biscuit. But what really catches the eye is a pipette filled with the hot honey and plunged into the crown of the biscuit, allowing diners to drizzle the honey on their own. This experiential touch was critical, says Dritsas. "I wanted the person enjoying the dish to have their hand in the level of commitment with the hot honey."
Project Management: Summit F&B
Photography: Carlos Garcia // Food Styling: Peg Blackley