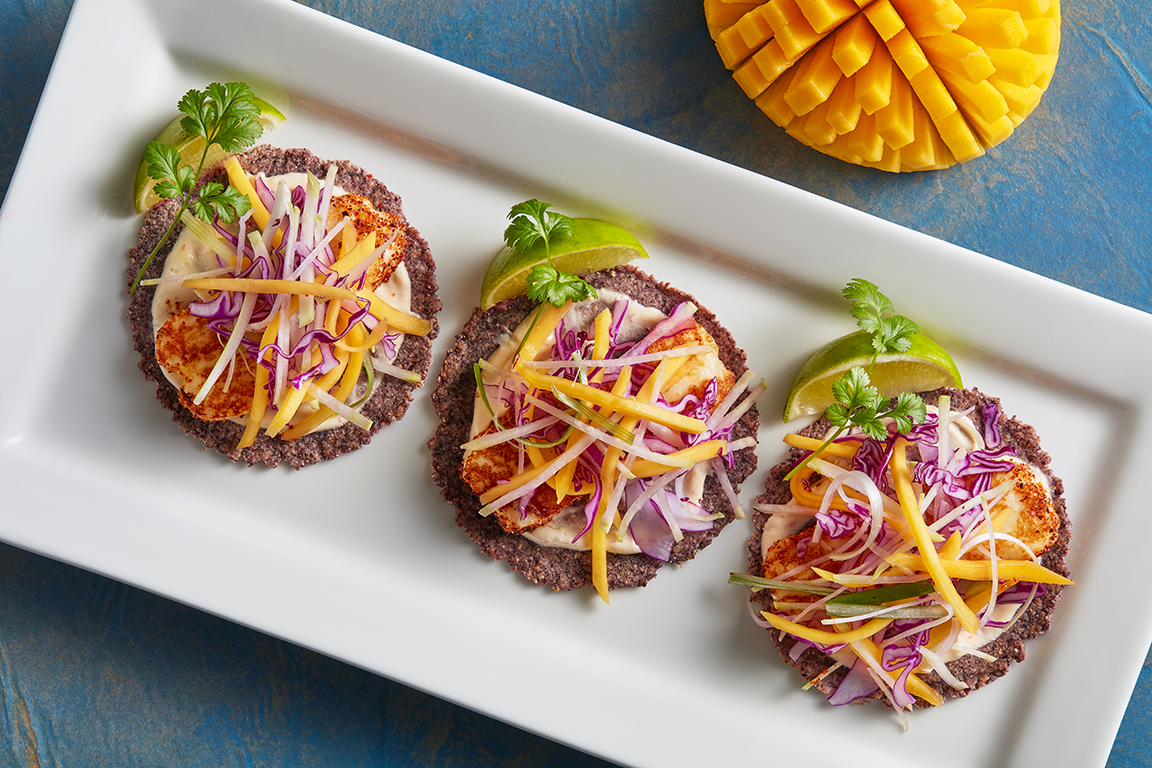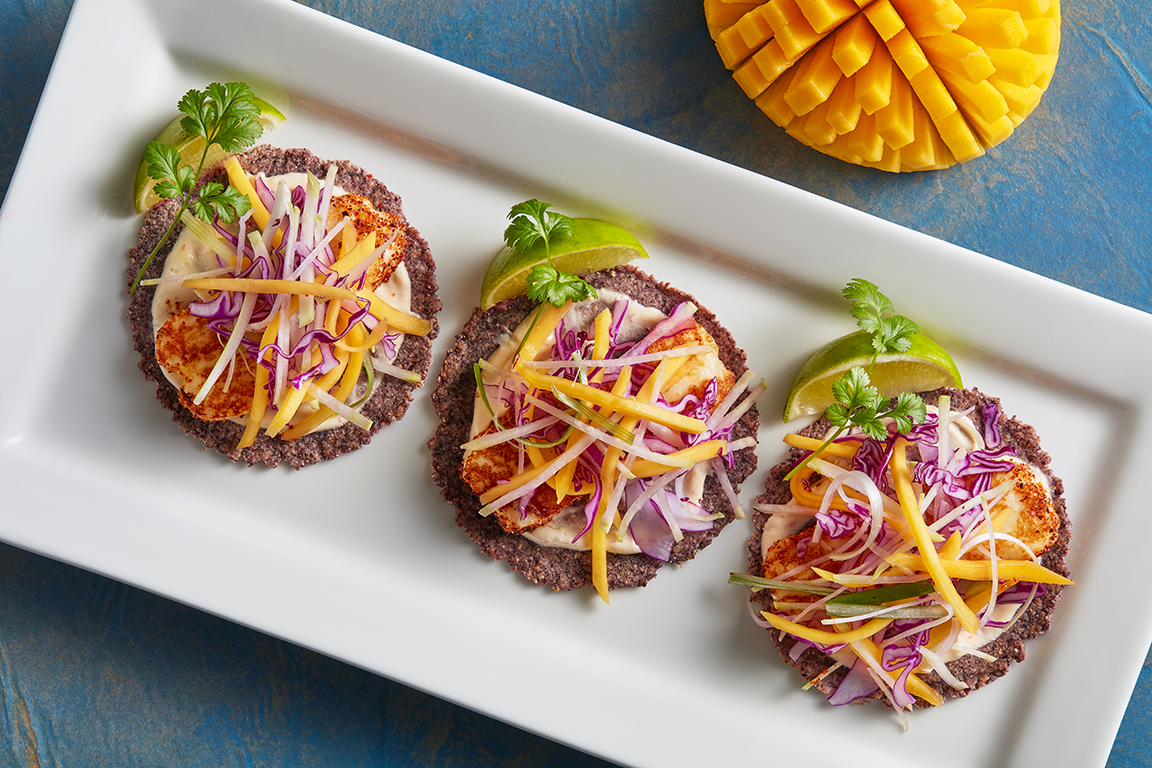 Seared Halloumi and Mango Tacos
Recipe courtesy of Thomas Dritsas
Sponsor: National Mango Board
Servings: 3
Ingredients
Tortillas Azul (Yield 6):
½ c blue corn masa
Kosher salt, as needed
1/3 c cold water
Mango-Kohlrabi Slaw (per serving):
½ lime
½ c julienned firm mango (slightly underripe)
¼ c julienned kohlrabi
1/8 c shaved red cabbage
1/8 c julienned green onion
Kosher salt, as needed
Mango-Habanero Crema:
1 habanero pepper, stemmed
½ lime, zested
½ c mango purée
1 c Mexican-style crema
½ tsp organic agave syrup
Kosher salt, as needed
Seared Halloumi Tacos (per serving):
Grapeseed oil, as needed
3 oz halloumi cheese, cut 3 x 1 x ½ in
1 Tbsp Tajin
3 blue tortillas, warm
9 fresh cilantro sprigs
Chili threads for garnish, as needed
Directions
For the Tortillas Azul:
Place the masa in a medium bowl and add a pinch of salt. Distribute it into masa with your fingers.
Add the water and mix by hand to combine, until it forms a smooth soft dough. If it feels dry, add a few drops of water and mix.
Divide the dough into 6 equal balls. One at a time, place a dough ball between two pieces of wax paper and gently press with a tortilla press until they are 4 ½ in diameter.
Preheat a cast-iron pan or flat griddle to medium-high heat. Cook each raw tortilla 30 seconds to 1 minute on each side. Transfer cooked tortillas to a kitchen towel to hold warm.
For the Mango-Kohlrabi Slaw:
Squeeze the lime juice into a small bowl.
Add the remaining ingredients and toss to evenly distribute. Season with salt.
Make this to order, if possible.
Mango-Habanero Crema:
Preheat a cast-iron skillet or pan over medium-high heat. Dry roast the habanero, ensuring the skin is toasted on all sides. Transfer it to a blender.
Add the lime zest and remaining ingredients and slowly purée until smooth.
Transfer to a container and refrigerate.
For the Seared Halloumi Tacos:
Preheat a cast-iron or nonstick pan on medium-high heat. Rub oil on the surface.
Sear the halloumi on the two flattest sides. Caramelize the surface of the cheese, then repeat on the other side. Transfer the cheese to a plate.
Coat the unseared sides of the cheese with Tajin.
To plate, spoon Mango-Habanero Crema onto each flat warm tortilla on a serving plate. Transfer 1 oz of the halloumi to each tortilla. Split the slaw between the tacos.
Garnish each taco with 3 cilantro sprigs and finish with some chili threads.
Chef Notes
The tortillas can be made in advance and microwaved in a damp towel as needed. Or use purchased high-quality blue corn tortillas.
Project Management: Summit F&B
Photography: Carlos Garcia // Food Styling: Peg Blackley