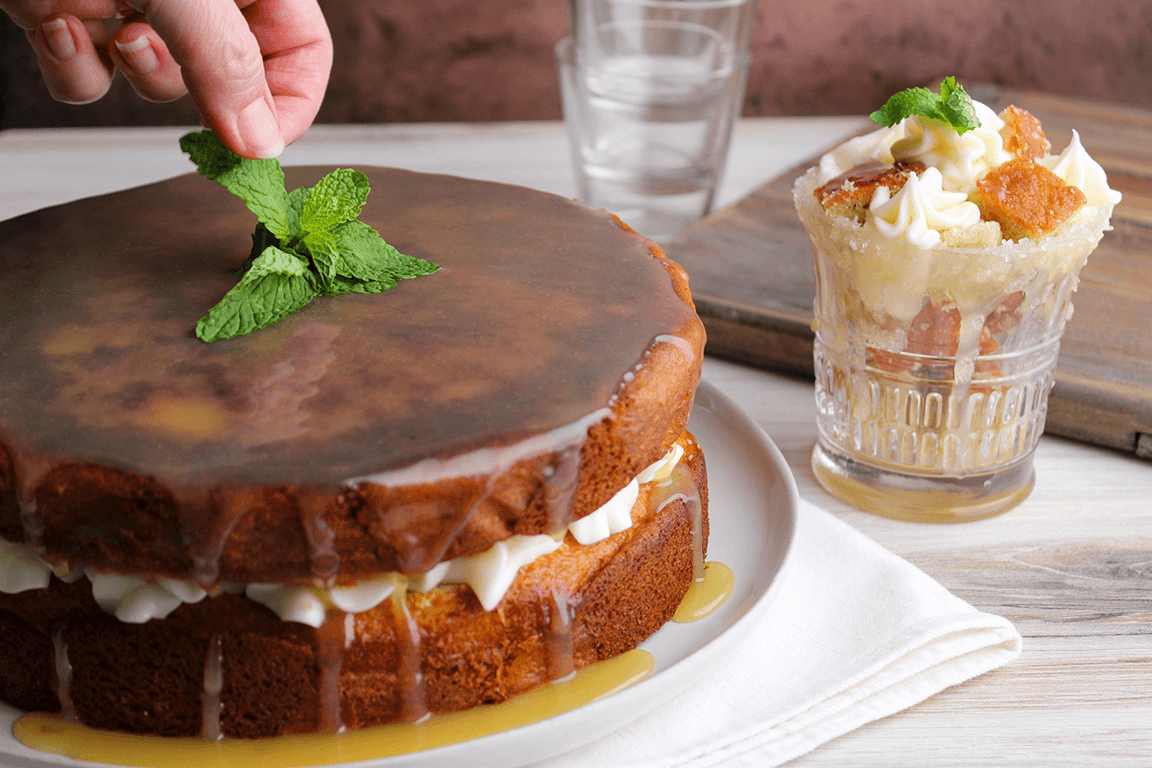 It's not much of a linguistic leap from "baked goods" to "baked goodness," and the word play serves as an appropriate axiom for foodservice operators to keep front of mind. Most restaurants, even niche concepts, have discovered the "goodness" in offering dessert and snack options—even just one or two—to appeal to a near-universal desire among customers to inject some sweetness into different menu dayparts.
In recent years, however, the labor, supply chain and financial pressures that resulted from the pandemic may have prompted some operators to cut back on a dessert program or to jettison it entirely. Certainly, there's been concern throughout the industry about the significant investment in kitchen time and skill that is required to explore fresh, trend-forward desserts or to develop signature creations.
Ready to Bake batters from Krusteaz Professional offer chefs a high quality speed scratch solution to revive, expand or even launch a fresh baked goods program, leveraging such advantages as competitive differentiation, guest satisfaction, repeat visits and higher ticket totals. Available in three cake+muffin varieties and a brownie, the Ready to Bake batters zero in on items with inherent popularity.
According to 2022 research from Datassential:
84 percent of consumers like/love brownies, and they are in the top five on dessert menus.
79 percent of consumers like/love cake, and it is the No. 2 dessert on menus.
Muffins are the No. 1 breakfast baked good
Datassential Snap! Brownie, Cake, Muffin Reports 2022
The back-of-house benefits of speed-scratch ingredients are commanding greater value in today's commercial kitchens. With skilled labor continuing to be in short supply, every menu item must be planned with strategic forethought that prioritizes time. Savvy chefs know that the secret isn't found in cutting corners, but understanding where best to focus talent and creativity, making smart decisions about leveraging the boost that speed-scratch products can provide.
Of course, the bottom line for the bottom line is that speed-scratch products must reliably replicate the flavor and performance quality expected by operators and customers alike. Ready to Bake batters were created with chef involvement and put through extensive field testing before coming to market.
Ready to Bake batters provide consistently delicious bakery-quality products: brownies with perfect flaky tops and a fudgy-rich texture; moist cakes that cut cleanly; muffins that boast impressive heights and crowns. These batters can also provide the base for stunning, Instagrammable presentations, trend-forward flavor builds and standout signature offerings. Ready to Bake batters give you and your kitchen team "room" to direct attention on creating signature touches: unexpected shapes and sizes, inclusions, toppings, glazes and finishes.
Create and Captivate
"The broad spectrum of dessert offerings is very diverse in the industry. Sweet-savory combinations with unique ingredients and served with very stylized plate presentations are prevalent today," says Chef Dimitri Ponomarchuk, CEC, Director, Krusteaz Company Culinary Resources, acknowledging that traditional offerings remain a staple on many menus.
Ready to Bake batters are available in four versatile flavors that provide operators with a long runway to make inspired menu moves with streamlined inventory:
Brownie Batter (with chocolate chips)
Sweet Cream Vanilla Cake/Muffin Batter
Chocolate Cake/Muffin Batter
Cinnamon Spice Cake/Muffin Batter
Here are five examples that illustrate the potential for developing on-trend, flavor-forward signature items that can deliver higher check totals without significant labor impact.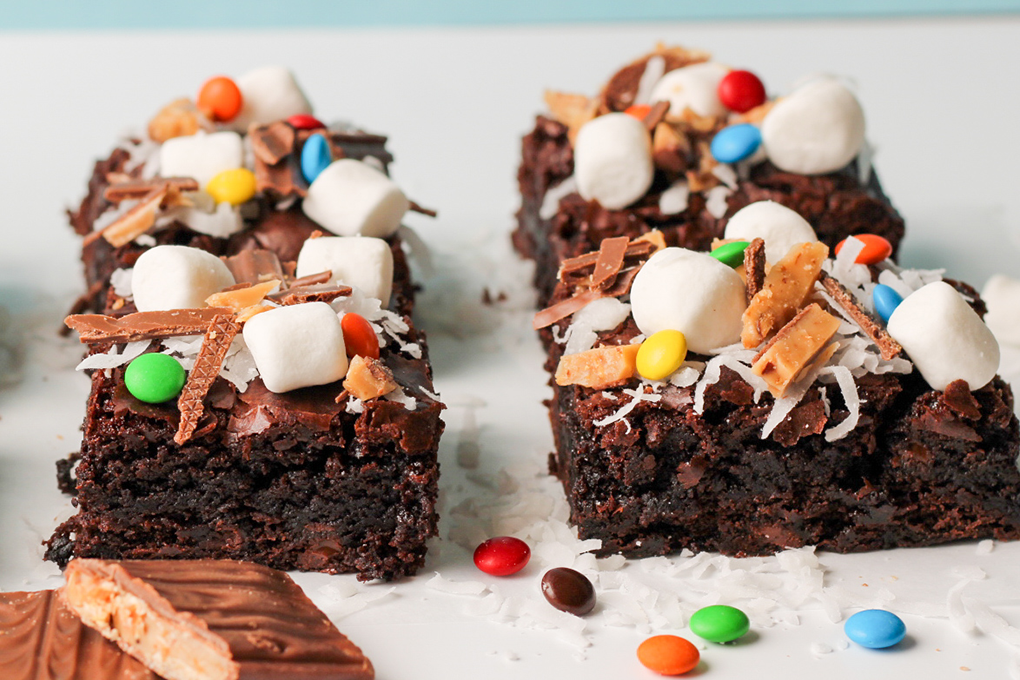 1
Kitchen Sink Brownies
Use Ready to Bake Brownie Batter to appeal to Gen Z's affinity for "chaotic creations." Go crazy with inclusions that deliver different flavors, colors and textures. The example here features mini marshmallows, sweetened coconut flakes, mini M&M candies and broken Heath Bar pieces, but anything goes. See what results if you add crushed potato chips, pretzel sticks, trail mix and/or fruit pieces to push the envelope further.
2
Chocolate Waffle "Charcuterie" Board
Chocolate Cake/Muffin Ready to Bake Batter is your means to capitalizing on the "board" trend that took off with charcuterie presentations a few years ago and now is inspiring other inventive shareable presentations for all dayparts. Here, chocolate waffles are the sweet carriers of a wide range of complementary brunch ingredients, including fruits, nuts and flavored syrups.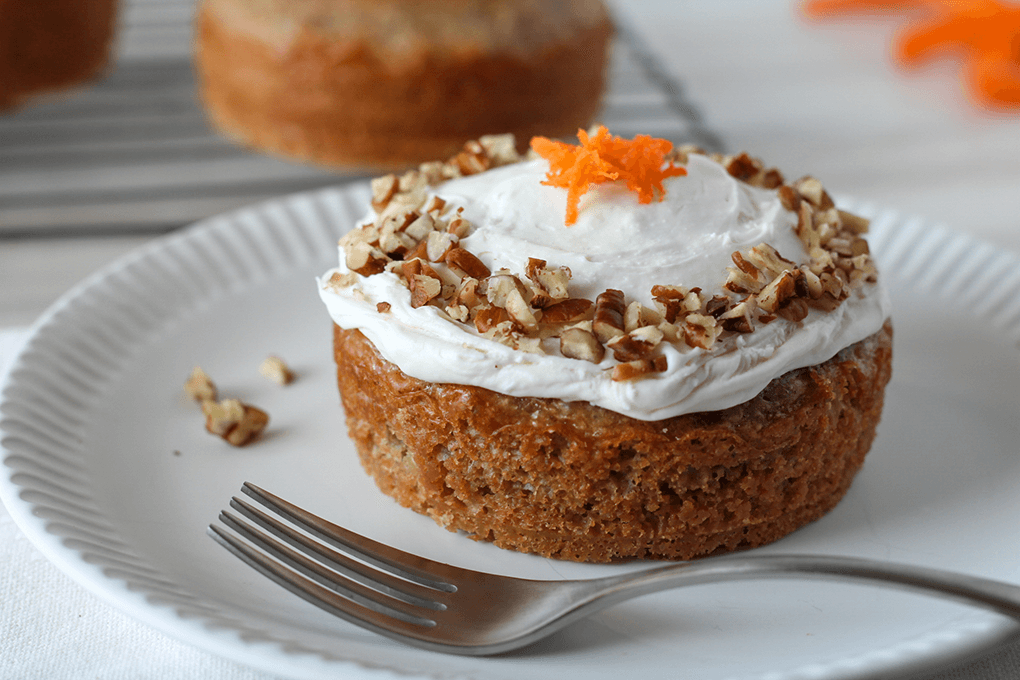 3
Mini Carrot Cakes
Smaller portions allow guests to indulge in dessert without guilt or the discomfort of adding to an already filling meal. There is also an artistry around bites that reflects quality and craft—and earns social media posts. Here, shredded carrots and raisins are added to Cinnamon Spice Cake/Muffin Ready to Bake Batter. Each individual portion is topped with cream cheese frosting, chopped toasted pecans and a bit of shredded carrot for a pop of color in an elegant presentation.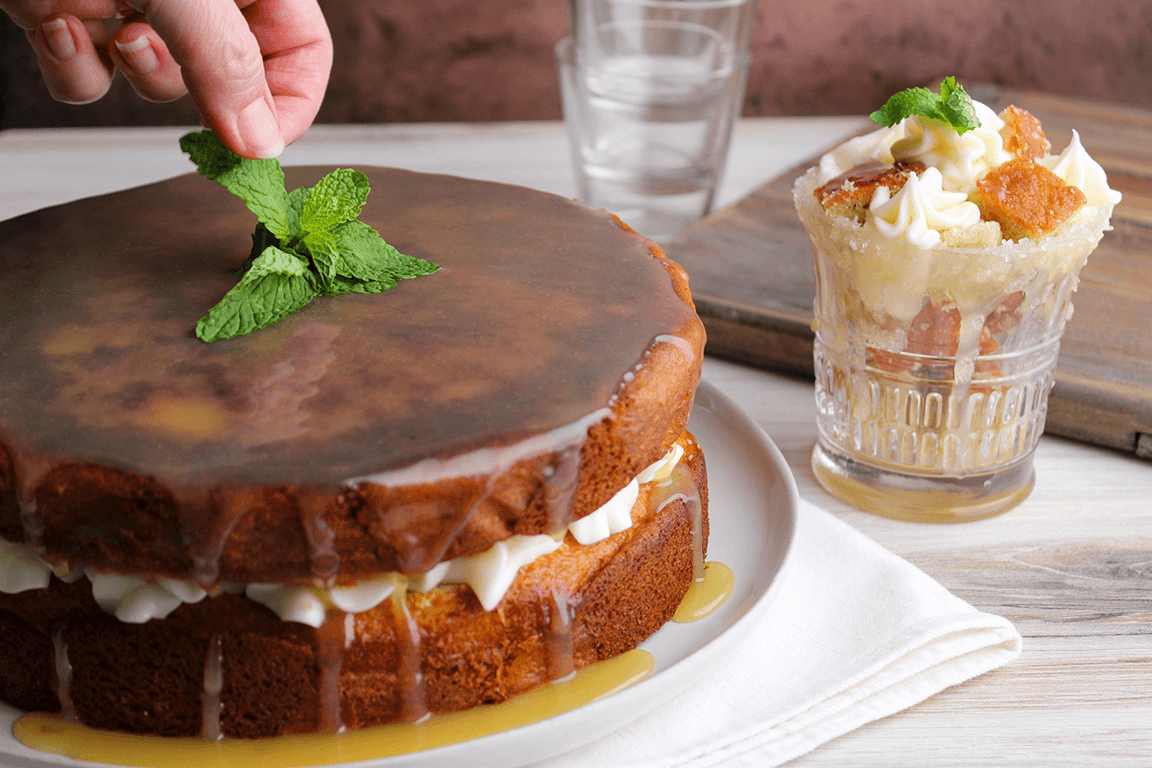 4
Irish Whiskey Cake
Adding a bit of booze is a sure-fire way to attract attention. Here, Sweet Cream Vanilla Cake/Muffin Ready to Bake Batter gets a shot of whiskey before being baked into rounds. Once cooled and leveled, the layers are iced with a rich cream cheese frosting (including more whiskey) and then covered with a shiny glaze (featuring, yes, more whiskey). It's the perfect signature dessert for an Irish pub or a well-timed LTO that could work nicely at a wide range of eateries leading up to St. Patrick's Day.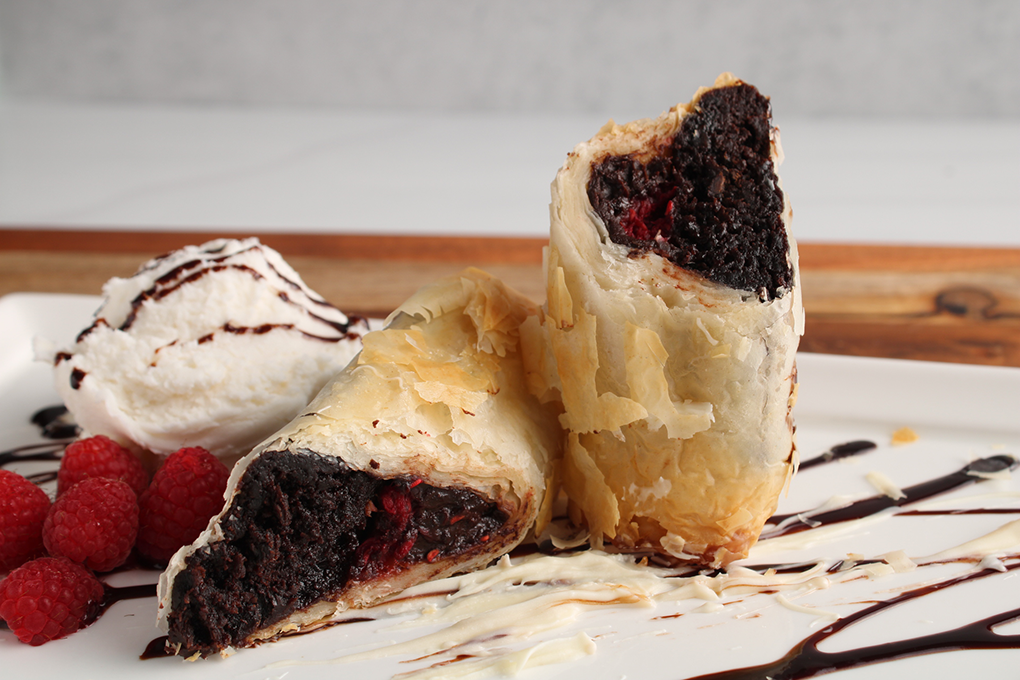 5
Phyllo Wrapped Raspberry "Spring Roll" Brownies
This inventive take not only upends conventional expectations about showcasing brownies beyond the ubiquitous sundae application, it also plays on the growing awareness and interest in global cuisines without the risks of unfamiliar ingredient combinations. After Ready to Bake brownies have been baked and cooled, they are placed in the center of a three-layer stack of phyllo sheets, topped with raspberries and a prepared chocolate ganache and then rolled, burrito-style and baked until crispy golden.
Free Your Imagination
Ready to Bake Batters give chefs the freedom to customize without adding inventory—even making use of ingredients that might otherwise go to waste, such as ripe fruit or carrots. Use these in daily specials for dessert, breakfast, brunch and snacks.
With your creativity unleashed, execution of your inspirations simply couldn't be easier, thanks to the convenience of Ready to Bake Batters. Short-staffed or dealing with frequent kitchen turnover? No training is required to produce delicious results. From bag to pan, there's no thawing, measuring or mixing required—and no mess to clean up. Delivering consistent yields, the products help to reduce food waste. They also bake at any altitude. "Ready to Bake batters alleviate any inconsistency in batter production and the need for highly skilled production staff," says Chef Ponomarchuk.
Another plus? Ready to Bake Batters have no added preservatives, relying on a production and packaging process that provides eight to ten months of refrigerated shelf life for the batters and up to five days after baking.
Signature menu items are essential difference-makers in a crowded market. "As dessert is typically the final item of the meal, the impression it makes on the guest is very important," says Chef Ponomarchuk. "Using Ready to Bake batters, with their exceptional flavor and performance quality enables an operator to easily enhance desserts with signature sauces, accompaniments and garnishes to create a perfect conclusion to a guest's dining experience. It's the best type of marketing."
To learn more about Ready to Bake batters and request a free sample, visit: https://krusteazpro.com/rtb-batters/sample